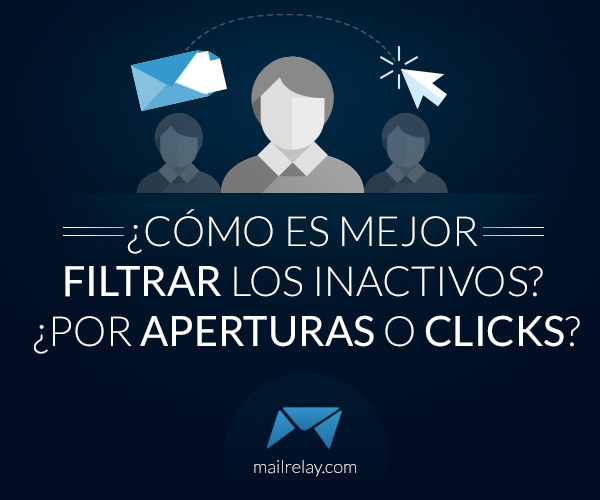 What is the best option to filter out inactive contacts? By opens or clicks?
Let us be clear, inevitably, some of your subscribers will lose interest in your newsletters.
This is natural, regardless of the fact that you are sending to a list of registered contacts.
Every time you send a newsletter you can see two things:
1) It is almost impossible to get a open rate of 100%
2) Many users who open your email will not click the links to visit Your website.
Separately, this information means nothing.
It is possible that this campaign in particular, has not attracted the attention of the subscriber and he did not open it. Or he opened the email, but was not interested in the content of the newsletter, therefore he did not click on the links.
That doesn't mean that if the same user receives another emailing marketing campaign he will not open the email.
In addition it is normal, over time, to accumulate inactive subscribers, this happens even in the best email marketing campaigns.
So what can be done?
The most important thing is to analyze a reasonable period of time, that is true for all situations.
For how long this subscriber is inactive?
It is necessary to choose a long period of time, of one or several months, or even more, depending on the frequency of the campaigns and use the advanced filters, a feature that can help you to create filters for two Key aspects:
1) Subscribers who did not viewed any newsletter in the selected period of time.
2) Subscribers who did not click over a selected time period.
Both clicks and views are key aspects of a campaign, that can indicate the interest (or lack of interest) of your subscribers. Using the date range and the available events, you can detect more accurately which subscribers are actually inactive.
What is the most recommended filter? views or clicks?
We are back to the question of the title of this article.
What filter option is recommended to detect inactive subscribers, views or clicks? The truth is that it depends on each situation, both have advantages and disadvantages.
You will have to use the information of your marketing campaign to detect the factors that are more important to your strategy, but to facilitate things, we are going to see some of the advantages and disadvantages of each method.
Advantages of filtering subscribers by views:
– It can be argued that if a user spends several months without even opening your newsletters, he really is not interested in what you want to offer and thus, this subscriber could be considered an inactive subscriber.
– The open rate is one aspect of engagement valued by ISPs (Gmail, Hotmail, Yahoo etc). Maintaining a database with a high open rate will help you to deliver the emails in the inbox of your users.
– Some subscribers will just delete your emails without opening the messages to click on the unsubscribe link.
Filtering them may be the only way to clean your database and remove these subscribers.
Disadvantages of filtering by views:
– The Views filter is not 100% accurate. If the user doesn't click to display images, the system cannot detect the open, generating false positives. It's something you should consider.
Advantages of filtering by clicks:
– Sometimes the database has a large number of subscribers that just open the emails, but they will not read it, or because the email client displays the message automatically, but these subscribers are not interested in your products or services at this moment.
If the status of these subscribers doesn't change for a long time, without clicking, you could decide to remove these contacts from your database.
– The proportion of click is another aspect that ISPs analyze, having a very active list of subscribers who click on your links will help to increase
Your sender score reputation. Deleting these inactive subscribers could help in this regard.
– The click is a measurable parameter, always, therefore it is more reliable than the open rate.
Disadvantages of filtering by clicks:
– You will lose in branding. Some subscribers will not open your emails, or they will not click on the links, but receiving a message
Occasionally in the inbox helps to improve the image of your brand, because these subscribers will remember your company. Maybe today the user is not interested in your products, but in the future, if this user needs this product, he will remember your company.
So what should be done?
In this case, it is very important to properly analyze all the parameters and analyze in detail all the possibilities and above all
Do not exaggerate!
If you strive for perfection in all aspects you could ruin an emailing marketing campaign that was not doing so bad. This means that you have to change things, but not every aspect of your campaigns in a day, you will need time.
It is not about having a database with an open rate of 100%, excluding those who do not always open your newsletters. That would be a terrible mistake.
Always work with a reasonable date range, neither too large nor too short.
Do not delete these contacts directly!
You can move them to a separate group with inactive subscribers.
Why separate inactive subscribers in another group?
If you separate the inactive subscribers, you will have the opportunity to create a specific campaign for these customers, and try to recover their interest by following a different strategy.
These campaigns can be very different:
– Exclusive content targected to these subscribers
– Discounts
– different prices and promotions
– Ask them directly about their preferences
The possibilities are almost endless and you may need to send more than one e-mail in order to recover these inactive subscribers.
Don't feel discouraged after the first email, you can try to create a series of emails in order to schedule a campaign with several steps.
Be patient, some subscribers may not react immediately after receiving the first emails, but they still could interact later. To increase the possibilities, you can use A/B tests and try different options.
Conclusion
There is no easy, straightforward answer that can be used as a standard rule for all emailing marketing campaigns.
Not everything is about open and clic rates, if you have more data, you need to work with these numbers, if possible.
I can think of at least a few situations that can generate many false positives when you are trying to segment inactive subscribers:
1) For example, if you have an online shop (Prestashop, Magento), you can check whether the subscriber is buying or not. Maybe the customer didn't open the emails, when receiving the newsletter, but he purchased one of your products after a few days.
2) Or maybe the users didn't open your newsletters with your blog updates because they accessed the content through your social networks, and received the new contents on the social networks before checking the emails.
In this case, it would be necessary to analyze the time of the day you are updating your social networks.
There are two possibilities to consider.
As explained before, don't delete your contacts very quickly, but don't wait too long to clean your database or your email marketing campaigns could be afected.
Use all the available data and all filters. Compare, make changes and always remember to analyze the results.
Mailrelay offers a free email marketing tool to help you to increase your sales, with the best platform and a free account to send up to 80000 emails to up to 20000 subscribers per month.
And don't forget to leave us your opinion!