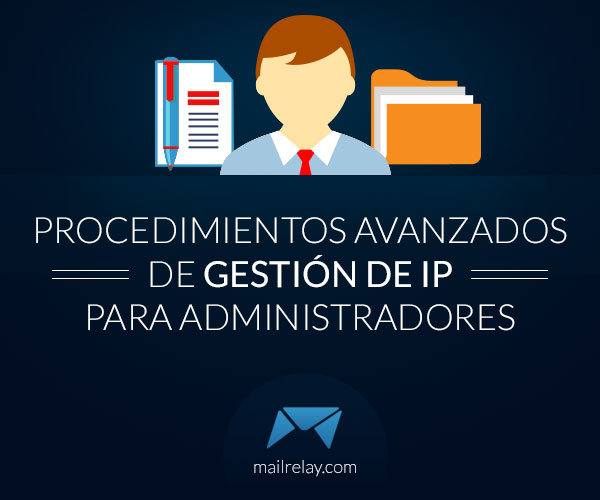 IP management, advanced procedures for administrators
We will present a series of four articles created to explain the correct procedures and advanced features and benefits of IP management for administrators. In email marketing campaigns with high volume of emails, it is almost mandatory to have dedicated IPs, with these posts we will see how to request dedicated IPs, as well as the advantages and tools you will have at your disposal to understand how to make the most of all the available options to improve the results and the delivery rate of your campaigns.
We will see a short introductory summary of all of the articles:
1. Dedicated IP ranges for improving the results of your campaigns
The first step to be able to access the advanced management tools both in the Mailrelay panel and in the ISPs is to have dedicated and exclusive IPs for your campaigns in your account. In this post we will see how to do it. Additionally, you will have other advantages, such as the fact that campaigns sent by other customers will not affect your reputation. We will also review this point.
2. virtual servers for your Mailrelay account with IP selection
Once you have dedicated IPs, you can request access to the management tool for virtual servers in your Mailrelay panel. With this tool you can choose which IP or IPs the system will use to send your campaigns, as well as how to reserve other IPs to replace them in case of a possible block. It is also possible to analyze the results of the campaign per IP individually or work with different VMTA for different senders or customers.
3. Access and benefits of Microsoft SNDS
With dedicated IPs With dedicated IPs, you can activate one of the most useful tools for monitoring and measuring the reputation of your email marketing campaigns. The Smart Network Data Services of Outlook. This tool will provide information about the status of your IPs, possible blockages, number of spamtraps detected, etc. In this article, we will analyze all the details of this tool.
4. Warming up IPs and progressive increasing the number of emails sent
In the last article of this series dedicated to explain in detail the benefits and advanced features of the IP management for administrators, we will see how to warm up your IPs to send large volumes of emails without problems of blockages or accumulation of queued messages. The ISP. Basically, you will have to gradually increase the volume and balance your IPs, to achieve the desired results without triggering the alarms of the spam filters.
Don't miss the first article in the series! Subscribe to our newsletter!
And if you don't have your Mail relay account, create it now!.
Mailrelay allows you to create advanced email marketing campaigns, with a friendly online panel.