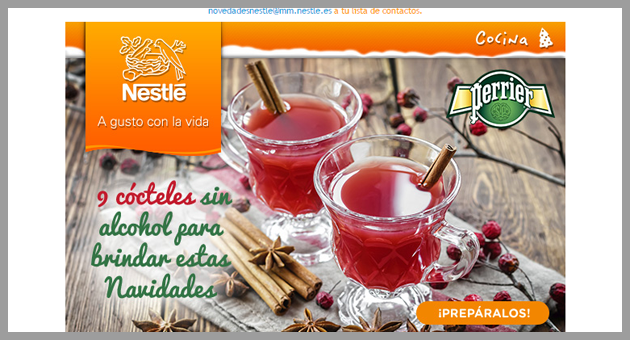 7 Characteristics of highly effective email marketing campaigns
The other day, I was walking through one of my favorite bookstores and I couldn't avoid seeing several books with similar titles to the one of this  article, The 7 Habits of Highly Effective people, etc.
It made me think, could I summarize the characteristics that can make a successful email marketing campaign?
Well, at least I would try.
This is a very personal article which reflects my opinion, But as I have worked a lot with advanced email marketing, it is an opinion of a person with experience in the subject, therefore, I hope that this article can be useful for your email marketing campaigns.
The common and most important features that I observed in advanced email marketing can be summarized as follows:
1) More than just business
2) Added Value
3) A good story
4) Brevity
5) Timing
6) Very focused (segmentation)
7) They are worth talking about
Now we will detail each point and in the end I would like you to share your opinion, whether you think these are essential characteristics of successful advanced email marketing campaigns.
Personally, I observed these features present in many email marketing campaigns.
Let's start!
(1) More than just business, something personal
When working with advanced email marketing, a key aspect is the relationship with the subscriber, to convince them to open the emails, read the contents and respond to your messages.
All this interaction, this engagement is very important, and is analyzed by ISPs as a key point. Those who work with advanced email marketing can use tools to increase the responses of subscribers.
On one hand, it is essential not to  use a no-reply email address as when there is no possibility of two-way communication with subscribers, they will start losing interest very quickly.
Even using a monitored e-mail account, you can get more responses using a personal address, than if you use a corporate address.
For example, for some campaigns sent by Mailrelay, the number of responses increased greatly when we changed the email address from info to jose. People began to interact much more, thanking us for the campaigns more often.
If we combine this personal email with a personal and direct communication, on equal terms, it is easier to start a conversation
This is a logical strategy, generally most users prefer to talk to people, not with institutions or companies. That is why, bloggers and successful marketers write using their name, not using the name of the company they work for.
You may think you cannot write in a personal way, or that it is not easy, but you must understand that the idea is to write representing your company in order to have a personal communication with your contacts.
Try it! You will see how it will work better.
(2) providing added value
I believe this has already been mentioned before, but again, it is not possible to sell with each newsletter you send.
For example, I received a newsletter from Nestlé 9 cocktail recipes for Christmas: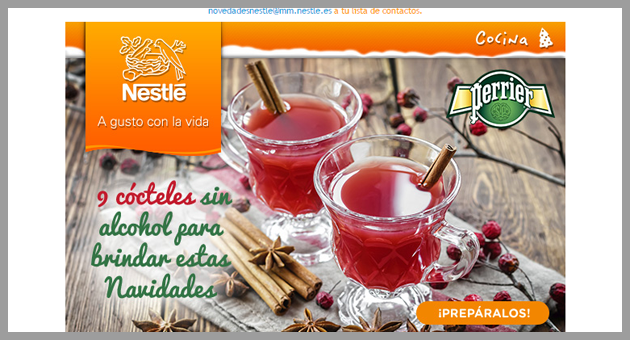 There are many examples like this, where information is offered as an added value to the product.
Thanks to this, you can get two fundamental things:
Maintain constant contact with the customer / prospect, generating brand image
Customer loyalty by helping them make the most of your products or services
I believe that 100% of successful newsletters have a ratio between 1/3 and 1/6, that is, for each sales newsletters, between 3 and 6 emails are sent to increase loyalty and deliver added value to subscribers.
It is very important, you cannot remember that you have subscribers only when you have to sell something.
Remember the point number (1) work to establish a personal relationship, not just business.
Help your subscribers and they will reward you.
(3) Telling a good story
The art of storytelling  can be very effective in advanced email marketing strategies. A good story, a story with which subscribers can identify can help in several ways:
Entertain -> Who does not like to hear a good story?
Empathy -> it helps to explain to the subscriber that you understand his problem and therefore can help him to solve it.
Humanize -> show the human side of your company, essential to improve the relationship with the subscriber
Standing out -> A good story will help you stand out of your competitors, also very necessary in an economy in which there is so many companies and it is difficult to distinguish yourself from the rest
 Add value -> it is easier to explain concepts and ideas with a story, so it is a very important tool to add value to your subscribers and customers
With all this, you can understand that story telling is essential to help you improve the points (1) and (2)
I've used this advanced email marketing technique in some articles, but the important thing is to be careful to know when to apply it in your campaigns.
It is not something very hard to do, but it takes practice and will take some time until you can master this technique.
The effort will be worth it.
(4) Be brief and concise
All the above points are compatible with the fact that it is of fundamental importance to be brief and concise.
Anyway, perhaps this is the point at which you can be more flexible, in fact, I myself have tested several options:
 Send only the title of the article
 Send the title and a brief summary
 Send the title and a text with a part of it
 Send the article
Right now we are usually using the option to send the article, therefore the user can read it without visiting the blog, this is something that the blogger Víctor Campuzano told me and as an added value, it is a good strategy.
Most articles published by Mailrelay are not created to sell, and I could see that the response improves upon receipt of the whole article.
The second option also worked well. A small text, as this email sent by Neil Patel:
Brief and very focused
The purpose of this email is clear, that the reader click to access the link to the website, which is prepared to capture leads.
In this case, the email is a tool used to move the subscriber, to give him the initial push that will take the user to the website where it is more likely that the user will close the deal.
But in this case not all email marketing campaigns are the same, there are times when it will be interesting to send all the content in the email, other times, it is more important to be brief. If you need to choose, start with short campaigns.
It may be easier to start working with advanced email marketing with Brief campaigns, as basically, you need to focus on the call to action, but in an email with more content, you must keep the reader's interest.
The larger the text, the harder it is to keep the interest of the subscriber.
(5) Good timing
In the story telling, perhaps, another factor is the timing, it is fundamental but also complicated. Finding the best timing for sending your email marketing campaigns requires a lot of planning and strategy.
Fortunately, email marketing platforms such as Mailrelay include resources to analyze the campaigns and help us find the best strategy as soon as possible.
An example previously discussed in another article, was the newsletter sent by Mumumío, I received it in a rebate campaign, to encourage subscribers to make another purchase again.
It is a good example for products used daily.
Another example is this email I received from Brendon Burchard. After accessing the website, I started the process of buying the book, and I stopped before completing the payment.
The next day I received an email in my inbox inviting me to purchase the book:
Imagine this example, let's say Mumumio had sent the message the next day? Very early. And if Brendon Burchard had sent the email a week later? Too late.
Finding the right time is very important.
How to find a suitable frequency, if you send too often, this could saturate your subscribers, on the other hand, if you send newsletters rarely, many users could end up forgetting you.
There are advanced email marketing tools that can give you this information.
Although let me warn you about something:
– It is impossible to please everyone, so try to please your prospects [:)]
(6) Very focused, good segmentation
As in the previous point, send with good timing, the creation of well-targeted email marketing campaigns will help you to achieve your goals.
It's what we explained about pleasing prospects, as It is impossible to please everyone with the same message.
For example, Amazon, which almost always send segmented recommendations:
The truth is that they do a very good job of targeting, we are not saying you have to get to that level, but the better the segmentation of your mailing list, the more successful will have your campaigns.
There are basic segmentations that you can implement, such as buyers vs. prospects, which are easier to work with.
Personally, when I receive emails more focused on my interests, these messages can help me decide to buy the product, much more than when I receive emails without segmentation.
Because if I don't have a garden, why should a company try to sell me a lawn mower? This has happened to me, I'm not kidding, and I didn't buy this product.
7) They are worth talking about
Interesting and fun things are shared, not boring stuff.
For example the Black Friday campaign created by OnePlus was very interesting, something worth talking about.
If you have not seen the campaign, it was about a smartphone that could not be purchased directly, only by invitation, which adds a bit of interest, it creates expectation.
Unlike this promotion:
Do you really imagine someone commenting in the office on a discount of 15 Euros in an office chair?
It is certainly unlikely.
Of course, perhaps you are thinking, an office chair is not an interesting topic to talk about.
Well, nobody said it would be easy [:)]
But it is true that if you can create an email marketing campaign  so good that people will talk about it, it will be much easier to have success in your strategy.
Do you have to follow all these points to succeed in working with advanced email marketing?
No, it would be very difficult.
However, if you look at the campaigns that arouse more your interest, you will see that many of these features will be present.
We didn't enumerate these features in any particular order, choose one or more to start and gradually try to implement them. You will see the results!
Would you add any other? Share your opinion with us!