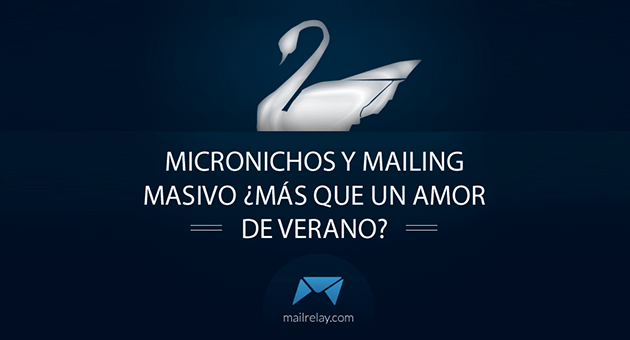 Micro niches and email marketing, more than a summer love?
This is a curious article, as many niches will be in and out of fashion with time.
Micro niches, by definition represent small Skilled markets that, although in physical shops can be difficult to manage if everything is not calculated correctly, understanding the actual demand, with online trading this type of company can make money, it is possible to increase the target globally within the niche that is being worked with.
Increasing the volume of leads theoretically would increase the company's chances of success.
This has attracted many entrepreneurs animated by markets with lower competition, neglected by large companies, or with the intention of transforming a personal skill in a small business.
There are also many free tools today for creating an website, an online store, etc. Facilitating and reducing the initial investment. It is also undeniable that by using online marketing, these businesses   can be more profitable, due to the fact that competition will be reduced.
But be careful, it may be that the product you are trying to sell will have a limited demand.
Or you have a small profit on each product you sold, or customers will only buy once, which means in theory that even the most advanced marketing campaign may fail and the company will have losses, not profits.
But everything has a solution!
And the email campaigns can help us with these problems, and other issues related to online marketing.
How email marketing can help an e-commerce working with a micro niche?
Let's analyze it with a small example that I just made up.
Imagine you want to create an online store to sell wedding invitation created using origami figures.
It is an example! (Although if someone wants to copy the idea, you could try it, as I will not implement it myself)
If I search on Google for wedding invitations in origami, I see that there are 112.000 results, which means the market is not too crowded. If I see that large multinational companies are manufacturing wedding invitations created using origami & bad example of a micro nich.
Imagine that we have these problems:
The price per product doesn't offer us a good profit margin
The average customer will not spend a lot of money
It is very unlikely that the same customer will buy our product twice
It is a little known product
However, we have some of the advantages we discussed earlier, such as the fact that the competition is smaller and it will be easier to create online marketing campaigns. I'm sure the keyword origami wedding card is cheaper than the keyword web designer, because there is less demand.
The target customer segment will be a sub segment of:
> Pessoas que precisam de convites para seu casamento
> Pessoas que decidem comprar convites em vez de criar manualmente
> As pessoas que procuram um tipo de cartão mais original
> pessoas que gostam de origami e coisas originais
This greatly reduces the initial segment (that is why it is a micro niche). To promote our product / service, we would have to create a website or online store, and certainly a blog to promote our work and present the projects that were created before.
Some strategies could be:
(1) Diversify the product
In this and other micro niches there are options to diversify and offer some other products. If you create wedding cards using origami, Why not create Valentine cards? Or for other important  dates?
If you have a list of subscribers interested in your product, but who are not customers, they are only interested in the products because they liked what they saw, for instance if they saw the blog and found it interesting, or if they think it is a product that they may buy in the future. In addition to the articles, you can send to the subscribers an email campaign  with information on new products.
Maybe they don't need wedding cards, but they would like to congratulate a friend for his birthday, for example.
With email marketing, you can inform customers interested in the niche on new products or other information related to what you are offering.
(2) Increase the average amount of sales
Using email marketing, you can also use strategies to increase the average value of sales.
For example, in the case of subscribers who purchased a product recently, we can send them an offer by email with some related products, for example Origami flowers for decoration.
It is important to offer complementary products, to try to increase the amount of products sold.
It would be possible to offer complementary products for the user if you have a good shopping cart system, with related products. But the question, is it a good idea?
Yes, I think it's something that should be done.
And I think that sending an email with other products, in this case, will be effective because this user already purchased before, this mean he may be interested in other products.
(3) New sales (old customers)
As we always say, it is important to convert a new customer into a recurring customer, because this person probably will buy again from you.
Depending on the product, you may need to study different strategies, for example, in this case, you could send an autoresponder, for customers whose wedding took place recently, as it would be interesting to offer them some other products.
Perhaps an album  with some details created using origami?
The possibilities are almost endless and it is important to study and explore the subscriber list to take advantage of its potential.
(4) Generating a community
When you have a different product, there is a chance that the customers can also be your fans. At the end of the day, you are offering them a different product, which they will not find on other shops.
Through a blog, social networking, with good help, relevant content and good email marketing campaigns, it is possible that with time, many customers will start talking about the product with others and this informal campaign will help to increase the size of the potential customer base.
Ultimately
If we have a niche product, it will be necessary to diversify the strategy, working with the nich, but increasing the customer life cycle. In this case, a powerful communication channel such as email marketing can be very useful for this strategy.
Although we have seen some examples, for sure there are many more
Would you like to share your opinion?