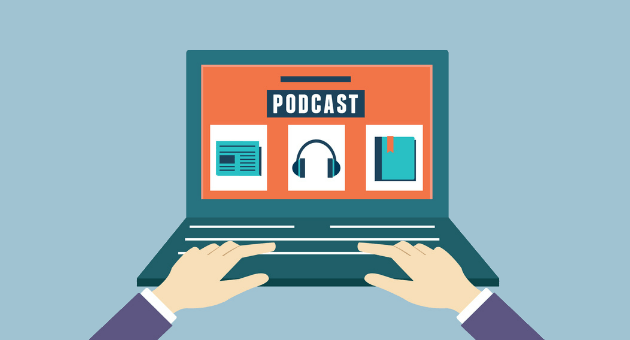 Create a podcast for your website / blog, if you want to grow quickly
I've always been in favor of including in the marketing strategy for an website or blog, a Podcast.
We will talk about it today, but it is important to say that your online business needs a podcast, so you can create content to your target audience in a different way.
The good thing about podcasts is that users can listen to the files anywhere, as the user is working, traveling, doing exercises …
If during this period your customer can consume your content, you will be able to increase visibility and consequently more traffic, which in turn will result in more sales.
The first podcasts were created about 10 years ago and are very interesting. but many companies still don't use this type of digital strategy.
A podcast would be like a radio show, but there are no ads (in some cases, you can use a sponsor or two) and it is always on a specific topic, you will be creating content to people who are interested in this subject,  for instance you could create podcasts related to hunting, therefore only people interested in hunting would listen to your podcasts.
As you can see, it is a very good idea to record your knowledge in a mp3 file, so that your users can listen to your content on your website or using any podcasting platform.
In addition to offering a different product, it will also help to show you as an expert in your field, if you are doing interviews with influencers of opinion from your niche, or creating content and talking about it with your listeners. You can run podcast ad campaigns to promote your services and products.
When i started my blog, I discovered that in the digital marketing and entrepreneurship there is a high competition on the internet, but the secret is to try to be different from other websites, and to do this, you need to try to find alternatives to build your user community step by step. During the first two months I tried to add several posts, but after that i started to focus on combining a weekly article on my blog about online marketing  and an episode of my podcast digital Entrepreneurs.
I will not say it's easy, but you can adapt this strategy for your business.
You can record a podcast with weekly or biweekly publication, the important thing is to  be constant and implement this option in your strategy for content generation.
If you want to have loyal listeners on your podcast you must follow your schedule, because your listeners will be waiting for that date, the day you will publish your podcast. You have to be constant as with publications on your blog, if you want good results.
Take advantage of this and become visible in your niche market with a podcast and you will not regret it.
Reasons why your website or blog needs a podcast
1.- Very low investment
To create a podcast and start recording episodes, you don't need to spend large sums of money, with a basic equipment for podcasts, you can start recording and  if you think you need a more professional equipment, you can buy it later.
Initially you need:
PC or laptop.
Recording software.
Headphones.
Microphone.
The recording software I use is free, it is called  Audacity.
It works on both PC and Mac.
The most expensive of all, is the time you need to spend for the preparation of the podcast:
Documentation
Creation
Edition
Uploading the podcast
2.- The best way to improve
The key in marketing, as well in any business strategy, is to find different ways to show what you are offering.
Don't you think you should try to use a different strategy?
3.-Reach more people
This is another point to keep in mind. As you know, your audience will be in different places and the best way to reach them is by making your content available.
I don't know if you know what is a guest post, but I'll quickly summarize the meaning of it,
A guest post is basically someone who will write on the blog of another person from the same market niche (as I am doing now writing in the Mailrelay blog) to capture an audience that otherwise would be more difficult to reach.
With podcasts it is the same thing, how can you reach your target audience, searching for users who are interested in listening to podcasts or audio books? I think this is clear.
If you can also do interviews with leaders in your niche market, your podcast will have a greater interest, in addition, more people will share it.
How could you get to these people without it?
Do you understand what I mean?
4.-Loyal listeners
If the visitor likes your podcasts, he will probably subscribe to receive new audios. You will have very loyal listeners, people who are following you on social networks, because most of these users will download more than one episode.
It will take time for you to attract listeners to your blog, but the users visiting will probably subscribe to your newsletter.
Although the percentage of visitors visiting your blog probably will be  low, the conversion rate should be very good. This will help, especially at the beginning, when it is so difficult to get new  subscribers.
You need hundreds of visits from other sources, such as Google, to get a few subscribers. With podcasts, you no longer depend only and exclusively on Google or social networks to get new subscribers.
5.-Position yourself as an expert
It is very  important to position yourself as an expert in your niche. If you don't want to lose space online.
Remember that many professionals are becoming visible on the internet and the only way to stand out is by becoming an expert. Podcasts can help a lot, because the listener will see that you have knowledge of what you are talking about, and he will have you as a reference, if you can convince him that you are an expert.
There is a greater connection with your audience when they are listening your voice. The listener feels closer to you, and so he will trust you more easily, it is much better than if he is reading your posts on a blog.
6.-Monetize your podcast
If you work hard, you can even monetize your podcast, I will not say that it will be easy, but if you can stand out and already have an audience that
Always listen to your podcasts, you can try to find companies interested in promote other products and services in your podcast.
As in recent years the public that consumes podcasts is growing, slowly companies are beginning to realize this, that is why  many of them  are looking for options to advertise their products. You need to be prepared.
But even if you don't want to monetize your podcasts, you can benefit from this strategy, by  promoting your own products. You can use your podcast as a way to advertise your services and products.
Create a blog for your podcasts
It is not mandatory to create a blog for your podcast, but it's something I would recommend. The blog is where the listener will access to subscribe to your newsletter, or to view your products or services. From the podcast, it is not possible to capture leads, so the blog can be very interesting.
When you have a blog, it is interesting to create posts  with the notes on the podcast, mentioned links, a brief summary of the episode etc..As your listeners will access this link for more information.
If you already have a blog, adding podcasts is a simple task, with a WordPress plugin such as Powerpress, and you may already include your podcast in the blog entries. However, we need to think what is the best way to host your mp3 files, so users can download the podcasts, because usually you can't host these files in a normal shared server.
Although technically you can upload the episodes to your web hosting, It is not recommended as you would spend quickly the bandwidth when users start downloading the files and you would spend the disk space as well.
So the ideal solution would be to find a hosting service for podcasts, such as  Libsyn, but  there are many other platforms that provide free space for podcasters, with some limitations such as:
iVoox
iVoox is a Spanish platform for hosting podcasts, they offer a free account. It has different fees depending on what you want to do.
But basically it offers unlimited storage, unlimited transfer. This is the system I would recommend you to use, especially if you want a platform for hosting podcasts and don't want to start paying for a service at the moment.
Platforms like this one have a great community that usually will leave many comments on users' episodes.
Soundcloud
SoundCloud is most often used by english speaker podcasters. It is another platform for your podcast with various features.
It is more limited for free plans, but you have 3 types of plans, which can be adjusted to your interests.
Spreaker
Spreaker allows you to stream live and has different plans with good prices. To start paying you have to have some audios uploaded, so you can use it for a few months without having to pay  for it.
These platforms are responsible for sending the RSS feed of your podcast to iTunes and / or Stitcher.
You can also register your podcast in directories as TuneIn etc ..
As you can see, this is a short summary of the platforms to give you an idea, but you should always review the plans and choose what best suits your needs and your pocket.
Conclusion
As you can see, the equipment for creating podcasts and the hosting are not very expensive.
Your website needs a podcast if you want to grow quickly and reach more audience. But this is howhthe same as with  social networks, if you don't have time to manage and update your accounts, don't create it.
It will not be worth creating your podcast if you will stop after a few weeks, you need to keep working.
On my blog, in Spanish, you can find more interesting articles on podcasting.
I hope it was interesting and please remember to share this post with your friends.
Thanks for reading.