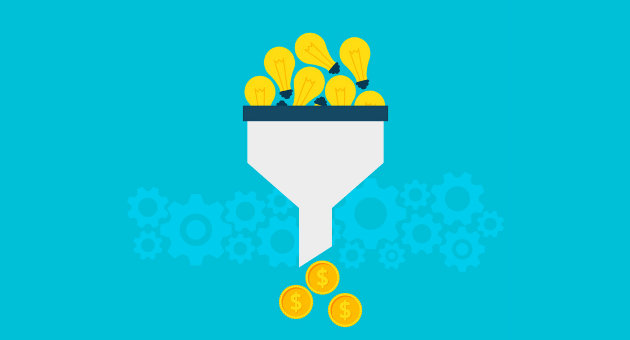 How to design a sales funnel
If you want your project to be a success, you should plan your sales funnel correctly. But how to do it?
If you are just starting, you probably sold some products, but you don't have the number of customers you would like to get.
However, to increase your sales, you need to think about all the steps that a potential customer would have to follow, before confirming the purchase. Creating a sales funnel is key to guiding the visitor during the conversion process.
We have talked several times about the importance of knowing the profile of your ideal client, but today we will pay more attention to the behavior of your customers, the steps they will take and what they will do during each stage of the sales process.
At this point in your venture, you already know that to have loyal customers, you will need to guide them through the different Stages:
Occasional Reader►Recurring Reader►Follower►Subscriber►Customer► happy customer
Well, you'll be interested to know that each of these steps can be part of your sales funnel to ensure that the next step will be taken at the right time for your customer and you.
If your customer isn't ready, it would be better for him to wait before purchasing or he would end up disappointed with your product or service.
But let's see this step by step so you can apply it in a funnel for your own strategy.
What are sales funnels?
It is crucial to trace the entire path that your visitors will follow, from the first time, when they access your site through Google or social networks, until they become your satisfied customers.
This path should respect the life cycle of your customers and improve their experience before they even buy, because through every phase you will strengthen ties with them, increasing their confidence  and demonstrating that your solution is the best choice for their problems.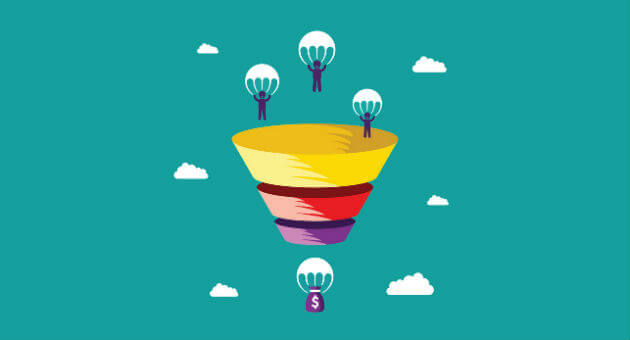 How to design my own sales funnel?
You need a minimum of three different products or services to offer throughout your sales funnel so that you can provide a satisfactory experience for all your customers. That is the only way for them to discover the advantages of working with you.
1st phase of the sales funnel: First contact
Your potential client has just found you; he knows nothing about you. In this first stage, your "About Me" page and the custom contents published on your blog will be your allies.
Turning casual readers into recurring readers is not something so complicated, since they don't need to register on your site, they just need to visit your blog periodically and consume the free information you are sharing.
2nd Phase of the sales funnel: the presentation
Our recurring readers already rely on us enough to pay attention to the lead magnet, that welcome gift aligned with the solution that you have created to offer for free to all those who subscribe to your newsletter.
They no longer mind the subscription popup that is displayed whenever they visit your blog. On the contrary, they are interested in knowing what else you could offer them. If the content you offer for free was helpful for them, maybe this gift in exchange for their email will be worth it.
3rd Stage of the sales funnel: confidence
Your recurring readers have become subscribers, they accepted to receive information by email in exchange for your welcome gift.
This gift is the first part of your funnel, your most important ally for attracting new subscribers. They have already taken the first step, and if you do things right, in a short time, you will have satisfied customers.
4th Phase of the sales funnel: education
Many subscribers will not reach this stage, but don't worry.
Nowadays, everything that is free is irresistible. And many readers will subscribe, download the gift, store your file along with the other thousands they already downloaded from other sites but in reality, they  will never read your content and after a while, they will request to unsubscribe from your newsletter.
This type of reader doesn't interest you, as he will never buy from you. He is not your ideal customer. Be glad that it is he who requested to unsubscribe.
Each of your subscribers costs time and money, so cleaning your list automatically is vital.
Those who stay will expect to receive more specialized information, so it's time to segment your list, sending unique articles, extra tips that you have not posted on your blog, to gain the trust of your new subscribers, so they understand that you are a professional, and they can rely on the effectiveness of your solution.
5th phase of the sales funnel: persuasion
Here your sales funnel will narrow.
You will present your second product or service, this time a paid product. But of an average price, between $ 47 and $ 97.
Our intention at this stage is to persuade our subscribers that they can trust us by demonstrating that if they hire our services, they will receive a more exclusive and personalized treatment.
Not everyone will buy, no matter how well you designed the life cycle of your potential customers, there are some who have more doubts, are more reluctant and they need more time to make a decision.
So at this point in your funnel, I advise you to use the triggers of time limitation and units that we have already talked about. This way, your customers will be more likely to act, knowing it is a limited offer for 48 hours or the first 5 people.
6th stage of the sales funnel: security
This phase should be designed for customers who have gone through the process of acquiring your first product, and already trust you.
They tested your paid product and if you really worked on your solution and it helps to solve their problems; their testimonials will help to convince undecided users to take the next step.
At this stage of your sales funnel, your customers expect to receive even more detailed information, more specialized, aligned with what they already know and focused on solving the next problems they have with an even more advanced product or service.
The time has come to publish for them a type of articles more specialized and oriented to the stage in which they are, after they have relied on your first paid solution.
7th phase of the sales funnel: happiness
The happiness you feel when you know the great moment has come to present your final product, your cutting-edge solution, to all those happy customers who have already purchased your previous product or intermediate service.
Keep in mind what we discussed about your customer's lifecycle, as many of them may remain undecided for a long time, even after they receive your new personalized offer, but don't worry. It's not that they are not your ideal customers, they have already bought your previous product, but they need more time before they are ready to invest more money in you.
At this stage, you should present a much more advanced product or service, of the highest value, between $ 297 and $ 997. With more personalized customer service, focused on helping him to improve even more.
It is essential that you highlight the emotional benefits of working with you, not just focusing on the technical characteristics of your solution.
Your customers want to know how you will help them, how you will change their lives, how you can help them solve their problems.
They are not worried if they will receive their material in PDF or MP4 format, they want to know what the learning experience will be like, if the investment really will be worth it.
8th phase of the sales funnel: the end of the cycle
The cycle of your ideal client, for now, is over for those who bought your complete solution.
Now it's your turn to accompany them with each new step, jot down their possible questions and doubts and help them to create a successful project. If they tell you about their experiences, you could display their opinion on your testimonials page.
Their positive experiences with your solution can encourage those customers who were in an earlier stage to take the next step.
But even if your current customer cycle ends here, your sales funnel should continue to guide new visitors. Especially if there are customers in previous phases and those who have completed the cycle want to keep learning from you.
Scalable Products and Services
The time has come to put into practice what has been learned on how to design scalable products and services.
As you automate your sales funnel with the help of autoresponders for new subscribers, taking care of your current customers to turn their shopping experience into a happy and an unforgettable experience, you should continue working on your product portfolio.
We started with three:
Free initial product, Basic solution: welcome gift
Intermediate product, $ 47-97 Intermediate solution: part of the middle of the sales funnel
Advanced product, $ 297-997, Custom solution: top of the funnel
You can add or remove products or services from your funnel, according to the needs of your customers, adapting your digital marketing strategy.
Write down each question and analyze carefully to determine if you couldn't create a new product or service that would answer this question to incorporate it into your sales funnel.
---
Now you know how to create your first optimized sales funnel. As you have deduced, targeting will play a key role in your sales strategy.
Divide your subscribers into different groups and send information truly relevant to each of them, as this will help them to start trusting you more quickly.
And remember that there is no better advertising for a brand than a happy customer, who shares the wonderful experience of working with you with the rest of the world.
Would you like to share your experience with creating a sales funnel with us?