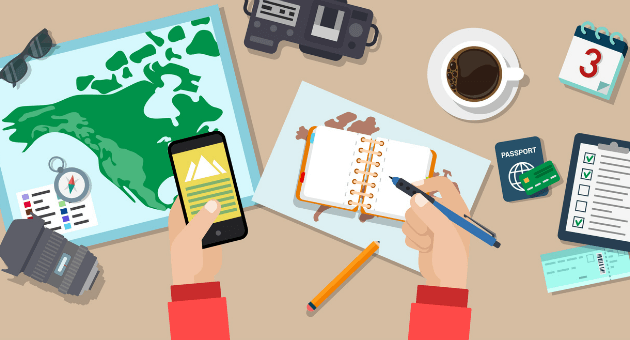 Creating quality content for a tourism blog
When we are considering the objectives and strategies for a tour company in the digital world, one of the most effective ways to get result, is the use of content marketing, and a blog about tourism has an important role, for finding new customers.

A blog about tourism is a tool that well used, offers numerous benefits that we will describe in this post, such as getting online customers for a rural house or hotel and it also presents key features that could be summarized in three:
✔ Ease of Management
It is usually not difficult to manage tourism blogs. There are platforms that are very easy to use, just create an account and start writing. An example is Blogger, (Myname.blogspot.com) or WordPress.com (myname.wordpress.com)
You can also go a step further and have your own WordPress.org installation with your own domain. It's a little more confusing at first, but if possible, you should have a professional blog.
✔ Versatility
If you have a blog on WordPress.org, you can use multiple plugins that do almost everything without having to know programming or technical knowledge, increasing the efficiency of your blog, so you will have much more flexibility and versatility.
✔ Content is the most important factor
With content published on your blog, you have the ability to implement an Inbound Marketing Strategy which will help improve sales for your tour company and will be really helpful for your business.
Your subscribers will have to remember your brand.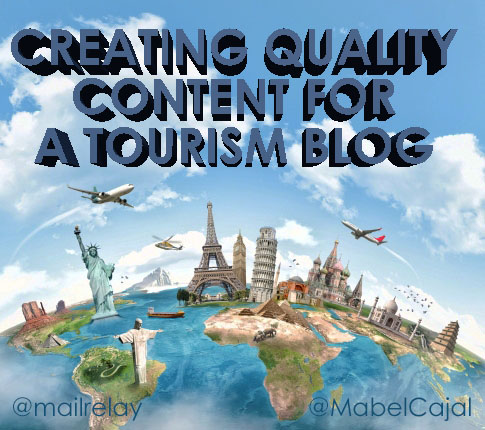 What are the benefits you can get by creating a blog about tourism?
If you're not sure that a blog is a good option for your business, please read this post carefully, as you will surely be surprised by the benefits you can get through this great tool:
a) Increase traffic in search engines
With an optimized SEO, you can position your content in the first page of the major search engines so that your blog will become known by new users who are searching for information related to the topics of your blog.
b) Redirect visitors to a specific page
With your blog, you can encourage visitors  to access a landing page or another website, if you need to redirect  your traffic.
It's as easy as adding links and / or calls to action.
c) Improve branding
Create an updated blog, with a professional design and good content, and it will show an image of confidence and professionalism to your visitors.
d) Improve engagement
If you are creating quality content, directed to your target, your subscribers will feel more engaged with your campaigns.
It is a very subtle way to engage your subscribers, because they will read your emails, and will visit your blog to get more information.
e) Increase your subscriber list
When creating articles regularly, new visitors will subscribe to your newsletter, these users don't want to miss your posts, they want to receive your content.
Also, you can create other specific actions to increase your mailing list, such as pop-ups and calls to action to invite users to subscribe to your newsletter.
After the subscriber is registered in your database, you can use an email marketing software such as Mailrelay to connect with these users through email.
f) Spread your brand presence on social networks
If your content is good and interesting, your readers will spread your posts on social networks, which will give you the possibility to get new users, significantly helping to further expand your brand.
10 ideas that work for creating powerful contents for your blog
A tour company, such as a park, hotel, restaurant or any other company in the tourism sector has enormous potential for content development, with an appropriate strategy and good planning, can exploit the advantages of a blog.
Let's see 10 ideas that will help you in the task of creating useful content for your blog.
1) Create a local guide
If you work with a hotel, restaurant or travel agency, it would be very interesting to create a local guide with useful content.
For example, you can include: monuments to visit, recommended restaurants, local offices for tourists, information about Taxis, interesting places and other relevant information.
2) Take advantage of the riches of the region
If your business is located somewhere that is known for its natural beauty, you can take advantage of the circumstances to provide practical content about the region, as well as good images and videos.
For example: Imagine that your hotel is in a rural area with lots of native forest. You could create your blog with content about plants and animals that people will find, if they decide to visit your hotel.
Another example: Imagine you are in a region regularly visited by people interested in rare mushrooms, you have many opportunities to create content talking about mushrooms: how to recognize, secure ways to prepare them, the best time for harvest and other information about mushrooms.
3) Send more information about the facilities
Most of us like to know details about hotels or facilities when we decide to stay in one place.
You can create posts, articles and pages with curiosities that help explain how your business works, what you have to offer, its peculiarities, any information that is important to convince your visitors.
I recommend you use a natural and familiar language. I'm not talking about a typical description, but to humanize and convey a more natural and familiar language.
4) Disseminate and promote local activities and events
With a blog about tourism, you can write posts with details about events sponsored by your company or any other important activity that is taking place in your region. It's a good idea to create an attractive calendar of events, so that users receive newsletters on future activities.
5) Use Storytelling
We could define storytelling or narrative as the ability to tell a good story that excites and captivates guests seeking a union between brand and personal experience.
In the tourism sector, where experiences and customer stories are key, knowing how to tell the story of other users is very important.
6) Use video marketing
Another way to add value to your content is by creating video marketing. This is an interesting way to create a different product.
You can collect comments from your customers, add videos of your events or anything you think may be attractive, to share with your visitors.
After editing the video, you can import it and publish it on your blog, to share it on social networks.
I don't recommend you create very long videos because most users will not watch them. Create dynamic, fun and short videos.
7) Ask your customer for their testimonials
Ask customers to express their emotions and tell their experiences in your facilities, as it will give a touch of closeness and this can increase confidence through the content published by you.
8) Use your blog about tourism as a means of information about your contests
Occasionally, promoting an contest is a common practice for companies that work with tourism. You can publish them in one of the sections of your blog. It is also a good place to explain the rules, so users will know what they have to do if they are interested.
9) Inform about your promotions
It is quite common to use promotions to encourage sales or any other purpose in all types of businesses.
This may be a good place to talk about promotions and even create different offers, discounts or benefits for visitors who subscribe to your newsletter.
You can create promotions for a period of time, such as parties or holidays, the Christmas season, Easter, etc.
10) Make interviews with people with some relevance in your niche market
You can prepare a series of interviews with people who are relevant to your brand or company. For example, if you are the owner of a golf course, you can do an interview with a renowned player from your city.
Surely your subscribers would enjoy it.
Key to write the best titles for your posts one of the most important parts of a post is its title.
A good title ensures a good number of visits. There is a lot of quality content that many people never find because the webmaster didn't use a catchy title.
It also occurs in reverse, some poor quality content will have many visits, due to users who are attracted by a flashy title.
Read these recommendations:
 Use a small title. Usually about 60 characters to be read by search engines
 Remember to add the keyword in the title to optimize SEO
 Use adjectives that can entice the reader in the title
 You can use words such as Exclusive, basic, tips, advice, tricks, how to
 Select phrases that solve problems or explain the "Know How"
 Search Similar phrases on the Internet for ideas
What do you think about the fact that companies that work with tourism should create their own blog?
Thank you all for reading.
BIO
Marketing professional, he currently helps tourism businesses to increase their online presence, by  improving their marketing strategy, using social networks, email marketing and online marketing.