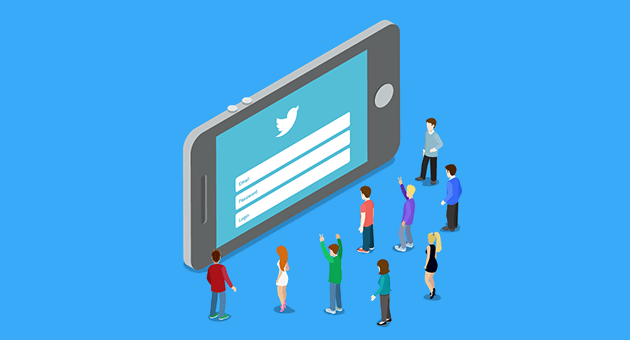 How to create a Twitter account and use it to reach your goals
Today we will talk about how to create a Twitter account, as many people still have doubts and don't know how to do this.

But this article will be much more complete as we will give you several interesting tips on how to use this valuable tool to achieve your goals, if you work with digital marketing, this article will show several interesting tools for managing your Twitter account.
Twitter is undoubtedly one of the most popular social networks in the world. Today it has over 500 million registered users.
This network was born in 2006 and in just over five years became an indispensable tool in the world of digital marketing and social media.
I think that before reading this article, you already have a Twitter account.
To be honest, creating a Twitter account is not Difficult. The purpose of this post is not simply to learn how to create an account.
What we want to explain today is that there are certain factors that you should take into consideration so you can take full advantage of this social network.
Would you like to know more about the things we can do to improve your results?
How to create a Twitter account
Okay. I suppose you already visited Twitter.com and signed up, but there is something you should always do after that.
You should optimize your profile when you create a new  Twitter account.
Before I talk about this, I want to make a small note about the use of passwords (even though it may seem banal). But I'm not talking about personal passwords, I'm talking about the passwords you have created for your corporate accounts.
Repeat with me
It is always better to use a combination of capital letters and lowercase letters, numbers, and punctuation symbols….
I would recommend a handy tool to minimize the risk of being hacked. This tool is called "Lastpass" and is a secure password system  that will create a Custom database with all your passwords (be it from Twitter, Gmail or any other system or social network that you use regularly.)
An interesting feature offered by LastPass is that you can program it to change your passwords periodically.
You don't even need to know the new password: you only need to have the LastPass extension installed in your browser and know your master password.
Very useful, don't you think so?
But let's go back to the optimization to create a Twitter account.
Username
Let's start with the most important points, which are as follows:
User name, that is, your name on Twitter (it will begin with "@")
Profile and cover images
The user is your name on this social network. Keep in mind that the other users, when mentioning your profile will use this username, so Here are some recommendations to get things right from the start:
First, avoid using numbers on it. Why? Very simple: numbers are usually hard to remember, when someone wants to mention you in a tweet, they may not be able to do it. This is because, if someone doesn't remember your numbers, you will not be mentioned.
Second, do not use a very long name. Remember that Twitter Allows us only 140 characters (without images). This is not much, so it's best to make it easy for users who want to communicate with you through a tweet, don't you think so?
It is always better to create a user name that is similar your real name. Obviously, if your name is not available, such as "John Taylor" @johntaylor is already being used by someone with the same name. In this case, try to use the variations offered by Twitter (For example: @taylorjohn; @jtaylor; @johntay etc.).
Profile Image
Regarding the profile image, you should never use a generic image, which has no relation to your brand. In fact, these generic images will not attract followers.
Don't just upload anny image, you should optimize the image you are using on your profile. If you are creating a corporate profile, use your official logo. If it is from a person, use an actual photo of this user.
I would like to give you a tip
It is always preferable to have the same image in all your Social Media profiles. Note that if you are using different images, It will be much harder to recognize and find Your profiles.
Cover image
Today, most networks allow us to add a cover image  in our profiles to give a more personal touch.
The image should be optimized and have the correct size so that the browsers will display it correctly. This image will help (or not) to catch the attention of users who will visit your profile.
There is not much to talk about this: the ideal size is 1500 x 500.
Bio
The next step to optimizing and creating a Twitter account is to add a biography.
Immediately below the name and username of all profiles, you can find a text that summarizes the activity of the account owner on Twitter.
Twitter allows you to enter up to 160 characters, so you should get right to the point.
On the other hand, it is advisable to use hashtags when writing your biography. For example, if you work with social media, you could Expert in #socialmedia.
Link
After completing the above steps, you just need to set the link that will be included in the biography.
And here's another tip
If you are a business owner, it is preferable that users can find your company through your Twitter account, since it is an ideal platform to do business.
Well. With these steps, we have our optimized profile after creating a Twitter account.
Now we'll see how to work on Twitter to take advantage of this tool.
Anatomy of a perfect tweet
If you create a Twitter account, you should tweet, right?
You may think it is not necessary to remember this, but there are many people who make basic mistakes, and is one of the reasons why they can't achieve the expected results in their digital marketing strategy.
This, in turn, leads us to another question: how to create the perfect tweet?
1# Characters
The first thing to consider is the number of characters we can include in a tweet, which are 140.
Until a few months ago, Twitter considered the characters of the images in this number, (previously 24 characters were used), but This is no longer so, which is a very interesting advantage.
The first step would be: don't overdo it. You must be careful with what you will write, so that it is understandable, but doesn't go beyond the number of accepted characters.
2# Visual Content
Any Tweet will have much more engagement if you use visual content.
Using images will always benefit the author of the tweets by helping to make your content viral.
Of course, here we also have to take into account the appropriate sizes.
Image sizes on twitter
The recommended size for the images on a tweet is 1024 x512.
In addition, you can test with other formats, to see if you can get different results. An infographic, for example, of 2000 x 800 may help you to get many interactions.
3# Links
Of course, there are different types of Tweets.
Sometimes what users want is simply to share their personal opinion without adding anything special to the tweets. In the world of Social Media this can change a lot.
For corporate accounts, it is important to  be cautious and only share information that is relevant.
We should also try to offer a good experience in the publications for our followers. It is important to offer a good experience when, for example, one of your followers wants to know more about what you sent in a tweet accessing the link through the same tweet.
So when creating a tweet, you should always include a text describing the topic, an image, and of course the link of the website where the user can read the news or article.
4# Mentions
As in any other social network, Twitter allows us to mention other users in our tweets.
If this is done in the text, you only have to know the username Of this user (@ …).
An important fact(. @ #) you already know why.
An important fact
Never add the person's username at the beginning of the tweet. If you have seen tweets that start with a dot at the beginning ( 
[email protected]
—) you already know why..
Why you should not  do this?
Because if you add the person's name at the beginning and without the "dot", the tweet will only be visible to those who are your followers and the user mentioned in the tweet.
You can also mention users through uploaded images.
In each image, we can add up to 10 users.
It's a big plus because if we do this in the text, we will again have a problem with the 140 character limit.
This type of tweet will also have much more engagement than any other content (especially of the people mentioned) and it will help you to gain more visibility.
But be careful! Don't abuse, because you run the risk of being considered a spammer.
You may think it is not necessary, but always use hashtags!
On the right side of your profile there is a column called "tendencies". Where you can see which hashtags are the most popular at the moment.
Remember that if any of these options is related to the Subject of your niche or with your company, you can use it for more visibility.
We can also search the ones that are most popular from a particular sector and use them in our tweets.
If you work with digital marketing, for example, you could use one of these hashtags #CommunityManager, #SocialMedia, #digitalmarketing, among others. Use them!
Now I'll show you some examples of good tweets:
When to Publish and Where to Get Content
You are probably convinced that the most important thing is to publish new content often, and this is more than enough as a marketing strategy.
In a way, it's true, but as always, there are some important things to consider:
Firstly, note that a tweet lives about 5 minutes. What does that mean? On the one hand, every second Millions of tweets are published, and secondly, the timeline is updated every minute with new tweets and different information. To have more visibility, we can perfectly publish the same content Several times during the day or week, and most of all, post at least 5-6 tweets per day to make our profile visible.
Secondly, the publishing time of your Tweets. Yes, it may seem a bit strange, especially if we are talking about social networks. However, it is something you really have to pay attention to. For example, It doesn't make much sense to publish content during the night, especially for commercial tweets. The same occurs during the Friday or Saturday afternoon, as the tweet will not reach a high number of users. In fact, there is no fixed rule on the best time to post content, whether on Twitter or other social networks. You will need to test and see what works best for you.
Thirdly, to publish consistently, you would need to have enough content. But where to get interesting content? The answer is simple: You can search for the best blogs that talk about the same niche. You can also use various online tools to monitor new content published every day. Feedly, for example, is a platform in which you can add blogs that interest you and receive the new published articles. Another very good tool is called BuzzSumo. With it, besides monitoring the content, you will see the most popular posts among the Twitter users or any other social network.
Analyzing your work
No work will make sense if we cannot measure the results, and the same thing happens after you create a Twitter account. Always check the statistics of what you do in your profile of this social network.
To do this, there are several tools. Here are some which you can test.
Twitter Analytics
This is the free tool offered by Twitter itself.
Among the most significant metrics, we can see the total number of Tweets, the total number of impressions, the number of visits to our page and total mentions, the number of tweets and followers who mentioned the profile.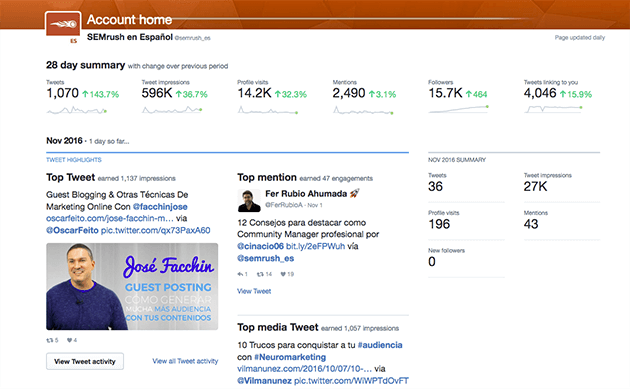 On the page of tool you can also see the most popular tweets you posted last month, the most
viral mention, the most influential follower (obtained on the total number of followers), etc.
With Analytics, we can also get data on key metrics from the last 28 days.
This is certainly a very powerful tool to analyze how our Twitter channel is evolving.
SEMrush Social Media Tool
SEMRush is a platform that has many valuable tools, mainly directed to the world of SEO.
But that's not all you'll find on the SEMRush website. You also have a social media tool with several interesting features for those who work with digital marketing.
With it, you can analyze up to 6 social networks: Twitter, Facebook, Google+, Instagram, Youtube and LinkedIn.
As the subject of this post is Twitter, we will see the advantages of this network.
Using SMM you can analyze the success of your work, but (and especially) you can also do the same analysis, but of your main competitors.
You can view the data as percentages of participation and see if the profile is getting new followers, the scope of the post published and users who interact with the content.
To learn more about this tool, you can access the SEMRush Blog to see how to use this tool and the other features they offer.
Sprout Social
We have already talked about the importance of content publishing, but, as you know, it's impossible to be online 24 hours every day, right?
That is why you will have to make use of other tools for scheduling tweets and publishing them. And you can do this without having to be online at the time of publication.
Social Sprout is one such useful system. In addition to its friendly interface, it has an editorial calendar that will facilitate analysis of the success of your content and statistics.
Very, very recommendable.
Conclusion
Although it seems like a basic subject, the process of creating a twitter account, we could talk for hours about this, and continue to share interesting tips.
As for everything in life, the best way to achieve success is to try, fail and try again. This is something that will never change.
I just hope the process of creating a Twitter account (And how to take advantage of this tool) will be easier for you after reading this Article.
What works best for you on Twitter? Share your opinion with us in the Comments
Until next time!