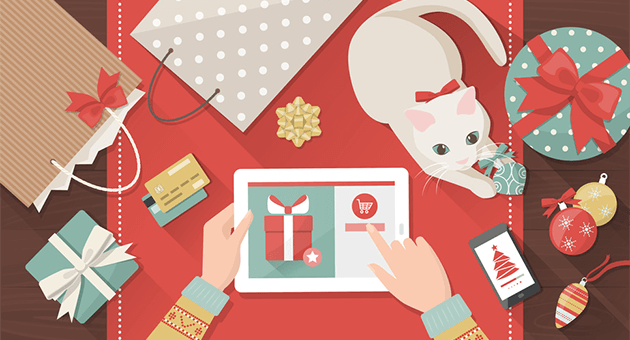 How to create a Christmas Advertising Campaign on the Internet
In the business world, the last months of the year are used to try to balance the budget and increase sales as much as possible. For this, the Christmas advertising campaigns are a great option to give greater impetus to your business.
So, you will agree with me when I recommend that you need to consider all possible online communication channels to achieve greater visibility and therefore more profits.
By creating a Christmas campaign with a landing page, you can help improve online reputation and engagement with your community of followers, as well as capturing more leads so that you can increase your mailing list.
If you add that potential together with the emotionality of this season, the results can be even more amazing. So, don't miss this post, where we will see:
 How to create an advertising campaign and the best online channels to work with
 Interesting advices to take advantage of email marketing during this time of the year
 Examples of the best Christmas advertising campaigns.
Keep reading and let the spirit of Christmas influence your brand!
How to create an online ad campaign this Christmas?
The first thing to ask yourself when thinking about how to create a Christmas advertising campaign for your company, is if you want to use the festive Christmas atmosphere in your online strategies.
Although not all brands use this time to send campaigns, most companies take advantage of this great opportunity, since there are certain patterns that are repeated every year and they are ideal for launching effective promotions, such as:
. The responsiveness of users: In Christmas, advertising becomes more aggressive and the users are more receptive. This doesn't mean you should change your sales strategy, but maybe you can increase the frequency or send more direct messages.
. Thematic offers: both users and competitors, are already more than used to waiting for offers and promotions before Christmas.
. The magic of visual content: users receive visual content  especially well, when compared to Textual content, and especially at this time of year.
You not only have to define a strategic style and an emotional tone, but also the appropriate channels you will use for your email campaign.
Online channels for creating the best Christmas advertising campaigns
At Christmas time, it is the users themselves who seek information about products or services, hoping to find the perfect gift or what they need to celebrate the holiday season.
These users no longer search for a gift in their local stores, but many purchases are increasingly being made through the Internet. This means, of course, that you need to prepare your online store for the advertising campaigns, so that users can find you before they find your competitors.
These are the top 3 channels you should use in your advertising strategy:
Your website
Social networks
1- Create Christmas content for your site or blog
As you know, content in online marketing is the most important factor, therefore, content creation should remain a cornerstone of your advertising strategy, especially during Christmas.
In this sense, prepare the content of your website or blog, focusing on two main aspects:
 Visual content: As I said, visual content is very important, and on the Internet it is possible to find a great amount of resources to improve your campaigns.
Emotive: Christmas is a time of reflection, analysis of recent months, family gatherings and strengthen relationship with other people. The brands know this, and therefore they will take advantage of this aspect when creating their messages.
In addition, I recommend you create an editorial calendar in advance, (With a minimum of 2 months), thinking about when, where and how often you will promote your Christmas content.
2- Promote your advertising campaigns in social networks
No matter what the position of your website, you should not forget the great potential of social networks to market your emotional and visual content. So it's important to be aware of them and apply the following tips:
Analyze the social network profiles you will use and find the most suitable to promote your advertising campaigns. You can explore the potential of Facebook, Instagram and Twitter Ads to reach a wider audience.
Thematic Hashtags: For social networks that support the use of Hashtags, such as Instagram and Twitter, you can create a custom hashtag for your advertising campaign and share your content using it.
Encourage sharing: Create targeted calls to action to share content to expand the circle of your online followers.
Publish frequently: Take advantage of user receptivity at this time of year to publish more posts.
Think that at Christmas users have more free time to interact in social networks, which makes it into a even more powerful channel to promote your online advertising campaigns.
3.- Send your best email campaigns.
Believe it or not, users are hunting for good information and discounts for shopping during the holidays, so you can expect your Christmas campaigns to be well received.
I would like to give you some general tips for your email marketing campaigns during christmas (we will see other advices later):
[su_list icon="icon: check-circle" icon_color="#38aaf8″
 Templates: avoid using standard templates and customize them whenever possible (remember that your competitors will certainly use custom templates).
 Graphical aspects: in relation to the previous point, as you will customize the layout of your email, select elements  that you will share, such as Christmas cards or animated infographics.
 Subject line: It must be attractive and interesting so that users want to open the email. Take time to think about it and test with different messages.
 Message: once you have managed to catch the attention of your subscribers, it's time to think about your message. Test different things, changing various aspects like images and text, until you can find the best content for your Christmas campaigns.
Obviously, 100% of your subscribers will not open your newsletter, especially in the case of a purely advertising campaign, but if you are working with a good Christmas design, you can expect good results.
Tips for Creating a Christmas Newsletter and Succeeding with Your advertising campaign
If you decide to use email marketing as one of your online marketing strategies, you will have to find the best way to create your newsletters, so you can improve your open rates.
Read on to find out:
The benefits of email marketing during Christmas
How to create and design the message for your Christmas email campaign
Where you can get good templates for your newsletters
The Benefits of Email Marketing for your Christmas campaigns
Certainly, you have heard that email marketing has a great brand potential, but what are the benefits of sending a mass mailing or advertising campaign for Christmas?
Strengthen the brand image: with a consistent design, you can increase your credibility by passing on your values and improve the user experience on these special dates.
Increase online visibility: Given the increase in the number of people who are searching for good deals at this time of year, an effective online Christmas campaign  will bring you a lot of visibility.
Added value: an email with the correct emotional message is much more valued by the users, who receive these messages in a more positive way.
Strengthen the relationship with users: At the end of the year, most users are more receptive, it's a good time to strengthen relationships between your company and your customers.
Differentiation: Creating a well-good campaign (here we are talking about content and design), you can stand out from the competition and increase your sales.
Email marketing is a more direct and personal communication channel, so by sending a newsletter on Christmas, you will help further strengthen the relationship with your readers and customers.
Tips for content and design for your Christmas campaigns
In general terms, there are three areas where you should focus so that your newsletter is consistent and true to your brand:
 The content
 The design
 Added value
Although advertising campaigns in holiday are better when created using visual content, you should not ignore the strong emotional component that can be used in your posts.
In this regard, I would recommend that you:
 Preserve Consistency: Being an occasional campaign, it doesn't mean that you should change the style of your usual newsletters. You should be, above all, recognizable.
 Write clear texts: it doesn't matter if it's Christmas, nobody wants to read endless paragraphs. Your message should be clear and concise.
 You should prioritize simplicity: users are receptive to advertising campaigns, but at the same time they will receive a lot of new content. So, i would recommend you try to use a simple style (without adding even more unwanted advertising).
 Customize your posts: Take advantage of this date to shorten distances, writing in a more personal tone than usual.
On the other hand, we should also work to call the attention and encourage reading. To do this:
Use a featured image: it should reflect the main message, which is where the Christmas infographics you want to use can be included.
 Choose well the Christmas typography: It can be the same one you normally use in your newsletters, or use a special for your Christmas advertising campaign.
 Use emotive colors, following the aesthetics of other campaigns, so that  your brand can be recognizable. Avoid the use of  a lot of red and green, which are colors widely used at this time, because  your brand could be unrecognizable.
 Highlight the image of your brand: That is, do whatever possible to highlight your logo, colors and all aspects which represent your corporate identity.
 Include promotional calls to action: Don't forget to explain  what you expect when they receive your Christmas campaigns.
 Include more information in the footer: Use this space to congratulate your subscribers or to remind them about your offers and promotions in the end of the email.
In terms of added value , it is the aspect that you should work on before starting to create the email campaign. Will you  give them something different in your Christmas campaign, or will you create exclusive content?
On the Internet, you can find hundreds of free and paid resources to bring your Christmas advertising campaign to life.
Among them, and it could not be different, I recommend you consider the use of newsletter templates created for Christmas (Obviously, you should customize them according to your brand image as much as possible.)
In addition to the templates that Mailrelay offers on its platform, I would recommend 2 sites that I use a lot to get these features:
MPG: Here, in addition to Christmas email marketing templates, you can get resources for your website
Freepik: In this large stock of free images, you will find many design features such as templates, icons, vectors for your Christmas campaigns
Successful Advertising Christmas campaigns
I don't want to end this post without first giving extra motivation so you can work on your advertising Christmas campaigns.
So I decided to share with you some of the best advertising campaigns  that have been very successful in previous years and I'm sure that you will be inspired:
Several years ago, a company created this campaign in Spain. The advertising agency Shackleton has created the iJam, so that companies could give to their employees, collaborators and customers  a differentiated gift, using ham, which is very popular in Spain as a theme for the campaign.
They used the aesthetic of Apple to give a touch of humor, and not use the Christmas clichés. The only thing that related this campaign with Christmas, was the use of  ham itself and the concept of gifts.
To be successful with this campaign, they used:
 Their website
 An email marketing strategy
 Social networks
 Great audiovisual content
Although this campaign was created ten years ago, every Christmas it comes back and it is remembered by many people. And, who did not send at some point, the famous video of elves dancers to congratulate friends and relatives?
The campaign consists of putting your face or that of your family and friends in the video of the elves, then send it to your loved ones as a way of congratulating them.
With that, Officemax created audiovisual content and a destination website, where the users themselves are the ones who will share the campaign through email and social networks.
Conclusion
As you can see, creating an online Christmas advertising campaign can be very good for your brand. However, this requires planning and a lot of effort, so don't leave it  for the last hour and start thinking about what you will send to your subscribers and customers today.
In this post, I recommended that you work to improve the contents of your website, in addition to using the power of social networks, as well as email marketing in your Christmas campaigns.
Don't forget that although we are all more receptive during Christmas, the number of campaigns created will increase greatly.
How will you create your Christmas ad campaign? Do you agree that email marketing is one of the best channels for your campaign,  with a very good potential for these special  dates?