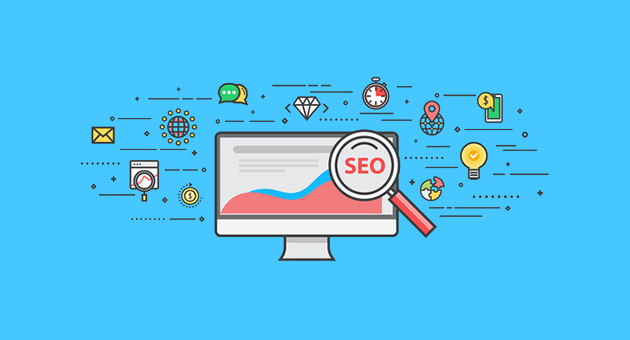 8 common mistakes related to SEO and how to avoid them
When it comes to website optimization for search engines, we can make many mistakes, don't you think so? SEO is one of the oldest online marketing disciplines and therefore it should be very clear.
But in fact, quite the opposite!

Search engine optimization is undoubtedly one of the most dynamic and unpredictable aspects of online marketing.
Google launches one update after another, changing plans of millions of webmasters from around the world. For this reason, it is important to always be up to date and know exactly what doesn't work.
In this article, we compiled eight different mistakes about SEO that you should avoid making  to improve your SEO.
Let's look at these 8 mistakes that you should avoid making.
1# Keyword Stuffing or Exaggerated Use of Keyword
Keyword Stuffing refers to an excessive repetition of a keyword on your website. It is a method that many users have already tried to get more traffic. Administrator adds a very high amount of keyword, but Google will think you are a spammer and therefore it will penalize the website.
How to improve text optimization without being a spammer?
Try not to always repeat the same keywords so that you don't overdo it and use synonyms and words of semantic relevance.
If you want to check the optimization of your texts you can use the formula WDF * IDF (Within Document Frequency / Inverse Document Frequency).
This formula measures the ratio of repeated keywords on your site and compares it with the repetition rate of the strongest competitors in the ranking.
So you can avoid using a very large number of keywords and identify synonyms and other words related to the topic. In this graphic, we can see this more clearly.
The green line would be the text we are reviewing, the orange line shows the average repetition rate of keywords and the black line shows the maximum rate, which should not be exceeded, as this could affect the website.
2# Not searching for keywords
Abusing when using keywords is a very serious mistake, but it is also a mistake to publish content without searching the keywords before creating the articles or landing pages.
To get organic traffic, you first have to analyze the niche and ask the following questions:
 What users are searching on the internet when they try to find companies from the same sector?
 How are these searches done?
After answering these questions, we can focus on searching for the best keywords or combinations of keywords with possibility of conversion.
An interesting way to find keywords is to find out which ones are used by your competitors and choose the most interesting for your website. Once you have the list of keywords, you will need to create quality content that will solve the doubts of your visitors .
3# Creating duplicate content
Creating duplicate content is a common mistake, and it can sometimes accidentally occur.
It happens mainly in virtual stores, which present their products within different categories or filtered by size, color, etc. And as a result, multiple URLs with identical product descriptions can be created.
As this Google article explains, duplicate content within a website will not be penalized, unless the ultimate goal is to deliberately Manipulate search results. However, we can't forget the so-called "crawler budget".
The search engine assigns a tracking time for each website, if the URLs are indexed several times, we will be making the robots of Google waste time.
So avoiding duplicate content will help Google crawl all pages, to include them later in its indexer.
How can we solve this?
There are several methods to avoid duplicate content.
The most common are the 301s and the use of "Rel = canonical" to indicate where the original content is available.
4# Incorrect use of titles
This is one of those mistakes in SEO with indirect effects.
Of course you need to use the correct keywords in your content. After all, the search engine needs to understand what the text is talking about. But many times we find different pages in a website with the same title.
This usually happens if you work, for example, with tags or categories on WordPress. It's similar to duplicate content: Google can differentiate when you try to do something hurriedly or with care.
An interesting tip
You can help Google to see your titles correctly, you can rate them with the corresponding HTML tag (H1, for the main title and H2 for the subtitles). This doesn't mean a radical improvement in ranking, but it's a sign that the content is well structured and you care about the technical aspects of your site.
5# Not paying attention to the meta description
Another of the most common mistakes in SEO is leaving the meta description field Empty or creating duplicate descriptions.
This is not a direct positioning error (you will not be penalized for having a wrong meta description), but Google pays attention to user signals and if the CTR (click through Rate) is affected because of an incorrect meta description, you are not doing the correct things to improve the ranking and you will be leaving the way free for your competitors who have an elaborate snippet.
What should be considered when creating a metadescription?
 Use unique text for each URL
 Make sure the information fits with what the user expects to find when he gets to the website (otherwise you will have a High bounce rate)
 Use a call to action
 Make sure the length of the text fits with the number of pixels of all devices
6# Ignoring broken links
It is not a mistake, but an oversight.
A broken link is a link that leads to a URL (Internal or External) that no longer exists. If your links are not working, Google may subtract some points, so to speak, as this indicates some sloppiness on your Website.
How to avoid broken links?
If you have a WordPress site or blog you can install a plugin that will generate a report when it detects any broken link, so you can repair or delete it.
You can also use the Onpage XOVI tool to check thestate of your internal and external links.
7# Having toxic links
As we know the links obtained should be of good quality and related to the theme of the website. But sometimes, this is not easy to control.
The page may have received a negative SEO attack.
What does this mean?
Competitors may have inserted links from your website on pages of domains of bad reputation to undermine your results.
It may also be that the former webmaster of the company worked on a somewhat suspicious linkbuilding strategy and you now have a list of links that, instead of helping, can damage your reputation.
How can we clean up toxic links?
It is recommended that an analysis of the list of links be made to detect all negative links.
These could be, for example, links found on pages of spam, links on pages that have nothing to do with the theme of the site or in empty URLs, without content (thin content).
If you have many backlinks, evaluate each link manually can be very difficult.
To do this, you can try to use the Disobow Tool from XOVI and evaluate your backlinks automatically.
With just a few clicks, you can deauthorize links and create a Disavow file to send it to Google Search Console.
8# Not using website analysis tools
Positive results should be translated into traffic and conversion.
After all, the goal of improving organic positioning is to bring more users to your website through the rankings in the results of the search engines.
For this reason, you should not forget using the best SEO audit tools like Google's Analytics metrics and Google Search Console to analyze the results from your website.
For example: if you know through which URLs the visitors are accessing the website, you can analyze user behavior and even direct him to pages that are better if you want to improve conversion.
Conclusion
In this article we show only some of the aspects which should be considered with regard to onpage and offpage optimization of your website.
The bad news is that there are many other things to consider.
What do you do to avoid these SEO mistakes? In your opinion, what are the most important mistakes to avoid? We hope you will leave your comment!