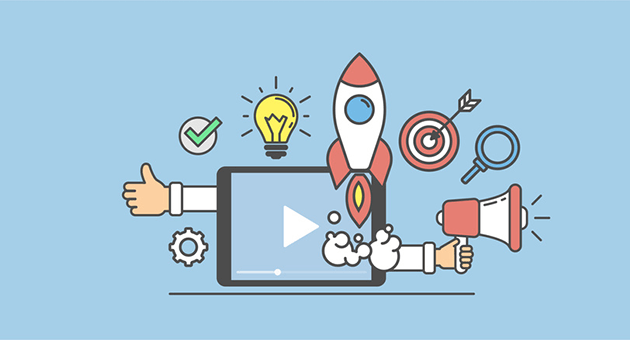 Learn how to translate videos on YouTube
You may be wondering: Is it important to learn how to translate videos on Youtube? And the answer is, of course, it is important.

I believe that there is no need to repeat how important Youtube is for the marketing campaigns of any small or medium business.
No need to repeat how much it helps in positioning your website, the fact of increasing the permanence time  and help to connect with our user at a Sentimental level. Nor do we need to repeat the degree of engagement that a video is able to achieve in a short period of time, either on Youtube or other networks.
It's 2016 and, fortunately, the future has arrived. And the future is video, folks. Long ago Mark Zuckerberg said that in less time than we imagined 90% of the content consumed on the internet would be video.
We have seen companies succeed globally by using Youtube as well as young people who barely are old enough to drive a car becoming opinion leaders for millions of users and earning a good amount of money.
And yet
Still, I get emails and inquiries from companies. Users who have doubts and don't know whether or not to use video as a marketing strategy.
The main barriers that my customers usually face Are the same, although each one believes that their case is special and unique. Those who don't find it expensive, think it's very complicated.
Then there are those who are afraid of the camera, those who believe that a channel will harm their image and those, and these are my favorites, who believe they will play the fool if they create a video.
Seriously. All are real excuses.
There are barriers that really are difficult to break, but Youtube is here to stay.
But for now, let's see some general points and later I'll explain how to translate videos on Youtube.
Types of video marketing campaign we can find on YouTube
Youtube is already an old platform for everyone.
We spent years reading and consuming everything that is published about this fantastic video portal.
But we have to find our own niche. I'm not talking about creating our own channel, I'm talking about much more.
The first thing we should think about when creating our channel on YouTube IS: Why, what is the purpose of this channel?
Adding multiple videos is something that will cost you sweat, money and time, so it is important to work with the correct strategy so that the results obtained are satisfactory.
A tip
The first thing to think about before launching our channel on YouTube is, what for? What do I want to do with this channel? Today there are few things that have not yet been tested on Youtube. There is content to entertain and learn, and as I explained, you need to find an identity for your brand, but that in turn will help you to position yourself as influential in the niche.
But we have to find our own niche. I'm not talking about creating our own channel, I'm talking about much more.
The first thing we should think about when creating our channel on YouTube IS: Why, what is the purpose of this channel?
Adding multiple videos is something that will cost you sweat, money and time, so it is important to work with the correct strategy so that the results obtained are satisfactory.
Here are some examples.
►Tutorials
One anecdote I always tell my students is that when I cut my finger when cooking, the first thing I would do would be to go to YouTube to see how I should proceed. #Truestory.
It's just a story, but it's undeniable that YouTube is a very good place for those who want to learn or to teach something.
If our company offers a more complex product, most customers would have to learn how to use it, so you could explain how to use the product, but  you could go further.
We can create a channel that is reference about the product, with tips so that when the customer decides to buy, he will  remember our company, and that he has videos to watch if he needs help or information about the product.
► Testimonials
I usually talk to companies that are just starting to work with video marketing.
They have created their channel on YouTube and literally don't know what else to do.
My question is usually simple and straightforward:
Do you have satisfied customers?
If the answer is yes, the strategy is clear:
Visit your customers and record a video even if it is with your own phone With the user explaining why he trusted you and how you helped him in his business, the result can be very good. People tend to trust the opinion of other people, and in this case, the fact that it is not a video recorded in a professional studio should not worry you, what matters is the originality and the honesty of the person.
► Reviews and comments
Following the line of a company focused on a product, you certainly have heard the phrase
"I can't believe in something when I can't see it."
For example in the case of a virtual store, it would be a great option to offer explanatory  videos of all its products.
Maybe giants like Amazon don't need this kind of strategy because they already have the  confidence of all users forever, but for companies that have yet to fight this battle, a video showing the product that they are selling can be very helpful in convincing the customer to buy it.
Another tip
A video showing the product can help many buyers to see all the advantages of your product or service and these users may end up buying it.
It doesn't have to be a fantastic video, or a super production.
I'm talking about something that allows the user to get an idea of what he will  buy. Some years ago I bought a car and you can believe me  when I say that I searched a thousand times on YouTube to make sure that my decision was appropriate and i was getting a good car.
►Commercial
"I want a video like the ones on TV." INCORRECT.
The fact that your company has a channel doesn't mean that your videos should be like the ones you see on your TV.
I can guarantee that nobody, absolutely nobody, is using a smartphone or computer to watch ads.
I have expert friends in commercial production. They tried to create amazing videos with  wonderful people, and then they contacted me asking:
Why my videos on YouTube don't have many views?
The answer is simple: because your videos are not good for most users.
Let's not panic.
Why a traditional commercial video doesn't  work?
I'm talking about videos that are created for television, usually these videos will not work on online networks as they are designed from an unidirectional strategy (such as TV commercials).
In our case, if we make a commercial video for our channel, the best thing to do  is always to opt for originality and transparency, to avoid falling into advertising clichés of the 90s.
►Live Videos
I think I saved the best for last.
And while we could talk about many other video marketing  strategies,
I think YouTube offers a great option to connect with our fans through live streaming.
Until recently, with Google Hangouts and now with Youtube Live, Google allows us to offer live broadcasts, this option allows us to interact with our audience in real time . If you have not tested it, I recommend this feature, because your users will like this type of content, as well as Youtube itself likes this type of video, as it can Increase the interaction between content creators and users .
Remember
Live video has several advantages: It allows us to feed our social networks creating expectation before the event, we have the interaction during transmission via comments and questions, and everything is recorded and it will be available for users who want to view the video  later. Simply brilliant.
The problem: Making our videos available in other languages
Now that we've seen the basic factors, let's move on to the main goal of this post.
Creating a video is expensive and the main concern of  many users is how to get the most of it and (obviously) amortize the investment with more leads or sales. The problem arises when the company works at an international level and in this case, all countries don't speak the same language.
Imagine the situation (real, it happened to a customer recently) where a video that costs several thousand euros, is available in a single language, when the company works with customers in different countries such as the United Kingdom, Italy, France and Portugal.
So it is in this situation that we must consider how to translate videos on YouTube. But now you will see that we have several solutions.
How can we make the same YouTube video available for users in different countries?

Let's look at several options for translating videos.
Partial solutions
Many companies are concerned when looking for a solution to solve this type of problem, since in the past, it was necessary to upload the same video several times.
Inclusion of multiple languages in title and description
We can still find channels that choose this option.
In this case, the video title and description are entered directly in multiple languages. One after the other.
And you can imagine what the problem is:  You will need to decide what the first language will be, if for example there are 5 languages, most likely the last languages won't be visible for your users.
This option is more interesting, and this is something highly recommended because it improves
The SEO of your channel on Youtube, but it will not really solve all the problems.
That is, if there is a dialogue or narration in the video, the user has the possibility to add these subtitles in the desired language.
This is a very good option, but doesn't affect the title or description of the Video, in addition, the audio will also remain in the original language, which means that some users may not want to watch the video.
Duplicate channels
Another very common option is the use of duplicate channels.
This means that the same brand had multiple YouTube channels, one in each language.
With its consequent maintenance and monitoring.
It's not a bad choice if we want to make sure that all videos will be in the best positions in their respective countries, but in this case, you should have to evaluate whether this strategy is worthwhile, as you would have to spend a lot of  time and effort to work with each channel.
Ultimate Solution: Translate Youtube Videos Automatically
Some time ago (although not a long time) YouTube launched automatic translations
This means that we can translate YouTube videos, as the platform allows us to include the texts for the title and description simultaneously in multiple languages. Do you think it is complicated? Well, it's not.
What are automatic translations on youtube
Automatic translations on YouTube are applied to the title and the description of a video,
We can translate YouTube videos in multiple languages at the same time, so that the same video will be displayed with different titles depending on the location of the user.

How can it be advantageous to translate my YouTube videos automatically?
The main advantage of automatic translations on Youtube is that the user will see the correct translation for each language.
This means that the user will not have to do anything to make the video available automatically in his language.
So, when a user accesses our video on, for example, the UK, it will be displayed directly in English.
We could compare it with the subtitles, which also allow us to Enjoy video content in multiple languages, but the subtitles have several disadvantages, such as being the user who should activate captions, plus the fact that the Google translator is not 100% reliable in terms of grammar.
How does this affect the structure of my videos?
You may be imagining that the only aspect that needs to be solved is the audio.
Unfortunately Google doesn't allow us to include multiple audios in the same  video to solve this problem.
So in the case of a company that wants to be known throughout Europe, or simply in another country that doesn't speak the same language, it would be better to create a simple video with no audio so that users can understand it by reading the subtitles.
That is, don't use spoken information whenever possible. Thus, you can create a "universal" video that uses only written text, so that it can be translated into multiple languages and can be viewed by users of different languages.

Adding multi-language translations to Youtube videos
Let's go for the best part.
Now we understand (better,) how important the video on Youtube is, what types of video can help us connect with our audience, and that it is possible to translate texts automatically for the videos. Now we can start working and translate videos on Youtube.
Preparation: adapt the texts
Youtube itself offers us an option to hire a translator, who will certainly do a good job, but
I don't recommend it simply because it is very expensive and because I don't have enough references about their job.
In my case, what I usually do is to create a spreadsheet that I can share both with my customer and with a trusted translator.
In this way, we can make corrections or include translations without any of the three parts being misinformed about the progress of the job. I'm very pleased with the spreadsheets offered by Google, I'm not going to lie.

So once I have the translated texts in all languages, and the ok of the translator and the customer, adding it on Youtube is very easy.
Adding the original video language on Youtube
The first step is to add the original language of the video.
To do this, simply access the video and  edit it, And you'll see multiple tabs, including "Translations."
In this panel, on the left side we can find both the title and the description that has already been added when the video was uploaded.
Let's set this as the original language on the left side, where we are going to tell the system that we are actually using English as the main language (of course this will change depending on the main language of your video).
Adding a Second Language
Now that we've set the main language of the video, let's add the title and description in another language, and Confirm in the drop-down menu located in the Top of the editor.
We will click on the "Add language" button and select the desired language.
We can select the language, but it is important to take special care with the area related to languages, for example with English, we have up to four different options (Canada, UK, USA and Ireland)
Just copy and paste the text, accept and save the changes.
To add more languages is very easy, just repeat the previous step.
Note that when accessing the list of languages, the ones you already added will be displayed, so it will be very easy to know which language has not yet been added.
Video tutorial
Conclusions and recommendations
Well, as you've seen, adding automatic translations for Youtube videos is very easy, and it is a good option for various reasons.
If your company is working in several countries and video is a fundamental pillar in your communication strategy (it should be), it is important to make the effort to add other languages, always thinking on improving the user experience, thinking on  the users who are watching your videos.
Now I will give you some recommendations based on what we saw.
Creating the video for the international market
If we are confident that our videos can be used in the international market, these videos should be created for this purpose.
This means that we should try to tell the story without resorting to speaking or to any kind of dialogue. That is, the user must understand the message without having to listen to the audio.
Completing the preparation also adding languages as subtitles
Once translations have been added directly to the videos on Youtube, I think we can all agree that captions (which should also be added manually) can help create a much more enjoyable experience for the user who is visiting another country's channel, or simply speaks another language.
If possible, hire professionals to work on the translations
Although the professional translation of Youtube is in beta mode still, I recommend you work with a professional translator to ensure that anyone who reads the texts of your videos can properly understand its content. Google is good, but not so much, it is better to do this with the help of a professional.
If you have questions about how to translate videos on Youtube, leave a comment!