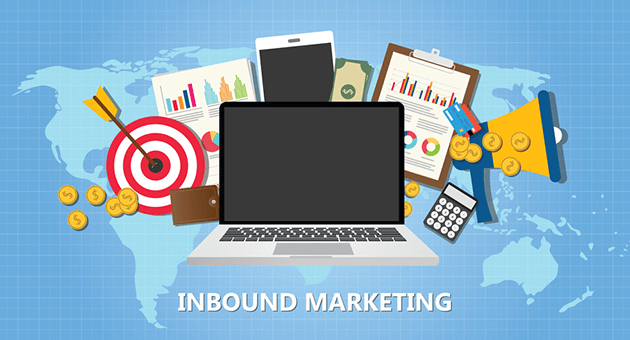 How to attract new customers with an inbound marketing strategy
That inbound marketing is something extra important is indisputable. However, knowing how to create the correct strategy and how to  apply it to your business is what will make the difference in the results obtained.
To help you create a correct strategy, in today's post we will explain what inbound marketing is, what is the target buyer concept and give you the keys you need to attract new customers through your inbound marketing strategy.
What is Inbound Marketing?
The person who invented the inbound marketing methodology was Brian Halligan Co-founder and CEO of HubSpot who, along with Dharmesh Shah and David Meerman Scott. Mister Halligan published the book Inbound Marketing: Get found using Google, Social Media and Blogs, talking about this new form of contact with users, at which time this strategy began to have repercussion and to become popular gradually.
According to the definition given by HubSpot, we can say that:
Inbound marketing allows users and potential customers to find you on the Internet and know your products and services.
It is about adding value in a non-intrusive way, unlike traditional advertising, so that consumers don't feel "pressed", believing that the company's goal is just to get sales.
When inbound marketing techniques are applied correctly, customers are looking for what you have to offer. However, when using outbound marketing, it is you who must find them. In the first case, the key is to create quality content; And in the second, the secret is in having a good budget.
The definition given above makes clear the concept of this strategy, which is based on content creation and not on intrusive advertising.
This other way of maintaining contact with users requires time and effort to go through a series of steps until the lead is predisposed to make a purchase.
In order to do that, you must use tools and mechanisms that are within your reach and that greatly facilitate the initial work, to turn unknown users into customers, bringing visitors to your area of influence.
In this way, we will be creating content with which in the future, we can generate targeted sales for our target buyer.
What is the Target Buyer?
From the very first moment when you begin to create an inbound marketing strategy, you should be aware that it will be necessary to try to attract the right customers, that is, those who will be really interested in what your company offers, so that you can generate sales in the future.
For that, it is important to know how is this target, that is, to try to identify these customers who will buy the products or hire your services.
But what exactly is the target buyer?
The target buyer is nothing more than a detailed x-ray of your potential buyers, to define their characteristics and their interests.
To get this data, you need to delineate aspects like age, gender, income, marital status, economic situation, profession, goals, challenges, concerns, ETC. Until you complete the detailed information that will allow you to understand who is interested in your products, you can't start creating a marketing strategy.
The goal of defining our ideal buyer is to know perfectly to whom we are directing our content and therefore in what these users may be interested.
It is the best way for understanding your customers more accurately.
How to attract new customers with an inbound marketing strategy?
In order to attract the customers that really interest you, you will have to focus on three main areas:
– Positioning with keywords:
One of the most important steps for users to find us by searching any topic on Google, Yahoo or any other available search engine is to try to be listed among the first results of these searches.
When a user is typing a phrase or word on Google, he is demonstrating his clear interest in finding information on this topic.
It is at this point that our company must be present in Google because it is when searching for information about this product, that he will be demonstrating the clear intent to "buy".
But not all traffic is valid, only qualified traffic.
This means that it doesn't matter if you have a large number of visits to your site, if they found your pages by searching for products or services you don't offer. That means that they are searching for keywords that are not related to your company, so they will never become your customers.
Therefore, a correct choice of these keywords is essential, in order to attract the right customers, either through search engines or through other content generation strategies.
-Content Marketing and Blogs:
To define content marketing, we can say that it is, essentially, the creation of content to attract visitors.
Creating content is the way to create engagement, based on the interests of the readers, so they are the ones who are looking for this content, which is very important, because these visitors are interested in your articles, videos or images for a very important reason: You are talking about the topics they are looking for.
Content Marketing has many elements through which you can develop content strategies and one of them is your blog.
Your blog is the main tool that you can use to deliver good content and attract new visitors, with an extra advantage, which is to improve the web positioning and the relevance of the brand.
By publishing content on a blog, you can generate new opportunities to attract users who are searching for the keywords you are promoting, as long as you know how to write a blog.
We can say that it is the "base camp" from which, in addition to  attracting potential customers, you can create other marketing strategies.
In addition, through content planning, you can create a wide variety of materials, such as videos, infographics, images, ebooks, ETC.
The aspects you should work with, when creating your content marketing strategy  can be summarized as follows:
The search for microssegmentation of the target audience (for example email marketing campaigns) to reach higher levels of interaction and engagement with readers.  This will lead you to create more and more personalized content, as a counterpoint to the large number of messages that most users receive daily.
A sharp increase in the use of visual elements.
Visual content is an awesome option for creating engagement, as it can provide an amount of information in a short time and in an easy way.
According to a study that was conducted by Lifelearn (2015) it was observed that when people read information, the more likely it is that after three days the person will remember 10% of what was read, but if this information is accompanied by an image, the percentage rises to 65%.
A video, in its traditional format and with the new possibilities offered by streaming applications such as Periscope, Facebook live, Instagram Live, can offer new possibilities of communication with users, with great potential for development, as you can work with images, texts and audios in the same video.
The use of interactive content offers numerous advantages as it makes reading more enjoyable, and increases the length of time of the average visits to the site.
Your marketing strategies should be tailored for mobile devices.
The smartphone is already the device most used to access the Internet (85% per day), when compared with desktops (67%) or tablets (45%) (IABSpain)
Social networks are one of the most important tools for any marketing strategy.
In many cases it is possible to offer customer service through social networks, or update users about new features, problems or other important information about your company or yourself.
But in addition, social networks play an important  role in the diffusion and reach of potential users through different channels other than search engines.
Through these channels, it is possible to post all the content that has been generated in other ways, such as videos on Youtube, blog posts, ETC. Using social networks, you can keep these users informed in a direct way, almost in real time.
Social networks are an important help in the diffusion of all the content being generated.
But you must clearly understand the differences between the social networks you will work with, since each one has its own essence and resources.
But not only that, you will have  to concentrate your efforts on the appropriate channels, which means posting your content in the social networks normally used by your target buyer.
The content should be adapted to them and published in a very effective way, so that you can reach the new customers you are looking for.
To distribute this content, there are numerous tools, such as Hootsuite, Buffer, NowPulse or email marketing softwares like Mailrelay if we talk about email marketing, to mention just a few in a wide range of possibilities.
Conclusions
Inbound marketing is here to stay and like any methodology, it will continue to advance and incorporate new ways of establishing a relationships between users and companies, but always based on its main axis, the offer of content of interest to these visitors.