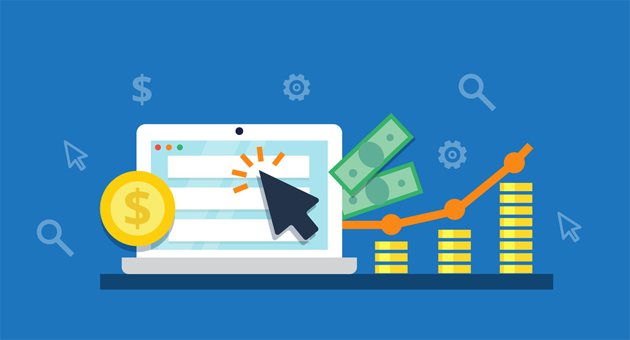 How to get leads with Google AdWords and build customer loyalty with email marketing
Capturing customers with Google AdWords can give your business a boost, especially if you are starting out or you still don't have many visitors to your site.
You can create search campaigns to capture visitors looking for information about products and services like yours, create campaigns for brand recognition using the Display Network and even advertise on Google Maps.
However, those visitors who cost so much effort could end up going away very quickly if you don't have a strategy for trying to retain them. We are talking about, of course, email marketing.
We live in the 21st century with a plethora of available marketing tools; these systems can do anything to promote your products or services. But there is one that undoubtedly remains central to retaining customers, create engagement and interact with your customers. That tool is the email.
Most of us use email every day.
We check our emails several times every day, to see if people contacted us if we need to answer a message or to read relevant newsletters related to topics we are interested in.
We hardly realize how email has changed our routine. You can imagine what your job would be like if the email did not exist?
An email account is so important that if you find someone who doesn't have at least one email address, you'll probably think that that person is strange.
But seriously, email is more important than you think. In fact, all statistics point to the fact that the email is still the most active sales tool on the internet.
Many have dared to say that email is no longer used to sell or that it doesn't work as before, but they are wrong, the countless studies on the subject prove the opposite.
The email is not dead; it's more alive than ever on your mobile device.
According to (source: Litmus) among the top ten email clients, the four most used are iPhone (33%), Gmail (15%), iPad (12%) and Google Android (10%).
.
Analyzing these data, you can understand that the email is still very relevant, but it is catching on, and now it's at everyone's fingertips.
Your subscribers will be able to read your messages anytime, anywhere. This is why investing time and Money for attracting customers with AdWords without an engagement strategy is no longer enough, you need to know how to create ties with these customers so that they don't forget your brand.
If you want more statistics on that, 89% of online marketers claim that the email has become their first channel to get prospects or leads.
And that is what we are going to talk about, the union between two super tools for your marketing strategy, the advertising giant pay per-click, AdWords, and the insurmountable tool to engage your customers, email.
Although times have changed and now there are many means for contacting customers and explain the advantages of your company or brand, you should be grateful for the fact that you still can count on email to help you improve the results of your digital marketing strategy.
We could say that Email Marketing is a complete strategy that allows you to connect with potential customers by email, creating a relationship with these subscribers.
Of course, we're not talking about spam or mass mailing without permission, but about a strategy that will allow you to send messages to your ideal clients who have agreed to receive your newsletters.
That's why it's crucial to attract customers with AdWords and request their permission to send them email marketing campaigns.
No matter what you sell, email is infallible, allowing you to send a message to the inbox of all your customers or users, the place where these users receive emails from family and friends. If you do your job well, you can be part of that circle.
One of the significant advantages of this type of marketing is that it offers an opportunity to retain customers, creating a relationship with them, a powerful tool that no other software could provide.
Imagine that:
You create a campaign to attract customers with AdWords.
A user enters your site and fills out a contact form to learn about a gardening course. When this user confirms that he wants to receive information about the course, you send him a welcome email, thanking him for his interest and offering him all the information   about the course and form of contact.
A few days later, he will receive an email with a video created by some of your students, talking about their experiences with the course, showing that some of these students are already working as   gardeners.
After a few more days, he will receive another email with some interesting articles on ecological gardening, with relevant information about the topic.
One week later, he will receive an email with na irresistible offering, a 20% discount for the gardening course, but he should buy the course in up to 24 hours, or he will lose the opportunity.
As you can see, this is a practical example of how to get customers with AdWords. After you have a new lead, you can work with email marketing to guide the user towards the purchase. In this case, Google Adwords will attract the user, but he will be persuaded to buy through your email campaigns.
An email marketing software such as Mailrelay can help a lot in this task because you can create newsletters, subscription forms and even autoresponders totally free for up to 75000 emails per month, working with a mailing list of up to 15,000 subscribers.
How can Google AdWords help improve your email marketing campaigns?
AdWords is the ideal partner to receive traffic for your website and therefore increase the number of subscribers to your Email list.
The possibilities are almost endless, either through ads in search results on the Display Network or YouTube with AdWords. By using this platform, you will have a constant flow of users on your site.
The first thing you should take into account is the type of user you want to attract to your site.
You need to attract potential customers, so you have to start by creating a targeted campaign to filter and work with visitors who are genuinely interested in the products or services that you are offering.
For that, you should create well-structured ad groups with few keywords, with defined and concise messages.
In this way, it will be possible to guarantee the first filtering, that is, the ad will be attractive only to potential customers.
Sales Funnel – Organize Your Email Marketing Strategy
Take paper and pencil, or open your favorite editor to start creating your strategy now.
The first thing you need to set is the goal you want to achieve with your email marketing campaign, that is, you can use the emails to sell, inform or even impress your customers.
Here are the steps you should take to create a useful and operational sales funnel
Strategy
AdWords Traffic
Email Marketing
Sale
It may seem that this sales funnel doesn't look like the ones we are accustomed to seeing, which are a bit more generic, but in this case, we could say that this is an email marketing funnel.
For each type of business, you would have to create a different structure for sending email campaigns, but these steps will help you to see how to do it more clearly. Notably, for the function of Google AdWords to attract traffic and capture customers.
Email marketing strategy
This is where you need to plan the entire process, especially the autoresponders, create newsletters, choose links, images, opt-in forms, etc.
All the emails you will send, creating a coherent email marketing strategy. To do that, we recommend Mailrelay as it will allow you to create unlimited autoresponders, multiple mailing lists, and subscription forms, even for free accounts.
Capturing Traffic and Customers with AdWords
Without visits to your site, all this work would be useless. Therefore, by working with AdWords, you'll have a powerful tool to attract visitors to your website.
Everything will depend on the strategy you've planned before, but you can create different campaigns to attract the ideal type of user to your site, to offer them something exciting or better, irresistible, in exchange for their email and their permission, so that you can send them your newsletters.
So capturing customers with Google AdWords is just the first step.
For example, when a user visits your site, you could offer him a discount if he agrees to fill out the contact form.
This practice is very useful and encourages potential customers to act, but you will also know their name and their email to work with these leads in your email marketing strategy.
You could start by encouraging your users before they even get into your website, or click on your ad. For example, if a user is looking for:
Guitar lessons.
And you're offering a free guitar lesson in your ad for those who register on your opt-in form.
The prospect will enter your site and will have to complete a form to access your free class. In this way, you can begin to build engagement with your prospective student with a few newsletters, until he agrees to purchase the course or pay for the classes.
From now on, when you're going to attract customers with AdWords and write your ads, keep in mind what you could offer your users to get their attention and get their contact information.
Here are some examples:
Your first free class
Get a 50% discount coupon.
Free ebook for followers
Get the XY Guide free here
Download your catalog
With all Google Adwords adoptions, you can do that without any problem. We use this with our customers and get fantastic results.
Offer them something attractive, such as a discount coupon, a free lesson, a list of tips or even an invitation. Add the lead magnet as a site link for your ad and you will see the results.
For example, one of our clients makes advertising videos, and for their AdWords campaigns, we invite users to participate in the filming. In this way, we obtain the data from these customers. In many cases, we can interact directly with these users, when we are filming the videos.
The possibility of working with email marketing in conjunction with Google AdWords is fantastic, for creating a lasting relationship between you and your customers. That is, it is not about impulse purchases, but about maintaining constant contact with your subscribers.
As in the previous example, a user interested in a spot advertising, will not act impulsively and buy your services immediately (this would be a miracle), but he will think about it during some time, searching for other options or lower prices until he is sure that your proposal is the best for his company.
However, if you capture their information to keep them updated about your brand by email, with valuable tips and information related to your business, these subscribers will be more likely to choose your company when they need to buy the products or services you are offering.
That's why we believe that catching customers with Google AdWords + Email Marketing is the perfect strategy for increasing your conversion rates.
What types of campaigns in AdWords are ideal for lead generation?
In fact, any campaign that can get users to your site can be an excellent choice for your planning. However, you also need to understand the profile of users and at what stage of the purchasing process they are.
For example, if he is still searching for information about possible solutions to his problems (first phase), or if he is ready to buy.
With this in mind, you can create different campaigns to attract users during the different phases of their purchasing process.
One of the keys to finding users for different stages is the use of the best keywords for these users.
For example, let's see a sequence of keywords that a customer could search on Google:
Ideas for remodeling kitchen
Photos of refurbished kitchens
Companies for remodeling houses
Prices for remodeling kitchens
Budget kitchen remodeling
Here we can see the process that a potential customer would follow, by looking at the terms that he would search on Google.
Initially, the user is merely considering remodeling his kitchen, looking for ideas, photos, etc.
After a few days, he would think about the possibility of remodeling it and would start looking for companies to ask for a quote.
With this information, you can create different ads to capture these customers during the initial or final phase.
Email Marketing is the key to attracting this type of customers in their initial stage, for this, we can create an ad in Adwords:
Keyword: "ideas for remodeling kitchens."
Advertisement:
This type of advertisement has the function of informing and offering something to a possible client, inviting him to visit your site. For this, you could offer him a catalog of ideas and advice for remodeling his kitchen.
In return, you could ask for his name, phone, and email. With this data, you will already have a potential customer, for whom you can send a proper sequence of emails.
You would have to:
Capture customers with Google AdWords using ads that offer something in exchange for visitor data.
These customers would register on your website
You would send them several email marketing campaigns
After some time, they would buy from you
If you apply this example to the different stages of your strategy, your leads will be more likely to remember your brand when deciding to buy the product you are offering.
Brand and remarketing
Continuing with the previous example, you should keep in mind that most visitors will enter your site several times, and you will have to send them several emails, creating an initial relationship with these new contacts. So it would not be a bad idea to create branded and Remarketing campaigns in AdWords.
Brand Campaigns
When a customer already knows your brand, already receives your emails,has already visited your site a few times; it is very likely that he will search directly for your brand.
For these cases, it's worth creating a campaign or ad group with the name of your brand as a keyword. This customer is already interested in your brand and is searching for the name of your company, so your brand should be in the first position for this search. If this user finds another page and not your official website, that would be a grave mistake that could cost you this customer.
Also, the cost of these words is insignificant.
Remarketing campaigns in AdWords
In several situations, we offer our customers the option of creating remarketing campaigns in AdWords. With these campaigns, the ads are only displayed to users who have already accessed or interacted with the website. Also, you can create different remarketing lists, to focus more on each user and his or her needs.
This is an excellent formula for your potential customer to remember your brand throughout the purchase process.
Capturing customers with AdWords + Email marketing = successful combination
As you can see, the union of AdWords and email marketing is a perfect match to achieve your goals and create a relationship with your potential customers, increasing their confidence in your brand.
It is essential to have all the tools we have seen: the campaigns in Google AdWords and an email marketing platform like Mailrelay.