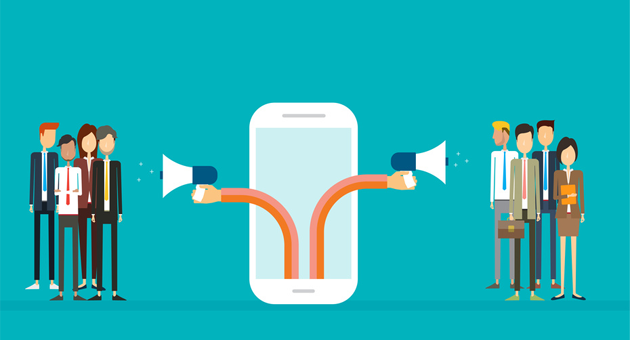 Building loyalty with email marketing
To start a successful online business, we need to create an appropriate action plan, with well defined objectives, so that the project will not fail before even leaving the paper.
We are not talking about general goals, which can be used in any strategy, but on setting specific goals, to know what we want to achieve and how we are going to accomplish these objectives.
When planning the steps we are going to follow, we will have to include a strategy for fostering customer loyalty.
The path we must follow is to capture potential customers ► make them happy ►so they will be willing to buy again from us.
I think one of the mistakes many novice entrepreneurs make is to believe that this process of loyalty begins after the first purchase.
Nothing is further from reality. You can't expect that a customer will trust we without we had built an earlier relationship of communication and empathy.
Of course, we could do that after the customers confirm they will buy our products, but we'll be way ahead of the competition if the
loyalty process begins when the customer accesses our site or our social networks for the first time.
Next, let's look at the different phases for winning the loyalty of our customers from the first minute without using aggressive sales techniques.
Memorable Brand Image
You should give our project a unique visual identity.
You should think beyond the design of a logo. A powerful brand should be created with strong values, so that it is different from everything customers will find on the market. These elements should be   worked on corporate colors, typographies, graphic elements, the tone of voice to spread our message, logo, etc.
The set or combination of all these elements must make our brand easily recognizable, so our audience associates it instantly with the products or services we are offering.
Our goal will be to organize coherently and harmoniouslyall the elements and modules of our business. We're not just talking about the website, but also about social networks, email marketing, collaborations on other blogs, shops, booths in fairs or events, banners, etc.
Create a compelling and optimized website
For our visitors, subscribers or customers to return to our site, we would have to create an attractive website, thinking about our SEO strategy, but also in the experience of our visitors.
We should work on page design, not forgetting to include content and relevant information, so visitors can find what they are looking for more easily.
If we can reach this goal, our visitors will spend more time on our website, and thus we will have more chances to explain what we can offer them.
Another consequence of retaining the visitor on our site is that Google will interpret this as a sign that the site is useful and of quality, which means it will rank better in its search index.
By creating an SEO strategy to rank our website on Google, we can get more visitors. For planning an efficient approach, we will have to apply various SEO techniques on our site without forgetting to use all the resources at our disposal.
In addition to being on the first pages of Google, our brand must be present on the major social networks. We don't have to create profiles in all of them; we will need to choose the best platforms for the audience we want to reach. For example, Instagram users are very different from Facebook users. We need to identify where our ideal customers are and create the appropriate strategy to attract them.
Being well ranked will make more people aware of our site. And by creating a stable relationship with our visitors,  offering them our products, our services, and our content, we can build engagement  with these visitors and convince them to subscribe to our newsletter.
Through social networks, we can connect with our customers on a more personal, dynamic and informal level. That means we should try to answer their questions, offer help, create surveys to know their needs and opinions about topics related to our business. The secret is to humanize our brand by showing our daily routine so that they will feel closer to our brand. There are thousands of strategies that we can adapt to our online business; we just have to test a few of them.
Get to know your target audience.
We will need to find out what are their needs and problems, as empathy will play a big role here. If we structure this relationship from the beginning, our clients will not think that we are only worried about selling. We will have to demonstrate that we understand their situation and know how to solve their problems.
The consequence is that with an emotional connection, we can start a business relationship with the visitors.
We have to work to connect with the audience we are targeting. Our message should be aimed at a specific audience. We should understand their goals, their fears, their problems, their dreams, their marital status, their profession, their hobbies, ETC. For creating the best marketing strategy, we will have to keep all this information in mind, because that is the only way we can create a good   product or service that they will want to pay for.
Don't use impersonal selling techniques.
You should not be a typical salesperson, creating a sales page as a simple leaflet, listing the characteristics of the product in na impersonal and cold way. The same rule should be applied to email campaigns.
With these sales tactics, we wouldn't be able to connect with customers, and therefore we wouldn't be able to build customer loyalty.
You should try to sell without showing that we just want to sell. Change this verb for other terms less evident and aggressive. That means we should offer our products as a solution for their problems. Change the typical purchase button to I want or need this product.
When we write a sales script, only in 10% of the text we should talk about the product directly and explicitly. The rest of the text should be more personal, written specifically for our target audience,   with information about how their problems can be solved, how the product will change their life if they click the button to get it.
Don't sell products or services. Try to offer experiences, transformative ideas and promises fulfilled.
HOW TO CONTINUE WITH YOUR EMAIL MARKETING STRATEGY
Email marketing will be one of our best allies to create and maintain the relationship with these clients. On the Mailrelay blog, we can find many articles and tips for the right planning of our campaigns.
In our newsletters, we can start earning the trust of our customers with small steps, creating beautiful buttons, relevant content and mainly, send what they wish to receive. The key here is to take care of all the details, links to our social networks, our landing page, and an attractive call to action.
From this point of view, I'll give you some tips you can follow so your customers/subscribers will start engaging with your newsletters.
From the first contact…
1.- Create a relevant lead magnet:
► You will not be able to persuade visitors to sign up for anything if you don't offer them an irresistible lead magnet. Think hard about what kind of gift you will offer your readers, so they don't regret having registered to your newsletter. If your gift is useful and valuable, you are on the right path to having loyal customers. There are several types of lead magnet. The most common are ebooks (not very extensive), mini-courses or access to a VIP area with resources for subscribers, exclusive videos, discounts, gifts and other  options, depending on our area of expertise.
2.- Target our subscribers according to their interests:
► In your Mailrelay account, you can separate your subscribers intodifferent groups to send to each one what interests them. If you always send the same emails to all your contacts, many will end up bored, saturated and will eventually unsubscribe from your newsletter.
I use my subscribers' reputation stars a lot to create groups and separate the most engaged contacts (2 and 5 stars) and try to work differently with users that are generally not interacting with the newsletters (1 and 2 stars). The strategies are different  because we have to reward the most active subscribers and try to motivate those who are not showing interest enough in the messages.
3.- Don't focus your efforts just on selling
► To connect with our prospect, we must first offer him relevant content, without trying to sell anything. The best we can do is to prepare the user for the sales email, with a series of newsletters before sending him a sales email. These emails should aim to identify the reasons why he would not buy the product, to demonstrate, with valid and real information, that his motives don't match the truth and that he doesn't have to worry, our product will help him. If we can demonstrate that he doesn't have to worry, he will be much more willing to trust our brand.
Don't forget to create a sales funnel to track the subscriber, to see the steps he will take after clicking on your lead magnet. When he confirms his subscription, you can send him a series of emails so he can get to know you, so he can see that you have something to offer him. Only when he is already relying on your brand, you could send him the sales email.
4.- Offer content and exclusive promos for your subscribers:
► You should make your subscribers feel special by offering something that they will not find anywhere else. A discount only for subscribers, an ebook with secret tricks for taking advantage of your services, increased participation in a competition, etc. The secret is to offer exclusivity, either in prizes or services. You will need to create something to offer them as a reward for their trust in your brand.
When our subscribers become customers…
1.- Follow-up by email during and after the purchase process:
► Don't forget your customers after they have made the purchase. In fact, once they have bought from us, we need to be even more present, demonstrating that we care about our users if we want them to trust us. Knowing their experience and level of satisfaction with the process and the product will help us to know whether or not we need to improve our product. Also, the customer will feel special; he will see that he is not alone and that he can count on us. So this will give him security to do business with us again in the future.
You can create one or several autoresponders to evaluate the customer satisfaction and get feedback through a survey. Also, don't miss the opportunity to ask the opinion of satisfied customers to include these testimonials on your site as proof of the quality of your product.
2.- Reward their loyalty with discounts on new products:
►Just like we offer content and exclusive offers for new subscribers, we should pay even more attention to providing a customized experience for our old customers. If we only reward the new customers and forget those who have trusted us, we will end up losing them and will have to be always trying to win new customers  to keep our business working.
For customers who have purchased a low-cost product, we could offer them a complimentary or premium product with some sort of discount or exclusive resource.
3.- Invite our customers to join our affiliate program and earn commissions:
►  If we have already created an affiliate program with general rules for all who want to help us promote and sell our products or services, we can offer special conditions for our customers.
The purpose of this strategy is to offer something unique, that only our customers can get. In this case, these customers would be making more money than ordinary affiliates.
However, it is crucial to note that finding a group of productive and engaged affiliates is not an easy task. Although many are registered in your affiliate program, most of these users will put a banner on their blog to try to win some money, without working actively to promote your products. This is already better than nothing, but in most cases, it will not be enough for motivating visitors to buy. So we should give them instructions  and resources for our affiliates, to help them and guide them to promote your product as efficiently as possible.
In fact, convincing our customers to become our affiliates is the best strategy for our business. They already know our products, they know what we are selling and how we are working, so they have the experience and knowledge to indicate our product to others. This plus  with a good commission is an excellent starting point for convincing affiliates that they should write a post on their blog telling in first person the advantages of our product or service.
Based on my experience, I can say that the best way to create empathy with our clients is to try to connect with them in a personal way, creating emotional ties and above all, showing with clear actions that we are willing to help them.
We are talking about live neuromarketing and emotional marketing. If you don't know what these concepts are, I advise you to look for information on these strategies, as they can be very useful for improving  the results of your marketing campaigns.
What do you think? What marketing techniques do you use for creating a database with loyal customers?