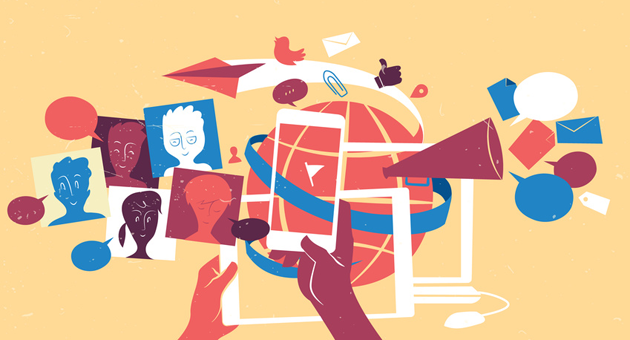 The Millennials and their relationship with brands
Could you live without your smartphone? Do you have several profiles on different social networks? Do you shop online? Do you do job interviews through video conference? Are you always looking for trends in a fashion blog?
If you are between 20 and 25 years old and you answered affirmatively to two or more of these questions, definitely…
You are a millennial, and you have the power!
Brands strive to get your attention!
That is because Millennials are the headache of many marketers, whether when creating email marketing campaigns or other related actions.
Everyone wonders:
Who are they?, When did they fall in love with that brand? WHERE and how do they spend their FREE time? …
Attention:
By delving deeper into these issues and the motivations of these digital natives, one must also delve into "insights" that make some of these users decide to choose one or another brand.
► What are they like?
Let's get right to the point that is a huge group of young people, and most companies want to create products tailored to these customers, due to the volume of business they could generate, it is estimated that more than $ 1.3 billion per year according to the Boston Consulting Group.
It is the first fully digital generation, since they were born in a digital ocean in constant evolution and plunges into the net as "fish in the water. "
And if you thought that brands held power, this is not so; this generation has all control over the strategies and can make your brand navigate successfully, or on the contrary… they could sink it!
Establishing a unique profile is not possible, but we can separate them by:
Impulsive, impatient, critical, demanding, volatile and emotive.
They are customers who are not only looking for good service, but they require customization and expect the company to suit your preferences.
Their purchasing decisions respond less than you would expect to price or features of a product. They want to be surprised.
Emotions are the deciding factor. So you have to ask directly, but to their brain!
It is a trend that is studied in Neuromarketing, our "reptile brain" works by the stimulus-response mechanism, it moves by impulse and is very influenced by the emotions.
Emotions are the unconscious and automatic responses of the brain when receiving sensory stimuli.
A sunrise, a breathtaking landscape, the smell of a flower – everything could trigger an unconscious emotional response.
Knowing how to stimulate sensory and arouse the emotions of the Millenials is what will determine the buying impulse and will make them remember your brand.
► Where did they fall in love with that brand?
These users are accustomed to receiving instant information, because they are always connected, and in this way, they will be more prone to impulse purchases, reacting in real time to the supply of products or services that are of interest to them.
Its main input screen for the network is the smartphone, the preferred device to communicate and consume (digital retail is increasing dramatically)
The focus should be on social networks, websites, blogs, forums, image and video applications, video channels.
And also in emails!
It can't be considered a deprecated channel because the Millennials use it to communicate with each other and with the brands to find new products or services.
According to the study "How the Millennials get news," the e-mail is used daily by 72% of users surveyed.
If we add that 69% of these young people are reporting at least once a day (40% do it  more than once), we have the perfect formula to understand how to use this tool in our marketing strategies.
For example, if you want to advertise a perfume and create a newsletter with an attractive video that appeals to the emotions of the users, it is more likely that they will decide to share the video on their social networks.
This will also increase traffic to your site!
► Where are they from?
Depending on where they are from, consumer habits may change, therefore, targeting your databases is critical, but the emotions are universal.
And it takes a passion for generating motivation. The motivation will produce an action:
95% of our consumer behaviors are unconscious
If we join these factors, we deduce that the Millenials:
They are tremendously irrational, if they like something, they will buy it.
A good digital strategy should be able to generate some emotion when users see the campaign.
Among those that work best, we can list; happiness, nostalgia, fear, scarcity, urgency, ego or closeness.
Spectacles from Snapchat, one of the favorite social networks that many  Millenials use an interesting example of a marketing strategy.
Marketing professionals regularly resort to scarcity, offering a limited number of units per day of a product or service.
That company decided to keep the mystery of the units and their place of sale (a selling robot) until a few hours before with a banner on their Twitter account.
What did the company do?
Playing with insights based on scarcity, uncertainty, curiosity and fun = Awakening an unusual expectation, they could create an object of desire.
► What do they do in their free time?
Millenials use their cell phones as a tool to have fun, to chat with friends, to consume, to browse the internet, to buy and to generate and share content.
According to the digital marketing agency MRY, millennials tend to use their smartphones to enjoy small leisure moments, taking advantage of short breaks to have fun.
There are many people (66%) who use the cell phone to access different leisure activities.
Going back to the case of the exclusive glasses, consumers who could not purchase the product, instead of feeling disappointed, they considered themselves fortunate to be part of a community and wanted to talk to those who have managed to buy it.
Snapchat was able to respond to another motivation of the Millenials, their desire to be admired and socially accepted and to feel part of a "community of elects."
In the background, they are appealing to the emotion of "fear of social rejection".
The Millenials are also very open to maintaining a relationship with the brands, they like to be taken care of, to be pampered and heard.
That way, the brand would be more likely to make viral content or to be included in their publications, generating content about the brand, which helps to spread its products to other users.
Finally, more than in the ads they see, young people rely on the recommendations and the stories or experiences that are shared in social networks, not those published by the brands themselves.
The recommendation has assumed a key role for a brand to achieve greater recognition.
► Fluctuation of opinion
You need to learn to understand the rules of the game with Millenials and never forget that they are susceptible to their online experience.
If the experience with a brand is positive, they will usually share their opinion with other users, recommending the product that they purchased. However, if the experience is negative, they will use the channels at their disposal to make their voices heard.
The Millenials are influenced by "influencers," but they are great influencers too.
Any comment or negative opinion could affect a brand.
How can they affect the image of a brand?
You will have to go where they are, the social networks, forums and applications for pictures and videos mainly, which is where they often share their experiences.
If, for example, you send an email with a video with autoplay and it doesn't play when the recipient opens it, that could cause disappointment and that user could share his frustration on social networks with a negative comment.
So in addition to sending email marketing with video with a technology 100% efficient, like Viwom, you need to take care of each of the interactions with the Millennials.
There are two interesting concepts I would like to talk about:
Storybuilding
According to Oriol Iglesias, director of the ESADE Brand Institute, it's no use telling an interesting story, if it's not built with facts.
What matters is the construction of storybuilding and building involves conversation and participation.
Flawsome
This curious term comes from the sum of two words:
"Flaw" meaning imperfect + "Awesome" meaning incredible.
And it is used to differentiate the brands that stand out precisely by their imperfection, naturalness and proximity, so they can connect more easily with the Millennials.
For example, in case of a problem with a product or service, it would be fundamental to offer customer support in a more personalized way, to understand their situation and respond through the same channel. This is very convenient for the user, but mainly:
Never "stay silent" and don't respond when something serious happens.
In short, how do you start planning your email marketing campaign for the Millennials?
To reach the Millenials, and get them to make a decision, for instance to buy a product or recommend the brand, it is highly recommended to do a previous exercise to identify their motivations and their emotions.
Anticipate their interests before creating a campaign.
The challenge is very interesting because of its spontaneity and although we can never control their urges…
It is possible to get closer to what they are looking for by offering different products and interacting with users directly, to increase engagement and conversion rate.