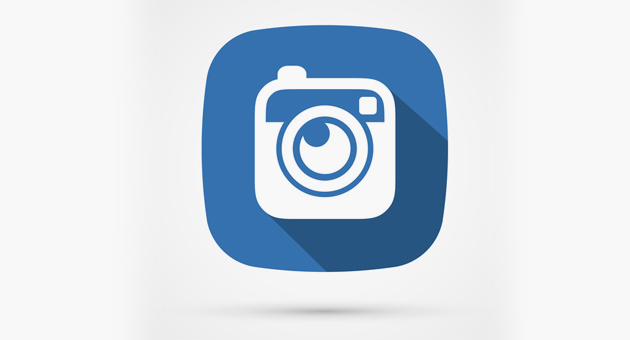 Instagram: Practical guide with the best tips and tricks
In this Instagram guide, you'll learn very interesting tips and tricks that will help you create a successful profile.
We will talk about what Instagram is and what kind of people are using this social media app.
We'll also see how we can optimize our Instagram profile, as well as an analysis of best practices to increase your number of followers.
What is Instagram?
Instagram is an application that you can easily download on your mobile device for Android, IOS, or Windows Phone. Through this app, you can share and view photos and videos, as well as follow famous  people from all over the world.
This app innovated when it incorporated filters for simplified image editing, in addition to hashtags, already used on other platforms.
You can also use Instagram to post videos, which increases the range of options, both for users and for influencers who use this tool to generate engagement and promote other brands.
Who are Instagram users?
If you want to design a social media plan, one of the most essential points is to know the profile of the users who are on each platform.
In the case of Instagram, according to a study on the Profile of users worldwide published by Statista in 2014, we see that the average age group of users is between 16 and 34 years old.
16 to 24 years old # 41%
25-34 years old # 35%
33-44 years old # 17%
45-54 years old # 6%
In Spain, for example, and according to sources in the most recent IAB study on social media in 2017, Instagram ranks fifth in terms of the use of social media in the Spanish population, highlighting its strong growth compared to last year.
Many users are women between 16 and 45.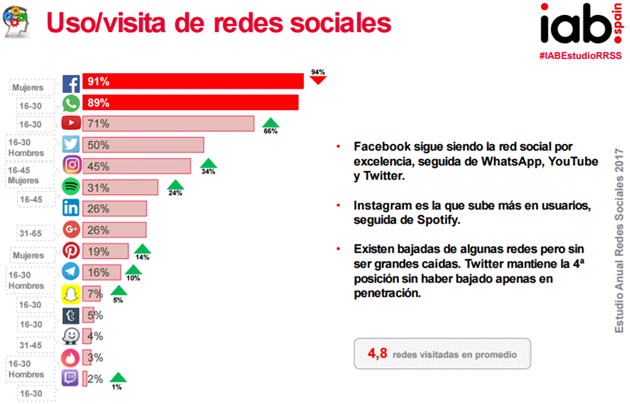 Why should you create an Instagram account?
When Instagram was launched in 2010, no one believed it would become so popular. In fact, this platform has already "swallowed" many other similar applications.
For this reason, I will explain some reasons why it is a good idea to create an Instagram account:
► Each year, more and more users are migrating from other platforms to Instagram.
The current figures provided by Instagram tell us about 700 million currently active users (April 2017)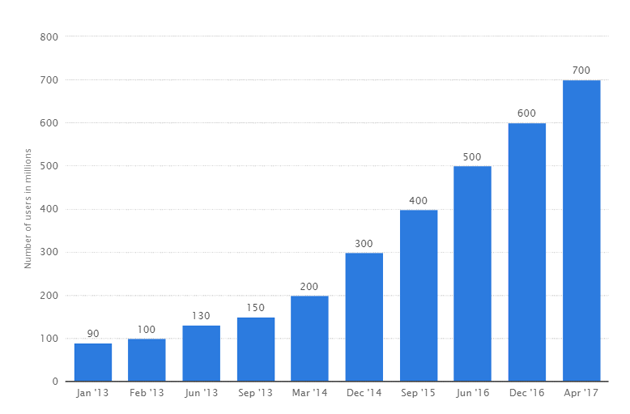 In Spain, the Instagram community reached 12 million users (Source, Europapress)
 50% of users follow at least one company on Instagram
 60% check corporate profiles to find information about brands.
 75% of users will act (for instance, they will visit the website) after seeing an ad.
(Source https://locowise.com/blog/instagram-engagement-rate-gained-ground-in-september)
How to open an Instagram account
You can open an Instagram account on the app and your computer:
► A) To create an Instagram account from the app: first, you need to download the Instagram app and, once on your mobile device, open it, and register with your email address or your Facebook account.
► B) To create an Instagram account from your computer: you must go to instagram.com and do the same as in the previous step.
How to optimize your Instagram profile
After opening your new account, now it's time to set it up step by step, starting to properly optimize your Instagram profile so that your followers can identify you correctly and that other users find out who you are.
Here are some recommendations and an example:
If you have a personal account, use a profile name and username that identifies you or your brand.
If you have a website, take advantage of the space on your profile to include it, it is a fantastic option to offer more information to followers who want to know more about you. Don't worry; this link is clickable.
The description field is essential. Take a few minutes to create a text that describes you, your business, or your brand, and take the opportunity to use some emojis. They are used a lot on this social  platform.
Don't miss the chance to include at least one CTA.
A little reminder: the hashtags in this section are not clickable like on Twitter. This option is only available in post comments.
Instagram business profile
If you have already created or have an Instagram account, you can choose to change it to a corporate account to gain some advantages in using this social media app, as it was created for commercial purposes.
► How to switch to a business profile
To convert your account to a corporate profile, simply access the account configuration options, and there you will find the option to:
Switch to a business profile.
Next, log in to your Facebook page and choose yours. The pages you manage will be displayed.
You can now configure your company profile. Review the contact information and make any necessary changes.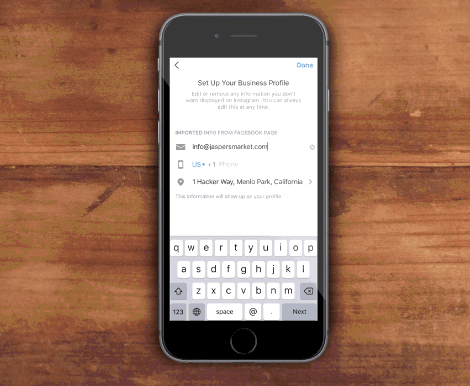 ► Differences between a business profile and personal profile.
When switching to a company profile, you can include more information, with fields for adding a phone number, your email address, and a postal address.
When adding contact information, a Contact button will appear at the top, and when your followers tap on it, the app will display other options: call, how to get there, or send email, depending on the contact information you provided.
You will also have access to interesting statistics that you will be able to see from that moment and that you didn't have before, where you will be able to check statistical information about your publications, such as: impressions, reach, clicks, interactions, and much more.
How to post the perfect content on Instagram
There is no secret formula for getting more success on Instagram, but you can follow some tips that will be very useful for better results.
► Focus on quality
Use high-quality images, as they will reflect your company. Don't post anything without thinking about your followers, thin.
On the other hand, you don't always have to post photos of exceptional quality, you need to judge the importance of the image and the context in which it was taken.
► Creativity
When it comes to getting comments and likes, creativity is the keyword. You need to be creative and post content with a focus on engagement.
The most original and creative accounts tend to attract many followers on this platform, along with those of famous people.
See this example of brothers who post super original photos of different looks on their beards. They have over 250,000 followers, and their posts have an average of 10,000 likes.
It's really impressive, isn't it?
Although you don't have to be so creative, this is an aspect that should never be overlooked.
►Emoticons
This social platform is perfect for using emoticons. Don't stop using them. They are fun and will emphasize your content. As you will see, if you don't use them, it looks like something is missing from your post.
► When should you post on Instagram?
There is no single solution to define the best time to post content on Instagram, as this will depend on external aspects, since your followers may have different habits and customs, so we must experiment in the first days until we find the best option.
However, we can see that certain parameters are often repeated in many profiles.
After a quick survey with some very active Instagrammers, we prepared a few recommendations that you could apply to your strategy.
Many users prefer to post content during the afternoon or early evening, between Monday and Thursday, as weekends and Friday have lower engagement rates.
►Don't post without discretion; be consistent with your brand.
Don't go crazy trying to get more reach at all costs; you should post images related to your products and consistent with what you represent all the time.
► Use the option to tag users.
You can also tag Instagram users. When you mention a user on your post, he or she will receive a notification. It is a formula that will help you get more interaction, but it can be annoying. Use it sparingly.
You can use them to extend the reach of your posts. Instagram will provide hashtag suggestions when you're writing, but you can also use apps that give ideas and are very practical when it comes to finding hashtags that people use, like Tagsforlikes, an app that contains hashtag suggestions sorted by categories.
How to get followers on Instagram
Now, we'll cover one of the parts that will certainly interest you the most, because the next recommendations will help you increase the number of followers.
Remember that you should never become obsessed; if you simply follow some guidelines, your profile will grow naturally:
Let's see them:
1) Interact with other profiles and posts
Like on any other social media website, the most important thing is to interact. So, a good tip is to show your more sociable side and comment on other posts. This way, you will attract the attention  of other users, and they will get to know you.
Of course, always reply when they mention you or comment on your posts. Occasionally, you can "forward" third-party content, but if you do that, you should always remember to mention them.
2) Follow back
When someone follows you, it is polite to follow them back. However, in my experience, accounts that have nothing to do with yours will become just a number.
Pay attention to users who follow your profile and stop following you a few days later. Unfortunately, these are common practices on Instagram and other social media (for example, Twitter).
The best way to connect and create relationships is to find users who share the same niche or interests as you. You can use #hashtag to find them easily.
With hashtags, it's much easier to find new users that you could follow and start interacting with them. Possibly they will follow you when they see that you have common interests. You just need to go to the Instagram search engine and write related words there.
5) Organize contests
A good option to increase your followers is to organize a contest on Instagram. However, if you wish to avoid misunderstandings, you should define some basic rules.
6) Participate in events
Networking is the best way to meet other Instagrammers. If you don't interact with other users, it will be almost impossible to become known in your niche.  These events are also generally fun.
You can take advantage of your profiles on other social media sites to spread your Instagram posts (including email to share them). That way, you use the synergies that can be generated between them and will also encourage other users to follow you on Instagram.
8) Promote your profile online and offline
If you have a business, be sure to include your social profiles in all offline promotional material and, of course, on your website.
Instagram Tools
You have at your disposal a large number of apps for Instagram that can make your job easier.
Conclusions
As you can see, Instagram is a fantastic option to develop your social media strategy and is becoming one of the main platforms in the world.
Are you already using Instagram in your digital marketing strategy?
Translated by Micheli.