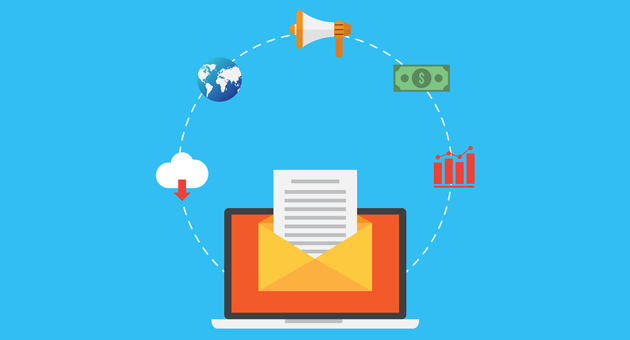 Newsletter: Definition and how various marketers use this feature
One of the most effective digital marketing tools is undoubtedly the newsletter. The vast majority of companies make use of this feature to contact their customers, to get to know them better and inform them about their latest news.
On the other hand, internet users frequently subscribe to different newsletters from their favorite pages, to receive news related to the topics they are interested in reading about. It can be said that this tool is essential today for any company to succeed  in the digital world, but for it to be fully effective, you will have to know how to use it correctly and make the most of this strategy.
We can define newsletters as digital messages with relevant news or information about a specific topic, or mass mailing, which is, in other words, a digital magazine (daily, weekly, monthly) that is sent by email to an email list. To be part of the mailing list, these subscribers must have previously registered, informing their contact data.
Sometimes, depending on the type of company and the service it offers, the newsletter has a commercial purpose, with messages targeted to a group of customers.
As we mentioned earlier, for a newsletter to be effective, you should use the right strategies. To do that, you will have to include a series of elements that should never be missing, such as:
The goal. It is essential that, before launching a newsletter, you define specific goals (sales, the number of new customers you want to get, etc.)
Corporate logo or image. Although it seems logical, you should never forget your logo, as it is a fundamental part of your visual identity. Your message should be clear, but you shouldn't ignore your  brand identity, as if you neglect it, some users may not recognize your company.
Text. The information we are sending should be clear and relevant to attract our readers, catch their eye and invite them to visit our website. So we should take care of the style of the text and above all, properly review the content that will be sent.
Audiovisual content. The text of our message is critical, but we should use images to reinforce what we are trying to say. Pictures are crucial for keeping our readers focused on the content of the email. It is best to make use of images, infographics, videos or gifs.
Design. Remember that the newsletter is part of the brand and so we should use the same design we are using on our site and respect the color scheme, fonts, and style.
Call to action. This is one of the most critical aspects of any newsletter because the CTA is what will direct the user to the ultimate goal of our email marketing campaign.
Social networks. Currently, they are the essential pillars of companies around the world. That's why we always have to add our profiles in the newsletter. Also, we should include the links to all the social networks in which the brand is registered, but we should pay particular attention and never forget the most basic ones, such as Facebook, Twitter and Instagram. In addition to social networks, we can't forget to add a link and a CTA, inviting our reader to visit our website. Undoubtedly, these are small details, but if we forget to add them, our campaign would be affected.
Other elements that we should always add. Contact Information (email, phone, address), an unsubscribe link and a link for the web version of our message.
Borja Girón is a computer engineer and is dedicated to helping people who want to create a blog and live on it. He specializes in SEO for bloggers and live videos on Periscope.
For me, Email Marketing is central to my digital marketing strategy. that is the system with the highest conversion rate and fundamental for selling my courses and books.
I get visitors using SEO techniques, with campaigns on different social networks.
I offer a free ebook with 10 SEO tricks for blogs and webinars and many users sign up as they want to receive my contents. I don't request visitors to subscribe to my newsletter in exchange for the free ebooks. First I try to convince them that I have interesting content  to offer them. Only when they sign up to receive other information and ebooks, I can try to sell them my info products.
A lot of people don't use this system, but it can be an interesting strategy.  I also send emails to find out in which phase of the conversion process every user is currently. Depending on the answers, I'll send them a series of emails to help them continue.
SEO Consultant and Digital Marketing, he is a Professor on AulaCM, teaching students about digital marketing,  SEO and Web Analytics. Six years ago, he created a blog called alexserrano.es
In fact, my email marketing strategies are pretty simple. First, I don't focus on getting subscribers at any cost. I prefer to have a smaller number of new contacts, but to interact with loyal users.
I usually don't send all the articles published on the blog, just the relevant content I'm creating. To find out what are the most interesting topics for readers, I review the statistics from previous campaigns. For example, if the articles on SEO have better statistics than posts on Facebook Ads, I will start to send more newsletters on the first topic. We have to review and understand the behavior of our subscribers because only then we can send what they want to receive.
On the other hand, I like to reward these loyal subscribers. I create custom lists with the users who most interact with the newsletter and send extra content that I don't publish on my blog just for them. I share tips or tricks that I discovered with these loyal subscribers. We should always work more carefully with these users, as they are our main allies. However, we can't exaggerate as they might get tired of reading our emails.
We should also be careful about the type of lead magnet we're offering. If our "gift" is too attractive, we can run the risk of starting to generate a list of subscribers interested only in getting the gift. That is, these users are registering only to download the gift and will never open our next emails. To avoid that, we need to offer something closely related to our topics, which will only be relevant to visitors who share the same interests.
Degree in Advertising and Public Relations, working on Online Marketing projects since 2009. Specialist in E-commerce, SEO, and SEM. He created the blog "Things about Online Marketing" josegalan.es
Email marketing is the best source of ROI we have today. We use this dynamic.
Before we send the email
We set the campaign goal and look at these topics:
Adaptation to mobile devices, we always test the newsletter on different devices, using a responsive template.
Links optimized for Google Analytics, all our links use the parameters utm_source, utm_medium, and utm_campaigFn so we can analyze the campaign's results in Google Analytics.
Spam scoring tools. To see if the newsletter score is correct; we will check its rating. Mailrelay has a tool called Mailrelay Verifier, a fantastic site where we can generate a detailed report of our newsletter and its spam score. Also, we can use the online spam score system when editing the newsletter.
Adding icons to Subject. In some emails, we've added icons on the subject of the newsletter to catch the attention of more subscribers and encourage them to open our message.
Targeting users
We have grouped the subscribers into different lists, depending on their interests and interaction with previous newsletters. Depending on the product that we need to promote, we have developed different communication strategies to impact users with more or less affinity and analyze the results of the campaign.
Strategies after sending the newsletter
We filter the results by separating subscribers who opened the email, those who didn't open it, clicks and purchases.
We will send another email with a different subject for those who didn't open the first newsletter. Usually, we insert symbols in the subject line of this newsletter, to try to create a slightly more attractive message.
We will send an email with different content to the users who opened the first one but didn't click, to convince them to visit our landing page.
We will also send a personalized newsletter to subscribers who clicked but didn't purchase. In this message, we will try to create a sense of urgency, telling them that they only have X days to buy the product or the price will increase, or we will use other techniques to convince these visitors to buy the product now. In many cases, we've added these customers to an AdWords remarketing list to impact them with a remarketing campaign in the future.
Buyers. We will send a welcome email to users who are buying for the first time, including some promotional code for future purchases and a list of related products with more information about them.
Carlos, a consultant in digital marketing and social media, is also a triathlete and a communicator. He created his own blog, but he also likes to write for elmarketingtoday.com
First of all, I'd like to thank Max for inviting me to participate in this article. It is an honor.
Creating an email list is not a simple task, it requires a lot of time, effort and sacrifice. Unfortunately, many people believe that the work ends when the visitor subscribes to the newsletter, but that is not true.
The moment the users leaves their data, a new process will start. At this stage, our maximum goal should be to make the subscriber identify with our brand or with us.
In short, you will have to create engagement, to build loyalty. Without forgetting other goals of any campaign (courses, ebooks, surveys.)
As always, I speak from my own experience, telling you what is working for me and what I'm doing to try to keep my subscribers engaged. Based on a maxim that I always follow:
"Don't do unto others what you don't want to be done unto you."
That said, let's see the steps I'm following:
I don't try to saturate them with emails. There are well-structured sequences that are relevant to most readers, but in many cases, these series of endless emails are a real hell, are irritating and intrusive. Before you prepare a sequence of automatic emails, you need to ask yourself if these messages will really be interesting to your subscribers. If you send many emails that your customers don't want to read, many of them will end up requesting to be removed from your mailing list.
I ask them several questions, how can I improve my Newsletters? What do they expect to receive? As a result, I am managing a bidirectional channel, getting feedback and information that is very relevant for me to improve my digital marketing strategy. You'll be amazed at how many users are willing to cooperate and answer some questions.
I give them something without expecting anything in return. For example, I have two Hootsuite and Facebook Insight guides I offer for my subscribers, but not as lead magnets (I have not added any kind of gift in the subscription box, as I want visitors to register only if they find my content relevant enough), my ebooks are for all readers. Many users are surprised to find that they can download content directly, which creates a more lasting relationship with them.
I try to offer them relevant content, not the same text i already published on my blog. I don't want to send only part of my content using an automatic feed; I want to offer them a personalized and relevant email. I know what they would like to receive because I already asked them to tell me the content they want me to prepare. Using this information, I can prepare emails with content they will read.
This is just a small sketch. Ideally, you should test and discover the best option for all the tactics you want to put into practice.
A crazy lover of sales funnels, obsessed with effective networking strategies. In my blog Live your passion I help digital entrepreneurs to expand their online businesses and automate them to have a free lifestyle.
I like to use email marketing in my digital business to segment my audience, build trust with subscribers, and from there start converting them into customers and brand ambassadors.
I do that by using different types of emails during the conversion process.
1.- A weekly email with a personal touch where I give some relevant advice to my readers.
In this type of email, I also talk about the best and the worst of the week, and I summarize the content I posted and how I contributed to the community (both in my blog and with other pages).
To help other professionals in my industry, I add a link to the top three articles published in the last week.
2.-Emails with different contents. I also send diversified content to monitor subscriber interaction. For those who show more interest in one of the topics, I will send emails with similar material, because this way I can create a closer relationship with these subscribers, offering exactly what they are looking for. This strategy is advantageous because, in the future, I will try to sell them only what they might be interested in buying.
I don't always send these newsletters with the same frequency since these are extra emails. I always try to change the day of the week, the time of day I'm going to send these campaigns.
It's also a way of testing which dates and times work best.
Thanks to this test, when I need to send some very urgent email on a specific date, I will have all the information to determine the best day and time to send the message.
3.- Sales Emails. I usually send sales messages with targeted content, working with storytelling techniques to convince subscribers to buy.
We all love to buy, but we hate when they try to sell something to us, so after different tests, I discovered that emails with various storytelling techniques work perfectly for increasing conversions.
4.-Tracking Emails. I use these newsletters in two moments of the cycle of life of my subscribers:
4.1 For an after-sales message: many people forget customers after they already bought. This is a mistake you should not make, as it is less costly to convince a customer to buy again than having to pay to attract a new one.
So I create a series of emails to thank subscribers for their trust and to request them to leave a testimonial or comment and inform them about new products or services.
4.2 Tracking using retargeting techniques: if the customer didn't buy, we should try to find out why he abandoned the cart.
It's not about bothering users; it's about showing that we can help them and that they can trust our products. If they don't wish to buy now, we shouldn't think we just wasted our time, because they could become our customers in the future.
Never give up on a customer, work hard to convince him to trust you.
If a sales page converts 3%, we shouldn't forget the other 97% who didn't buy. We have to try to find out why they didn't want to buy because this is the only way to improve our processes and our sales strategy.