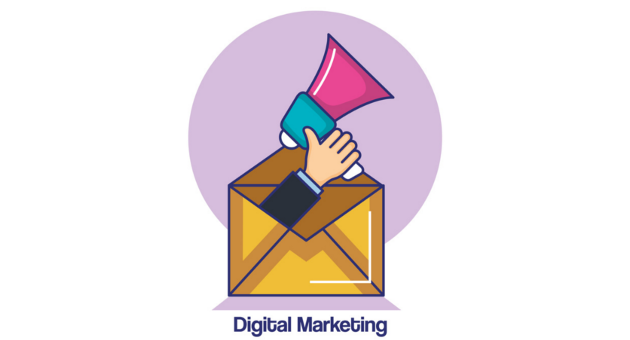 Digital marketing strategy guide for beginners
Surely you have heard a lot about digital marketing or online marketing and the big boom this industry has been experiencing in the last years. However, if you don't have a digital business or you are  not very familiar with this world, maybe you will need more information before you can start working with digital marketing.
And there are a lot of technical details and anglicisms to consider, so maybe it would be important to take some time to understand the main concepts and strategies you will have to apply.
If you've been working in digital marketing for a long time, you might think we're going to talk about basic aspects, but actually for those who are getting started, understanding these terms and how to apply these strategies will be vital to the success of your digital business.
Today, we are going to talk specifically about why you should work with digital marketing as well as the main advantages of applying a successful strategy.
In addition, we'll review the best tools you can use and the indispensable resources for your business.
What is digital marketing?
In recent years, talking about digital marketing has become fashionable. Someone certainly already told you that you should start applying a digital marketing strategy on your website or blog. You could ignore this advice, but it will be much harder to create a successful business if you don't create an online marketing strategy.
"A good digital marketing strategy will make the difference between" being present on the Internet "and really starting to take advantage of the online world."
► Definition of Online Marketing or Digital Marketing
Let's start by looking at what digital marketing is with some definitions that I think complement perfectly for understanding this concept.
"If we keep the definition more technical and brief, we can say that digital marketing is the sum of all strategies, techniques and marketing actions applied to online channels."
However, digital marketing is a broad and complex concept that deserves a deeper look.
We refer to online or digital marketing when we talk about all communication, promotion and advertising actions used to strengthen the relationship between companies and their target audience.
The characteristic of this type of marketing is that it uses an online channel, such as webpages, blogs, social media, or email marketing. That is, digital marketing takes care of all the actions companies can take online to promote their products or services to a specific audience.
► Benefits of working with online Marketing
So it's clear that if digital marketing helps bring brands closer to their fans, this strategy will bring you financial advantages.
But that's not the only thing you should value. In the next few lines, we are going to talk about other advantages of this strategy:
● It helps you to build an online reputation that you'll be able to  control
Remember that the fact that you are not online doesn't mean that people will never talk about you or your business.
● It allows two-way communication.
Unlike with traditional marketing, on these channels, you can listen to users and start a conversation with them.
● Attract new customers
You can talk to other people, to show your project to new customers.
● You can retain your customers.
When you are contacting your ideal customers constantly, it is easier to learn from them and offer exactly what they are looking for. That will be translated into satisfied customers.
● You can minimize costs with marketing actions.
This new type of marketing is much cheaper than other options, which means that you can save money and increase ROI.
● Build trust
Non-intrusive Internet marketing actions are well received by users who subscribed to your newsletter and authorized you to send them emails. They will also promote your brand when they talk about your business with other people (beware of that, as it could also have a negative effect).
● It will be easier to calculate ROI.
All digital marketing actions are measurable, so you will be able to review your results in real-time. When you have accurate information about the results of your campaigns, you will know what is working and where you should invest your money to optimize your results.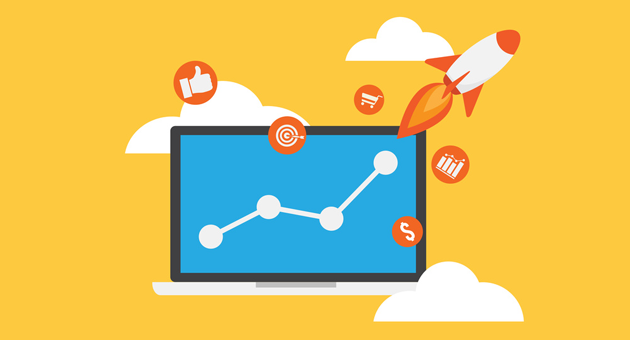 How to work with digital marketing and deal with challenging situations?
One of the top complaints from people who work with digital marketing is the fact that everything evolves too fast; what worked yesterday may not work today.
In fact, this should not be considered an inconvenience as it implies that companies and professionals are in constant training to always be up to date and informed about the new strategies that are being applied.
Next, we should look at four basic strategies every online business owner should consider (we will just give you enough information to help you get started). Remember that your strategy will vary depending  on your goals, your audience, and the channels you will use.
► The 4 Essential Strategies you should know
As I commented before, this sector is continuously evolving. Therefore, it would be better to hire a professional who works with online marketing consulting services. However, many companies start working amateurishly (for fear of wasting money or lack of time).
Anyway, it is highly recommended that you learn about the most commonly applied practices in digital marketing, so that you can start working right now. Would you like to see them?
1) Blogging and Guest Blogging
Let's start by talking about one of the most popular online communication channels; We are talking about Blogs. A blog is a website dedicated to a topic (or several) with useful information organized into posts or entries. This is the ideal place to connect with your users and convey credibility.
Your blog could serve as a cover letter for your company or showcase your work and at the same time it is the link that strengthens the relationships between users and brands or professionals.
Any blogger who knows a little about the rules of the game knows that all this implies continuity and therefore planning of the topics to discuss, content type (evergreen or current issues) and the different channels that will be used to post your work.
On the other hand, this world is also open to those who don't have their own Blog, as they can post texts on other sites. Writing an article for a blog relevant to your niche is a cheap and effective way of working with branding.
Also, blogs are a branding and ranking tool. You can apply SEO techniques through optimized content generation and strengthen your content strategy with guest blogging and external links.
2) Digital Marketing for Social Media
Social platforms are very popular with users, and therefore, they are great channels for building a lasting relationship with your customers. Companies spend and earn millions of dollars every day on several social platforms, selling products and services with less investment than with traditional marketing campaigns.
Each social media site will have a different community, with unique user profiles. In other words, the first step before starting to create marketing campaigns is to select the best platforms for your audience.
Even if you are working with the right platform, sometimes you need to go a step further and invest in paid campaigns on platforms like Facebook, Instagram, or Twitter Ads.
Also, knowing how each system works will help you detect the most appropriate hashtags, the type of content that works best (images, animated GIFs, videos, infographics, etc.) or when your audience is more active.
3)Email marketing actions
Email marketing is one of the most popular digital marketing strategies. Messages sent through this channel are not considered intrusive as they offer total flexibility to users.
You can work with many email marketing strategies, but most companies send a newsletter regularly. Anyway, the key to making this strategy work is to control the following aspects:
The content you will send: You should generate relevant content for your users to offer added value to your subscribers.
Frequency of campaigns: You don't want your subscribers to forget you, but if you start sending a large number of emails, you will probably annoy several people, and they will unsubscribe from your  newsletter or flag it as spam.
Database targeting: You should send newsletters based on each user's interests and the relationship they have with your digital business. Users who have just discovered your site should not receive  the same email sent to your loyal customers.
Message Customization: Apply Persuasive Writing Techniques to convince your subscribers to trust you.
4) SEO/SEM
Finally, another area that you should never ignore when creating a global digital marketing strategy is ranking in search engines. Although I'm not saying anything new, remember that.
The first pages will always receive the best part of the pie. That is, if your site is in the first page for a keyword, you will receive more traffic than sites listed on other pages. And when it comes to Google, this process is even more important.
Among the most popular practices, you can invest in:
On-Page and Off-Page SEO: Optimize your site to please Google and users and in turn, improve ranking through "forced" techniques like link building applied from external sites (among other strategies).
SEM: Here, we refer to the actions that are implemented to improve ranking through paid campaigns on platforms like Google AdWords. Specifically, we refer to ads that appear in the first results with the "ad" warning.
Both strategies are complementary and should be applied simultaneously. SEO will provide medium and long term results, while SEM techniques bring immediate results.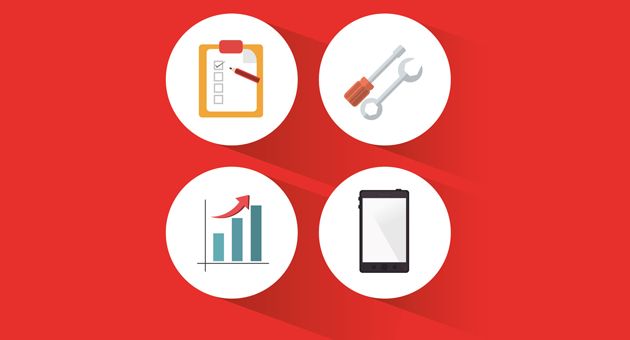 ► Fundamental tools for working with digital marketing
Before ending this post, I would like to name some of the marketing tools you could use to create effective campaigns.
These tools will help you improve your results, while reducing your workload.
Hootsuite
This is the main tool for social media management. Using this tool, you can manage all your profiles quickly, to see what users are saying about your brand and schedule posts.
You can work with the free option or choose a paid package, depending on your current needs. Monitoring your social platforms always takes time and dedication, but this software can significantly help in managing your social profiles.
Blogsterapp
Blogsterapp is a very interesting tool that allows you to automate posts on social media sites. This system can help you to save a lot of time and increase traffic on social networks.
WordPress
If you haven't created a blog yet, you're missing out on a fantastic opportunity to improve your digital marketing strategy. If you want to create a blog, we recommend that you work with WordPress, as it is one of the best CMS available in the market. It offers so many options for creating and posting content and is so intuitive and easy to use that if you decide to work with another system, you should at least try it before paying for another option.
Pocket
This tool is fantastic for organizing content. You can save all types of webpages in your account to read them later or simply to store them as a source of information. This will allow you to have lots of organized and well-stored information, which will be critical when you start writing an article for your blog and need to search for information and references.
Adobe Spark
Adobe Spark is a relatively new tool from the Adobe group. It is designed to help professionals in all industries create social media content.
This software is free but is not as advanced as other tools created by Adobe. However, as you don't have to pay for it, it could be a fantastic option for editing visual content that you will post on your Blog or share with your followers.
Piktochart
Another fantastic graphic design tool. In this case, we're talking about software created to design infographics. If you work with this tool, you'll find many templates and icons that will facilitate your work.
Mailrelay
If you are reading this article, it is because you already know that Mailrelay is an email marketing software that provides an advanced interface for email campaign management. With options to target your mailing list and send personalized newsletters based on the interests and preferences of your subscribers, this email marketing service will be vital to the success of your digital marketing strategy.
SEMrush
This tool will help you manage your SEO campaigns. This system can help you analyze web pages, create keyword lists relevant to your niche, review external links, generate web traffic reports and of other data that will help your business grow in the right direction.
Conclusions
In short, online marketing or digital marketing is essential for managing your online presence professionally. You should think about creating a digital marketing strategy as an option to help you stand out from the competition and build long-lasting relationships with your target audience.