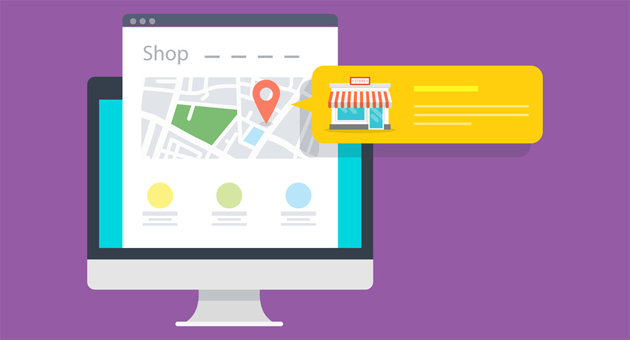 What is local SEO and why is it relevant to your email marketing campaigns?
Do you have a local business and want to list it in search engines? So, you need to work with local SEO. In this way, you can also strengthen your email marketing strategy. Would you like to know how to do that?
Keep reading because I'll explain in this post.
A few years ago, the idea of promoting local business on the internet was unthinkable. No one thought it was worth creating a website to sell products online when the majority of customers would go directly to a local store when they needed to buy something.
However, this is the current reality. More and more business owners have begun to realize that through the Internet, they can expand their portfolio of customers.
Thanks to this, many have decided to create social profiles and a website or virtual store to attract new customers.
However, most of them find it difficult to get the expected results.
Worst of all is that often this situation is incomprehensible, because these websites add value and offer a good navigation experience to visitors.
Given this situation, it would be normal to believe that these virtual stores will be able to attract new customers very quickly.
But why does this not happen in many cases? Are they neglecting something fundamental? The main problem is that these webmasters are not working with local SEO.
There are many cases where these business owners who are taking the first steps on the Internet have heard about SEO, but not about local SEO.
For those of us who know most digital marketing strategies, the local SEO concept is very familiar.
But you have to understand that, when we are talking about local SEO, we refer to the advanced techniques for web ranking, with more complex connotations.
Otherwise, these companies would have no problems to attract quality traffic, don't you think so as well?
If this is your case and you still don't know what local SEO is, I will explain now, so that this concept becomes clear from the first moment.
What is Local SEO?
Local SEO is a web ranking strategy based on techniques for ranking a site to a specific location.
For example, if your company is in Barcelona and you sell shoes, you are probably interested in attracting potential customers residing in Barcelona.
But if you create a web ranking strategy without considering the location of your store, you will end up attracting users from other parts of Spain, while the customers of Barcelona are visiting your competitors.
When you are creating an SEO strategy, if you are in the first page for the keyword "buy shoes," this would not help you generate sales (if you don't have a virtual store with purchase options for the entire country).
However, if you are on the first page for the keyword "buy shoes in Barcelona," the possibilities of sales increase exponentially.
You can check this theory with just a few clicks by searching on Google for this or any other keyword: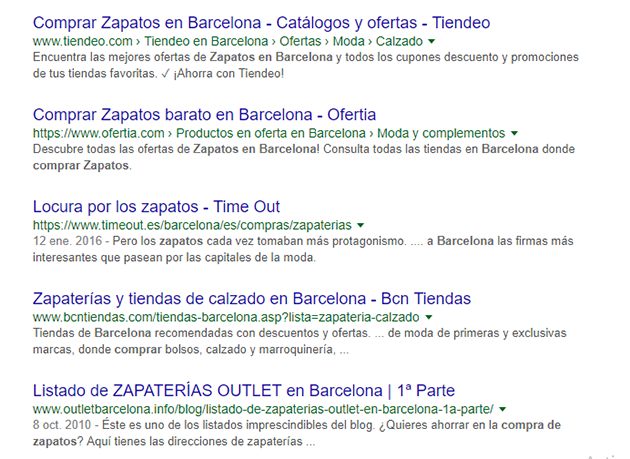 You need to understand that many other companies are trying to improve their ranking, so you need to work hard to create a strategy to attract only visitors who definitely want and can buy your products.
If you create content with the wrong keywords, you'll only be wasting your time, because people visiting your website will not buy from you.
But if this situation is happening, it is because local SEO techniques work. Keep that always in mind.
How to do keyword research focused on local SEO?
Finally, you already know what local SEO is and why you should apply it for your business, but you may have some very legitimate doubts:
How to find these keywords? Can we apply the same methodology used in "normal" web ranking strategies? What tools should we use?
Not all keywords can be used with this type of technique, but there are tools on the market to find the best keywords for your SEO strategy.
Basically because you have to take into account these two factors:
Many keywords have no searches (if users are not searching for these keywords, they can't generate sales)
Sometimes the competition is so strong that it is preferable to work with keywords easier to rank
As you can see, research and competition are factors you should always consider.
For example, if you studied a keyword in question in different SEO tools and it doesn't show in your results, or you can find some competition but without search results, most likely this keyword will not bring you enough visits.
However, be careful as there are cases where the tools have not yet detected the keyword, but there are many searches. However, since you can't be sure about the number of monthly searches, it is preferable to work first with more popular keywords. Later, when you have more visitors, you can try to rank these specific keywords.
And of course, don't forget your competitors, as they can affect your SEO strategy. Ideally, you should find a keyword with lots of traffic and little competition.
This is the trickiest part when it comes to creating a local SEO strategy, but it's something we can't ignore.
So when you want to do a keyword search with a focus in local SEO, you should:
Confirm that you are working with keywords with some searches relevant to your business
Make sure that you are not working with keywords with a lot of competition
► Tools for local SEO
Some users think that because they want to work on a local SEO strategy, they will have to use different tools.
That is not true. You can use the same tools you use in your SEO strategy to work with local SEO.
There is no distinction between them because the goal is the same.
Let's talk about the top SEO tools:
Google search engine
Keyword Planner
Mozbar
Keyword Shitter
Keyword Tool Io
Free Keyword Research Tool
Ahrefs
Übersuggest
SEMrush
Sixtrix
Can you apply a local SEO and SEO strategy at the same time?
If you notice, in this post I'm basically focusing on companies that don't have a virtual store. These companies have only a website and social profiles to attract customers, but no online purchasing system.
In this case, it is normal to work with a local SEO strategy for the reasons that I explained earlier.
But what strategy should you use for a local company that also has a virtual store? Will you need to create a general SEO strategy and another for local SEO? Or could you apply these two strategies at the same time? The answer is yes, but with some precautions.
If you apply your strategy well, you can increase the number of visitors exponentially, but if you make mistakes, you can get the opposite effect.
Why? Well, for these reasons:
Duplicate content
Google will distrust your website
Users may feel disoriented when accessing your site if they can't find what they are looking for
Google likes coherent and natural content.
If your page seems altered or blatantly changed, Google could suspect it was created for someone trying to fly under the radar using illegal SEO techniques.
You should try to work hard to convince Google to trust your content because you are interested in receiving visitors And of course the idea of working local SEO and generic SEO could be a great option.
However, now that you understand the reasons for using this strategy, I should warn you that you should make sure you don't overdo it.
For you to understand better, I'll give you some tips:
If you have text with the keyword "blue shoes" and also "blue shoes in Barcelona," if the text is the same or similar (spine), you will have serious problems. At least completely change the meaning of the content to prevent cannibalization on the web.
Having identical or similar content will inevitably generate duplicate content and therefore you may suffer a penalty from Google (algorithmic or manual)
Users will not know what to do with your virtual store
I think now you can see perfectly the importance of creating a strategy and control all the keywords you will use in your content.
Now that you know this, you should also know that, if your strategy works correctly, there is one factor you can't forget to consider as it will be critical to the success of your digital marketing. We are talking about email marketing.
Yes, local SEO and email marketing can work together with extraordinary results.
If you correctly apply these two strategies, you can attract more customers and increase your sales exponentially.
However, as with any other strategy you want to apply to create a successful business, you should study the pros and cons, identify the potential failures and turn them into actions with potential.
Why? If you are a regular reader of the Mailrelay blog and you work with our email marketing software, you must have noticed that the money is on the list because you can create engagement with your customers and increase your sales.
But really, why should you work with local SEO in your email marketing strategy?
Well, for the simple reason that you will target your subscribers and you will know who to contact when you have to create a promotion for your local customers.
That way, you will increase your online sales by attracting customers to your local store.
That looks much better now, doesn't it?
Aspects to take into account to work with local SEO and email marketing
The idea I just gave you sounds very interesting, but it will not work if you don't have a clear strategy.
To help you with these tasks, I'll give you some tips that I consider fundamental for both strategies to work together effectively.
That said, these are the aspects you should consider to work with local SEO and email marketing:
► Work with different subscription forms
To get started, you must separate your customers into two categories: Online Customers, users who will always shop on your virtual store, and customers from your city, who occasionally will visit your local store.
On many occasions, you will need to work with different promotions. Therefore, the best way to target your subscribers is to work with different subscription forms, to register the subscribers in different groups in your email marketing software.
► Offer something interesting for your visitors.
Having a portfolio of fantastic products doesn't necessarily mean that you will be able to create a list of loyal subscribers.
You should give a strong reason for these users to become subscribers.
Offer something attractive to your visitors: Why not a special discount to invite them to your local store? Or perhaps a gift?
► Insert opt-in forms into clearly visible areas of your website
Include opt-in forms in well-visible areas, because this way it will be easier to attract more subscribers.
The top of the website and the body of the content can be great places to include forms, although I also suggest you run tests to know how to find the best places to get new subscribers, as each business requires a different strategy.
► Working with quality subscription plugins
If you work with WordPress, there are numerous plugins that can help you  increase your mailing list.
For example, Thrive Leads may be a great option, although not the only one.
Since I started working with this plugin on my blog, the number of subscribers on my email list has skyrocketed. You can also get the same results.
And that is all. I think all the concepts in the post were very clear. However, if you have questions, leave a comment and I will be happy to help you.
Do you work with local SEO? Would you like to share your results with us?