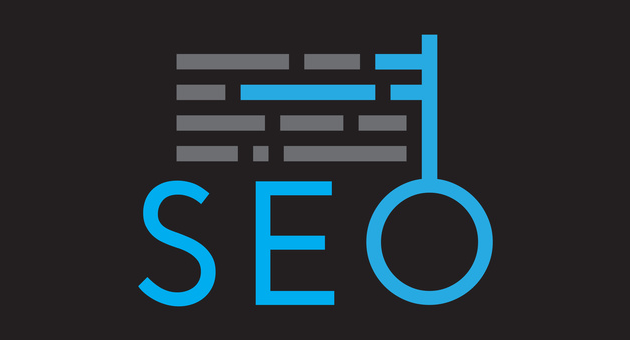 The best tricks for ranking a competitive keyword
Any professional or SEO enthusiast could tell you that ranking a keyword on the first page is a very difficult task.
However, there are always things that together bring faster results.
Today I will talk about some tips for ranking a competitive keyword and generate quality traffic to your pages.
While it is true that on the Internet we all try to offer something relevant
It is also true that not everyone generally understands and applies positively the Google guidelines to get to the top rank.
This means that although there are more than 3 billion articles published today, according to Internet Live Stats, most people don't know how to optimize the content, they are writing and get to the top position for a keyword.
That is, your chances of improving your ranking will increase if you spend a few minutes absorbing this information.
Let's start with an example of a keyword that usually has a lot of competition: "marketing plan." If you search for this keyword, you will notice that the Genwords website is on the first page for this keyword in several countries.
The ranking varies according to the country you are in, for example, in Venezuela, it is in 3rd place and Argentina it is the second page. Let's see:
As you can see, the positions are different depending on the country and many other technical factors.
Let's get right to the point, how can you rank a keyword?
Let's start:
But first, keep in mind that what works for me may not work for you. Remember that in SEO everything is a matter of testing, of trying and analyzing the results.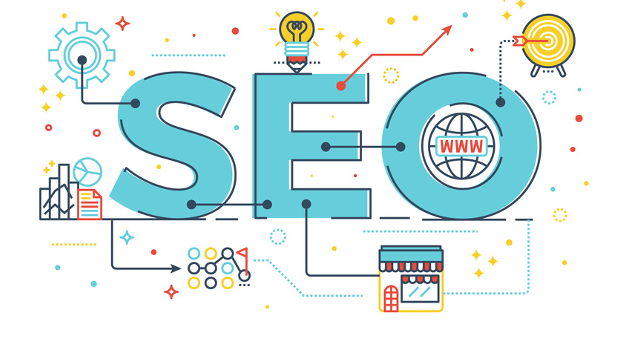 · Recommendations for ranking a competitive keyword
Google provided several guidelines, changes, updates, and tips to help us to rank a keyword in search engines, but these rules may seem too confusing for beginner webmasters. Before you panic, think about it:
With the creation of Panda, Penguin and now Rankbrain, the reputation of your domain, its authority is even more vital.
In 2015, Google explained about parameters called EAT (Expertise, Authoritativeness and Trustworthiness). They created these rules to help identify sites that somehow compromise the health or the finances of the users. They call it: Your money you live (YMYL). But this topic is much broader.
However, this EAT principle to which Google refers is not something new, these rules have always been applied. Website administrators should offer a unique experience for their visitors; the content should generate confidence. However, if you want to improve your ranking  and get to the first page on Google, you will need a domain with good authority.
And that's why I'm going to work with these three aspects to explain how to improve ranking for competitive keywords.
I'll start by explaining the last point: authority. As you may know, it is essential to work on: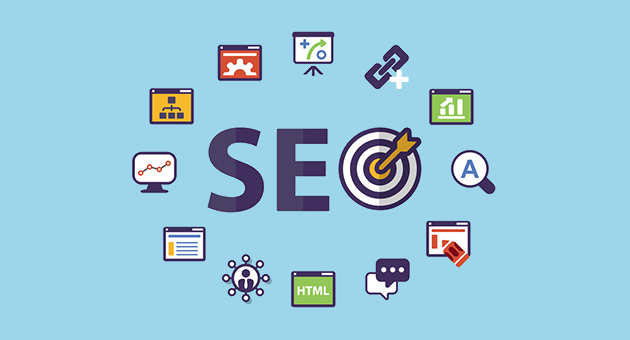 · A solid backlink strategy
That means you have to try to convince other sites to add your links on their pages.
► Social Links
In the case of the keyword "marketing plan," we made an effort to share this link on social networks.
If you access the link from the original article, you will see that the post was shared by many people on Facebook. We participate in marketing groups and we try to convince them to share our content if they find it relevant.
It is not a secret to anyone that social networks have an important role within an SEO strategy, not only because these domains have high authority, but also because we can contact influent people to  ask them to help us in our marketing strategy. If they are willing to share our content with their followers, that will be fundamental for increasing our DA (domain authority).
In fact, digital marketing specialist Neil Patel on his blog Quick Sprout said exactly that:
" You know that search engines review social platforms to help determine the ranking of a website but after Penguin 2.0, I think they will focus less on the number of shares and more on who is sharing the content. If someone with a powerful network of 200 influential (and real) people shared your article, this would  have more weight in the algorithm than an action of someone with a network of 2,000 Bots and spam disseminators. If the script isn't doing this now, this will be changed soon.
Also, Google is very likely to look for evidence that you shared your own guest posts in your social profiles. Because if you are not willing to tweet or share your own guest post, you probably didn't write a good article."
First of all, you should create an influential presence on social networks. That means you will have to create profiles on different social platforms (at least those that best fit your marketing strategy and your brand style), as well as doing coworking with the online community and share content that impacts and is useful (you should only post relevant content to help your followers).
But we all know that a good backlink strategy doesn't only depend on the links that we share on social networks; it goes beyond that.
► Guest posts
As you know, guest posts have always been considered an excellent option for backlinking, but previously, they were used with Black Hat techniques, the famous "link wheels, that are penalized by Google's new algorithms.
Currently, guest blogging is another technique used with Black Hat SEO, only this time it is done licitly because the collaborators, among other things, work with websites with the same theme, including links naturally and don't work with blogs that were created just for Transfering authority to the official domain. Google will review the relevance of the links and the content to see if the URLs were added because they are relevant and not just because the webmaster wanted to increase DA.
But guest blogging is not the only technique for improving domain authority and rank your content on the first page when users search for this keyword.
I would say that 80% of the process is in how we create content and how we've created our backlink strategy.
► Brian Dean Skyscraper Technique
Content will be the key to getting better results. According to Brian Dean, his technique called Skyscraper was the  1 reason why he managed to get over 18,000 RT on Twitter and around 600 domains with his link on their pages.
See: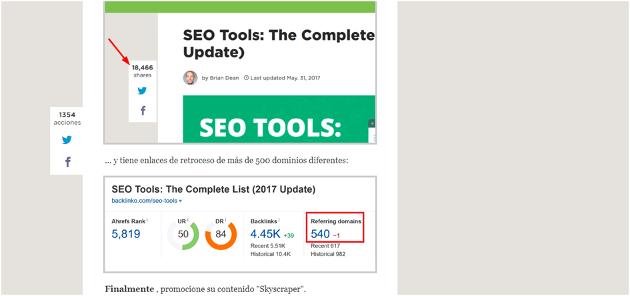 So before searching for the best sites for improving domain authority, think about the steps you'll need to take to create a post that adds real value.
What Brian recommended (and this is what I applied to my keyword marketing plan) is that you should develop the subject in depth, making sure that you added all the necessary information, and later when you already have published the article, you should start promoting it, applying all the techniques you normally use.
In my case, it worked well on social networks, because I managed to convince many other people to share the content on their profiles, which helped to improve my ranking.
As it turned out well, I began to include it in the articles I write for other blogs, which helped improve search engine rankings for this keyword.
I was able to confirm that the strategy was working when, as the average time users stay on the site increased to 16 minutes. Although the bounce rate is somewhat high (34.22%), I was able to include my site in the top positions.
YOU SHOULD NOT ignore this fact:
While it is true that getting to the top is the dream of every webmaster, it is also true that staying on the first page is even more challenging, because Google will carefully monitor these websites, to ensure the satisfaction of users, or they will look for a more accurate search engine.
This means that the script will be much more careful with these first links, to see what visitors are doing after they start reading the content. Based on their behavior, the system will decide whether the website deserves to be in this position or another page is attracting more visitors.
► Updating your content
But beyond building long-term relationships with readers and webmasters, why do you think I managed to get to the first page on Google?
In addition to all the mentioned aspects, I also updated the content to refine the article.
Constantly updating content is another key factor for attracting new sites interested in adding the link because the information will always be in tune with the latest trends and will be relevant to readers.
It's more or less the philosophy applied by Wikipedia, they allow authors and users to update the entries to improve the content and present complete information to the readers.
Or, if it is the case, correct the errors that were found.
And from a technical point of view, you're giving Google reasons to visit this page one more time. If the script finds reasons to improve the page's position in the ranking, this will be fantastic, and if not, it's unfortunate, but you will have to work to improve your content.
This may explain the following:
My site is in second place in Argentina for the keyword "marketing plan," but previously it was in the third position, and so continued for a long time until after much work, we managed to get to the second position.
All this happened for the reasons I've explained so far and because I've always worked to attract qualified traffic.
Do you remember that I talked about Google's EAT parameters at the beginning of this article?
Well, part of the authority of a website can be obtained by following the recommendations I mentioned here. That is, in general terms, you should create such good content that even Neil
Patel would want to share it, come on! This is not an easy task, but it is not impossible either.
►  Focus on generating internal links
Backlinking to rank the best keywords is a task that doesn't just depend on the domains that have added links to your site or their authority.
Internally, you'll have to work to improve the authority of your domain, including the keywords you want to rank in your articles, with internal links to help transfer authority. It's like a link wheel, but without Black Hat's illegal techniques.
Let's give an example, Genwords has several pages well ranked in search engines for some keywords such as "social media." and "marketing mix."
The first is in position 0 on Google and the second is in position 2. In addition to applying all the techniques that I mentioned in the course of this post, I also included links that direct users to the competitive keyword that I want to rank. Let's see:
Some time ago, I published an article about marketing mix. This page is in the top positions on Google. If I add an internal link to the keyword "social media" in the content, I will transfer authority from one page to the other, as long as the content complies with Google's  guidelines.
Backlinking is about inheriting authority and either internally or externally, you have to take care to include URLs with high authority.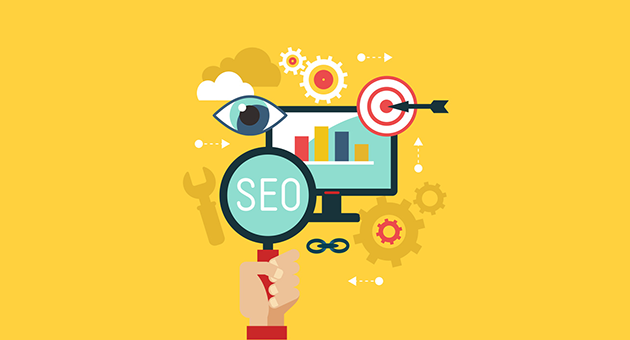 ·  Confidence
Building trust to position a competitive keyword
We can define this concept in many ways, but for this article, I'll narrow it down to two:
► Technical confidence
You should create a secure site for the user. For example, if you created a virtual store, your customers need to be sure that their data will always be protected.
For this reason, you have to ensure to Google that your site isn't spamming users or that visitor data will not be compromised in the future.
How can you create a good data protection policy?
· We need to make sure our customers trust in our products and services and believe that we can offer the solution to their problems.
OK, at this point everything you do can have an impact on your strategy, because you are not just ranking a keyword. To make sure your visitors will feel safe; you need to create a site that inspires trust with clear information about what you are doing to protect their data.
On the other hand, you should include some pages with more information, such as frequently asked questions, success stories, testimonials, to show that your customers can trust you, etc.
All these elements together can allow visitors to feel more confident that they can buy from you safely.
For the same reason, content plays a key role, because if you really are an expert, you have to prove that you know what you are doing. Don't be afraid of showing all your knowledge, your techniques, your secrets, etc.
Customers that want to hire you will want to make sure they are hiring the best professional in the field, and one way of building trust is through the creation of quality content.
On sites that sell products, you can demonstrate that customers can trust you by offering secure payment methods, explaining how their data will be saved and who will have access to this information.
As you can see, ranking a keyword is not extremely complex, you don't have to discover a secret and apply an illicit technique; you will just have to work harder.
However, for this to work, you will need to pay attention to two fundamental aspects: patience and constant analysis.
As I mentioned at the beginning, these techniques may not work for you, or maybe you'd rather pay for ads to attract customers. Paying for new leads isn't a crime, this option is entirely valid.
In fact, there is no way to create a complete Digital Marketing strategy without investing some money in paid campaigns.
What is certain is that you should not just wait for paid campaigns to deliver the customers you need, especially if you want to gain positions on Google for a long time.
Organic things, just like in food, will always be healthier for your business in the long run.