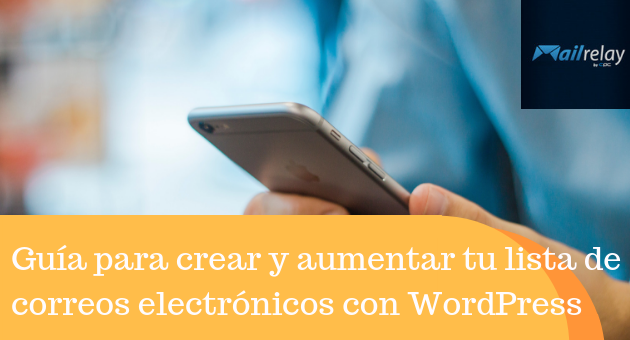 Guide for creating and increasing your email list with WordPress
Creating an email list is critical to keep in touch with your customers. Without communication, it is almost certain that your digital business will not work.
This can be your primary tool for inviting your subscribers to visit your site often if you include relevant content to your readers. However, this constant contact also increases their confidence, as they know that you are willing to help them.
This translates into one word: Sales. Your subscribers will only buy from you if they trust you. The good news is that you can automate many of these tasks and send personalized emails to your subscribers if you use the correct email marketing service.
If you don't already have an email marketing software to create a newsletter, I recommend you create a free account at Mailrelay, as this software is always innovating and offering more and more automation for your email list.
In this post, we will see several strategies to help you increase your list of emails:
If you believe you just need to paste an HTML code into your site or install a plugin to start getting new emails every day without having to do anything else, things don't work that way. If you don't plan your strategy correctly, you will have a very low conversion rate. Most of your visitors will not subscribe to your newsletter.
First, you should work on a short sentence to explain why your visitors should subscribe to your newsletter. (You can always work with ideas from other sites that are doing the same thing, but you will need to change this phrase to your niche, or the results will be terrible.)
A common strategy used for best results is to offer something relevant as a "bait" to attract potential subscribers. An ebook, an exercise book, a video course or even a free evaluation of a product or service. This technique is called "lead magnet" and can be applied to any type of digital business.
If you access blogs on any topic, you'll quickly see that thousands of bloggers and advertisers use this strategy. However, some webmasters prefer to offer their newsletters as the only reason to persuade visitors to sign up. The argument used by these webmasters is that with this strategy they will only have emails from visitors who really want to read their newsletters, creating a more qualified database.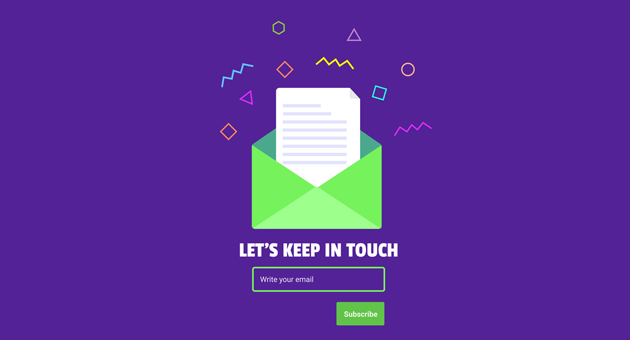 ·  Add a registration form at the end of each article.
You can manually paste the form code below every post you publish, or you can use a basic plugin to add opt-in forms at the end of each new post on your blog.
An excellent choice is WPForms, which seamlessly integrates with some email marketing tools (we don't know if it already supports Mailrelay). Just install it, create your newsletter form, and it will be displayed on every page of your website. Don't forget to edit your form to adapt it to the style of your blog.
· Add a slider or pop-up form on your site.
There is the possibility of installing some excellent WordPress plugins (with more features and pre-defined themes) that will facilitate this task. You can use Bloom or SumoMe, and both are a great choice. You can also use a plugin such as MailOptin or OptinMonster.
Both MailOptin and OptinMonster offer only paid versions, but they offer many advanced features including a/b testing and tools for creating opt-in forms. It is a worthwhile investment if you are looking for an advanced WordPress plugin.
Bloom is also a paid plugin, and it is part of the Elegant Themes platform, but in my opinion, it doesn't offer the same flexibility. To work with SumoMe, you will need to create an account on their site. You can try the plugin for free, with the option to buy it later. This is another very popular plugin because you will also have access to many other tools (an excellent example of an effective lead magnet strategy).
·  Turn your homepage into a dedicated (or semi-dedicated) landing page.
Many bloggers and small business owners know that collecting emails is a crucial part of their marketing strategy. Therefore, these webmasters turn the first page that the visitor will see in a landing page, with very basic information, an opt-in form and a button to go to the main site.
Other websites use plugins to display a subscription form for new visitors immediately, usually with a very attractive lead magnet to convince them to sign up.
If you choose the first option, you can use a plugin for creating landing pages such as Thrive. After creating it, you could set it up as your home page.
It may be challenging to implement the second option, but fortunately there are a few themes (such as Landing by Themify), created specifically for this purpose. If you have technical knowledge; you could do everything manually using a site builder, but for beginners, it might be better to buy a WordPress theme.
The problem with the methods I've mentioned so far is that they depend on a factor that is much harder to improve in a short time, organic traffic. If you don't have many visitors, you will have fewer subscribers; after all, not all visitors will subscribe to  your newsletter.
You can do that even if you have not yet fully started your site, using a plugin called Coming Soon. That's why we'll talk a little about methods and strategies to direct traffic to your site, focusing on creating a healthy email list.
A guest post is simply an article that you write and publish on someone else's blog or website.
If you have already established a relationship with other bloggers, you can contact them and suggest articles that could be relevant to their audience (if you are not yet doing that, you should start networking today).
Remember to send at least one follow-up email. You can send a simple follow-up email a week after the first contact. This email should be brief and polite, just to confirm whether the blogger is interested in your proposal or you should contact another person.
On the other hand, I don't recommend sending mass messages with a default text for potential partners. While this strategy may work in the short term, these spam and pray techniques focused on sending the same message to a large number of contacts and waiting for at least some of them to respond can damage your reputation.
For best results, you should work with blogs that are directly or indirectly related to the topics you address on your site (for example, if you have a website that talks about sports, you could write an article with tips for losing weight while practicing sports for a blog about healthy food).
You will need to search a bit to understand what kind of content you should prepare for each blog, since the style can vary widely, even in blogs of the same theme. Some prefer to publish actual cases of trial and error; others prefer to publish "how to" tutorials.
Later, you can also choose to send visitors to the primary landing page, or maybe even for a landing page 100% created for the public of this blog, using the same style and language, with an extra gift to convince them to subscribe to your newsletter.
The good thing about this strategy is that it can always be repeated. If you do things correctly and take the time and effort to write a relevant article, you can post multiple articles on the same blog, creating a lasting relationship not only with the visitors of the blog but with the webmaster. After all, you are contributing to the site and providing valuable content.
·  Partnership with other sites (joint ventures)
If you are not able to attract traffic, but already have an ebook or another product that you believe may be relevant for a larger audience, you could try to create a partnership with a blogger. You could create a promotion and offer your product for free in exchange for the registration of users who would receive your content.
If you have high-quality content and you have already established a certain relationship with some influential people in your industry, this can be easier than you think. Again, I don't advise focusing your efforts on "spam and pray" approaches. And remember to follow the steps explained above.
· List of free plugins for creating opt-in forms on WordPress
In addition to the plugins, I mentioned earlier in this post, I would like to share with you a list of free plugins for adding customized subscription forms on your blog. You can find many plugins that offer this option, but we will talk about the ones we believe you can quickly install on your blog.
This plugin brings together all the qualities to meet all the needs and requirements of a blogger, site owner, merchant, and developer. If you install this plugin, you'll be able to create an email list in a short period of time.
You can insert a professional-looking opt-in form in any place of your site. This is a professional form that will instantly catch the visitor's attention.
It provides options to send automatic updates when you publish a new entry, saving time by automating the sending process for those who want to send an email every time a post is published on the blog.
You can create, schedule and send newsletters quickly, creating custom messages with the HTML editor and send emails manually or through cron.
This plugin helps to exponentially increase your email list, showing targeted messages and "calls to action" on your WordPress blog with pop-up windows (also known as lightbox or modal), before or after the subsequent subscription form, and in the sidebar forms with a widget, as well as send newsletters automatically, for example, to trigger automatic notifications when you post a new article on your blog.
WordPress Subscription Form Newsletter for Tracking subscribers and send emails. This add-on is a subscription form for blogs and pages using a widget and a shortcode.
This plugin can be used to create a subscription form. It is very easy to use. Just enter how many times the form will be displayed when the user visits the page. You can also use this plugin as a widget.
You can also create a subscription link. When visitors access this link, the modal pop-up menu for newsletter subscription will be displayed. This add on provides complete customization of all error messages. The plugin can be used for all the pages on your blog.
Also, the administrator can view the list of subscribers and can remove selected subscribers. The administrator can send emails to subscribers and can see the list of removed contacts. This plugin can also be used for websites with responsive design.
This is a plugin for sites that use the Genesis Framework. I could talk more about this option, as I'm using it on my blog.
With this plugin, you can create a new widget to easily add email lists for a Genesis website. The widget allows you to work with Feedburner and several email marketing services.
Important
In the field "hidden fields" you will have to include the group information, something like this:<input type="hidden" name="groups[]" value="ID do seu  GRUPO" />
·  Conclusions
The first step to creating an audience and converting these people into customers is to attract traffic and receive visitors, and the second step is to make sure they keep coming back. If they don't return, it will only be a random person who ventured into your site once.
But if they subscribe to your newsletter, little by little, they will get to know you, and they will know what you can offer them.
If, on the other hand, you already have a reasonable number of visitors, you can use any of the methods from 1 to 4 or combine them. However, if you are still struggling to convince people to visit your site, you can work with 5 to 6.
Do you have a newsletter, a course or any other formula for increasing your list of emails? We'd love to hear some of your suggestions (and I'm sure that other readers would also like to read your opinion). For example, How long did it take you to create an effective strategy to increase your email list? We look forward to your comments below.