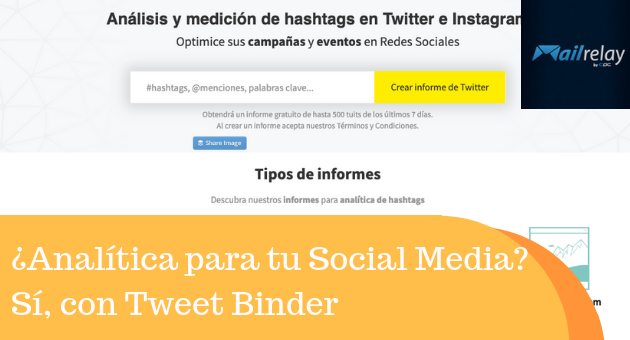 Analytics for your Social Media? Yes, with Tweet Binder
Do you want to create a successful digital marketing strategy? Are you working on communication actions for your business, but you don't know how to measure the results of your strategy?
I imagine you've asked yourself these questions at least once. Believe me; you're not alone.
Social networks have changed our lives and the way we communicate and relate to others. These changes brought great challenges for companies and businesses. However, social media should not be understood as a threat, but rather as a means of improving our marketing strategy, as we have more tools at our disposal.
Also, social media has changed the way users interact with the brands they love.
But how can I create a strategy if I'm not an expert on social media? Keep reading, and I'll explain what you can do.
Today, as a guest author, I will explain to you all the advantages of Tweet Binder, a social media monitoring tool.
In just a few steps, I will teach you how to get 100% professional reports with all the information on the performance of your social media strategy to help you make more accurate decisions when planning  your next campaign.
I am sure that after reading this article you will be eager to test this software.
Statistical reports using Tweet Binder
Tweet Binder has been able to adapt to the needs of users and customers. That's why, over time, Tweet Binder began to upgrade its products to the demands of the market.
The central axis of the Tweet Binder reports are statistics about Twitter with multiple reports, but over the years we have added new features, such as the financial value of a hashtag, the financial cost of a Twitter account, the financial value of a tweet, the number of certified users, and the number of original tweets.
Tweet Binder also has two versions, the free version, which will allow you to access basic statistics of up to 500 tweets in the last seven days. And the paid version, with advanced reports and several features for your digital marketing strategy.
Creating Tweet Binder reports step by step.
The first thing I need to tell you is that it's extremely easy to use thissoftware. What's more, you can generate your reports in just a few clicks and believe me; you will be amazed at all the information you can get through this software.
What do you need to do to start using Tweet Binder? You just need a Twitter account. Oh and I forgot! A hashtag, account, or keyword that you would like to check. With this, you can create a report in a few seconds.
You only need to follow four steps to create your analytic reports on Tweet Binder, and yes, you read correctly. Only four steps:
Type the hashtag, account, or word you want to check into the search box.
Click the yellow button: Create Twitter Report.
Log in with your Twitter account.
Congratulations! Access your report.
Now all you have to do is review the statistics generated by the software. What statistics can you access with a Tweet Binder Twitter Report? Well, you can know the impact and reach of your hashtag, the total number of tweets and the number of users who participated, among other information.
You can also access a chart with a timeline and a ranking of users, which will be very useful for understanding your followers and their behavior. This information will be very useful for adapting your content.
And what can we find in the ranking of users? Well, we can see the most active users, users with the highest number of retweeters and the most original messages.
We can also see the most popular ones, those that have reached more users and those who uploaded a larger number of photographs. Also, with Tweet Binder reports, you can detect users with certified accounts, the users who are talking to your followers and those who are always interacting.
It will be very easy to interpret all Tweet Binder reports on Twitter, as this software is available in English.
All of them maintain the same professional aesthetics and the same range of colors, which makes them quickly identifiable.
Tweet Binder, generate advanced reports.
With Tweet Binder, in addition to getting advanced stats on Twitter, you will have the option to sort and organize information to facilitate your job. To do that, you can create binders with the data you want to analyze.
You can also find relevant information that you can't find in any other hashtags analysis tool. Using this tool, you can see the financial value of a hashtag.
And that represents the price of a hashtag in the market. You probably are wondering: What is taken into account to calculate the price? Among other criteria, the system will check the number of followers, the number of followed and the lists among other filters.
You can also see top influencers and more expensive users. In addition to the most cited users, the most retweeted messages, the main languages used and the most commonly used hashtags. That is, a complete report, right?
Understanding Tweet Binder Reports
I imagine that if you are still reading this article, it's because you're really interested in this tool, so let me tell you a little more about our Twitter reports. This way, you will know which one best suits your needs:
Real-time report
With this report, you can review the tweets at once. It's that simple! You can also check the statistics in real time and view the users who are sharing your content. Now I just have to ask, do you want to try this tool?
Pro Report
You can analyze up to 10,000 tweets from the last seven days. With this information, you can make adjustments or changes to your campaigns.
30-Day Report
With this report, you can review tweets from the last 30 days. Within seconds, you can check statistics and track up to 35,000 tweets in the last 30 days.
Historical Report
Undoubtedly, this is our best report, because it allows you to analyze data with no time limit. With this report, you can get data about tweets, hashtags or keywords since 2006 (when Twitter was created). You can access this information in minutes, and with just a few clicks!
Another important fact that I have not commented until now is that all our PRO reports can be exported to an Excel file.
And what does that mean? Well, you can work better with the data and organize this information into worksheets that you can view offline. You can review tweets, lists of users, see their names, biography, links and many other details.
In addition to our reports for Twitter, with Tweet Binder, you can create reports for Instagram. You can purchase monthly or yearly plans and buy social walls for events or custom projects. As you can see, Tweet Binder is the best ally for your digital strategy.
I'm sure you'll like this tool, but if you have questions or need more information, please contact the support provided by the software and they will help you.
So, was I able to encourage you to try this software? Oh! And don't forget to leave your comments in this post.