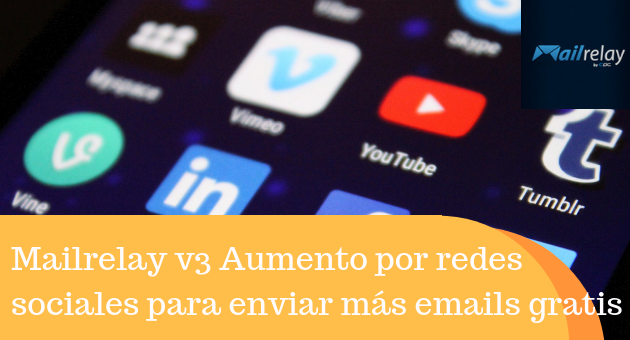 Mailrelay v3 how to send more emails for free, social media upgrade
With the new version of Mailrelay, we've introduced many improvements to our free email marketing software:
New drag & drop editor
Dynamic fields for targeting
A new advanced email automation system
Enhanced statistics
Etc.
In fact, the interface has been redesigned from scratch, it is a completely new email marketing software.
However, there is something that we didn't change:
· We continue to offer the largest free account on the market, with an email marketing service that will allow you to send up to 75000 emails per month
And work with a mailing list of up to 15000 contacts.
We have the best free email marketing software.
This promotion was created in 2014.
In fact, we have thousands of users who are already working with our free email marketing system for several years.
This has not changed, and you can continue to use our software for free.
► How to get the free Mailrelay promotion?
You will just have to follow a few steps.
The first thing you should do is create an account on our website.
Here you can see the options for creating your Mailrelay account.
The process is straightforward; you just need to fill some fields with some basic information:
Your name
A corporate email
After entering the requested data, you will receive an email with a confirmation link and when you click on it, your account will be created automatically.
Your newly created account will have free limits:
You can send up to 15,000 messages per month
to up to 3,000 contacts
If you wish, you can increase these limits.
► How to upgrade my email marketing software for free?
Increasing your limits for free is very easy.
If you are already on your dashboard, click on Settings -> Social upgrade.
This will take you to this page:
You should follow us on these three social media platforms:
Facebook
Yotube
Twitter
This is very easy; let's do the process step by step.
►To follow us on Twitter.
Search for our Twitter profile: @Mailrelay_UK
Once you've located our Twitter account, just follow us.
And now all you have to do is click the twitter button on the Mailrelay dashboard to log in and inform the system that you are already following us:
Please note that just logging in is not enough, you will have to follow us manually to request our free promotion.
IMPORTANT: we will not see your information, nor will we share anything in your name. When you follow us on Twitter, the only thing that happens is that you will see our tweets, and you can see the articles and tutorials we publish.
► To subscribe to our YouTube channel.
It's very simple too.
You just need to click on the YouTube icon:
And you'll see a page like this:
Choose which account you want to follow us with.
When choosing the account, Google will display the following message:
You have to click on Allow.
IMPORTANT: As in the previous case, we will not use your Youtube account. This process is only necessary to confirm that you have subscribed to our channel.
At this point you will already be logged in to two profiles:
To complete all the steps, you will also need to follow us on Facebook.
►To follow us on Facebook.
Just go to Facebook and look for the Mailrelay page:
And click on Like.
After logging into the three social networks, you only need to click the button to request the promotion:
Once this is done, a message will be displayed:
Your request has been received; your account will be updated within the next 24 hours.
Our staff will check if everything is correct and upgrade your account.
With this promotion you can
· Send up to 75,000 free emails per month to a list of subscribers with up to 15000 contacts.
If you want to check your package, used credits or other statistics on your account, you can go to the Reports menu -> package statistics:
Remember that the package is reset every 30 days. The system will renew your credits the same day your account was created.
So, every 30 days, your limits will be renewed.
There is no excuse for not including email marketing in your digital marketing strategy!