The – SMS marketing platform
simple
fast
reliable
Mailrelay's SMS Marketing service stands out as a direct and effective way to connect your company with your customers immediately.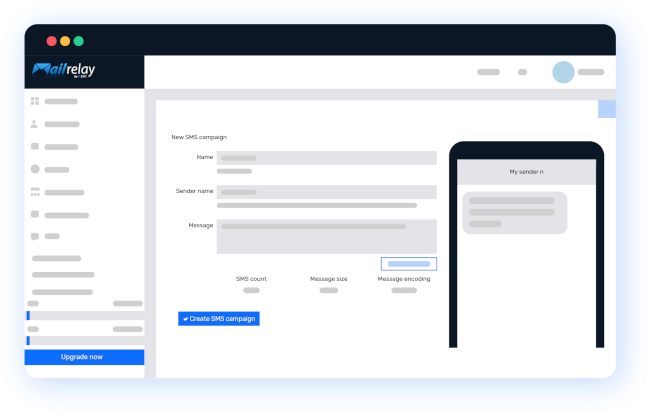 How to create an SMS campaign?
Create and send your SMS campaign in just a few steps:
Import your contacts
Easy and fast sending, you can paste your list of mobile numbers or use the numbers associated with your contact lists.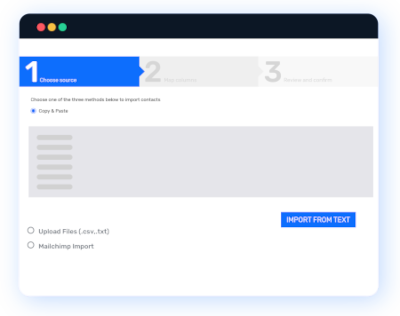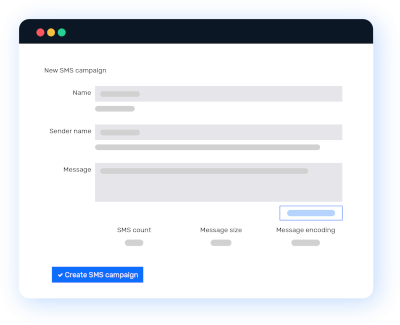 Type in your text message
Composing your message is really easy. Whether you need a short or a longer message, our editor will let you do that. It will inform you if you need to concatenate several SMS messages.
Send your first campaign
Direct your customers wherever you want by adding links to your SMS.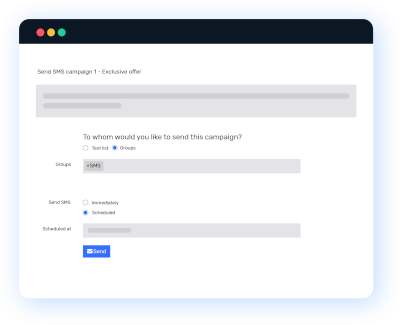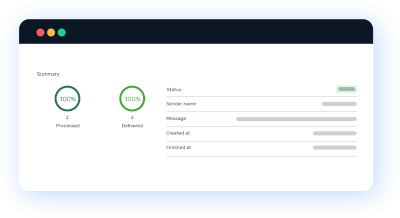 Analyze your results
Thanks to our statistics panel, you will know how many SMS were delivered.
Immediate Benefits
Instant communication
Text messages are delivered almost immediately, allowing you to share urgent news or time-sensitive offers with your customers quickly and effectively.
High open rate
SMS has a 98% open rate, which means that almost every message you send will be read by your customers. This ensures that your message reaches the majority of recipients and gets viewed.
Easy tracking and analysis
Our SMS service offers statistics that allow you to evaluate the performance of your SMS campaigns.
Cost-effectiveness
Compared to other marketing channels, SMS is relatively inexpensive. This allows you to reach many customers without investing a large amount of money.
Accessibility
Since most people carry their mobile phone with them at all times, they are very likely to see your message shortly after receiving it. This increases the likelihood that they will take the action you expect.
Mailrelay's SMS
In short, using Mailrelay's SMS service will help you improve communication with your customers, increase the effectiveness of your marketing campaigns, and ultimately boost your business sales and growth.
Trusted by our customers
The Mailrelay system has been a solution to our marketing system, and the customer support was good, and fast. Customer support is also in Spanish, this enables more of our staff to make contact, the treatment is customized and they are connected throughout the working day, from 8-22 and give rapid assistance. You can send…

Mailrelay is an easy and efficient tool that has saved us a lot of time and internal IT and commercial resources that weused to have to consume. It allows us toadapt predesigned templates to our corporate style and we can send mailings with personalized fields instantly. It has helpedus with our client relationships.

We started using Mailrelay in early 2012 as part of an internal communications project and, after we saw that the system brought us good results,including design options, we ended up working with the software tocommunicate with the media and marketing actions. So far, we didn't have any problems, even in the case of specificcampaigns, when…

We have to thank the support offered by the Customer Service Department ofMailrelay, to help us create and edit our newsletters. They helped us a lot in everything we needed to start sending our newsletters. The system stands out for its functionality, cost and easeto use interface. The support, in ourcase, was fundamental. Without the…

By using Mailrelay, i try to send email marketing campaigns more Professional and with a more attractive design, and with this system I can measure the results of the strategies. Thanks to its statistical system I can sort and track our databases, see the analytical results of our campaigns, etc. Another improvement is the fact that this email…

Thanks to Mailrelay we can manage our own offers and exclusive packages, in a very agile way. In addition, the support offered by Noé, from the beginning was excellent, fast and effective. This helps us manage the system more easily. Without this help, we would have taken longer to learn how to manage the platform.
Develop your SMS marketing strategy and track your sales growth
Sign up for Mailrelay today and discover how our SMS marketing service can help you reach your customers in ways you never imagined.