Mass mailing prices
Send more mass mailings thanks to the lowest prices and increase your results effectively
Choose your volume of sending emails in the slider below to know the price. Remember that we also have the largest free account so you can try Mailrelay to your liking and without obligation
A plan recommended if you send regularly every month and to the same list of subscribers. If necessary, it allows you to anticipate the billing period to continue sending in case you exceed the limit of emails or subscribers, something very useful in case of occasional peaks. With 12 months permanence.
A plan recommended for occasional mailing. Cumulative messages when renewing your plan for one of the same or higher amount than the one initially contracted. It allows you to experiment with sending without having to think about the number of contacts, as it is equivalent to the volume of mailings. Duration of 12 months.
Do you send emails on a regular basis? The monthly plan has the lowest price on the market thanks to its 12 months permanence. Check it out in the volume selector below. Create your free account and try Mailrelay now! You can choose the plan of your choice after testing:
Do you need to send a large volume of emails in a timely manner? The prepaid package, with 12 months of duration, allows you to experiment with sending without having to think about the number of contacts since it is equivalent to the volume of emails. Create your free account and try Mailrelay now! You can choose the plan you want after testing:
100.000
Send up to 20.000 contacts
250.000
Send up to 50.000 contacts
500.000
Send up to 100.000 contacts
1.000.000
Send up to 200.000 contacts
2.000.000
Send up to 400.000 contacts
5.000.000
Send up to 1.000.000 contacts
10.000.000
Send up to 2.000.000 contacts
25.000
50.000
100.000
250.000
500.000
1.000.000
2.000.000
5.000.000
10.000.000
Free
€ 0.00
Sign Up Now
80.000 messages/month
20.000 contacts
Includes all enterprise features
Most Popular
Enterprise
€ 0.00
Sign Up Now
Advanced tracking
Increased deliverability
Impressions and clicks stats
Increased sending volume
SMTP with stats
Advanced contact segmentation
Standard
€ 0.00
Sign Up Now
No tracking
Increased deliverability
Doesn't include impressions and clicks stats
All plans (even free) include:
Sending mailings without daily limitations
Support and help by chat, ticket and phone
Easy to use newsletter editor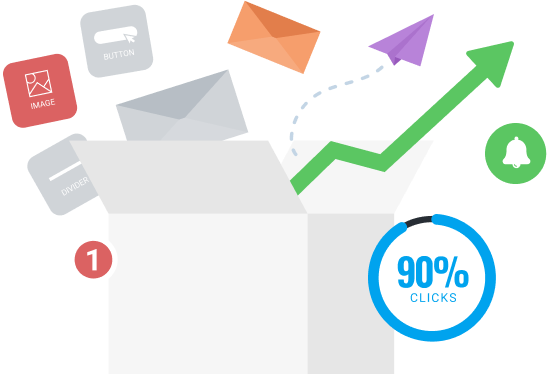 Pricing FAQ
What is the difference between monthly plans and prepaid packages?
Monthly plans have a limit of emails and a limit of subscribers (or contacts) per month. If you exceed either of the two limits, the account is paused until the next renewal period, when both limits are reset to 0 again.

The limits are renewed on a monthly basis, not on the first day of the month, but on the day the account was created. So if you signed up on April 12th, the renewal period will start on the 12th of each month.

Monthly plans have a 12-month commitment period.

Prepaid packages don't have a subscriber limit, only the limit of messages you can send, which will vary depending on the package you purchased.

This package type doesn't require any commitment period, and the maximum duration is 12 months.

If you usually send the same number of campaigns to the same database, it is better to purchase a monthly plan. If you have to send a single campaign from time to time, or a monthly newsletter, you should buy a prepaid package instead.
Do I need to enter my credit card information to create an account?
To create a free account on Mailrelay, you don't need to enter your credit card information or any other payment method. Mailrelay will only ask for this information when you choose to subscribe to a paid plan, when you decide to upgrade your account to send even more email marketing campaigns.
Do I need any technical knowledge or skill to work with Mailrelay?
No. Mailrelay was developed with usability in mind. You will be able to use our email marketing software without any problem. And if you have any questions, our support team will help you.
While other email marketing tools require knowledge of HTML, with Mailrelay, you won't need this as we offer an easy to use drag & drop newsletter editor.
Can I test Mailrelay before purchasing a plan?
Yes, you can create a free account. This is the cheapest way to get started with email marketing. The free account has very high email-sending limits, which you can see in the table above.
What payment methods does Mailrelay accept?
Currently, we accept bank transfers, credit cards, Apple Pay, Google Pay, Ali Pay, and PayPal.
What are the advantages of the paid versus free account?
If you need more credits for your email campaigns, paid plans are the best option. You can select the best option for your needs and adjust the slider above to check the cost of the plan you would like to purchase.
Is there a commitment period for the paid plans and any fine?
Monthly plans require 12 months of commitment.

Prepaid plans have no commitment since you are purchasing credits, so you can pay as you go. You have one year to finish your current package, but you can increase this maximum period by purchasing another package ( equal or higher prepaid package).
Why do the accounts include sending and subscriber limits?
The monthly plans and the free account include two limits: a subscriber limit (the contacts you can send to) and a limit of messages.

If either limit is exceeded, you must wait for the plan's renewal date, when the package usage will be reset to zero, and you can start sending emails again. In addition, you can advance the renewal date for monthly plans or upgrade your contract to increase the limits.

Most plans allow 4 to 5 campaigns per contact limit.
Can I pay an annual fee?
Of course, you can; you can pay the monthly plan annually or as often as you prefer.
Do the prices shown on the site include VAT?
No. If applicable, you will have to add VAT to the prices available on the website.
Can I subscribe to a monthly plan for a specific period (e.g., two months)?
No. Monthly plans have a 12-month commitment. You can remove this clause from the plan by adding an extra cost to the monthly fee.

If you don't need to subscribe for a whole year, it is recommended to work with prepaid packages.

Monthly plans are the best option when you plan to send email marketing campaigns regularly every month.
How can I terminate the contract if I subscribe to the monthly plan with monthly payments?
At the end of the subscription period, you can decide not to renew the monthly plan with 1-month notice in advance.
What are subscribers?
Subscribers are your contacts, the email addresses to which you can send messages through Mailrelay's email marketing software.
What happens if I exceed the number of subscribers allowed for my monthly plan?
In this case, you can't continue sending until your subscription billing date.

You can wait for the renewal date of your monthly plan, advance the contract dates by paying a new invoice, or upgrade to the next monthly plan.
Can Mailrelay send invoices through the General Electronic Invoice Entry Point (FACE)?
Yes, it is possible.
Can I purchase a dedicated IP?
Of course, you can; if you need it for your email marketing strategy, you can pay for a dedicated IP for your mailings annually; please note that the quality of this IP will depend only on your mailings.
Can I pay for a newsletter design service with Mailrelay?
We can help you with everything you need to set up your newsletter and give you advice on how to improve your delivery rates through design changes, but currently, we don't have a newsletter template design service.
Can I send emails of any size?
You can do it, but keep in mind that if your email is using more than 100 kB, the system will account an email for each additional block of 100 kB.

If for example your emails have 250kB it will count as 3 emails for billing effects. Note that this is the total size of the email, including headers, text, subject and attachments.

Also, when attachments are sent, they are converted to base64 format, so they will use around 30% more than the original size. (https://en.wikipedia.org/wiki/Binary_file).