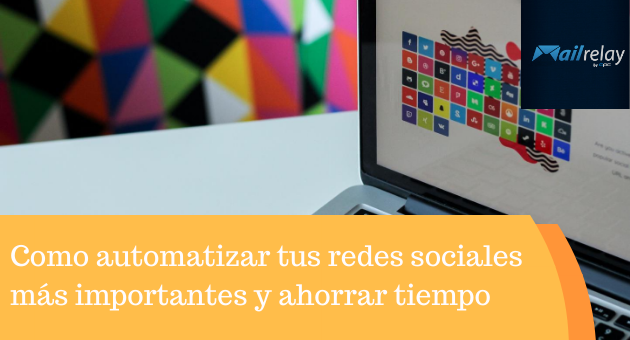 How to automate your most important social media accounts and save time
If you work as a social media manager or as a community manager, you know that time management is essential.
Likewise, if you manage your profiles on social media, we will explain how to automate them and save time.
By automating your social media, in addition to managing your time well, you will work in an efficient and orderly manner.
As you know, when you create new content, you have to spread it on social media, to reach as many people interested in your product or service as possible.
Yes, it isn't easy to reach new users even if you do that.
That's why I'm going to explain how to automate your most important social media accounts and save time.
Before I begin. I'm going to clarify a point that I consider important.
In which Social media should I be present
Do you have to work with all Social Media? Well, in my opinion, NO. Only those that are most important for your niche and where your target audience is.
To start, you should analyze the main social media such as Facebook, Twitter, Linkedin or Instagram, and of course Google My Business because these platforms will help to boost your local SEO strategy.
And an analysis of the competition and market trends. If your competitor is already working on their social media marketing strategy, they will have done a good study that can serve as a reference to help you get started.
You will then see which platform best suits your business and what content can be relevant to the users who are interacting with you.
For example, if you are a photographer, I think you would better work with Instagram. You can reach more people. Interact with them to finally turn them into customers and convince them to hire your services.
With that said, now let's get started!
The reason for doing that is understandable, to save time. But how to automate your most important social media profiles?
Saving time is critical for any company and professional who engages in online marketing.
By automating your social media, you will not only save time but also get the job done more efficiently.
These tools will help you with the daily management of your social media. All of them have a free version, so you can test them before selecting the best option for your needs.
Hootsuite is one of the best tools for managing, social media bulk scheduling, and therefore automating your social media profiles. We use it to schedule our clients' social media campaigns as well as our own.
In its free version, it allows you to manage up to three social media networks. If you manage multiple facebook accounts, I recommend one of the professional plans.
The free version only allows you to schedule messages manually. But if you upgrade to a paid plan, you can schedule your messages in batch.
To schedule messages, you should go to the "calendar" image and there set the date and time of the post.
Hootsuite offers real-time analytics and allows you to monitor your posts.
It allows you to publish and schedule content to different accounts and is one of the most comprehensive social media platforms with over 18 million users.
It allows you to publish content on Instagram and offers detailed reports while analyzing the information you post on each social media network.
With Hootsuite, you can shorten URLs and search the hashtags with the highest volume of users.
You have the option to manage advertising campaigns. Hootsuite ADS allows you to publish your campaigns on Facebook and Google.
It integrates with over 20 platforms like Trello or Google My Business.
You get priority customer service 24/7. If you have any problem, no matter if it is early or very late, real people will be there to help you.
Here's a video from the Hootsuite YouTube channel, with the most recent updates to the tool dated March 2020.
The Hootsuite free plan version only allows you to schedule messages manually. But if you upgrade to a paid plan, you can schedule your messages in batch.
Metricool is a tool that allows you to analyze and measure all your digital content. Metricool offers features such as:
-Analysis of all your digital content.
-Options to plan and schedule, and therefore automate your social media posts.
– It offers reports on all your social media actions.
-Now, it also integrates with Google My Business.
-You can also connect it to your blog, and it will give you some statistics on visits, the number of page views, posts you have written per week, and comments on blog posts.
The visitors' countries and traffic sources, for example, Twitter, Bloguers.net, or other platforms.

-Analyze the competition on social media.
-Place links on Instagram images.
The first thing is to create an account on Metricool with your email account and password and connect your social media accounts.
The free version is enough to get you started; however, the paid version is highly recommended.
When it comes to social media, it provides information about the growth of the brand's community, follower reports, evolution of posts.
It also provides data about your digital campaigns in Google Ads and Facebook Ads, such as reach and results to check the performance of your ads.
Metricool has a Google Chrome extension that you can download and install in your browser to plan your social media content at any time.
It is fascinating, especially for Twitter, because you can post tweets directly from the extension.
With Metricool, you can connect your Google My Business account and manage your business and customer data with just a few clicks.
You can schedule posts, reply to comments, and download reports that will help you to improve your SEO strategy.
All this gives you an idea of automating your most important social media networks and start saving time.
Postcron
Postcron is a tool that will make managing your company's social media accounts easier.
However, this software has many other indispensable options.
Social Media: to automatically publish posts on your profiles.
Email: it allows you to send automatic emails.
Postcron ArtStudio: for creating images for your content.
It is very useful for any community manager that is starting because its Freemium version offers many alternatives that will make your life easier.
Blogsterapp for automating content
Blogsterapp is a tool for automating your content marketing strategy. Plan the promotion of your blog's content and offer content curation, with articles and news that you want to share.
Therefore, it allows you to increase the reach of your blog, and you can also install the Chrome extension to manage the tool more easily.
You can also use this system to schedule and publish posts on your social media profiles.
You will also get reports and statistics about your posts, as well as information about what time of day is generating the most impact and interactions with your followers.
This is another tool that you can use to automate your social media networks.
Buffer
Buffer is one of the most straightforward tools for social media automation.
It is one of the most widely used among social media marketers. It allows you to plan when you want to post content, without having to be logged in at that moment.
Be careful; this doesn't mean that you can automate all your publications and stop paying attention to your followers. The most important thing is to talk to them and respond to comments and questions. In this way, you will generate more engagement.
With Buffer, you can automate posts on Twitter, Facebook, LinkedIn, etc.
Buffer offers a free version with limited options and several paid options. With the free version, you can only connect a maximum of three profiles.
TweetDeck for automating tweets
TweetDeck is a tool created by Twitter to manage and control multiple accounts from a single desktop or dashboard. Notifications, mentions, messages, and the overall activity of one or more Twitter accounts can be easily managed with this system.
You can manage multiple Twitter accounts, schedule Tweets that will be posted later, create collections of Tweets.
We at Vatoel Marketing Agency use Twitter a lot. It's the social platform we like the most to share our content and that of our clients.
And therefore, Tweetdeck is among my favorite tools for automating social media accounts, in this case, Twitter.
It is very easy to use. You have to log in with your Twitter account. Once you are logged in, you can connect multiple Twitter accounts to your TweetDeck account.
To create Tweets with TweetDeck, make sure you select the Twitter account you want to tweet from.
Create a Tweet with text. You can add an emoji, an image or video, topics, polls, and more.
Click on the Tweet to share. You will see that the interface is very intuitive and easy to use.
Bit.ly for shortening URLs
Bit.ly is a free service with which you can shorten lengthy URLs.
Used by 46 percent of the market, the URL shortener bit.ly is currently the market leader in this field.
Twitter was responsible for the creation of these systems, as a tweet cannot be longer than 280 characters. Every character counts, and every character in a URL counts as well.
Bit.ly uses algorithms to create very short URLs. This is a fantastic option for changing your URL and sharing it with your followers.
As per information provided by Wikipedia, the company is based in New York and was founded by Peter Stern in 2008.
Conclusions
There are many more options, but these are, in my opinion, the essential ones to effectively automate social media networks and save time.
In short, you can use:
Hootsuite, Metricool, Bit.ly, Tweetdeck, Buffer, Blogsterapp.
I hope you try a few of the options we saw in this article because the time you save on social media management could be used for other relevant tasks.
We look forward to hearing from you in the comments if you have any questions.
Translated by Micheli.