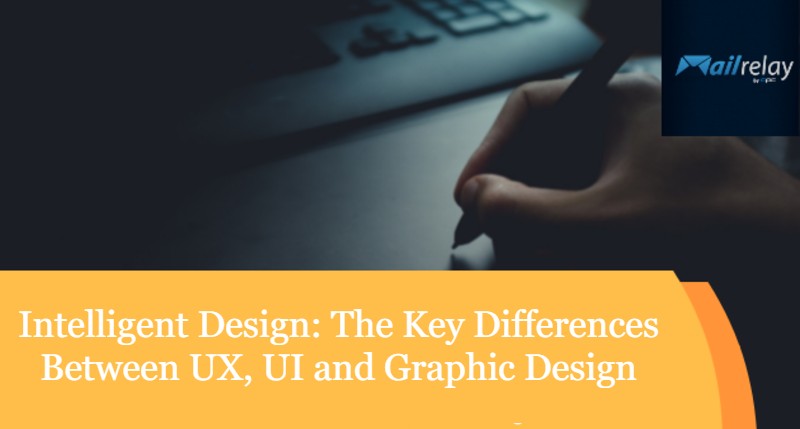 Intelligent Design: The Key Differences Between UX, UI and Graphic Design
The digital world has taken the concept of design and revolutionized it, creating a space where displays can change dynamically and enable users to interact with them in many ways. This has created entirely new disciplines of design and graphic design, traditionally dealing with static images, has become just one subset of design. UI and UX are schools of design which focus on user interaction, building functional digital environments that are also aesthetically delightful.
A Career For You?
The world of graphic design, UI and UX can provide a lifelong career that's both professionally, personally and creatively fulfilling. In any one of these disciplines of design, you'll be able to pursue your creative instincts, and often find a positive impact on your mental health through artistic output.
Further, these careers – particularly UX and UI – are increasingly taking place in an exclusively digital landscape. Career paths that focus on digital design components can give you a great deal of flexibility in your career, enabling you to work remotely, anywhere in the world.
If you're interested in taking control of your future career and commanding a healthy income whilst pursuing your passion then you'll be considering a career in graphic design, UI or UX. We'll take a look at the key differences between these design schools, enabling you to make the right choice for your future studies and career. This is intelligent design.
Graphic Design 
Fundamentally, graphic design has communication at its heart. Graphic designers can work in many mediums, designing for websites and mobile apps or printed materials such as posters, magazine ads and physical displays in-store, making this an exceptionally diverse school of design to take part in. Nevertheless, one thing that is shared by all graphic designers is that you're generating a visual display that's static – users interact with it in one dimension, interpreting your design to derive meaning.
"In simple terms, graphic design is about how things look – graphic designers arrange visual elements on a page," says Bonnie Storer, a business writer at Revieweal and Assignment Help. "This can include typefaces and lettering as well as images, photographs and vector drawings – ultimately, creating a visually rich landscape that communicates a message to the viewers." The AI based image tools can be very helpful for designers to upscale the images and improve their performance.
Print and Digital 
One significant way in which graphic design stands out in comparisons with UI and UX design work is that graphic designers still – on occasion – work with physical media. Whether designing billboards or bus ads or book covers, graphic designers will work with forms of media that UI and UX designers won't consider. Whilst UI and UX are dynamic and creative roles, this can make traditional graphic design a particularly satisfying career  as your design innovations become tangible creations.
Expected Salaries
Although demand for graphic designers is projected to fall slightly over the next decade, this remains a thriving and dynamic industry. By diversifying into digital tools such as Adobe Photoshop and InDesign, graphic designers can build a strong career and, according to Glassdoor.com, expect to earn a median wage of around $42,000 per annum. 
UI – User Interface 
UI – user interface – is a branch of design concentrating on building a digital space where users can access information and interact with digital elements. This makes it a field of design wholly concerned with digital design, contrasting with graphic design in this way. UI has to be understood in terms of digital development processes and a UI designer is one component in web and app development, often receiving frameworks from UX for polishing them before handing over to programmers who code the final product.
Because UI is built around user interactions with visual elements, a UI designer operates exclusively in digital spaces.  Clickable elements, forms, drop-down menus as well as dynamic animations are the essential tools UI designers work with to create visually stunning digital landscapes that maintain their functionality for their users.
"Because UI and UX are intimately related, UI designers often work closely with UX designers and often these two disciplines overlap," says Dianna Wilson, a web designer at State Of Writing and Custom Writing. "However, UI can be said to be more focussed on the aesthetics of design in digital spheres and whilst functionality can't be sacrificed, it won't be the priority of the UI designer."
Primary Responsibilities 
UI design encompasses a range of roles and responsibilities around digital design work, but there are a few consistent components that you'll find along this career path. The visual elements of a project will be the core concern of the UI designer, so how an app or other digital product looks and feels to the user will be your responsibility – branding is an important part of this process, ensuring consistency throughout your design.
Beyond the immediate design, UI responsibilities can include adapting designs onto different devices and screen sizes and managing interactive features within apps.
Expected Salaries
As the digital economy grows, UI is a valuable skill set and you can expect to earn a median salary of around $49,000 per annum. What's more, in a sector where many find themselves freelancing, a career in UI offers you significant job security – this role was recently ranked in the top three in-demand roles across the country. For a career full of variety, flexibility and security, UI design is an excellent choice. 
UX – User Experience 
UX stands for user experience and it's an area of design with a broad scope that encompasses the way that users interact with digital spaces from mobile apps and tablet software to web pages. As mentioned above, UX works closely with UI to produce aesthetically delightful spaces for users, but whilst UI designers are focussed on visual elements, UX needs to build functionality into the core of their design.
UX designers face this challenging balancing act and their designs are fundamentally user-centric. Their work differs from both graphic and UI designers  because this outward-facing approach requires the application of logic and structure to their design, so flow and framework become integral to their design. UX designers are often problem-solving to balance the needs of the user and the visual appeal of a design.
A Step Away From Design 
One important thing to note about UX is that this all-encompassing role can take you further away from technical aspects of design when compared to UI and graphic design. Whilst those working on user experience often perform design work as part of their job, they're also likely to be involved with project management at a higher level. The social component of UX is essential to success in this discipline, and market research and behaviorology are often drawn from to enable UX designers to understand the machinations of the human mind, and how they relate to a functioning digital product. This can be an incredibly dynamic role, varied in work and responsibilities, but those considering a career in UX need to understand that it might draw you away from your design roots in surprising ways.
Expected Salaries
UX designers can expect to earn a median salary of around $50,000 per annum, making this a lucrative career choice for those with an interest in combining their aesthetic skills with a practical and functional approach to design.
The Design Skillset
Whilst graphic design, UX and UI are all distinct schools of design with their own focus, there's often an overlapping skillset. One of the main benefits of exploring a career in design in the flexibility you gain over your working day and by building a portfolio of design skills, you can often make lateral transitions between UX and UI and the wider world of graphic design. This makes you a highly employable individual and in the 21st century job market.
To pursue an empowered career in design, you'll need an aesthetic eye. Whether you're designing within graphic design, UI or UX you'll need to understand how to combine eye-catching design with communication skills, utilizing graphics to send a message to your viewer. With graphic design, that message is likely to be informative or persuasive, for example telling the viewer about the quality of a product you're advertising. With UI and UX, the message you're trying to send might be the way an app is used, subtly creating an intuitive environment for your users.
Although these design disciplines differ in many ways, there's an overlapping skill set that can allow designers to transition between roles. If you're interested in a career in any design pathway, begin cultivating your craft right away. 
Conclusion 
Whereas graphic designers are pursuing the communication of an idea, UX deals with the experience of a user and UI is about how a user interacts with design. Graphic design is generally about static images across any medium, whereas UI and UX are more dynamic. And whilst graphic designers still work in physical media (although often through the medium of digital tools), UI and UX is exclusively working on digital products, expanding the boundaries of design to include interactivity and animation. Wherever your interests lie, a career in design can be challenging and rewarding in equal measure.  
Katherine Rundell is a writer and editor at Big Assignments and Essay Writing Services. She is the author of a digital design blog which brings contemporary trends in UX to a wide audience. She is also a writer at Top essay writing services.