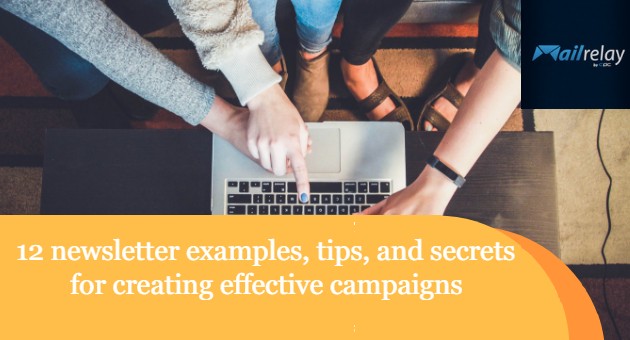 12 newsletter examples, tips, and secrets for creating effective campaigns
Are you looking for newsletter examples to prepare your campaign? Are you looking for inspiration to make your next email a success? In this post, we have included several examples, as well as tips that will help you create a more effective newsletter.
You will see that most of the examples of newsletters we have included are very simple, even those created by important and well-known brands, so it is not that complicated a task.
A simple email design will be effective in achieving your goals.
Add a good call to action as well, and you will get more clicks and better results.
With that said, let's start looking at the examples.
· Newsletter Example 1: Canva

Canva is an interesting alternative to photoshop, but it is online.
As you can see from this weekly newsletter, they send newsletters with content that may be of interest to their users and subscribers, with tips, tricks, and guides.
Obviously, they know about design, and as you can see, they use a very basic newsletter with few elements but very easy to understand.
A logo design, a header, a featured image, a text with some tips, and a call to action.
Nothing too complicated or superfluous.
I like this proposal because I really don't think there is any need for more.
They have published new content, and what they want is for you to access the link for you to discover the tips and tricks that will help you use the system so that you will create unique designs.
For me, it is an example of an effective newsletter, but perhaps you are more interested in checking more sales-oriented examples. Well, don't worry; you will also find other options in this post.
For example, the next campaign we will see.
· Newsletter Example 2: Carolina Herrera
In this case, we will not see the complete design of the newsletter because it is too long, but practically all the time, they repeat the same structure:
   A featured image
   A short text or typographic image
   And a buy now button or call to action.
It is true that at the beginning, we see the brand logo and a small "menu" with the links, but once again we have a very simple newsletter design. This is interesting, because although the company has professionals capable of creating complex e-mails with many elements, they prefer to opt for something simpler and straight to the point.
It is very easy to create a commercial email like this one. Using Mailrelay's newsletter editor, you can create an email marketing campaign in a few minutes.
Let's look at another very, very interesting example.
· Newsletter Example 3: Gatesnotes
This is the newsletter that Bill Gates sends out on his Gates Notes blog, as in the previous cases, we can see that the format is similar, with some extra color notes in the underlining of some words (links).
Frankly, we can't help but think that if this kind of newsletter design is valid for Bill Gates, I think it can also work for most people/companies.
The only differentiating note is the inclusion of a video.
Although the video is not really embedded directly in the body of the email, as it is an image with a link for watching it online, this increases the level of interaction and compatibility, as it ensures that most people will be able to see the video.
Mailrelay's new newsletter editor allows you to add videos from Youtube with a few clicks.
In the end, the goal of this newsletter is simply to share the article and video and to do that; they don't even use a button, just a link with some text.
Let's look at another sales newsletter, as it is the most used type of emails by many companies
· Newsletter Example 4: Casa del Libro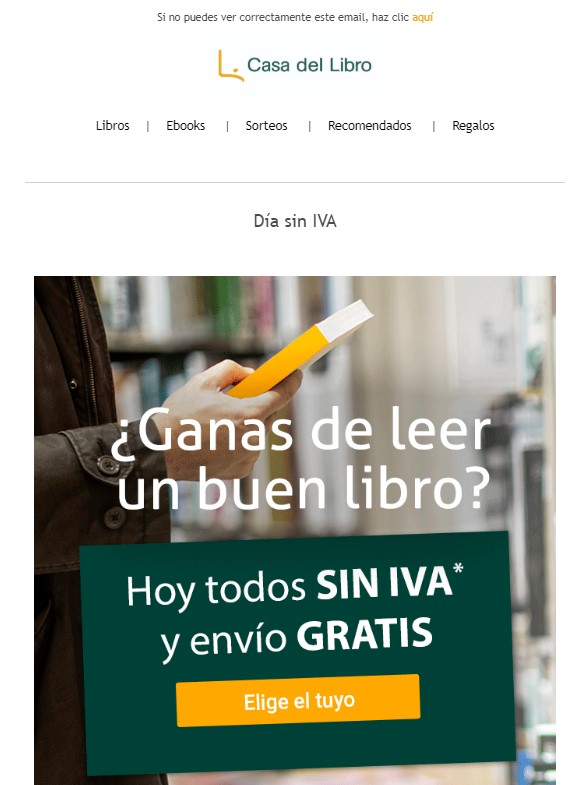 In this case, we also have a simple, schematic email design with a logo, a menu, and an image that includes the call to action. You can also add your logo if it exists or use logo designing tools for business to create one quickly.
The newsletter's goal is just to inform about the promotion, so They added a button/link for subscribers to access the store and make a purchase.
It is unnecessary to entertain the contact because you want them to buy.
For that, you need to take them to the store. A simple sales text should do the job.
Besides, in this case, it is a discount, so that it will be valid for all the contacts in the mailing list, no major optimization is required.
Let's see an example of an informative newsletter next.
· Newsletter Example 5: foodinthebox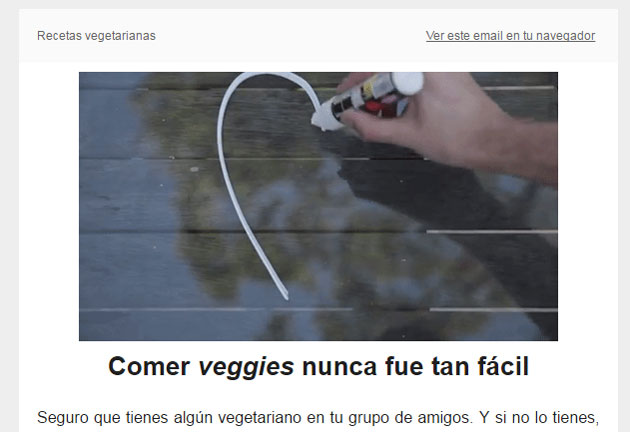 This newsletter uses the same layout, logo, image, and text, the same as the previous campaigns. But in this case, the goal is not to sell but to inform contacts and customers about important aspects of the service.
The keys to good newsletter design are, therefore, not only to entertain the subscriber with superfluous elements, but it is necessary to get to the point and create an informative message.
We continue with more examples, and since we could not create a post about newsletter examples without analyzing an Amazon campaign.
· Newsletter Example 6: Amazon Music
Amazon is undoubtedly one of the companies that make the most use of email marketing, many people receive almost one email per day from Amazon with:
New product information and product related purchases
Purchase/delivery confirmation emails
Potential incidents and changes in order status
Information about new services
 Etc.
In summary, Amazon makes extensive use of email marketing.
The newsletters that the company sends follow more or less the same scheme as the other emails we have seen, with an image, text, and a button with a call to action.
They have added a few more sections to create a newsletter with more content about the service or to answer frequently asked questions that users may have, but in a very light-hearted way, with a link to the service's own site with further information for subscribers.
Now let's look at a sales newsletter with a slight variation.
· Newsletter Example 7: Click and Grow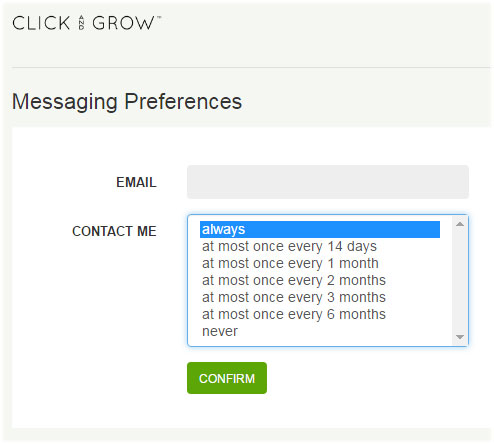 This is a newsletter with one of the shortest texts we have seen so far, with a similar structure, but now the image appears below the call to action. This way, they show the discount code as quickly as possible since, in the end, it is the most important aspect that can help convince the potential customer to buy. Therefore, this should be considered the most important part of this email.
The rest of the structure is identical to the other examples we have seen, and the truth is that it is a very effective structure.
And the next example has no links or buttons!
· Newsletter Example 8: Friki Trip

In fact, we only see a few images and text but no links or buttons to direct subscribers to the site, it is simply an informative newsletter, so They just want subscribers to read it. It has only the objective of keeping the contacts updated with news and novelties that may be of interest to them.
It is an attempt by the brand to keep itself in the mind of its clientes and leads so that it will be easier to sell its services in the future.
Still, the design is very simple, and you could create it with the newsletter editor of any email marketing software, such as Mailrelay.
It is an excellent strategy to keep in touch when you don't have promotions or anything else to convey.
In the end, keeping in touch with customers or subscribers will be essential.
Following our list of examples, you can see another strategy: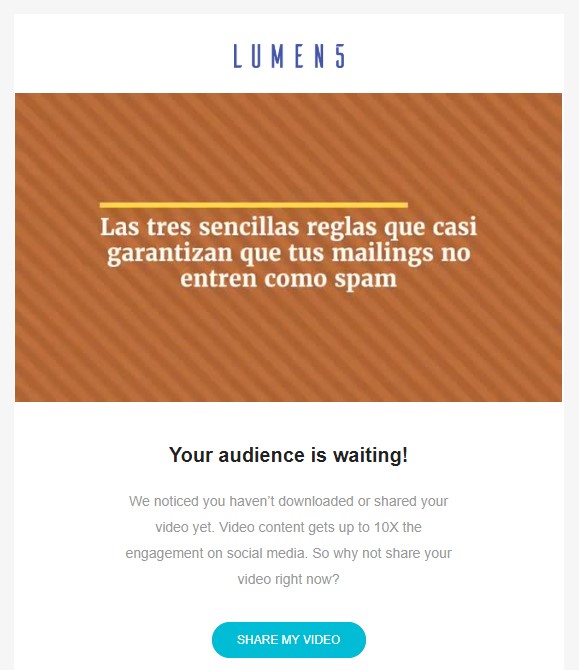 In this case, we can see the same structure, logo, image, text, and button with a clearly visible CTA.
The goal is to invite users to share a video created with the Lumen5 Tool. The goal is nothing less than to publicize it. The marketing department of this company wants its users to record videos and get good results, so they will continue to use the tool.
It is an incentive, a reminder so that users will make better use of the tool, or simply use it more often.
Do you want to see a different sales email?
No problem
· Newsletter Example 10: Public Goods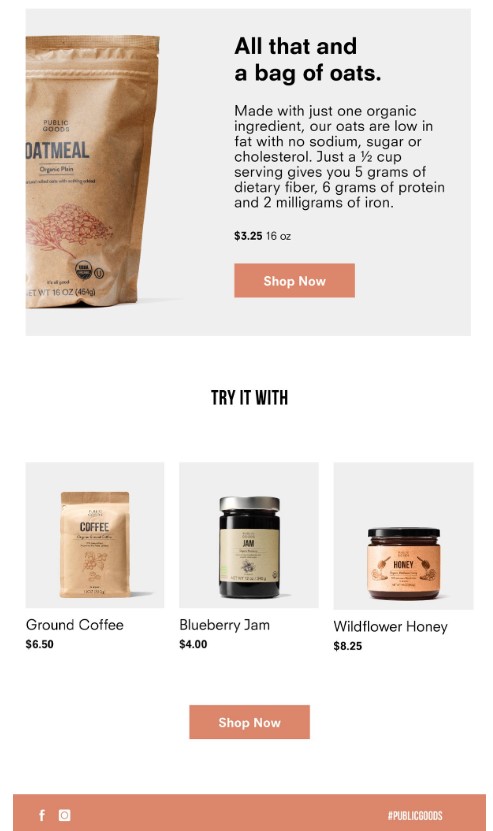 The structure is similar, except that there are three columns with small product thumbnails below the main block.
The goal is to increase cross-selling, with one main product, which is what the newsletter is trying to sell, and then several products that can be used separately or in conjunction with the main product.
It can certainly be an interesting way to increase the average revenue per target customer by offering complementary products that their subscribers could also buy.
At this point, you are probably thinking, "but Jose, these are specific examples, not all brands will send these kinds of emails, right?"
Maybe, but here is another newsletter example.
· Newsletter Example 11: Pompeii

They use precisely the same structure.
What changes are the text and the product.
Ultimately, it is your product that should make the difference.
Don't overcomplicate the newsletter design; the email should be easy to read. Simple yet tested designs will help you create a successful email marketing campaign.
Like the ones, we have seen so far.
Still, you may ask yourself, is it true that all newsletter designs are the same?
The truth is no, there are different types, of which I will show you two below.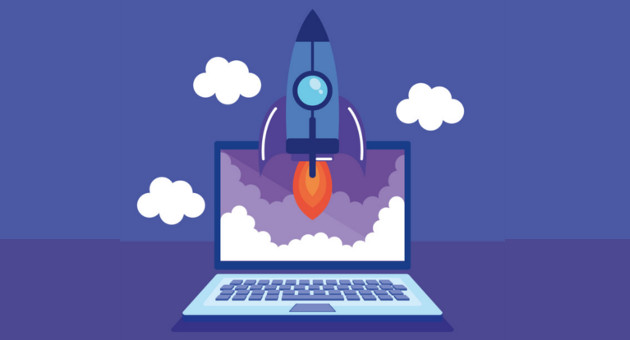 Now let's review two different designs created this way because circumstances dictate and because they actually work for these companies. This does not mean that you should copy them since every strategy is different, and not always what worked for someone else will work for you.
· Newsletter Example 12: Isra Bravo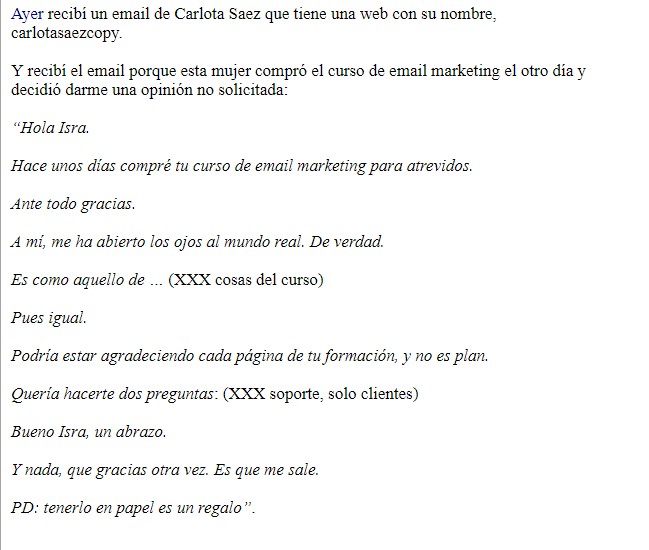 A newsletter created using plain text?
Yes, of all the examples of newsletters we have seen so far, that is the only one created using plain text. It makes a very interesting use of storytelling to encourage us to read the entire email and get to the link, which leads to their sales landing page.
They send these emails on a daily basis because besides using plain text emails, they know they can send a daily newsletter.
The advice we have to take from this example is that the design should support your email marketing strategy. The goal is not to send beautiful emails; the goal is to send emails that deliver what is expected from them.
And to do that, we will use the design that best fits and can accomplish what we need (We have several examples of newsletter templates).
It will be necessary to test, test again, and evaluate each design.
Now let's look at a totally opposite case.
· Newsletter Example 13: Reason Why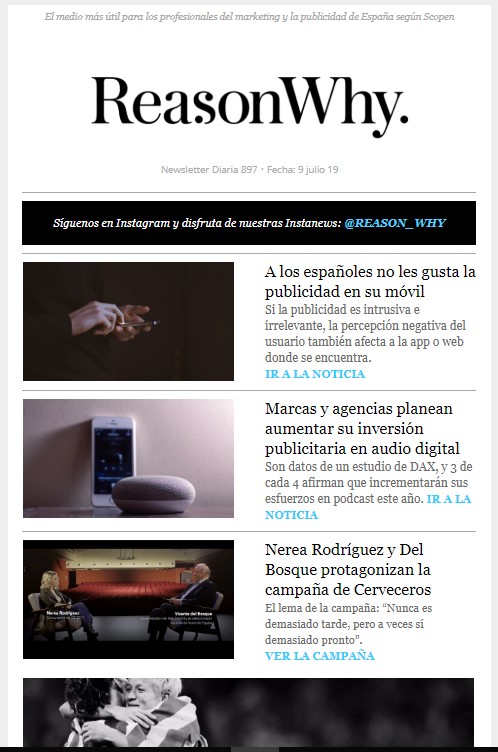 In this case, we have a counterpoint, a newsletter with a Much more complex layout, with images and abundant text in two columns, which is in line with the goal of this newsletter, which is to show a lot of content quickly, so that subscribers can choose and visit the article that interests them.
This is a newsletter design that therefore suits their specific needs.
Now, let's review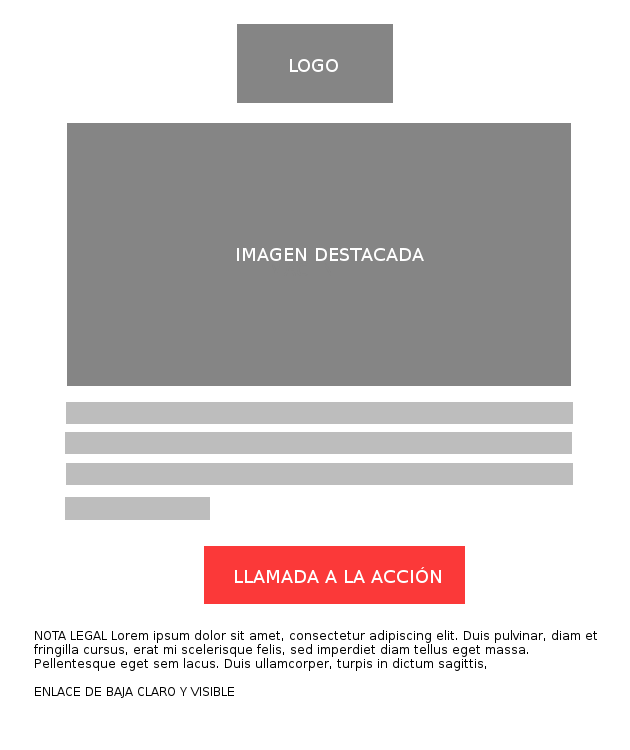 This is the most frequent structure we have seen so far, a newsletter that includes:
    Brand logo
    Main image, which may or may not contain text
    Explanatory text, about the promotion, about the article, etc.
    And a link or call-to-action button.
Basically, this corresponds to 80% of the examples of newsletters we have seen in this article.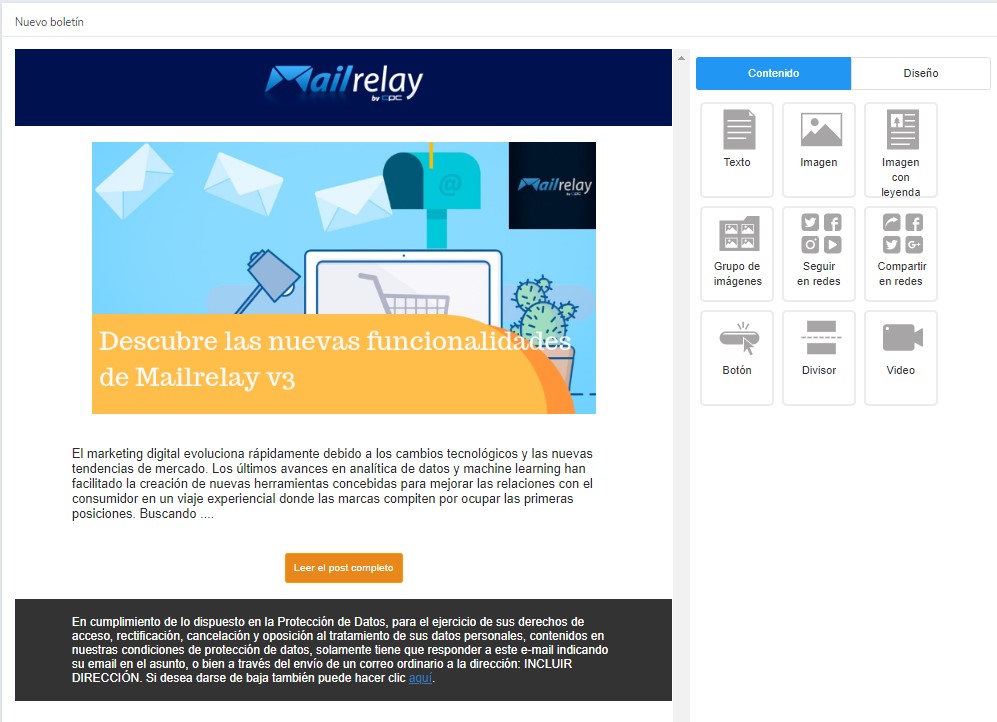 And also, if you have an email list with up to 20000 contacts, you can send a newsletter for free.
Yes, with Mailrelay's free account, you can send up to 80,000 emails per month to up to 20,000 contacts.
So there is no excuse to start working with email marketing and create a newsletter right now. Once you have created your newsletter, simply send an email to your subscribers for free.
The results can only be beneficial for your company.
· Remember
The newsletters we have seen are simple, without complexity, with a clear and concise goal.
These emails are not targeted or designed to entertain; they are designed to sell, bring traffic to a website or landing page, or keep in touch with customers.
They are not newsletters created for aesthetic purposes only; They are designed to generate results.
And this is what you should think about when preparing your newsletter design.
What do you want to achieve with your email marketing campaign?
From there, create a simple design with minimal elements but with compelling text that incites action and gets to the point without distracting your contacts. If you have to sell, sell, if you have to
attract traffic to your site, do so, but remember that an overly elaborate design will probably not contribute anything and may even confuse your subscribers.
Make it simple! In most cases, that will work.
Translated by Micheli.