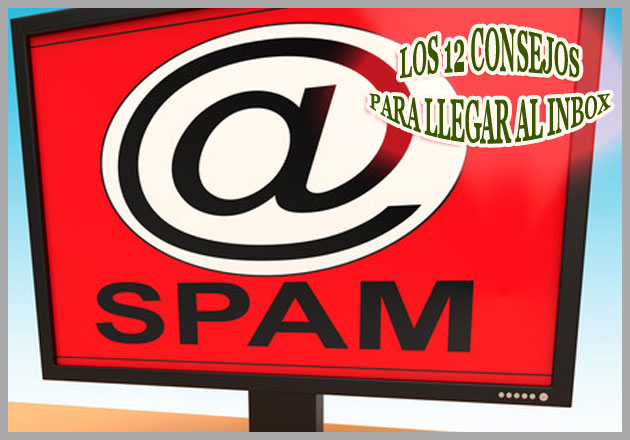 12 tips for getting in the inbox
Today we will offer you some tips for getting in the inbox.
Many of these tips have been discussed in other articles on our blog, but it's worth compiling them into a single article.
1) The biggest problem that affects the delivery rate of your campaign is when your subscribers mark your messages as spam. You need to have in mind that even though users have signed up voluntarily to receive your newsletters, sometimes a customer wishes to unsubscribe from your list. If this user does not find an easy way to do it, most likely the user will eventually mark your message as spam.
The best option is to offer an easy way for the user to unsubscribe, it is preferable to lose some subscribers than losing in delivery rate, which will affect the receipt of emails sent to your active subscribers.
2) It is important to always review your mailing to make sure it contains no SPAM-traps, accounts which are not used for real people, for several reasons, such as terra.es accounts. These accounts have been canceled, and it is possible that these accounts do not disappear, they may end up being used as SPAM-traps. If providers as Gmail, Hotmail, Yahoo, etc. detect that you are sending messages to these addresses, these ISP can mark the message as spam. That is why it is vitally important that you keep your subscribers database clean and updated.
3) As we have explained in the previous section, it is very important to keep your database clean from SPAM-traps, but you also need to clean your mailing to remove invalid emails. Most ISP such as Gmail, Hotmail, Yahoo ETC will penalize you if you send newsletters to invalid, disabled or incorrect accounts. That is, if you have a high number of bounced emails, it is very possible that your emails end up marked as spam. Therefore, it is very important to keep your subscriber list as clean as possible. Mail relay manages these invalid emails for you, to help you keep your mailing clean, which will improve the results of your email marketing campaigns.
4) Reduce the volume of sent messages, namely, the delivery speed of the emails, as this action can also help in some cases. Even if our system can send emails at very high speeds, it is possible that some ISP like Hotmail, Gmail, Yahoo and others could assume that you are sending spam, if you send a very high volume in a very short time. You can modify the delivery speed according to your needs, to see if the results will change.
5) A very important point is to encourage your subscribers to add your email to their contact list, because subscribers that added your email as a contact will always receive your newsletters, there is no way to receive the messages as spam. So you always should suggest to your subscribers to add your email as a contact, so that your messages always arrive in the inbox.
6) It is very important to perform tests before sending the newsletter to your subscribers. You can test using different accounts, different providers like Gmail, Hotmail, Yahoo and your Corporate email, using Outlook or Thunderbird. This way you can make sure that the message is correctly viewed in the inbox and is not marked as spam, before sending the newsletter to your customers.
7) Another important thing is to check the spam report, which You should always check before sending your newsletter. With Mailrelay this can be done in a very easy way, just click the button "Spam Report". This way you can make sure that the newsletter is correct before sending the campaign. It is very important to check the spam score even though you believe that everything is correct, because There are cases where a single word that appears to be harmless can make a difference between a message arriving in the inbox or been marked as spam.
8) Although it is possible to send newsletters with only an image, this is not the most advisable option, especially if your mailing does not have a very good quality. Most antispam filters, if the software cannot find content in plain text, will give you a low score. If you are sending a single image, with a link inserted and all the texts included within the image itself, your score will be much worse.
9) One point that you should not overlook is the importance of the correct configuration of DKIM key and the SPF record for your domain, as this will help to increase your delivery rates, as you will be "demonstrating" to the servers that your mailings are being sent by yourself legitimately and that it is not phising.
10) On the other hand, it is important to work to increase view rates, keeping in mind that it is very important to be careful, so that your messages are not marked as spam. But the view rate is being increasingly used to assess the reliability of the messages and the score, to decide whether to consider the email as spam or deliver it in the inbox. The view rates, the fact that your emails are being opened indicates that your subscribers are interested in the messages you are sending. Mailrelay now automatically sends all your mailings first to the users that usually open your emails, helping thereby improve the delivery rate of your campaigns.
11) You should never forget to review the code of your newsletter, to make sure it was created correctly. Not only to be sure the layout is being correctly viewed, but also that there are no internal errors, such as open tags, for example. Checking if the code is correct is another method used by antispam filters. Many users prefer simple to copy and paste the text directly from Word, Outlook or other softwares, but that is not recommended, as it can cause problems in the html code.
12) Finally, an option that can help you if you find that your mailings are being marked as spam is to split your database in smaller groups. That way, you will not be sending the newsletters to your entire list at once. Thus, if some users mark your message as spam, it will not be such a high volume and you will have less problems.
We are sure that these tips will help you get better results with your email marketing campaigns.