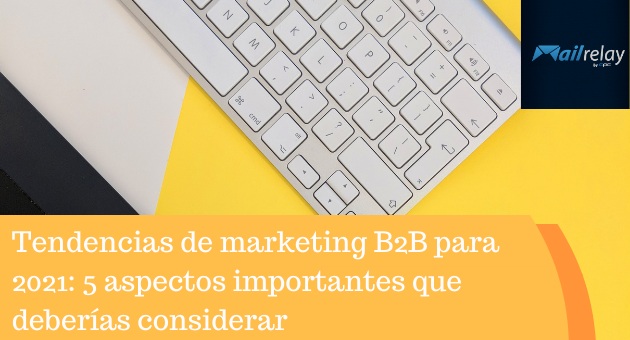 B2B Marketing Trends for 2021: 5 Important Developments to Get Ahead Of
As time passes, marketers have adopted new methods to gain more customers, such as digital marketing and search engine optimization tactics. There has been a rise in the demand for digital marketing during the pandemic as more and more businesses pivot their marketing strategies to cope with the changing times.
Understanding the top B2B marketing techniques aids in identifying trends, finding the weak points, and reforming your strategies. If you wish that your business stays ahead of the competition in 2021, keep observing for updated trends in marketing strategies. Here are 5 important marketing trends that can help you achieve your goal.
1.     The Use of Artificial Intelligence
As technology evolves, more use cases of artificial intelligence are appearing. Not only can it provide better insights through analysis of data, but it also automates various daily tasks. Digital marketing is a field that contains data-dependent processes. Artificial intelligence can strengthen these processes to target the right audience and provide customers with what they need.
Customer care representatives can't attend to more than 1 customer at a time. This increases the time required for hearing concerns of customers. AI chatbots can make this process faster as they can attend to various customers at once, record their concerns, and can provide the right solutions for common problems. Another advantage is that they can provide services 24/7, as they don't require rest.
The usage of AI in customer service allows brands to provide services to customers locally. Customers can interact with the AI chatbot and choose a language that they understand. Several brands use messenger applications such as Facebook Messenger, WhatsApp, and Slack to communicate with their clients. The use of AI chatbots in these applications can enable brands to provide continuous customer support.
AI can help businesses to personalize their email campaigns to deliver their message to the right audience. It sends emails depending on user activity and behavior. So, businesses can streamline their subject line, messaging, and lead magnets based on the interests of their subscribers. It doesn't require human intervention.
AI can also aid in delivering emails to your subscribers the right number of times according to the subscriber's activity. Keeping in check with the time zones, AI can select the right time to send an email according to the habits of the subscriber.
Another important application of AI is in sending promotional messages to subscribers. It analyses their history, interests, and behavior to find out what kind of promotion suits best for every individual subscriber.
AI is immediately informed when a consumer decides to leave a shopping cart. It sends emails to that customer, asking them to reconsider their choices. It also tries to recommend something similar to the product that the customer was supposed to purchase. This increases the chances of conversions.
All businesses are dependent on online advertising to deliver their message to their target audience. A large number of these ads are managed by a complex system that is based on AI, called "Programmatic Advertising." In 2021, 88% of digital display ads are forecasted to be made through programmatic advertising, according to a report published by eMarketer.
Programmatic advertising involves the purchase and revamping of digital campaigns automatically through a complex system. The application also enables the selling and purchasing of ad spaces. It conducts auctions at sites where ad spaces are bought and sold in moments. Whereas without AI, marketers would have to conduct extensive research to display a business on the right platform, which is a difficult task.
Thanks to AI, the burden of searching for a platform has been removed, which enables marketers to focus on other essential strategies of digital marketing. The AI software also predicts and spots trends, which enables marketers to find out which site is suitable for placing their ad. So, their budget is utilized properly for getting optimum results.
2.     Retention Marketing
For a brand, making new customers is important, but keeping in touch with previous clients is of greater importance. The process of enticing previous buyers to interact again with your brand is called retention marketing.
It may sound strange, but every single business owner practices a Customer Retention strategy. How? If a client visits your shop again, you may entice them to buy another product but with special discounts or offers. For example, a web development Houston company provides demos to their paying clients to help them in making smooth applications for their brands.
Though the cost per sale may be lower, the marketing ROI will rise due to an increase in sales. Many sellers admit that it is easier to sell to existing customers rather than to find new customers.
Retention marketing helps to increase both the amount of time that customers spend when buying things from you and how much they buy from you. This process is called cross-sell and upsell. Research conducted by Bain and Company concluded that increasing customer retention by 5% could enhance a company's profits by up to 25%.
Here are a few ways by which companies can increase customer retention.
Customer Onboarding and Education
A good practice that marketers can adopt is to educate customers on how they can receive benefits by using the product that they are advertising. Also, answering their questions or clearing their concerns is essential for providing your customers a smooth user onboarding experience for your company.
Responding to Customer Feedback
Customers feel valued when they see a response to their feedback by a respective brand. Make sure to keep in check with your customers via email, phone, or social media. You can even ask them to answer surveys to find out in what areas your company lacks.
3.     Interactive Content
If you want to increase customer interaction, then you need to create more interactive content. You can do that by being more active on social media, such as creating quizzes, asking followers to repost and share your content. You can also ask visitors for their feedback not only on your blog posts but also on the products and services that your business displays.
Interactive content helps to keep a customer's attention on your site by prompting them to engage. Hence, they are more likely to notice your call to action, which may convert your leads into paying clients.
4.     Privacy Measures Taken to End Support of Cookies
Several marketers use third-party cookies to display appropriate advertisements based on user browsing history, user ID, etc. As data privacy regulations have tightened, tech organizations are now adapting their strategies accordingly.
Web browsers such as Safari, Tor, Brave, and Mozilla Firefox are blocking third-party cookies by default. Google Chrome followed suit and announced that it would end the support of third-party cookies by 2022. Once Chrome terminates the use of cookies, it will no longer be possible to communicate with internet users through this method.
Hence, marketers that rely on cookies should reconsider their methods to become independent of the usage of cookies. Contextual marketing will resurface as ads will be placed according to the content they match with, not according to a specific user. This serves as a reminder for businesses to build and grow their record of owned contacts, which will decrease the dependency on external platforms.
5.     Use of Voice Search
It's incredible how technology has enabled people to execute commands on their devices through speaking. One may use Siri on their iPhone to make notes, or ask Alexa about weather reports, or ask Cortana to find a file in a folder.
Voice-bots have made it much easier to conduct various tasks that require the opening of devices and navigating on-screen. According to a report published by Review42, a total of 1 billion voice searches occurred in every month of 2018. This number is expected to exceed 5 billion by the year 2021 and reach 6.4 billion by 2022.
These statistics show that a strong potential exists for those businesses that adapt their marketing strategies to this trend. Optimization of search results by voice is equally important as optimization of search results via text. Your SEO strategy must include the usage of long-tail keywords as most voice searches are wordy. This will enhance your website's visibility, especially to those who use voice search and can reach a larger number of customers.
Wrapping Up
As digital marketing continues to evolve, businesses must streamline their strategies according to the trends that are being followed in 2021. All b2b marketers should conduct research and find out the right trend to adapt to so that they can maximize their leads and boost their sales. If you truly want your brand to get ahead of competitors, then you got to test out new trends and step out of your comfort zone.
Author Bio:
Myrah Abrar is a computer science graduate with a passion for web development and digital marketing. She writes blog articles for ApCelero.