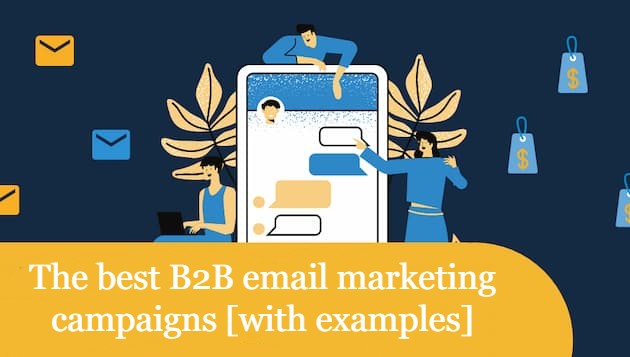 The best B2B email marketing campaigns [with examples]
No wonder B2B email marketing campaigns are becoming one of the most used techniques by brands that want to increase B2B engagement.
Email marketing is no longer a pure and simple sales action and has become the key to building relationships with potential customers, and retain loyal users.
It is the element that allows you to build a powerful engagement with your subscribers.
And you certainly know that engagement translates to attention, which is so relevant and so precious in times when we are impacted by around 6000 ads every day.
If you limit yourself to creating dull promotional campaigns, when subscribers see your message in their inbox, they won't feel excited to open your newsletter, and their attention will probably be focused on other, more eye-catching emails that offer a more attractive value proposition.
That's why companies increasingly use emails in their B2B digital strategies.
And among the companies that create the best B2B email marketing campaigns, we can mention Growth Hacking Course (henceforth GHC): the leading course in Spanish about Growth Hacking that has students from companies like Fintonic, Cabify, Freepik, or Carto are among its ranks.
If anyone knows how to write an effective B2B email, it's them.
They achieve fantastic results in terms of ROI (return on investment), with open and conversion rates that, When compared to other campaigns, could be considered genuinely phenomenal.
And that's why we asked them to let us share some of their most successful email marketing campaigns because they will surely be inspirational for you.
In this article, we will show 4 examples of email marketing campaigns that generated amazing results, with concrete data that you usually don't find in this type of review – we are going to talk about sales, click and open rates – we are sure that you will finish reading this article with your head full of ideas for your next B2B newsletter.
B2B email marketing campaign #1: Promotional email for Black Friday
In the last week of November, GHC held its biggest promotion of the year, the Black Friday
For the occasion, they planned a promotional email marketing campaign composed of a sequence of emails but in the first message, they made a mistake: they sent to 20000 subscribers a message with a text %FIRSTNAME% instead of the contact's name.
Oops.
What did they do?
They turned the tables, recognizing their mistake and using it as a proof that experimenting has its dangers – come on, there is no success without taking risks – and the good thing is that the message is consistent with their philosophy.
They created a campaign that was called, in a more politically correct translation, "the disaster" and sent the message to these same contacts, using a facetious tone and demonstrating their mistake.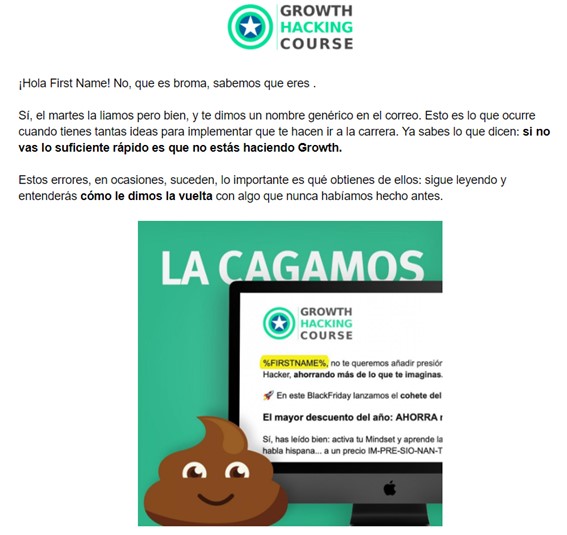 [Campaign example GHC promotional campaign]
What did you think?
They turned the mistake into an opportunity.
They made the most of the newsletter, piquing the interest of their subscribers through a sincere message with a tone of light humor in the subject line:
"We brag about the best Black Friday campaign… 💩 but we screw it up."
And once attention is captured, they display their best weapons of copywriting.
The keys to the success of this B2B email marketing campaign
✔     Two CTAs (Calls to Action) throughout the email, and without abusing it. One in the middle of the message embedded in the text and another at the end with a button.
✔  They also listed the advantages and features of the training.
✔  They describe the promotion in detail.
✔  They generate a sense of urgency in the subscriber due to the lack of vacancies and upcoming registration dates.
✔  They make the reader feel part of something exclusive.
✔ Include interaction CTAs at the end of the message body and also in the signature brand of the house.
What was the result? With this promotional email marketing campaign, they got so many leads interested in the training that they ended up saturating the entire sales team during these days, in what was the most significant sales spike of the year.
🔗 Related article: 4 email marketing templates for your next promotional campaign
The keys to this B2B mailing campaign
Last October, GCH launched a new viral action: the guide with 48 Growth Hacking Tools, Version 2021. This is a free guide with a selection of tools for working with the Growth Hacking Methodology.
With an email marketing campaign, they got over 8,000 leads in 48 hours without spending a single dollar on advertising.
This was the follow-up email that interested parties received to download the guide, which also contains a second CTA to invite leads to subscribe for a sales webinar.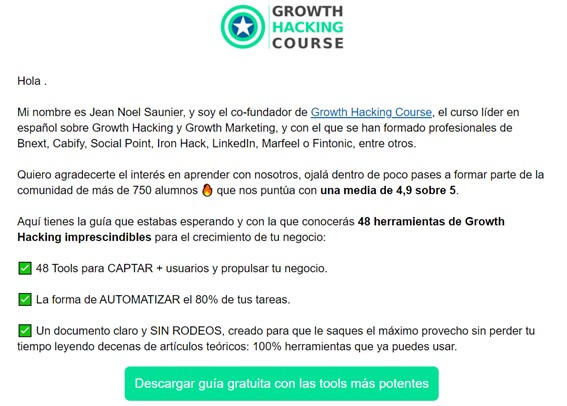 The Guide to 48 Growth Hacking Tools.
✔   They work very effectively through curiosity, adding a second CTA that invites subscribers to a webinar.
✔   Also, they always end their emails with a postscript, opening the door for readers to ask questions.
✔   Please note that to reinforce trust, the signature is personal. And with a photo of the sender included, in addition to encouraging  their subscribers to interact and ask questions again.
✔   With this B2B email action, they were able to convert leads from a guide TOFU (Top of the Funnel) in interested MQLs (Marketing Qualified Leads) with their Growth Marketing training.
✔   And the metrics are enviable: 70% open rate, 60% CTR (Click Through Rate: number of clicks a link gets to the number of openers), 82% CTOR (Click To Open Rate, which considers only users who click) and 40% of conversion, which in this case means the number of people who registered for the webinar.
B2B email marketing campaign #3: email post webinar
One of the most powerful lead magnets in the Growth Hacking Course is an hour-long sales webinar teaching participants how to apply the Growth Hacking Methodology.
Those who watch the webinar until the end will receive a newsletter that will invite them to be part of the Growth Hacking Course community with a special promotion, a gift only for those who participate until the end of the event.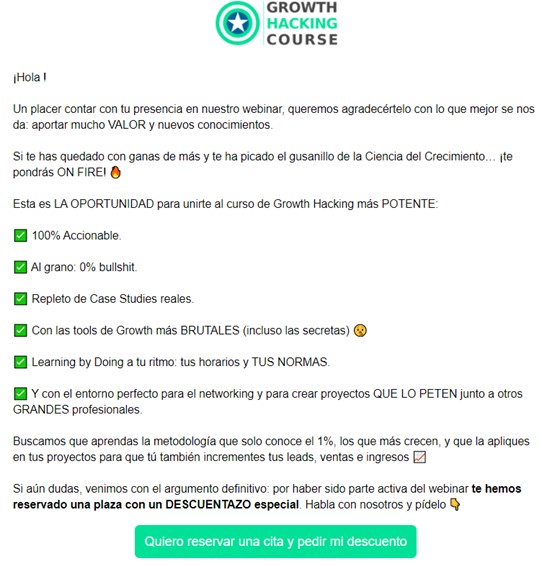 This email is much shorter than other messages sent to leads who have not yet consumed their content.
There's no need to distract the prospects by repeating things They already know or hide what they really want to get from the message: To convince the lead to enroll in the course.
That doesn't mean that the message is cold, far from it. They just go straight to the point.
The keys to this B2B email marketing campaign
✔    They list the advantages of the product
✔   They use markers with symbols to focus attention and remind readers about why they are there.
✔   They remember that it is a methodology that Only winners know. Who wouldn't want to be a part of a secret club?
✔   They include a highlighted CTA with an exclusive discount that can only be accessed from the newsletter.
✔   They don't miss an opportunity to put their authority on the table:
✔   The Growth Hacking Course changed the lives of more than 450 students, promoting their careers and projects in companies such as Cabify, Telefónica, LinkedIn or Bnext.
Farewell using a more personal tone: A hug from a Growth Hacker to another (future) Growth Hacker. Don't forget that human beings always want to belong to a group or be part of a tribe, and with this message, they demonstrate that the subscriber already belongs to their clan.
Let's review the stats for this campaign: open rate of 54.71%, CTR of 5.75% and conversion to SQL (Sales Qualified Lead) of 35%.
B2B email marketing campaign #4: Discount sales email
Let's now review their last email marketing campaign, which is an excellent example of how to create an effective B2B newsletter.
On this occasion, they were working with a campaign whose objective was to get new customers. To stimulate sales, they decided that their sales representatives, with a single click, could send this email to those SQL (Sales Qualified Lead) who requested an offer on sales calls.
It's a no-nonsense email. The company's marketing department uses a sense of urgency by setting a time limit of Twenty-four hours and with a discount of €149 on the training price.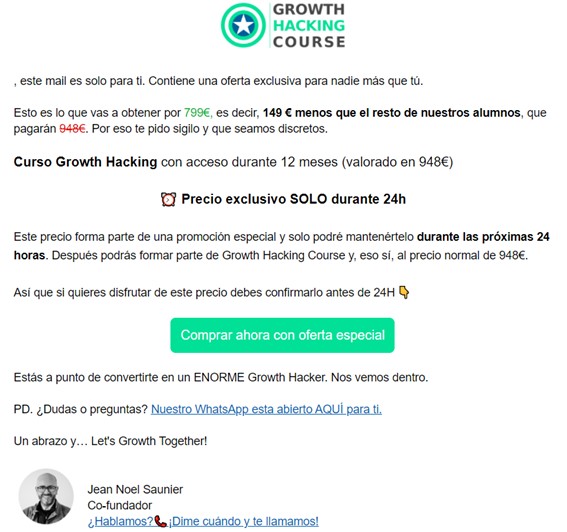 It's a very clear strategy. They are interacting with leads that just need a little nudge to convince them to buy.
The keys to this B2B email marketing campaign
✔  Exclusivity: This email is just for you. It contains an exclusive and non-transferable offer.
✔  Price (and even more exclusivity): You will get the product for Only €799, i.e., €149 less than the rest of our students, who will pay €948. This is why we ask for confidentiality; please be discreet.
✔  Different formats: they play with colors, bold, strikethrough.
✔ Everything to highlight the promo.
✔ Urgency: Exclusive price; the promo will be valid for 24 hours only. They use bold emojis again to highlight the most relevant parts of the rest of the text. If the other aspects didn't convince the subscriber, the fear of missing something (FOMO) could be the catalyst that will force them to click on the link and buy the training.
✔ An adequately designed CTA with colors and compelling messages used in the call to action, which clearly exposes what subscribers will get if they click the button.
✔ And a warm farewell; they explain that all communication channels are available to subscribers, and that the company is ready to answer their doubts or questions, including on WhatsApp; more comfortable, impossible.
✔ A personal email signature with text to encourage readers to contact if they haven't done so before.
Pay close attention to the results of this email that is already the end of the sales funnel: 70% open rate, 23% CTR, and a 5% conversion rate.
✔      Una firma personal en la que te animan a contactar si no lo has hecho ya, claro.
Learn from the best B2B email marketing campaigns
With these 4 great examples of email marketing, you can see that Growth Hacking Course has a well-defined verbal and visual identity.
The use of subject-specific English lexicon, colors and icons they use and the elements they always include in their emails, identify and constitute yet another B2B engagement tool.
They are very clear about who they write for and have created a particular universe with which their followers identify because this makes them feel part of something that represents them.
But we also asked the GHC team to share with us some secret of their B2B email marketing strategy and they had the generosity of giving us these tips – plus a fantastic confession – that will be the icing on the cake.
3 keys and a confession from the masters of B2B campaigns
Key #1: Always Create an A/B Test
In every email they send, they always, always test two different subject lines.
The winning version is the one that will be sent to the remaining 80% of the email list.
Key #2: Don't overload your community with too many emails
Refrain from disturbing your leads with too many messages, as They might start ignoring your emails. That is important to reduce the number of unsubscribe requests and improve engagement with your subscribers.
And for the GHC, it's like a mantra, to the point where they have a person on the team designated explicitly for this: a gatekeeper that ensures that every email they send adds value and will help to offer more to their subscribers.
Key #3: Use Powerful Subject Lines and Provide Real Value
This is the perfect formula to convince your subscribers to take action. With these two basic ingredients, GHC ensures that recipients will act as expected.
That is, through this way of working, they manage to prepare weekly actions and have information in advance that give them peace of mind.
In short, the fantastic team at GHC confesses that: if they were forced under threats, coercion, and other torture to work with a single sales channel, only one, they are clear about their choice & no doubt it would be email marketing.
So are these good examples of a B2B email marketing campaign or not?
Translated by Micheli.