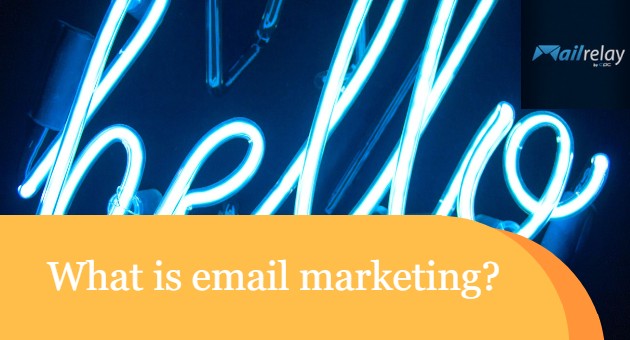 Are you a freelancer looking for clients? Are you in charge of creating marketing strategies for a new project? Do you have a business and want to make it grow?
If your answer is yes – to any of these questions – then you have a message to tell, and an audience to reach!
You can think of email marketing as a highway: the fastest and most direct way to reach your audience with a message.
That message will have a persuasive touch, of course. Because you want to tell your story, strengthen your brand, convince subscribers of something, and, in short, sell or do you?
Then you're in the right place. Because email marketing can help you to nurture the relationship with your audience and, of course, generate more sales.
In this article, we'll tell you everything you need to know to start working with email marketing. Among other things, you will learn:
What is email marketing (and we will unravel the definition so that you can understand it)?
What are the advantages of working with email marketing. Or how it can help your marketing strategy.
What types of email marketing campaigns we can find, as there are many and you need some variety to get the most out of it.
What is email marketing, and what is it for?
The simplest possible definition of email marketing would be the following:
"Email marketing is the action of sending persuasive messages by email."
However, this email marketing definition doesn't tell us why it works. So let's complete it a little bit to understand its purpose.
"Email marketing is the action of sending persuasive messages via email to connect with an audience and provoke a response from them. The goal is to generate more awareness, trust, engagement, and customer satisfaction and loyalty. And with one goal in mind: to influence the relationship between the brand and its audience so as to improve the commercial outcome."
So, email marketing is fundamentally a channel: just like other channels that you can use, such as text messaging, social media or Apps; you can create marketing campaigns using email as the main channel.
And those marketing actions can help us achieve results that go beyond sales.
Yes, it's primarily associated with that, but a good email marketing strategy can reinforce everything that happens before and after the sale.
That's precisely what we're going to talk about now.
Why should you work with email marketing?
For starters, because email marketing is the channel that generates the most results when compared with the costs of a campaign.
The statistics make it clear: It is worth investing in email marketing. The figure may vary, but according to the latest data, for every 1 € spent, you would make 32 €.
And even better, it strengthens the relationship with your audience at Every stage of the sales process: from the first interactions with the brand until they become customers, fully trust it, and become true fans.
These are the main advantages of email marketing:
1. Influences the purchase decision and therefore generates sales.
2. It improves brand perception and therefore builds trust.
3. Improves customer satisfaction and, therefore, fosters loyalty.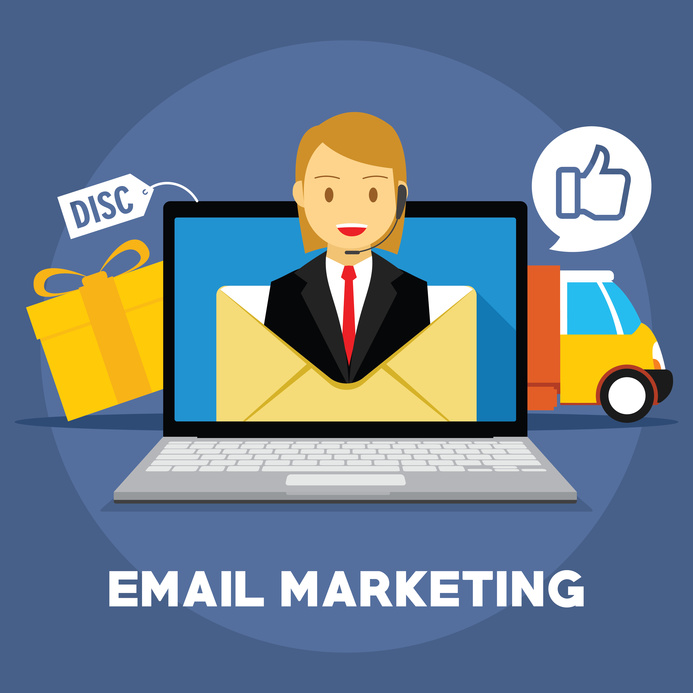 #1 Email marketing generates sales
«To what extent does email marketing influence the buying process? And what percentage of the emails I send out will end up converted into sales?»
If you are taking your first steps with email marketing, you will probably have similar doubts. Today, we have a bad news and a piece of good news.
Shall we start with the bad news? Well, the answer to these questions is not exact.
The influence of email marketing on the buying process and on sales results depends on factors such as the industry you are in, your product, and obviously, the quality of your database and your campaigns. Thus, create a new product email to successfully promote your new launch and turn email leads into customers.
It is very important to be clear on this point. But there is still the good news: thanks to email marketing statistics, we have plenty of clues about what to expect.
For example, according to a study by SaleCycle, email marketing influences 59% of users' purchasing decisions.
And more than half of recipients make purchases directly related to email marketing on a regular basis, at least once a month!
But don't focus so much on the exact number, and stick with the big picture: email marketing has a decisive impact on the buying process and on your business results.
#2 Email marketing builds trust
Email marketing helps you create three essential sensations to build trust: closeness, familiarity, and usefulness.
And this is more important than it sounds. Because without trust, there is no sale.
So let's see exactly how it happens.
One of the most significant advantages of email marketing is that it allows you to talk directly to your audience; you can talk to each person "individually." Don't forget to also use an SPF checker so that the emails you send are authenticated and you can build more trust.
Of course, your customers know that you're not really just talking to them. However, a well-crafted and personalized email creates an illusion of closeness and a stronger bond than any other type of mass communication.
With every email, you send that provides value, brand perception will improve.
And as you enter their lives on a regular basis, your audience will get to know you better and see you as valuable and familiar.
But for that to happen, you must ensure that all your email marketing campaigns are relevant to your audience.
You can personalize promotions, tell them your story, share interesting content, and give practical advice. The possibilities are endless.
But above all, think that a relationship is not built with a sales promotion here and there. On the contrary, it requires consistency and equality: a clear advantage for both parties. Don't forget about domain security, and use DMARC checker to prevent spamming.
#3 Email marketing fosters loyalty
Getting a new customer costs up to seven times more than retaining na existing one. So if you had to choose just two keywords in the sales world, these would be retention and recurrence.
In addition, statistics tell us that the probability of selling again to old customers range from 60 to 70 percent, whereas with a new customer, the standard would be between 5 and 20 percent.
Therefore, customer loyalty is an essential nutrient to your business, like plant sap.
And that's where email marketing comes in, helping you stay in constant contact with your customers and improving their experience with your brand.
How exactly? Well, in many ways: thanking them, explaining how to get the most out of the product or service, anticipating their doubts and problems, congratulating them on a special day, offering exclusive content or promotions, etc.
Imagine that you go on a trip with your customers and that every email is a stop where you can strengthen your relationship and get to know each Other better. And at the end of the road, after so many interactions, is where the miracle happens: loyalty.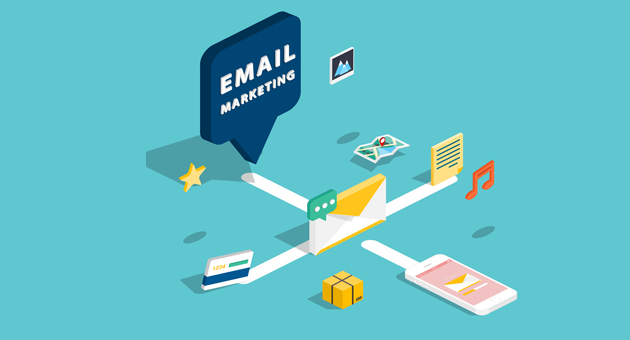 Types of email marketing campaigns
You already know that email marketing is present at all contact points in a brand's relationship with its audience.
If you add to that the fact that a campaign can have multiple objectives, you will realize that there is a wide variety of types of emails.
There are many more, but these are the 5 basic types that you should absolutely know:
Informational emails
Promotional and sales emails
Newsletters
Transactional emails
Follow up emails and sequences
If you want to get the most out of email marketing, you will have to look for variety and not limit yourself to sending only one type of email, especially if we are talking about promotional messages.
1. Informational emails
These are emails that don't have a direct sales intention, but their objective is to send relevant information to the recipient.
This encompasses several types of campaigns, such as emails to promote content from your website or blog, emails with news or tips about your product, or emails for sharing any type of valuable information with your subscribers.
But make no mistake: just because an email is informative doesn't mean it shouldn't be persuasive.
Because in email marketing, every email has a clear objective. And to guide your subscribers towards the desired action, whatever it may be; you will have to give them good reasons for acting.
Imagine you want your audience to click on a link to read your latest article.
A "Hey, I just published a blog post" won't get you very far. But if you focus on the advantages – "what readers will gain or learn" – and add a clear call to action, your chances of success will increase.
Shopify can give us a fantastic example.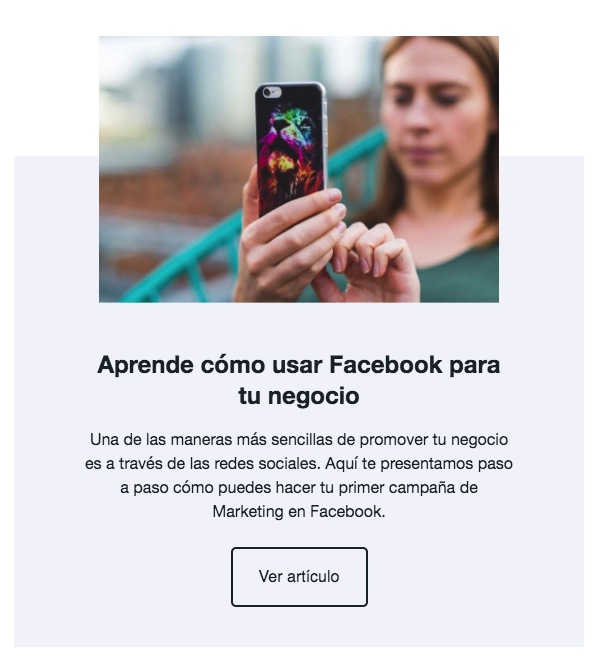 2. Promotional and sales emails.
Promotional and sales emails are the ones we send to our audience looking for a direct commercial response: We want our subscribers to purchase.
This is the most frequent type of campaign because it is very tempting to focus only on one strategy.
After all, who isn't interested in sales? But be careful; we recommend you create other types of campaigns as well.
If you don't want to saturate your audience, it's important to balance this type of email with with other less commercial messages, such as informative emails or newsletters.
That said, promotional and sales emails – well-done and with the right frequency – could have a substantial economic impact.
And that's probably why there are so many subtypes of sales emails. To give you an idea, here's a small list:
Promotional emails with discount codes
Promotional emails with a free trial
Emails for launching a new info product, product, or service
Abandoned cart recovery emails
Cross-selling or upselling emails (offering products related to a previous purchase or for upgrading to a higher category).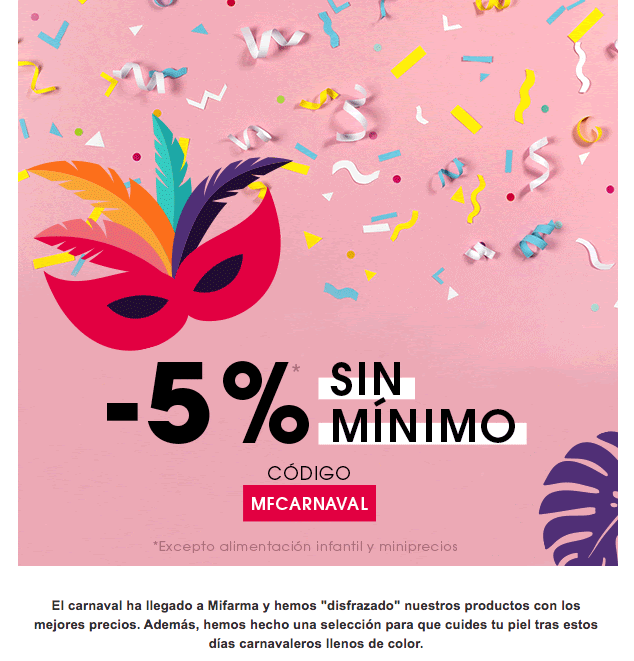 3. Newsletters
Newsletters are a basic type of email with a fantastic advantage: they allow you to talk to your audience regularly.
It can be once a month, once a fortnight, or once a week. Companies that have very powerful content strategies can even send newsletters every day.
But don't panic; sending a newsletter doesn't involve titanic efforts. In fact, there are only two aspects that matter:
1. That you are consistent with the frequency that you choose.
1. And that the content is relevant to your audience.
PuedeYou can include some commercial messages, but try to create an informative campaign, with relevant details about your product, content from your blog, etc.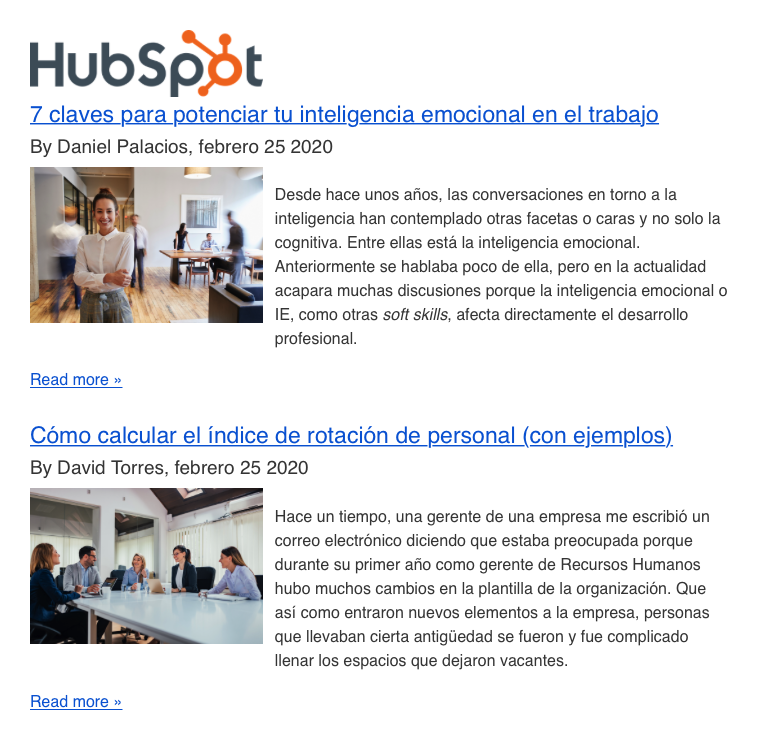 If you provide recurring value, your audience will know what to expect. And that is essential for building trust and fostering loyalty.
Also, if they see your messages in their inbox on a constant basis, your audience will remember you. This is what we call being on the Top of Mind and one of the keys that will allow you to be considered a good buying option.
4. Transactional emails
Don't let the name intimidate you; you've probably received hundreds of transactional e-mails without knowing they were called that.
Welcome emails, password recovery emails, or payment confirmation emails. Now you can see what we mean, right? Well, they are all transactional emails.
The definition of transactional emails is simple: they are those emails that are sent after an action. In other words, they are sent by triggers.
For example, when a new Shopify user has finished creating their store, they receive an email reminding them of 3 key things they should take into account before they can start selling.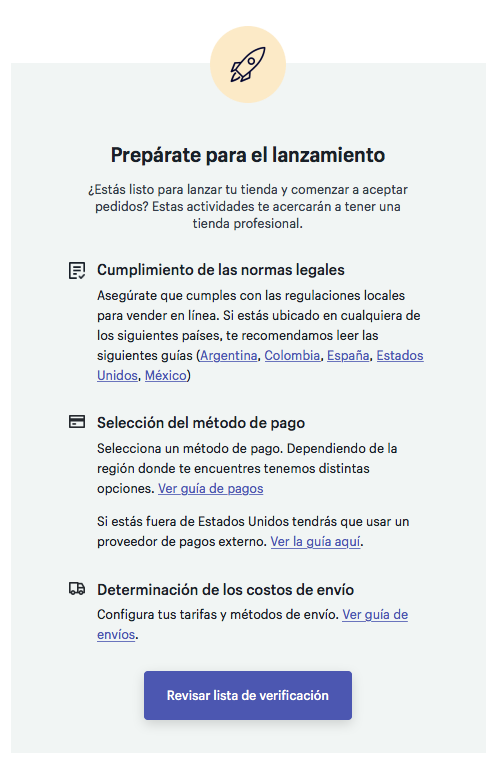 Follow-up emails are emails that you send when you have already sent one or several e-mails and you have not obtained any type of response.
The objective of this type of email is to convince users who might be interested in your product or service to act.
They can be understood as a single email and a whole sequence of emails.
Imagine that you create a course and set up an email marketing campaign to get sales, to get people to sign up.
The first thing you'll do is send a newsletter explaining the benefits of your method. After this campaign, you will send different emails with tips, hacks, success stories, and other relevant news.
Finally, your recipients already know everything. Many of them will be interested – and you know that because they opened your emails," but they can't make up their minds.
So you send them one last email to arrange a call and resolve their doubts. You want to know if they are still interested, as you want to convince them to act and close the deal.
It is a manual follow-up method.
If you know how to handle this type of email well, far from being tiresome,
you will get closer and closer with your message.
Many companies know how to create exemplary follow-up emails.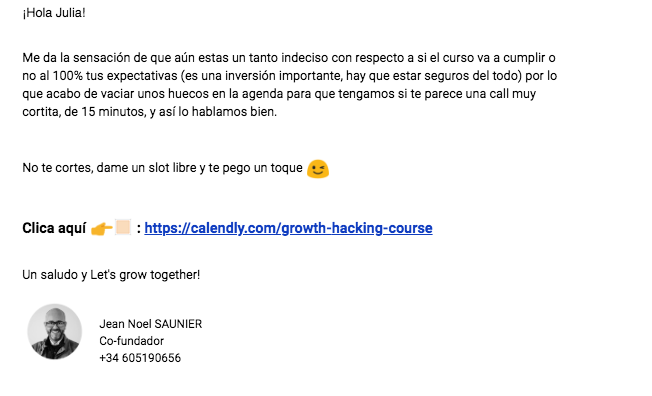 Email marketing tips
Learning to work with email marketing is unlike learning Chinese or a new programming language. You just have to find excellent email marketing software and start playing around.
But in order not to fall into bad practices, you should keep in mind Here are a few tips before you start.
Don't buy mailing lists
Some people think that buying email lists is a shortcut. And it's partly true: It's a much faster way to the SPAM folder.
You don't like to receive emails from unknown brands or in which you haven't shown any interest, do you? Well, don't do the same thing to Other people.
Buying mailing lists can even damage your brand reputation.
In other words, you'll get the opposite of what you expect from email marketing.
If you want to learn how to get more subscribers without buying a mailing list, we have posted content about it on our blog.
Send relevant content
Both the subject line and the content will affect your open rates.
What makes an email marketing campaign effective? There are many factors that come into play, but the most important aspect is the relevance of your message to the user who is reading it.
We don't like to feel like we are being sold something. But we do like to discover, read and buy useful, interesting, practical products or services which are, in a word: relevant.
That's why all your emails should be perceived as valuable content.
And for that, you need to know your subscribers very well. Know what They are what they are interested in, what they aspire to, what scares them, and what holds them back.
Before launching an email marketing campaign, think for a few minutes about your audience and ask yourself if what you are about to send is relevant.
What is the value of what you are about to offer to your subscribers? How will it change their lives? What type of message is most appropriate?
The sending frequency should be your ally.
«I don't want to tire my customers" "If I send them emails too often, I'll overwhelm them»
The fear of being tiresome is a brake on email marketing. Because the reality is that: if you avoid sending regular messages, you won't generate as many opportunities.
There's no exact answer to how much is too much or how much is too little, but you can think about these two aspects:
A) One of the most important advantages of email marketing is that it builds trust. But to build trust, you need to become someone familiar. And that requires a certain frequency.
B) It doesn't matter how many emails you send: as long as they are relevant, you won't tire your audience.
Balance text and images
Sending an email with several images and a few words can be tempting, especially if you don't like to write and create texts.
But make no mistake: the balance between images and texts is one of the keys to avoiding ending up in the spam folder.
Some spam detectors, such as Spamassassin, negatively evaluate and lower the score of emails that contain a lot of images.
Think that the text has to be that text.
Words inside an image are considered part of the visual element. In fact, images that include text can be even more problematic and receive a lower score.
This goes back to when spam filters couldn't read texts in images. Although they can do that now, they still distrust this type of email in case the message in the image is not the same as the message in the text. In other words, the sender could be trying to include texts that they know would normally be blocked by the filter.
But the problem of sending image-based emails goes much further:
If the email client doesn't have the default display enabled, practically nothing of the message will be seen.
On top of that, too many images can distract attention, or direct it to where you are not interested.
The solution? Work on some good texts and always look for a balance between the number of images and texts. You can take this image as a reference.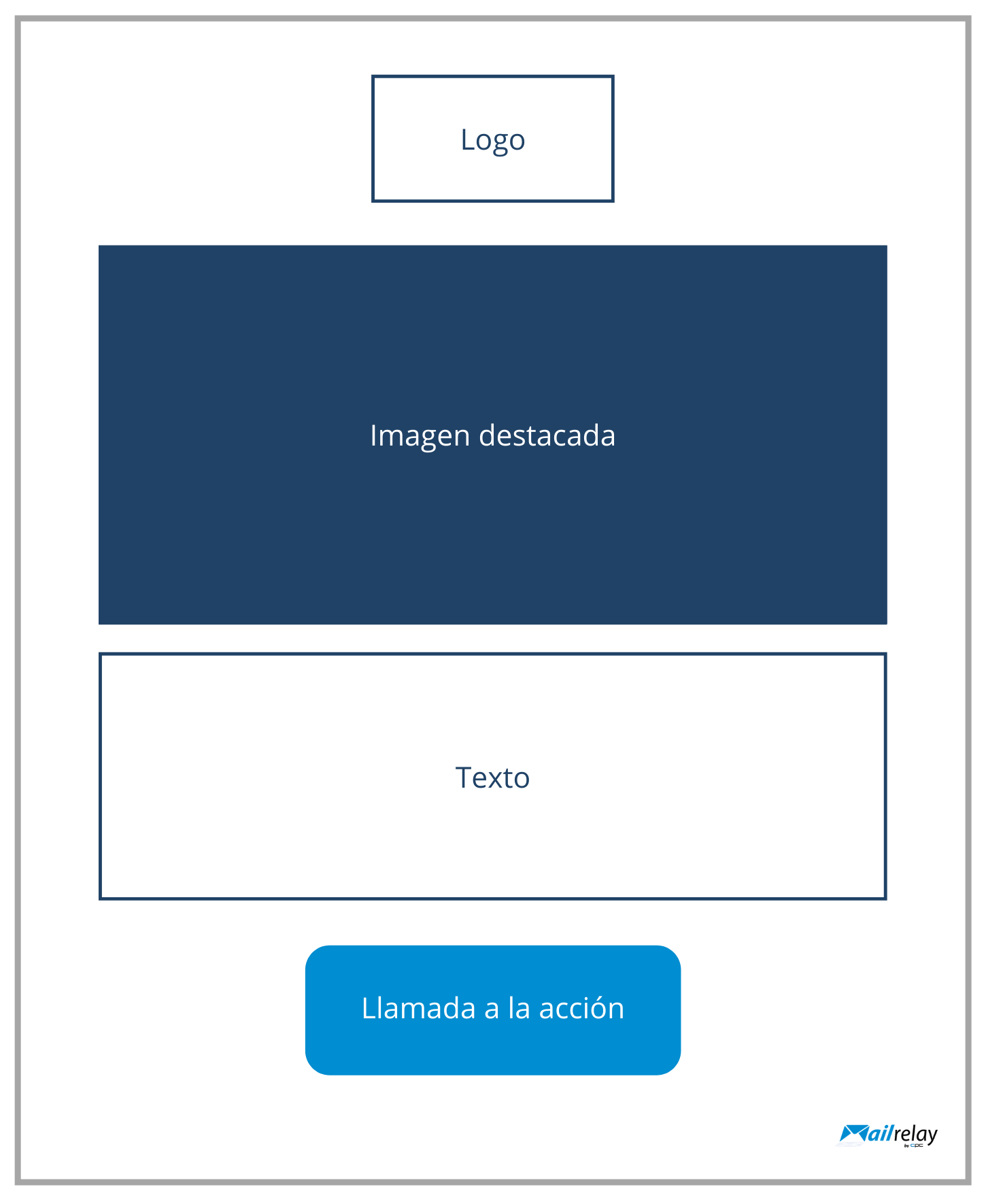 If you've made it this far, you already have a very clear idea of what email marketing is, its advantages, and what types of campaigns you have at your disposal to get the most out of it.
The next step? Obviously& start sending! Create your free Mailrelay account now and prepare your first email marketing campaign.
Translated by Micheli.