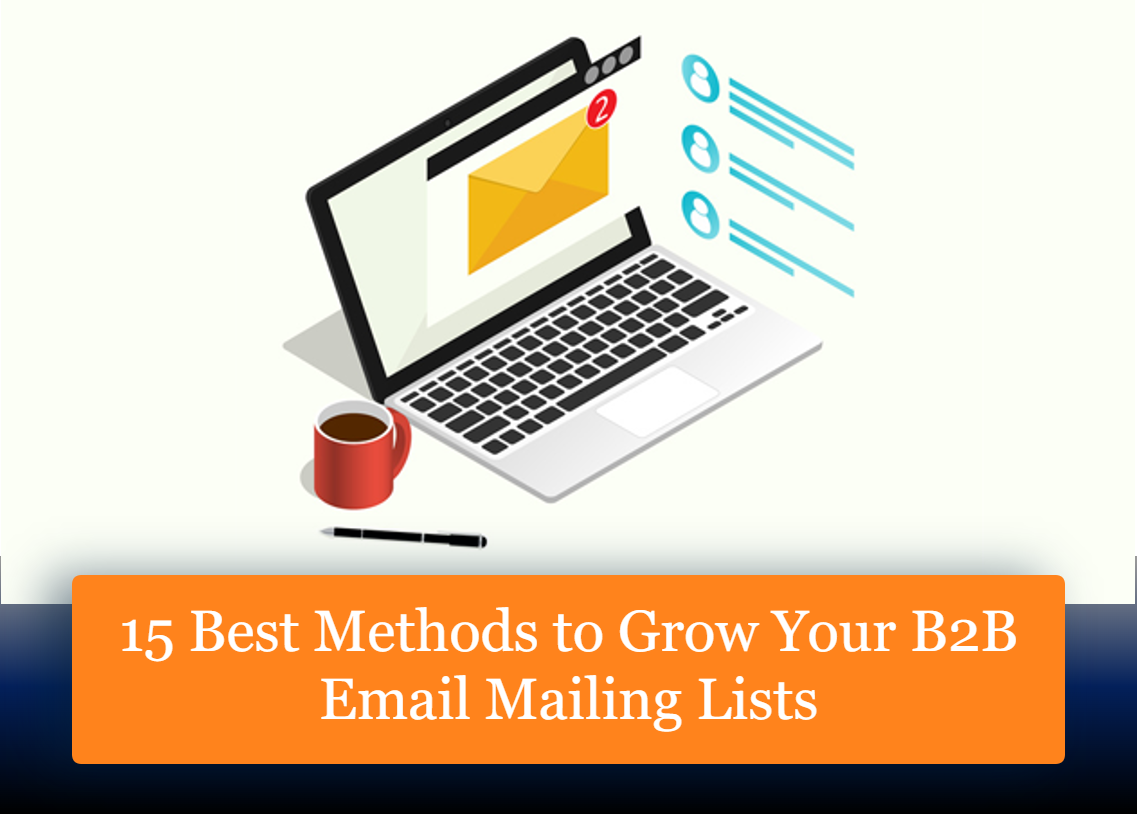 15 Best Methods to Grow Your B2B Email Mailing Lists
Email marketing is widely used by all kinds of businesses thanks to its ability to communicate with customers directly. In fact, contrary to popular belief, email marketing can be exceptionally effective because most people still use emails whether for personal or professional needs.
That being said, one of the biggest challenges that businesses encounter when using email marketing for their promotional needs is growing their mailing lists. It is possible to grow your list successfully as long as you know how to do this.Without further ado, here are the 15 best methods for increasing your
B2B email mailing lists.
#1 Make It Easy to Subscribe
First and foremost, you need to make sure that it is easy for your website visitors to subscribe to your mailing list. If they can't find an option to subscribe on your website, they will be less likely to be interested in subscribing in the first place.
On the other hand, when it is easy for a site visitor to subscribe, they will be more likely to do so. You need to keep the subscription buttons somewhere where they can be noticed easily (e.g. in the header) and make the subscription process itself simple (e.g. just filling in the email address).
#2 Launch Paid Ad Campaigns
While paid ad campaigns are not always used for growing email lists, they can still be useful for such purposes. You can either make growing your email list the main goal of your campaign or make it an additional goal that you want to achieve.
For example, you can launch a paid ad campaign promoting your upcoming holiday sale. Once someone clicks on your ad, they will be redirected to a landing page with more information about the sale. You can then ask the user for their email address to inform them about the time when the sale begins.
#3 Offer Downloadable Content
Downloadable content can be a peculiar yet effective way for collecting email addresses. Downloadable content is often offered as premium-level content with higher overall quality and more value. This is why it is often sought out by people who aren't even your customers yet but who are simply looking for high-quality and relevant content.
Essentially, what you should do is ask the user for their email address when they request to download your content. Make the downloading process easy and avoid asking for too much information (just their email and maybe their name as well will be enough). People are often reluctant to provide their information, even if it is a representative of a business who is interested in your content that is being asked to provide an email address.
#4 Publish Content Consistently
Email marketing is directly related to content marketing, or rather, it is a part of content marketing. This is why you should already align your activities of both types. Additionally, it is important to publish content consistently because this can help you grow your email list indirectly.
When publishing content consistently that provides value to your target audience and is of high quality, you are building a specific brand image for your company. You can position yourself as an expert, a leader, and an authority in your field. As a result, more businesses will be interested in getting in touch with you and providing your email addresses for you to communicate with them.
#5 Ask to Subscribe
To add to the previous point, you can ask users to subscribe to your mailing list at the end of your content and make the influence of your content marketing more direct in helping you build your mailing list. Every time you publish a piece of content on your website or blog, add a call to action at the end encouraging the reader to subscribe to your mailing list.
A CTA at the very end of your content is not too annoying for the reader to ignore, but it can also have a powerful effect in the long run. Even if the person doesn't subscribe the first time they see this kind of CTA, they might subscribe the third or fourth time they see it again under another piece of content you published.
#6 Add Pop-Ups to Your Website
Pop-ups on your website are another way to remind potential subscribers that you have an email list that they can be added to. However, it is also very easy to go overboard with pop-ups and create an effect that is the complete opposite of what you actually want. In other words, you need to be careful when introducing pop-ups on your website and think several times before you decide to add a specific type of pop-up here or there on your website.
Speaking of the types of pop-ups you can use, they will be more useful to you in specific types of situations. For instance, pop-ups that appear when the user wants to leave your website can be great for reminding the person to subscribe. On the other hand, pop-ups that appear randomly while the user is browsing your website could end up being more annoying than effective.
#7 Host Webinars and Online Courses
Webinars and online courses can be useful to you in a variety of ways. They can be used as a means to collect email addresses, but they can also serve as an additional source of income for your company. Moreover, they can help you further build a brand image of an expert and an authority in your field. After all, you are offering your knowledge to others which means you are qualified to share it in the first place.
Different specialists in your industry will be interested in your courses which is how you can eventually connect with the respective companies they work for. Besides, when you get their personal information (when they apply to your course or webinar), you will be getting their individual email address which means you will have an easier way to personally connect with one of the people inside their company. This could make your communication with them more productive because you won't be communicating with a business representative per se.
#8 Sponsor Relevant Events
Industry events always attract all kinds of companies and professionals from the field, so sponsoring an event relevant to your own business could help you find potential clients. Of course, simply attending such events will already provide you with lots of opportunities for growing your email list and finding customers, but being the sponsor (or one of the sponsors) will take your visibility to a whole new level.
You can either organize the event yourself or find one that you would like to sponsor. In the first case, you will have more control, so you will be able to collect emails easily (by asking attendees to register beforehand). In the second case, you might not have an opportunity to see the information of those who registered for the event, but your brand name will still get a lot of attention. This means that more people will be interested in your business, will check out your website, and may subscribe to your mailing list.
#9 Include Banners in the Header
There are many things you can do on your website that can help you collect more email subscribers without utilizing off-site tactics and offline methods. One of these is strategic design. The way you design your website and its interface could help you encourage more people to subscribe to your email list. For example, you can add banners in the header (and/or the footer) of your website.
By adding such banners where you encourage the site visitor to subscribe to your mailing list in one click, you are adding a constant visual reminder to your website that every user will have in front of them at all times. Headers (and footers) are great for this because they show up on every page of your website and you don't have to worry about forgetting to add a CTA at the end of your content asking the reader to subscribe to your mailing list.
#10 Segment Your List
Segmentation is necessary for any kind of marketing, so you are likely familiar with the concept itself. In email marketing, segmentation is used to deliver the most relevant emails to different types of subscribers. This doesn't necessarily mean that you will get more new subscribers when segmenting your emails but it will actually help you keep your old subscribers with you.
Retaining your old subscribers can be challenging because they are very likely to unsubscribe once they realize that there is no longer anything of value that you can offer them. But by segmenting your mailing list, you can find out what kind of content each subscriber is interested in and only send them the content they want. This way, you can keep them interested long-term.
By growing your mailing list gradually and keeping as many of your subscribers as possible, you can eventually have a more engaged and loyal client base. Ask each subscriber about the kind of content they are interested in and then deliver that consistently. You can also introduce new types of content and also ask whether your subscribers are interested in it.
#11 Have Contact Forms on Your Website
In addition to offering regular subscription forms, consider also offering contact forms on your website where you ask the user to provide their email address to you (so that you can send your response by email). This is a good way to collect email addresses from those who are already interested in your business.
In the contact form, you can ask for several pieces of information from the person. For instance, you can ask for their name, job title, company name, email address, and reason for contacting you. The reason for contacting you will help you handle the request more efficiently while the rest of the information can be added to your email list.
#12 Attend Industry Events
As mentioned earlier, sponsoring relevant industry events can help you get more exposure and even directly get email addresses for your mailing list. However, simply attending industry events will already provide you with opportunities for finding potential clients. Meet with as many people as you can and try to get their contact details. You can even inform them that you will email them about potential deals so that they will be awaiting an email from you.
#13 Get Word-of-Mouth Marketing
The more people know about your business, the more potential clients you will have. Naturally, this also means that more people will be subscribed to your mailing list. This is precisely why word-of-mouth marketing is so important – it helps you get recognition from my people and spreads the word about your brand. Encourage your current email subscribers to tell about your brand (or even specifically about your mailing list) to their colleagues and professional contacts.
#14 Perform Your Own Research
Performing your own research and publishing your findings will further help you establish yourself as an authority in your field. All the white papers and case studies you create can also be offered as a form of downloadable premium content with the help of which you can grow your email list (as described earlier). Besides, you will have more content to publish on your website or blog which is also a benefit in the long term.
#15 Look for companies that generate leads for your industry
Purchasing leads and data for marketing campaigns is always a very difficult task. The problem is that you need to make sure the company is really offering you leads that are really interested and accepted to
receive messages from other projects.
But if you find the right company, you could get new leads and increase your B2B mailing list. Just make sure you are not spamming users, because in this case, you would end up with a serious problem.
Final Thoughts
All in all, growing your B2B mailing list may take some time and effort, but it will ultimately pay off because it will help you regularly engage with clients and convert one-time customers into returning ones. Use the strategies in this article to help you grow your own email list and start utilizing it in your email marketing campaigns.
Bio
Kristen Bray is a professional writer and а blogger. She has been working as an editor at а Best Essays Education. Kristen mainly covers topics such as blogging, digital marketing, and self-education. In her free time, she practices yoga and also travels.