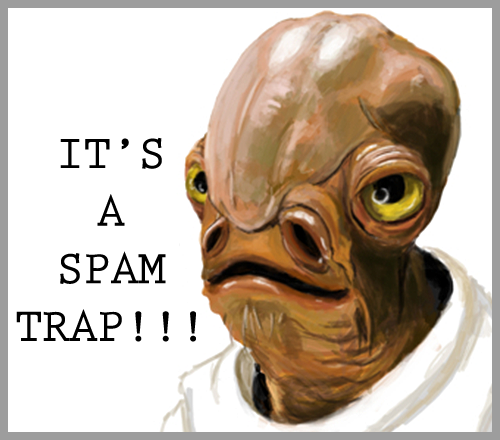 If the #starwars characters had to send email marketing campaigns
Have you ever wondered which mistakes the Star Wars characters would make   If they were sending email marketing campaigns?
Today we will solve this doubt.
In Mailrelay, we have tried to analyze their email marketing styles to discover they most serious mistakes.
Enjoy this article!
+ Palpatine (Darth Sidius)
Known for: managing large email marketing campaigns, but always forgetting a small, but important detail that spoils all the efforts and prevents the campaigns from being  successful.
Biggest mistake: Forgetting to include a call to action in the promotional newsletter " 2 x 1 on the Death Star ".
+ Jabba the Hutt
Known for: Trying to capture subscribers without using legal methods and not providing options for managing the opt-out.
Biggest mistake: Not allowing Princess Leia to cancel receipt of the newsletter.
+ R2D2
Known for: not targeting the email marketing campaigns and send the same content to all subscribers, even if they speak different languages.
Biggest mistake: Although the contents sent often are very interesting, most subscribers can't understand the email.
+ Jar Jar Binks
Known for: you sign up for the newsletter by mistake and start receiving several emails per day. Most of them are useless and very boring.
Biggest mistake: it is not at all clear how to unsubscribe from the newsletter, so most subscribers hate it, due to the high frequency of campaigns.
+ Jawas
Known for: using emails that are available  on the internet for the email marketing campaigns even if they are incorrect or old email addresses.
Biggest mistake: usually the email marketing campaigns have very negative results. sometimes, they achieve better results which makes them believe in the validity of the method they are using.
+ Anakin Skywalker (Darth Vader)
Known for: innate ability for creating email marketing, being able to develop very impactful campaigns that surprise the subscribers. Great confidence in himself.
Biggest mistake: Trying to seek superior results at all costs, using subscriber lists offered by unscrupulous providers.
Famous phrase: "The most powerful email marketing  is not comparable to the power of the subscriber list"
+ Lando Calrissian
Known for: finding sponsors to monetize the newsletters adding advertising banners.
Biggest Mistake: Choosing sponsors not aligned with the subscribers.
+ Boba Fett
Known for: Managing complex email marketing campaigns for other companies who can't do it and prefer to pay for the management of their campaigns.
Biggest mistake: losing his  head in the middle of an especially complicated campaign. He never recovered from this error.
+ Commander Ackbar
Known for: Managing massive email marketing campaigns with dozens of thousands of subscribers, sending them emails  without having reconciled before the quality of the mailing lists.
Famous phrase: It's a spam trap
+ Paul Atreides
Known for: coming from the offline marketing world, therefore not updated, believing that the techniques used in the offline marketing can be used without adaptation for creating email marketing campaigns.
Biggest mistake: using newsletters that are created with a single image, similar to traditional paper flyers.
+ Obi Wan
Known for: always following good email marketing practices. He taught everything he knew about the lists of subscribers to Anakin Skywalker. Seeing how he began using techniques from the dark side to generate lists that worked, he lost faith in the email marketing and stopped sending campaigns for years, until he met Luke Skywalker.
Famous phrase: "These aren't the promotions you are looking for "         
+ Yoda
Known for: Using unusual subject lines, incomplete or difficult to understand, leaving the users thoughtful and confused, to encourage them to open the newsletters.
Famous phrase: "No more subscribers you need, you already have all the necessary things  for your email marketing"
+ Luke Skywalker
Known for: great ability to create and send e-mail marketing campaigns, but lacking confidence in the abilities. When having to send email marketing campaigns with more subscribers, thinks he can't achieve the desired goals.
Biggest mistake: trying to get Darth Vader to stop using dark techniques in managing the subscriber lists.
Famous phrase: "you already received the link to download for subscribing … So, will you unsubscribe?"
+ Han Solo
Known for: his great skill in managing email marketing campaigns, looking for unconventional ways to achieve the goals. This brings, at times, serious problems, but he always can solve them and correct the course at the last moment.
Famous phrase:" It's easier to offer an unsubscribe option than asking for the signature, huh boy? You are starting to look more and more like me. One of these days you could start to see yourself like me."
+ Chewbacca
Known for: Managing the technical aspects of email marketing campaigns for Han Solo, which is not always easy. He often has to solve problems in the middle of a campaign.
Famous phrase: "RAWRGWAWGGR"
Have you seen Star Wars: Episode VII The Force awakens?
Could you help me to include the new characters on this list? What would be the email marketing style of the new stars of the saga?
Add your suggestions in the comments below!