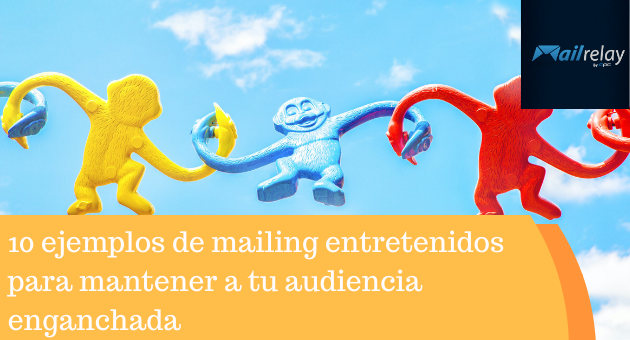 10 newsletters that could keep your audience engaged
Your audience likes to receive newsletters regularly, but email marketing statistics also confirm a revealing fact: 86% of consumers consider that more than half of the emails they receive are not relevant.
So what do you need to do to send emails that your audience will enjoy and want to read?
Just one word: variety.
Email marketing is much more than monthly promotions or newsletters here and there. From mailing lists of resources or tips to step-by-step tutorials, there's a whole world to explore.
You shouldn't just create direct sales emails but aim to achieve long-term goals such as:
🌟 Educate your audience
🌟 Encourage new habits
🌟 Create expectation
🌟 Build trust
🌟 Make your brand better known.
These emails won't make you sell more today, but they will help you build an engaged community around your brand. And that's what will help you to sell more tomorrow.
So if you send promotional emails to your contact list, great, off to a good start. But if you want to create a lasting relationship with them, then turn your strategy around and start to send other types of email.
For inspiration, here are some fun email examples to help keep your audience engaged with your brand.
Are you planning a big release? Sending an email is one of the best ways to inform your subscribers about what they should expect.
But there is a way to build anticipation even before the release.
The effect you want to achieve is the same as when you are watching a series and the the episode ends with a dramatic twist at the end (the famous thriller).
In other words, the purpose of this type of email is to inform your audience of something interesting but not to pass on all the information. Yes, you want your audience to be hooked; they need to be wondering about the subsequent emails.
Fashion brands know very well how to exploit the teaser effect, for example, sending email marketing campaigns before they will launch a new collection.
Sezane newsletter example
Newsletter example #2: the welcome email
Welcome emails are one of the great classics of any email marketing strategy and for a good reason.
For starters, they are the type of email that generates the most engagement, with open and click-through rates far exceeding those of any other kind of campaign.
And it doesn't stop there: welcome emails generate three times more transactions and profits than normal promotional campaigns.
Facts about welcome emails – Inbox Army
Your readers have just signed up, so their interest is high. That's why you should take the opportunity to create an excellent first impression and explain to them what they can expect to find in your newsletters.
You need to send them more than a welcome message. You will need to provide resources to help them improve their relationship with your brand. In other words, the welcome email is your first chance to keep your audience interested and waiting for more emails.
For example, you can take the opportunity to guide new customers through the first steps, answering frequently asked questions or giving tips to help them get the most out of your product or service.
Les Mills newsletter example
Newsletter Example #3: Checklist
We humans love lists for several reasons: we can review them quickly, they're easy to read, and most of all, we know what to expect, what's next. This gives us security.
And it's a format that you can adapt to different types of content: blog articles, checklists, social media posts, and of course, email campaigns.
Put your mind in "list" mode because you can create lists of just about anything.
You only need to meet two requirements: that the list is helpful to your audience and that it relates to your business and the problems your product or service solves.
Just like this example from Freeletics, an email checklist that is fun and at the same time serves to present news about your product.
Freeletics newsletter example
This format is so powerful that there are many different types of emails with checklists.
That's why the following examples of newsletters cover just that, lists, whether they're resources, advice, or even a series of lists.
Campaign Example #4: A resource list
Your readers have a problem. And you have many resources that can help them figure it out. BOOOOOO! Winning combination.
All you have to do is put all the links together in a list so your audience can easily access all this information.
And the best part is that you can work with your own resources, for example, from your blog or YouTube channel – and in this way, you can give them a boost of visibility – but they can also be resources from other sites that you believe will be relevant to your target audience.
The only thing that matters is that the list is well organized and that each resource is interesting and useful to your audience.
Example of exciting newsletters
Newsletter example n5: list of tips
If you are looking for ideas for a practical and easy-to-read campaign, this is one of the fastest and most effective emails you could create.
And who better than you to advise your audience on everything related to your product or service?
Create a small list of tips (three or four will suffice)
Write a paragraph or two about each point (always keep your tone practical)
you can create the message in your favorite email marketing software
And voila! Just send the campaign.
LinkedIn newsletter example
LinkedIn is one of the companies that know how to make the most of this type of email, and, in fact, an important part of their mailing strategy is based on sending lists of tips.
Why? Because they know that if their users learn to use the platform better, they will use it more, and that's good news for their business.
Example #6: sequenced list
This email type combines two popular email marketing features:
Emails with lists, which we've already seen, and the series or sequence of emails.
That is, you compile a list of tips, resources, problems, challenges… But instead of putting them all together in one email, you could develop each point on the list in a separate email and send a series of emails with relevant sequential information to your subscribers.
You can schedule newsletters regularly so that they arrive daily or weekly. The key is, of course, in the quality of the content: if it's really good, it will keep your audience hooked and waiting for the next tip.
This Lucidchart example is a mix of hint lists and welcome message. As soon as you sign up, you will start to receive a series of emails, each with a tip that helps you get the most out of the tool.
Lucidchart newsletter example
In short, a 4 in 1 system: you have a list, relevant information, a series of emails and you can welcome your new subscribers with just one strategy.
Example #7: a success story
We assume that your audience has subscribed to your list because they are interested in what you offer and because they have a pain points your product or service solves.
You need to demonstrate in your emails that you want to help your subscribers and You know what they need, but it's not easy to do it in a fun way without sounding too commercial.
The type of email that helps you achieve just that is the success story or case study: a story where you explain to your audience how other people who were in the same situation managed to solve the problem.
The key is to make the content practical and valuable for your audience, focusing on users' issues.
And what role does your solution play in all of this? It's simple: think that the protagonist of this work is the pain point and that your product or service is not the star but a secondary character in the story you are telling.
Newsletter example #8: habits
Creating a new habit is the basis for changing an old behavior. So if your business success is related to changing your audience's behavior in any way, you must first help them change their habits.
Habit training is a super powerful tool that goes far beyond keeping your audience hooked.
Therefore, it is understood that we are talking about creating good habits, habits that will help them achieve their goals or solve their problems. You know… to use the power of email marketing to the good 🙂
There are two types of email especially useful for creating habits:
Reminder emails to perform an action
The emails in which some kind of progress is updated
You can send an email when your users perform a certain action that you want to reinforce positively.
For example, the Petit Bambou app sends an email to its users after each meditation. It's like a summary of what they've learned and, at the same time, they take the opportunity to give advice that customers can put into practice between sessions.
Sample newsletter Petit Bambou
Newsletter example #9: tutorial
Who said the only way to teach your audience how to do something is with a tutorial on YouTube or your blog?
A step-by-step tutorial can also be a perfect type of email to keep your audience connected to your brand while teaching them how to get the most out of your product or service.
And to avoid overloading the email with text, you can include as concise a list of steps as possible and add links to expand the information about each step, if you have published longer articles elsewhere.
That is precisely what they are doing in the email in the following example (check out the tips).
Sample Arengu newsletter
Example #10: the (attractive) product presentation
It's one thing to constantly talk about your business in a commercial way (there's nothing fun about that). But another thing is to present relevant news of your product or service, interspersing them with other types of emails.
Especially if you present the content attractively, such as visuals, videos, gifs, emojis, or small practical tips.
Take a look at this Todoist example, where news is always presented from the user's point of view, with a focus on benefits.
And that adds up to good product images, with changes in text format (bold, emojis) that make texts easier to read, with lists of tips and resources, etc.
Todoist mailing example
And if you're looking for more ideas for your mailing campaigns, we have other tutorials with newsletter analysis and helpful tips that can help you to create a more effective newsletter.
Translated by Micheli.