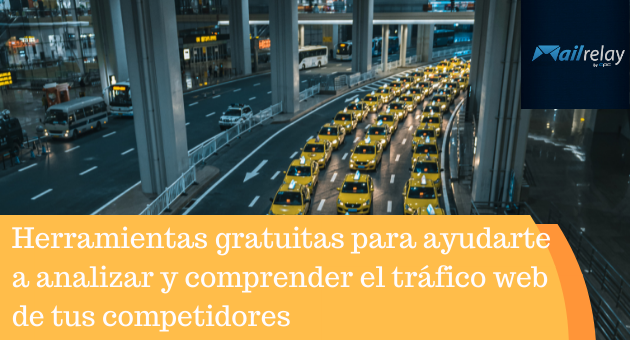 Free Tools to Help You Understand Your Competitor's Web Traffic
Using web analytics tools like Google Analytics to understand your competitor's web traffic allows you to gain useful insights on how to improve your websites performance. Sometimes, looking beyond your business is what you need to discover what your brand is missing.
Studying your competitor ensures you see what they're doing differently from you. It's quite acceptable to borrow a few techniques that can better position your business as a leader in the industry.
Benchmarking helps you discover aspects of your brand's digital marketing you weren't paying enough attention to. In today's digital era, you should invest time and resources in boosting your brand's online presence.
With the information web analytic tools give you, you can plan better for your digital marketing campaigns and increase your web traffic. You get insights on how to use every opportunity to attract new customers.
What channels are your competitors using to attract web traffic? Are you using these same channels as effectively as you should? What can you do to ensure you attain maximum traffic on your website? You can find answers to all these questions if you pay attention to what is keeping your competitors at the top of the game.
Even if you are at the top of your industry, it doesn't hurt to find out what competitors are doing to catch up with you. Borrowing techniques from upcoming businesses ensures that you stay undefeated.
There are many tools out there to help you stay ahead of the curve by observing what the competition is doing. Below are the most effective ones for businesses of all sizes.
Google Analytics Benchmarking
Google Analytics Benchmarking is a Google Analytics feature that's free to everyone. This tool is perfect for comparing your web traffic to your competitors'. Google Analytics Benchmarking provides you with your competitor's data so you can see what has been keeping their business afloat.
Using this web analytics tool ensures you have access to the information you need to stay ahead of the curve. Some of the metrics Google Analytics Benchmarking gives you access to include:
Bounce rates
Number of sessions
Average session duration
Percentage of new sessions
Number of sessions from new visitors
Pages per session
These metrics will help you understand what you need to do to boost your website's traffic. Not to mention that Google Analytics Benchmarking categorizes the sites you're tracking so you gain information relevant to your business.
AdClarity
AdClarity, like the name suggests, gives you insights into how to boost the traffic your ads generate on the website and social media pages. The tool allows you to analyze the performance of your competitor's advertising campaigns.
The information AdClarity gives you access to help you better position your ads to attract more prospects. By tracking the performance of your competitor's advertising campaigns, you learn how to tap into popular traffic sources.
Make sure that as you execute borrowed techniques, you have your target audience in mind. Don't forget that while you're using your competitor's methods, your aim is to reach your customer base.
Alexa
You probably didn't know that you can use Alexa to compare web traffic. Well, you can and it's quite an effective web analytics tool. Alexa gives you access to crucial web metrics including top site lists.
You can find out which sites rank highest for specific keywords within your industry. This information will help you increase engagement and boost your customer conversion rate. Also find out how you rank for certain keywords as compared to your competition to see if your content marketing needs more work.
Aside from keyword ranking, Alexa also helps you work on your popularity and visitor appeal. Alexa comes with an easy-to-use interface that allows you to understand the data presented to you. The color coded boxes ensure you can differentiate the stats and see who is ranking higher between you and your competition.
With Alexa, you have a solid chance at improving the performance of your SEO campaigns because it sheds light on what your business is missing. Capitalizing on your competition's methods with your target audience in mind is a great way to maintain your position as industry leader.
Quantcast Measure
Are you looking for an analytics tool that can measure performance across different devices? Quantcast Measure is the perfect application for this because you can use it on your desktop, laptop, smartphone and tablet.
This website analysis tool gives you insights into your competitions web traffic based on device. You can use this tool to optimize your website's accessibility across all devices. Not to mention that you can also use it to compare web traffic on different platforms.
Quantcast Measure gives you insight into your competition's performance based on their geographic and demographic information. It is a great way to understand what your customers need and how you can deliver it to them. After all, understanding your audience is the first step to achieving success.
SimilarWeb
SimilarWeb is yet another free web analytics tool you can use to keep up with your competition. It allows you to use different performance metrics to see how your competition attracts traffic to their website.
Some of the metrics SimilarWeb uses to track your competition's performance include:
Keyword selection
Traffic source
Number of mobile app users
You gain access to these and more to get a clear understanding of how your business matches against your competition.
SimilarWeb will show you crucial engagement stats you can use to figure out the best way to start important conversations and interact with your customers. Customer engagement is one of the key ways to increase traffic to your website because people enjoy interacting with content that makes them think.
Comparing yourself to your competition shows you how much work you still need to do to reach your goals. SimilarWeb ensures you know your regional, country, category and global rank. When you can see the bigger picture, you have more reason to invest more time and effort to improve your business' performance.
While SimilarWeb is free to use, you can sign up for the premium version to have access to more features. The paid version allows you to see how your competitors rank for organic and paid keyword. Keyword research is the perfect way of evaluating the performance of your competition's popular pages.
Mailcharts
Email marketing plays an essential role in boosting your website's traffic. That said, it's also no secret that email marketing can be tedious, especially for businesses in competitive niches.
Mailcharts breaks down email marketing so you have an easier time executing your email marketing campaigns. This tool gives you access to aggregated emails from your competition so you can borrow an idea or two for your marketing campaigns.
Paying attention to competing email marketing campaigns is important because you and your competition are likely targeting the same audience. Using the insights you gain from Mailcharts to influence your emails allows you to attract new customers.
Any business owner who has been running a company for a while knows that email marketing goes beyond catchy subject lines. This alone is not convincing enough to convert prospects into customers. You need to go into details like send frequency, timing, length, and email relevance to earn reasonable ROI from your email marketing campaigns.
Mailcharts also provides you with email examples that guide you on how to write striking marketing emails. Sometimes, all you need is inspiration to pull off a fruitful email marketing campaign.
Ahrefs
You can use Ahrefs' Backlink Checker to see who your competition links back to. You gain access to all the web pages your competition sees as authoritative.
Ahrefs also helps you find out your competition's monthly organic search traffic to every linking page. What value does your competitor's customers see in their brand and how can you tap into this insight to increase traffic to your website?
Looking at what your competitors use to stay connected to their customer base is an excellent way of discovering the best sources of referring traffic. If the pages are authoritative enough, consider being featured on them as well.
In additional to tracking backlinks, Ahrefs also shows you the exact keywords that your competition ranks for in organic searches. You can use this information to find out where your competition finds their traffic and how you can use the same keywords to rank high on search engine result pages.
As a business, you should always be ready to adjust your content strategy to meet your goals. Monitoring your competition's content gives you insights into how best to make these adjustments.
Wrapping Up
Tracking your competition's website performance gives you insights on how to boost your business' performance. These free web analytics tools ensure you know what your competition is doing to attract visitors to their website. Use the information these tools give you access to to position your brand as a leader in your industry.
Author Bio
Adrian Lomezzo is a freelance writer who has been teaching marketing for 5 years. He is also a contributor for our essay writing website. His experience and knowledge in digital marketing is evident in all the marketing articles he writes.