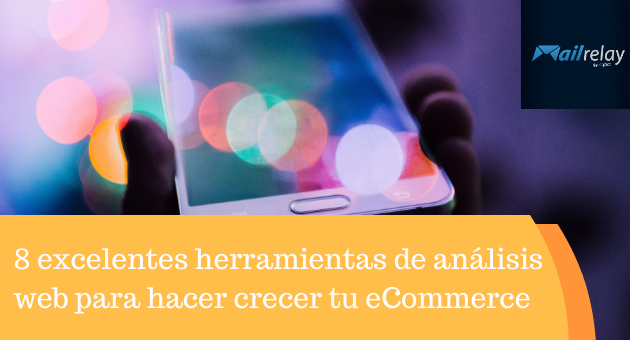 Top 8 Web Analytics Tools for Ecommerce
These days, for all eCommerce businesses it remains the case that it is important to measure your progress to stay ahead of the curve. According to Statista, e-retail sales worldwide were about $4.28 trillion in 2020, and e-retail revenues are supposed to rise to $5.4 trillion in 2022.
Online shopping still tops the list of most popular online activities worldwide and continues to boom in the future. That's why eCommerce needs to get a clear idea of how they are doing online to maximize the reach and remain competitive.
As Broc Newman from Mission Legal Center noted, investing in people and the right tools is a killer app, but, more importantly, you need to find those people who can understand data that really matters.
With the right web analytics tools, you can collect data faster and more efficiently and analyze your business's success and areas for improvement. Fortunately, there are a lot of great analytics tools to look into. Some tools provide a 360-degree analysis of your business's performance, while others allow you to get qualitative data and optimize your conversion rates.
This article has collected the top 9 eCommerce analytics tools that can help you optimize your online store and take your business to the next level in 2021.
Top 8 Web Analytics Tools for Your Ecommerce Business
In most cases, when marketers think of using web analytics in general, they immediately place the emphasis on Google Analytics. For sure, it's a great analytics tool for increasing your eCommerce, but it's just the tip of it. Fortunately, there are a lot of awesome web analytics tools available on the market.
Let's take a look at these alternatives.
1.  Finteza
Finteza is an advanced web analytics tool to track website traffic, measure its quality, detect any possible errors, and analyze a lot of data based on user actions on your eCommerce site. The tool also tracks your entire sales funnels, delivers detailed and retention reports based on traffic sources, and provides a well-rounded solution to monitor attraction and retention metrics.
The best thing about Finteza is the option to manage and monitor different tasks and use all tools in a single interface. You can create effective conversion funnels, apply A/B testing, build retargeting campaigns and manage advertising campaigns. Finteza provides analytics for different traffic attraction channels, including Facebook, Instagram, Google Ads, affiliates, etc.
For eCommerce businesses, you can build and receive detailed reports and detect new interaction patterns to boost profits. The First-time Purchase section can help you to improve relationships with customers and find the strong and weak points of your marketing campaign. It also displays much data on prices, average spending, deals, and other metrics to estimate the behavior of first-time visitors.
Pricing
Finteza has 2 tools: an analytical service and an advertising engine. The first one gives a 1-month free trial with the fee of $25 per 100.000 unique users. The advertising engine includes a lot of webmaster tools where the price is related to the number of impressions. The first 100,000 impressions are free, while the next 100,000 ones will cost $4.
2.  SE Ranking
SE Ranking is an all-in-one SEO platform that helps you to increase your market share and search visibility based on the main focus on SEO analytics. The tool has the perfect solution to manage the loads of data you deal with and handle thousands of keywords, pages, and reports. With SE Ranking you can build effective ads and user-focused content to receive a lot of shares via the web and on social media.
Its traffic analytics section provides all important metrics of your websites and your competitors. The tool gives access to a bunch of useful tools, including:
Tracking gazillions of keywords in multiple locations;
Building professional and customizable reports;
Studying your search competitors;
Getting actionable insights on any SEO issue;
Analyzing and building a data-driven link building strategy;
Taking full control of your social media efforts.
SE Ranking comes with its 360-degree approach that allows you to build a robust SEO and marketing strategy and keep all the key factors that affect your site rankings under control. You can ease your daily grind and double your income with all the necessary tools in one place at hand.
Pricing
SE Ranking offers three pricing plans that you can choose for your business needs. You can sign up for a 14-day free trial to drill down too deeply into all the features and options.
Optimum: You will get 250 keywords for rank tracking, website audit for 25.000 pages, 10 websites, 5.000 backlinks monitoring, on-page checker for 150 pages. It costs $31 per month.
Plus: You will get an unlimited number of websites, a website audit of 150.000 pages, 25.000 backlinks monitoring, an on-page checker for 450 pages, a lead generator, a White Label, SEO/PPC Database expansion (10.000). It costs $71 per month.
Enterprise: You will get an unlimited number of websites, a website audit of 250.000 pages, 75.000 backlinks monitoring, an on-page checker for 750 pages, a lead generator, a White Label, SEO/PPC Database expansion (25.000), API. It costs $151 per month.
3.  Conversific
Conversific is a new kind of analytics tool for your eCommerce business. The tool helps you optimize your conversion and traffic and gather lots of data for your Shopify and Woocommerce stores. Conversific provides clear insights and a personalized to-do list to improve your business based on the results of your website. You will find out where your store is losing money, which products and categories should be pointed up, and which ones don't pull their weight.
You can see all the insights in one single dashboard, including customers' actions, contact details, product interaction, revenue, etc. You can automatically pull and update data from multiple sources. The tool provides easy integration with Shopify analytics and Google Analytics to get better customer insights.
Pricing
Free: You can manage one store, handle 1.500 orders, create 5 reports and get the last month's date range. 
Business: You can manage unlimited stores, handle 3.000 orders, create an unlimited number of reports and get the custom date range. It costs $29 per month. 
Growth: You can manage unlimited stores, handle 12.000 orders, create an unlimited number of reports and get the custom date range. It costs $79 per month. 
Scale: You can manage unlimited stores, handle 30.000 orders, create an unlimited number of reports and get the custom date range. It costs $199 per month.
4.  Smartlook
Smartlook analyzes and records user behavior on websites and mobile apps in multiple ways that allow you to better understand your customers and optimize your conversions. Thanks to its unique visitor recording feature, you can track the whole path of each customer coming from different sources. With Retention tables, you can see new patterns in user behavior and figure out where they meet difficulties to adopt new features.
You can build effective funnels for any event and see funnel statistics right away after setting it up and recordings. With heatmaps, you can collect data in a matter of minutes, see where people click and move their mouse, and how they scroll on a page.
Pricing

Smartlook includes three pricing plans. Each one offers a 10-day free trial with all business features.
Startup: You get everything in Free plus, 4 event definitions, 10 heatmaps with more options, UTM and API filter, and 100,000 monthly sessions. It costs €31 per month.
Business: You get everything in Startup plus, 12 event definitions, merge events, live chat support, and 200,000 monthly sessions. It costs €79 per month.
Ultimate: You get everything in Business plus, public API access, single sign-on, developer tools, and customizable monthly sessions. Custom pricing.
5.  Mailrelay
Mailrelay is a powerful email marketing platform that helps your eCommerce business to create, send and manage your newsletters with advanced subscriber behavior statistics. The tool allows you to know where, who and when subscribers click in your newsletter, better understand your target audience, and increase your conversion rates.
Its newsletter creator has an HTML editor in a WYSIWYG template that allows you to create or edit newsletters. The tool also provides a great solution if you get a huge amount of SMTP requests from multiple servers to the same SMTP server on the web.
Pricing
Monthly plan: You get 20.000 subscribers and 80.000 emails for free in case you create a Mailrelay account and follow them on Twitter, Facebook, and Google+. The Monthly plans commit to staying for 12 months.
Prepaid plan: No free package offered, but you can buy credits and pay as you go without any commitment.
6.  Cyfe
Cyfe is an all-in-one business dashboard that helps you track and visualize all your business in one place. With this tool, you can connect and pull business data from multiple sources like social media, email, advertising, SEO, finance, sales, support, etc. Cyfe automatically connects with different tools and brings all your internal data into Cyfe with pre-built widgets.
Cyfe provides a good option to track your entire database, increase the productivity of your team, and share the dashboard with others using a real-time link. The tool has a very intuitive interface that allows you to easily create and customize the dashboard to view the success of social networks and the goals of your sales.
Pricing
Solo plan: You get 5 dashboards per one user. It costs $29 per month.
Pro plan: You get all features in the Solo plan, 10 dashboards, and 5 users. It costs $49 per month.
Premier plan: You get all features in the Pro plan, 20 dashboards, and unlimited users. It costs $89 per month.
Agency plan: You get all features in the Premier plan, White Label, branded widgets, custom CSS, White Label reports, and invite sub-users. It costs $150 per month.
7.  Facebook Insights
Using Facebook Insights for your eCommerce business helps you evaluate your social media efforts and reach your business goals. It provides a lot of useful information on engagement, likes, shares, comments, post reach, and other data points. The tool will measure your outcomes and boost user engagement to see what works well and what doesn't work at all. On top of all, Facebook Insights is free.
8.  Clicky
Clicky delivers great web analytics in real-time to see how your website is performing and what interests your users the most right now. The tool provides real-time reporting and unsampled data that helps you get detailed insights into your website's performance and specific visitor behavior. I like the option to see the full path and history of a visitor with all actions and sessions that they performed.
One of its great features is heat maps that can help you to segment your visitor's data filled out on your website. Clicky also offers a wide range of useful features like uptime monitoring, A/B testing, campaign tracking, and on-site analytics. You can access website user data like bounce rates, location, keyword rankings, time spent on a page, and much more in real-time.
Pricing
Clicky comes with free and paid plans.
Free: You get 1 website for tracking and 3,000 daily page views.
Pro: You get all features in the Free plan, track up to 10 websites, and 30,000 daily page views with access to premium features like advanced segmentation, path analysis, video analytics, etc. It costs $9.99 per month.
Pro Plus: You get all features in the Pro plan with access to premium features like heatmaps, uptime monitoring, etc. It costs $14.99 per month.
Pro Platinum: You get all features in Pro Plus, track up to 30 websites, and 100,000 daily page views with access to premium features. It costs $19.99 per month.
Custom: You get all features in Pro Platinum, track up to 1,000 websites, and 20M daily page views with access to premium features. For the price, contact sales.
Final Words
Website analytics play an important role in your online performance. Without evaluating your results, you can't achieve your business goals and boost conversions. But we know that each eCommerce business has individual requirements when it comes to tracking its KPIs.
I've collected the top 8 web analytics tools for your eCommerce that will give you some ideas of which metrics you should track to get more leads and improve the impact of your marketing efforts.
Bio line: Irina Weber is a freelance writer and content strategist. She loves helping brands create, publish, repurpose, and distribute content through different marketing channels. She is a regular contributor to a lot of media outlets like SEW, SME, SMT, CMI, etc.