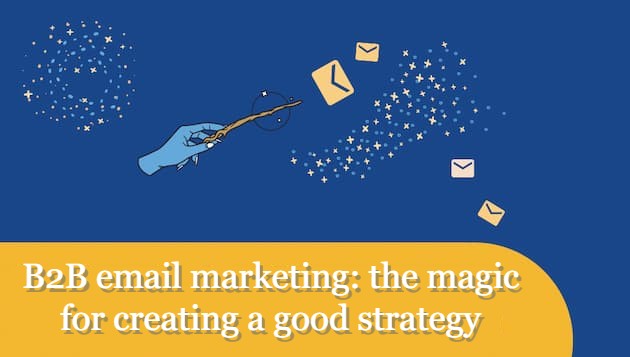 B2B email marketing: the magic for creating a good strategy
Don't panic. This text is not a recipe that requires a cauldron and several ingredients for preparing potions, spells, and incantations, to try to sell more to new companies, or who knows?
So that you know, a good B2B email marketing strategy doesn't require a few ingredients for planning a pure and simple sales action; if you need to work with this strategy, you will have to go much further: that it is the key to building bridges with leads and customers.
Fostering engagement and positioning ourselves as experts in front of other companies is not an easy task. But if there is a way to complete it, it is with the help of email. And in this article, we will explain how to get the most out of the most used marketing channel; yes, professionals from all industries use it. So today, you will learn how to get the most out of this strategy, with tips on how to write the best B2B messages.
However, before creating a B2B email marketing strategy, you probably should ask yourself if you really need it, so let's start with this topic.
The B2B context
The B2B context is an essential element in any successful email marketing strategy.
Unlike B2C marketing, where consumers buy products or services for personal use, B2B marketing strategies target companies and organizations with specific needs and a more complex decision making process.
It is important to understand the B2B context of potential customers and how it fits into their decision-making process.
Personalization of content, segmentation of the mailing list, and choosing the right time to send the mailing campaign are key aspects to ensure that the message will reach the right recipient at the right time.
In short, B2B context is the key to an effective email marketing strategy. Be sure to consider the context of your potential customers when creating your email marketing strategy to increase the open and conversion rate of your emails.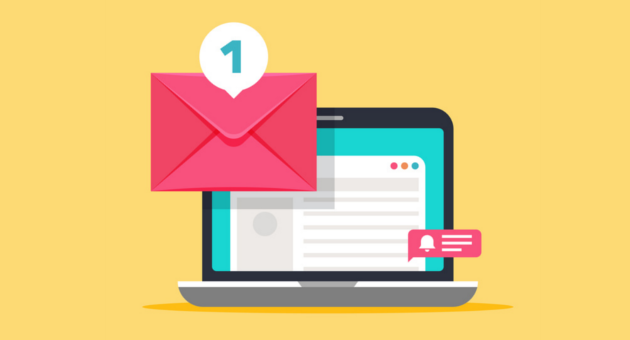 Do you need a B2B email marketing strategy?
To answer this question, the first thing we will explain applies to email marketing, whether B2B or B2C, as well as to any other acquisition or retention channel. And it's something simple but very powerful.
The strategy is the map that will guide you toward your goal; something like the GPS that will show you the best path to the destination you want to reach.
And since this is important, let's use our imagination: you are traveling through Iceland, and you want to get to the town of Seyðisfjörður (who can pronounce it). Can you imagine doing it without signs, maps, Siri, or any kind of guide?
You might end up on the other side of the country.
Well, just as Iceland is very cold and is a place where you don't want to get lost, you also don't want your marketing efforts to be spent on actions that get you nowhere.
And this is how we come to the answer: yes, of course, you need a B2B email marketing strategy.
Without it, your emails will probably land in the spam folder because you won't know what kind of content your audience would like to receive. You won't have clarity about what to measure, so you won't know what works and what doesn't.
And therefore, your chances of success will be similar to winning the lottery jackpot.
B2B and B2C email marketing: two worlds in the same galaxy
Aside from the acronyms, the difference is the target audience we are aiming at. A B2C (business to customer) campaign is one that a company runs to sell to end users, who are people that need the product or service.
For example, when we have a coffee at the corner bar, we are conducting a B2C transaction, just like when we buy a pair of running shoes at Decathlon.
Whereas in B2B (business to business), we are trying to reach another professional or company. A SaaS, such as billing software for SMEs, is a clear example of B2B sales.
However, the reality is that we always, always, and always sell to people. The invoice name is another thing, but the decision will always be made by someone with a first and last name, not an S.L. or an S.A.
This is why we say that they are two worlds in the same galaxy: because they orbit around users who may be individuals or companies, but who are, first and foremost, people.
However, the context changes in B2B
Because we sell to human beings, but the circumstances under which the sale to an end customer or end-user is made are different.
Therefore, there are a number of particularities that you will have to take into account in designing your B2B email strategy, and here are the 4 most important ones:
 The duration of the customer relationship: it is generally short in B2C (it usually ends with the sale) and longer in B2B since, even when the contract is based on a project, the contact tends to last longer.
The sales cycle: traditionally short-term in B2C (instantaneous sales or after a brief analysis period) and long-term in B2B (with cycles of weeks, months, or even years).
Average ticket: in B2C, the goal is usually to achieve a high volume of sales, but usually, the average ticket is lower (in general, not all brands work with the same type of strategy), while in B2B, the sales are of higher value but occur less frequently.
Decision making: it is based on desires and short-term advantages in B2C, while in B2B decisions are more thoughtful and logical. In addition, customer service is more highly valued.
For this reason, B2B and B2C email sequences must be different. You can sell to an end consumer with an express offer, as Amazon does.
You will have a harder time closing deals with companies when the professionals responsible for selecting or approving the partnership with new supplier don't know the brand or the professionals that are offering the products or services; hence the importance of what we will address next.
In B2B email marketing, we need multiple factors to close the sale.
In this scenario, we have just seen not even an artist with a bow like Robin Hood would not be able to hit the target with a single arrow.
By this, we mean that a B2B customer must be impacted by an offer (content, stimulus, or action) more than once until they are ready to make the decision to buy your product or hire your services.
Think about it: how many emails do you receive per day? A lot. And do you remember the sender of any of them? The reality is that unless you have read or received several e-mails from the same sender, you will not remember them in the future.
In B2B business, making an impulse sale is much more difficult. The reasons are clear, and we have seen them all before: The investments are more expensive, the decision is usually not made by a single person, and the objectives are generally not short-term.
All this outlines the scenario we were talking about, in which the sales cycle is lengthened, or, to put it more simply, the decision is made more slowly.
This means that we have to work harder to cultivate and make a good impression on decision-makers. When you are trying to sell to another company, you have to make the users and those who pay for your product fall in love with the brand. But above all, the decision-maker must also believe in the proposition you are offering, or the deal will not be closed.
In other words, the person who will make the final decision to buy from you needs to be considered in your marketing strategy. the decision-maker doesn't necessarily have to be a CEO or a senior manager. It can simply be a person in charge of a specific area, such as a marketing manager.
So don't forget: you don't sell to a company; you sell to the decision maker, who is a person like you and me. Convince them, and you will be much closer to starting a new partnership in the B2B world. Lastly, remember that onboarding emails are a critical part of B2B email marketing as they can help build a positive onboarding process and establish long-lasting relationships with customer.
Your Email Series Strategy
Your strategy should contain several mass mailing campaigns that you will distribute over a longer or shorter time, which will be longer or shorter depending on the nature and value of your product.
There are several types of campaigns: content delivery or lead magnet, informative emails, follow-up emails (we keep the user interested in what we will offer later), nurturing (in which we offer them carefully compiled information to make them aware of their needs), or purely sales emails (we talk about our product, payment options, etc.)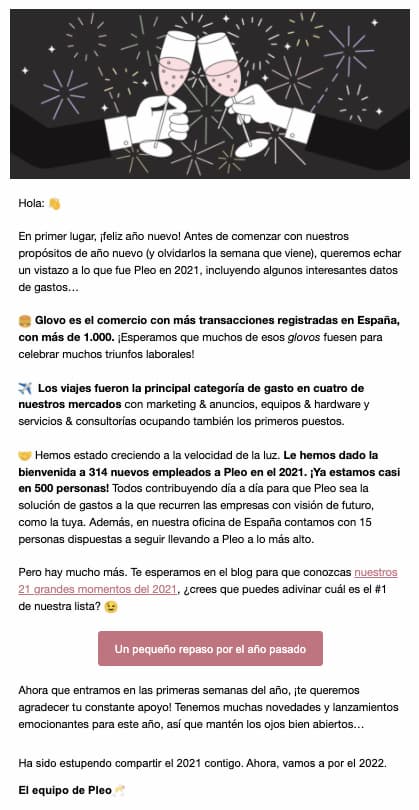 The point is that you need to understand how and when to send each message. It's not just about planning your campaigns with a free email marketing service like Mailrelay, but about doing it wisely: as we saw before, strategy is everything.
Of course, there are some basic emails that you should send. For example 75% of users expect a confirmation after registering on your website and this is where the famous autoresponders come into play.
Have you forgotten? Well, here is a dramatic statistic: 90% of new leads start to lose steam an hour after registration. After that, your new subscribers will start forgetting your brand faster than an actor's name in a low-quality movie.
Lead temperature and status: keys to getting your B2B email marketing strategy right
Almost every company, no matter how small, has a sales team or at least a person in charge of closing deals.
One crucial thing about B2B email marketing is that the strategy needs to be aligned with the information that the sales team has sent to the customer so far.
After all, they are the ones who are in direct contact with potential customers and know well their pains, gains, and objections.
And this brings us, once again, to our most relevant friend: context. Although this time we are talking about the status of the lead through the sales process.
Understanding the lead's context within the sales cycle
It is very typical in B2B marketing to have an acquisition strategy through lead magnets. These leads are then sent to a CRM, such as Salesforce or HubSpot, and then to the sales team, who are responsible for scheduling demos and meetings.
While it is true that sometimes there is not even a sales team, but rather an automated email sequence that qualifies and guides the user toward the purchase.
This is why it is so important to understand the lead's context. To know where they come from, to understand what they need to hear and adjust the focus of your email campaigns accordingly.
Sometimes a purely commercial message can be more than justified, for example, when there is an open opportunity where you know you have room to improve your offer. This is when you should work hard to achieve your goals.
If you understand the moment the lead is going through, you can justify the fact that you are offering a fantastic discount. There is no need to be afraid of sounding too commercial or too aggressive because there is a need, and what you offer will be irresistible – or it certainly should be.
In other situations, however, the user rejects the offer: They are not yet ready to buy and need you to accompany them the rest of the way.
Here the goal would be to guide them, make them aware of their needs and position yourself in their Top of Mind (ToM), i.e., as the first reference that comes to mind when they are looking for a solution.
By this, we mean that if you understand the context, you will know what the user needs at any moment and you can adapt your strategy through copywriting techniques that will relieve their pain points and stimulate their pleasure points.
The perfect CTA doesn't exist: the perfect action does.
We all know that CTAs are important, and that copywriting or even the color of the text used in a CTA can influence the final result & well; this is something that, at the very least, has to be tested.
What is really important here is to define exactly what will happen after the lead crosses the border; where do you want to guide them once they click on your CTA: where you will take them and what you need them to do there.
And it all depends, again, on the context the lead is in (wow, it seems that everything is related to this) and really, this aspect is responsible for an important part of the process.
If you are a B2B SaaS, for example, you can offer a lead magnet to collect information and qualify users in the funnel's early stage.
When the lead is more willing to buy, it may make sense to offer them a free demonstration of your product.
And when you are sure that they are ready to buy the product, you could call or contact them in another way to convince them to sign the agreement.
Remember: the end goal is always the sale, but the process requires adequate timing.
In any case, there must be coherence between the context of the email, the body text, the CTA and what happens on the other side: the landing, the calendar to schedule the call, the form to collect the leads' phone number or whatever.
All these elements should lead to the desired action, highlighting the key aspects of the value proposition and carefully add those extra details that could give a boost to conversions, such as urgency, exclusivity, or social proof.
In the end, the funnel can be understood metaphorically or literally: it can be imagined as a tunnel into which the user enters with confidence and, as he progresses, he begins to see clear signs indicating where he should go and how many meters are left to the final exit.
What happens if they come across signs indicating contradictory directions or actions in the middle of the tunnel?
Well, they certainly wouldn't get lost because a tunnel is a tunnel, and in the end, they will always reach the exit. But they would be confused, and at the exit, they would probably think something like: but who the hell is in charge of things here?
Beware of suspicious offers and the risk of looking like a company desperate to sell.
Urgency is a critical selling feature, but only if you know how to use it. You have to be natural and, according to the previous point, understand the context in which the user is.
You have undoubtedly received dozens of unsolicited offers by email, with a time limit that doesn't matter to you, with products you are not even interested in, right? Well, this is precisely what you have to avoid.
Moreover, the B2B audience is usually highly skilled in identifying marketing "tricks." Therefore, excessive or arbitrary use of urgency may not work or even annoy your subscribers. 72-hour offer you should not miss! Only until tomorrow! 50% off today!
OK, but why? It would be best if you always justified the reason for the price change.
 If you are offering a free consulting service as a pre-sales step, perhaps you can explain that you (or your team) have limited availability.
 If you are selling a course, you may want to offer it at a discounted price for early beta customers, because this will help you improve the content before launching the final course (which will, of course, have a different price).
What your B2B email marketing strategy should include [Checklist]
At this point, you already know the importance of email marketing to attract, nurture, and convince other companies to buy your product or service.
When you take the next step and put into practice everything you have learned in this article, you will develop your own strategy.
That is, you will spend time thinking about and organizing the email marketing campaigns you will send, and the complementary actions, such as creating registration landing pages, lead magnets, or mailing lists.
This can be done in minutes, hours, or days, depending on the complexity of the actions you want to use.
So, to make your life easier, we have put together a list with  practical advice to help you create a more effective B2B marketing campaign.
Separate your leads into segments, such as registration date, event, relevance, job title, company sector, etc.
Identify how your leads are finding out about you.
Don't just focus on your products; think about the needs of your (potential) customers.
Choose a powerful tool to plan your mass mailings, such as Mailrelay.
Create your autoresponder flows with context in mind.
Be clear about the goals of each email you send (and try to make them SMART goals).
Measure the results; when you have measured, measure again, and then measure again.
Optimize your strategy based on the results.
Always try to use different subject lines to improve the open rates.
Run A/B testing to determine which audiences, CTAs, design, or copy work best for you.
If you are already investing a good amount of money online marketing, why not make all that investment more effective?
Add B2B email marketing to your strategy and make your efforts more profitable. Are you up for it? Try our free account and see for yourself.
Translated by Micheli.