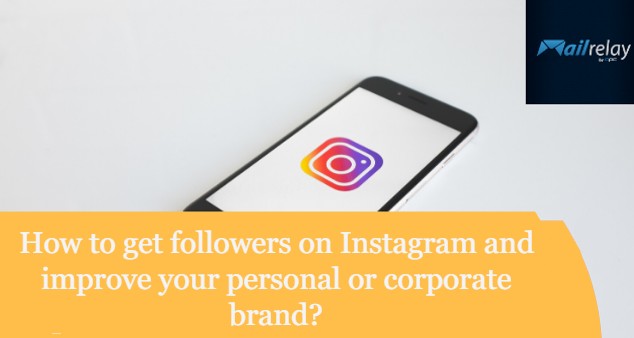 How to get followers on Instagram and improve your personal or corporate brand?
Instagram is one of the main social media platforms we have today and, little by little is having more and more impact on digital strategies, to the point that it is not surprising to see stores that sell exclusively through this platform.
But, as in all social media, followers play a crucial role, and that's where many wonder how to get followers on Instagram.
The problem is that not all social apps work the same way; those who manage them know that each one has a different audience, or at least with a desire to see different content.
Therefore, what works on one will not necessarily work on the other, leaving strategies that we would probably use on Twitter or Facebook useless on Instagram or without the same profitability.
But don't worry; in this article, I propose to teach you how to get followers on Instagram, whether you want to grow your personal brand or your corporate brand.
How to get followers on Instagram naturally?
Let's start with the basics, getting followers; that is, if you want your personal or corporate brand to grow, first you need an audience, which consists of followers.
Therefore, we will look at some tips that can help you get more followers on Instagram:
1. work (hard) on your profile
Your account is your profile's letter of introduction; no matter if it's a personal or corporate brand, your profile is the way to make an excellent first impression on your followers and those who are still about to discover you.
How to do this? Well, the first thing you have to do is to use a good quality profile picture, don't upload the first image you found. That is even more important if it is your company logo, edit it so that it fits well into Instagram's format and doesn't look cropped.
You should also include a descriptive bio that concisely and clearly tells all about your personal and/or corporate brand. You have to minimize any possible doubts that your followers may have about your account or profile, even more so if it is a commercial account.
Finally, you should highlight: what makes your business or brand unique? Express it in your profile. There are many ways to do this, whether it's using fonts, featured stories, or even mosaics on your profile.
The important thing is to express what characterizes you or your company if you sell custom oil paintings or other artworks and share what sets you apart from other profiles in your industry.
Instagram uses hashtags to categorize the content we post and allows us to use a total of 30 of these tags in each of our posts.
Now, that means we have 30 opportunities to show up in searches for our ideal audience, those who might be interested in the content we post and our brand.
What you must do is filter, select and use those hashtags that bring us the best results, and several tools can help you in this task.
You should also keep in mind that using the 30 allowed hashtags doesn't Always mean that you have more opportunities to get followers on Instagram; it is often better to use fewer hashtags, but that are more optimized for your content and your brand.
3. Trying to publish as much content as you can isn't the best strategy
There is a belief, not only in social media but also in blogging, that the more you publish, the better will be the results. But the reality is that no, posting more is not always better, and sometimes it can even be counterproductive.
First of all, you should make sure that your content is of quality, since publishing a single quality content every 5 days is better than posting 10 publications in the same 5 days but with lousy quality.
Therefore, it is advisable to find a publishing rhythm that you can maintain without losing the quality of the content.
On the other hand, you should also let your publications breathe, since the peak of interactions is not reached at the same moment of publication but at later times. Therefore, if you post to Instagram from Mac content that you consider very good and relevant to your audience let it reach the peak of interactions, and don't overshadow it with another publication.
4. Instagram is very visual; take advantage of that
Unlike Facebook or Twitter posts, Instagram has a striking visual trend, and users prefer to see short videos (less than 1 minute) and images.
But not only that, as according to a recent study by Metricool, image carousels are the type of content that usually works best.
Of course, there is also other content, such as Instagram TV, where you can take advantage of extending your videos beyond 1 minute, the maximum time we have today for them to be displayed on our timeline.
Don't focus so much on written content but on visual content; If you need to tell a story or explain something, it is much better to create short infographics or videos with simple explanations than to write a long descriptive text.
Therefore, remember that you should work on a thorough content curation to synthesize as much as possible and keep the essential information.
In my case, I use infographics to illustrate some of the content I generate in my blog, like this image, where I summarize some reasons for launching a blog with ideas about Crossfit, Yoga, Body-Balance or other less "traditional" sports:
There are situations where you will need to use long descriptions in your posts, but in those cases, it will be complicated for the post to reach new followers, so we could say that it will be targeted to your current audience.
5. Create a target audience
Does the term target audience sound familiar to you? Well, it is the set of people or consumers who have specific characteristics that make them more likely to consume your content.
It is important to define well who your target audience is because creating content specifically for them will increase the chances of gaining new followers, even in an environment full of daily content like Instagram.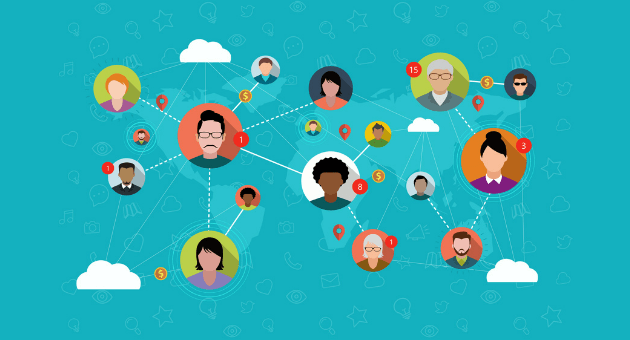 I already gave some tips on how to get followers, so let's move on to another aspect of this social app, which is how to grow your personal brand, because yes, freelancers also have a space to express themselves on Instagram and get new clients or projects to work on.
Here are some tips that will be helpful for you to grow as a professional freelancer on Instagram.
1. include links in your bio
Chances are that Instagram is not the only social media network you use on your communication strategy, so I recommend that you leverage your profile as a bridge, adding links to other platforms or pages where your customers or those interested in what you do can find you.
You can use the bio to do that in featured stories or even in a post; some people even take advantage of tiling as an opportunity to include a colossal advertising poster on their Instagram profile.
2. Why did you create an Instagram profile?
Goals or objectives are a way to focus all our efforts on a specific path to optimize every action we take.
The same applies to social media, why are you here? Do you want to get more followers on Instagram to increase your visibility? Or is your goal to attract customers directly?
You may simply want to use this social media app as a bridge to guide people to your other channels or your website.
Therefore, you have to specify your goals and create a goal for your IG profile, this way; you can focus your strategies and actions on a single path, getting better results in the medium and long term.
3. You are not a robot or a company; show your personal side too
The fact that you are a freelancer doesn't mean that your profile should be 100% corporate; Yes, it is good to highlight your entrepreneurship and talk about your professional side, but that doesn't mean you should stop being a real person with normal feelings and interests, and it is vital to keep that in mind.
Sometimes, presenting this "human" side to Instagram followers is a way to create a more stable connection with them; They will no longer see you as a company but as another person with whom they can interact with in a more personal way.
That is perfect for those who want to increase their interactions and establish closer communication with their audience.
Show your hobbies, your likes, and how your day-to-day is going; even show that series you are watching or a book you found interesting and want to recommend to your followers.
You will see that little by little, it will be easier to talk to them, while the interactions also increase.
4. Post during times when your audience is active
Depending on your target audience, you will need to post content at a specific time; where am I going with this?
Note that not all users have the same pace of life, and it is essential that you determine what is the most appropriate time to publish so that your posts get the best possible reception in the hours following the new publication.
5. Interact with your followers and create events or contests
A post on Instagram doesn't only have to go in one direction; you should not think only about preparing posts that users will read, comment on, and share; you can do much more, and for that, online contests and events are na excellent opportunity to foster engagement.
Create contests that actively engage your followers, or do live streams showing something about yourself, no matter if it is something professional or personal.
This kind of interaction will increase the interest people have in your personal brand, which will make you grow a lot as a freelancer or entrepreneur; it is also an excellent opportunity to show off your skills and attract the attention of potential clients.
This method also works perfectly for a corporate brand. You can even take advantage and collaborate with other entrepreneurs or companies to create contests that will be relevant for a larger audience. If you can create partnerships with other Instagrammers, you will see that the number of followers will increase exponentially for both of you.
Create contests that actively engage your followers, or do live streams showing something about yourself, no matter if it is something professional or personal. Attach a reward to drive audience engagement on your page.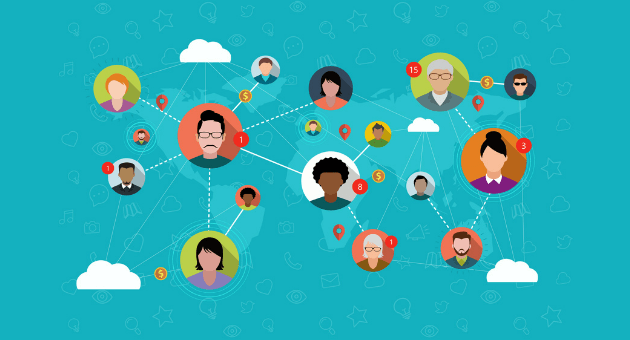 How can a company grow on Instagram?
But what if you don't have a personal brand and only want to promote your business?
Well, there are many ways to make the most of all your company's Instagram followers and even get more. Here are some tips that will help you promote your business on Instagram.
1. Create featured stories as a FAQ
Who says a company can't have an FAQ section on its Instagram profile?
Well, nothing could be further from the truth, and Stories highlights are a perfect place to answer questions submitted by your customers.
It's also the perfect place to include contact details, payment methods, and other important information.
Another tip is to add testimonials from satisfied customers, as this will increase the confidence of those who are interested in buying from you so that others will also trust you and decide to purchase or hire your services.
2. Take advantage of Instagram's advertising options
Just like Facebook, Instagram also has its own advertising system where you can advertise your business or company.
It is advisable to create content that encourages people to access your profile and promote it using advertising options; One of the options you could take advantage of is to use promotions or short-term offers, these usually get good results with consumers.
This method is also viable for personal brands, so even if you don't have a business, you can still take advantage of this advertising method and thus get more followers on Instagram. It is very easy and using tools like the ones I will show you below, you can optimize and increase your ROI.
3. Remember to work on your corporate identity
Although it is one more communication channel, it is crucial to maintain your corporate identity, especially if you work with several platforms, such as other social media sites or even a blog.
That way, it will be easier for your followers on Instagram to identify and relate your posts to your brand and, at the same time, relate to you.
4. Keep a constant interaction with your followers
Even if you don't have a personal brand, this doesn't mean that you should not interact directly with your followers; Respond whenever you can to their comments, ask questions and always be open to interacting with them.
That will show them that you are not just trying to sell or promote a business. If they trust you, they will end up trusting your brand.
Not everything has to be related to your product or service; there are often situations in your niche market or industry that can become relevant to your community or audience.
Share that content that you consider relevant and comment on it; this will help you get more credibility within your industry, which indirectly increases the trust you generate in your audience.
6. Monitor your growth constantly and modify your content strategies if necessary
You need to constantly monitor your profile and not only watch the growth of your followers but also the overall reach of your corporate brand, including the amount of "likes," comments, and even who is sharing your stories or those who recommend you in other communities.
This monitoring will help you objectively evaluate your current contente strategy, so if you need to make any improvements or changes, you will have data that will serve as a basis and help you identify possible problems or situations that don't benefit you at all.
7. Supplement your posts with content from your blog
Your blog and Instagram profile don't have to go separate ways, so why not leverage that content in your posts?
Create small infographics or images with a CTA that leads your audience to a blog post, like the example I showed earlier. That infographic was part of an article on my blog where I talked about the best ideas for creating a blog today.
Remember that Instagram is not as receptive to long descriptions as Other social platforms like Facebook, so I recommend that you use attractive images related to the subject at hand, and then a short description encourages the person to click on the link that will lead to your blog post.
Very simple and another option for getting more from your Instagram followers. Plus, it's helpful if you run out of ideas about what to post on your profile.
8. DON'T BUY FOLLOWERS!
First of all, I apologize for writing in capital letters, but this kind of practice would be a terrible mistake.
This is the most common mistake made by anyone who wants to grow fast on Instagram, buying followers. Not only is it not recommended, but it's also not profitable.
Generally, when you pay a company to add more followers to your profile, you are just buying numbers, Instagram followers without any direct benefit to your brand. Inflating the numbers doesn't bring any advantage to you and is even counterproductive since 1,000, 5,000, or 10,000 followers won't do any good if the maximum interaction you get is about 12 "likes" and a few comments.
What are the best tools for boosting your Instagram account?
Now you know how you can grow on Instagram as a personal brand or even as a business, but what tools can you use to get the best results?
Throughout the article, I mentioned that to get followers on Instagram, you need to use tools, maybe not necessarily, but they make a big difference.
That being said, here I present some of the best tools you will find for enhancing your strategies and your Instagram account.
SpaceGram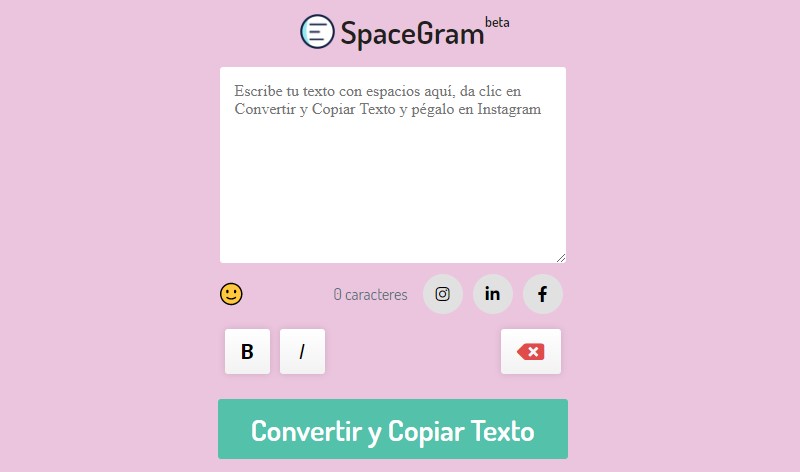 Created by Vilma Núñez, SpaceGram is a tool that allows you to create texts with spaces for Instagram, LinkedIn, and Facebook, which can then be published without any problem on your Instagram profile with total comfort and without risking that the spaces of your text are not in the right place. You can create everything from lists to well-organized content separated with spaces between paragraphs.
It also includes options for working with bold and italics to highlight the important parts of your texts.
Another significant advantage is that it allows you to include special characters, such as emojis. Your text will be correctly displayed after the post is published on your profile. It is extremely useful for creating custom content, and I really recommend it.
Metricool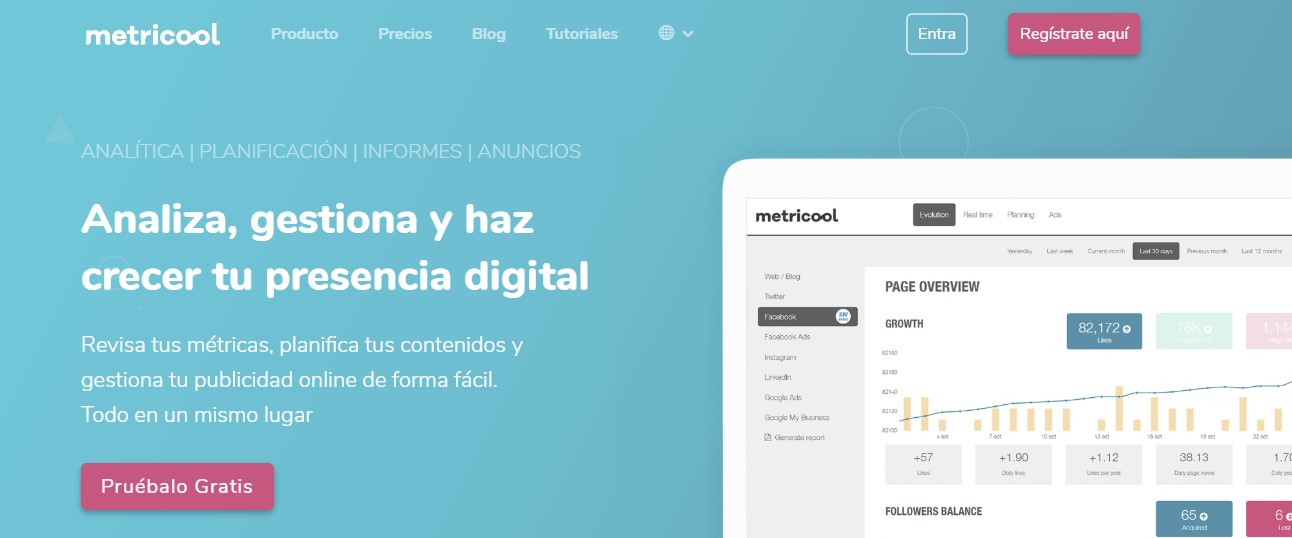 Metricool is a genuinely versatile and powerful tool with a wide variety of functions that you can leverage to plan your strategies.
It also offers a "heat map" like a calendar that allows you to detect the best times to post according to your followers and the type of content you publish.
Also, if you are a blogger, it allows you to add a "link on your bio" as a grid, consisting of (for example) the covers of each of these articles, where you can link each of them to your blog posts so that users can go directly to the article they wish to read.
All Hashtag

Not sure which hashtags to use in your posts? Well, with All Hashtag you can create interesting hashtags that will also bring real results, helping you grow and get more followers on Instagram organically.
Just enter a word, and the tool will generate a series of hashtags perfect for your Instagram posts. You can also use this tool to do a complete and up-to date analysis of all the hashtags currently active on Instagram or that you plan to use.
Fancy Text Generator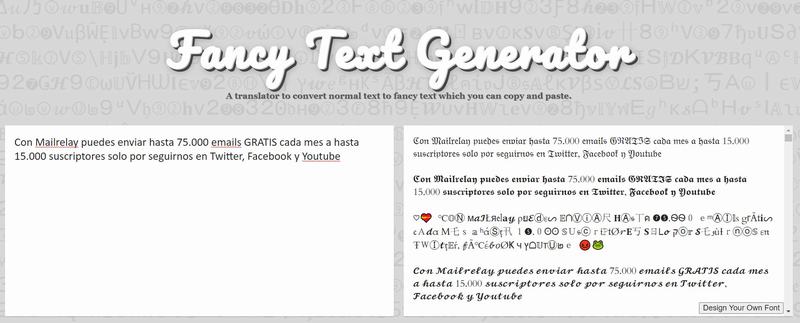 If you don't want to use the same monotonous Instagram font with Fancy Text Generator, you can give your bios a new look with fonts that make them stand out.
Just copy and paste the text you want to use in your bio, and this tool will take care of providing you with a list of options for your profile. Simply copy and paste it back on your bio.
Later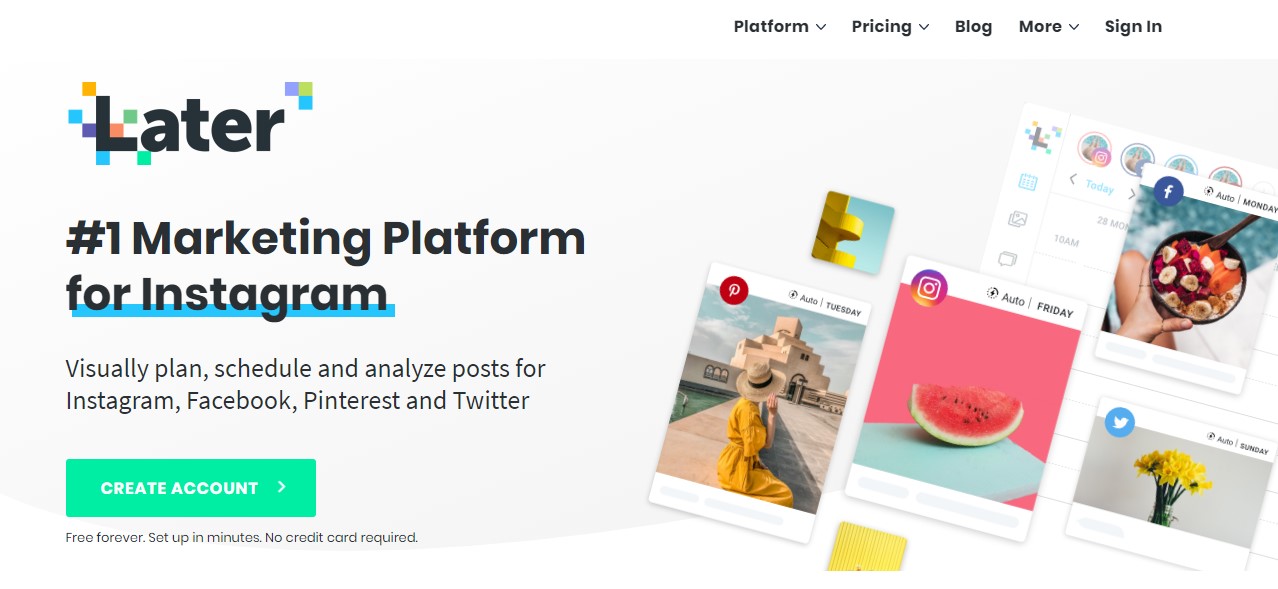 Later is another tool dedicated to social media management, which has everything you need to boost your Instagram profile, from analytics to options for measuring your profile and the interactions you generate. It also offers content planners to optimize the results you get from your posts.
It is very versatile and totally optimized for Instagram; today, it is considered the main tool we have for this social media app. I recommend you take a look and try it out; you will see that you will not be disappointed.
Conclusions
Instagram is one of the social media platforms of the moment, with enormous power for mass mobilization. Moreover, its simplicity and ease of interaction with followers make it a perfect communication channel for companies of all sizes.
The best thing is that it offers a very stable and comfortable environment for any business. It doesn't matter whether you work with a personal or corporate brand. For this reason, it is one of the most recommended platforms for entrepreneurs who want to promote their projects online.
What about you? Do you already have your own profile on Instagram? If not, what are you waiting for? Start right now to expand your personal or corporate brand and gain followers on Instagram with these tips that will help you a lot. Use this social platform to reach more potential customers.
Translated by Micheli.