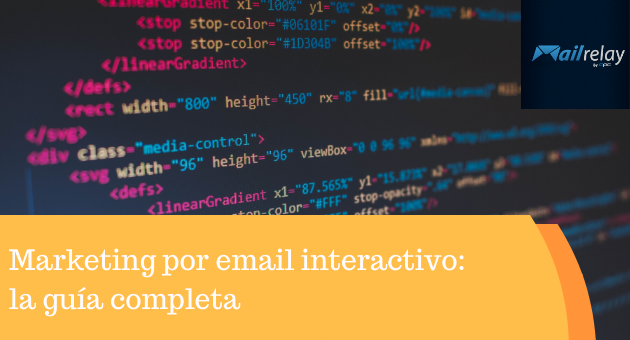 Interactive Email Marketing: The Complete Guide
Email marketing has proved to be an oldie Goldie that won't be dying anytime soon, with its high ROI: you get an average return of $44 for every dollar spent.
For that reason many businesses are investing their money and time in email marketing, 93% of B2B marketers use email to distribute content. 
This signifies that people are getting lots of emails in their inboxes every day, 35% of marketers send their customers 3-5 emails per week, additionally, in 2019 alone, 293.6 billion emails were sent and received each day, proving that email inboxes are more crowded than ever before.
Although customers get staggering amounts of emails, they are picky with the ones they open and look forward to, this shows competition is stiff and you will have to stand out by all means if you want your efforts in email marketing to be yielding.
One of the major trends that marketers have experienced in the world of email is interactive emailing, interactivity ranked number 1 on the list of 2017 email trends.
This is not entirely a new concept, it is something you already do on your website, apps and other platforms, so this is just an expansion of it.
Interactivity is the ability to engage your customers by prompting them to take certain actions on the current platform they are browsing through.
Interactive content is the capability to prompt activity and engagement in a piece of content that usually involves hovering, clicking, swiping, tapping and even tapping.
It has proved effective as interactive content outperformed every other type of content in a survey done by Zembula.
So, sending interactive emails means instead of the old boring static predictable emails subscribers get, this time the emails are engaging and exciting with CTAs that don't require them leaving their emails.
Adding several elements and exciting features to your email will transform your email marketing game to an upgraded level and enhance your subscriber's experience. 
How To Get Started With Interactive Email Marketing
Here are some of the top interactive elements to add in your email and generate more business leads: 
1-Gifs and Memes
This is one of the most popular and simplified interactive element businesses include in their emails. 
You can either use memes in complementing your email content to entertain and engage your readers, or you can use Gifs to showcase different features of your products. Gifs give a vivid visual expression of what you are trying to convey to your readers, capturing attention to either illustrate a concept or a CTA.
Gifs are a great format for playing around with visuals and graphics, you get to combine images and motions to illustrate to your subscribers.
Here's an example Tinder sent to its subscribers:
Source: Really Good Emails
While memes make your emails entertaining and hilarious.
2-Multiple Hover Effects
This is another well-known form of interactivity in emails, you can use the hover effects in many scenarios. 
For example, a subscriber can hover on CTA buttons making it more visualized, giving a sense of gamification and highlighting options to create emphasis. 
You can create hover effects on images, for example, images of products can be viewed in your email when a subscriber hovers over it, then it will have a rollover effect that displays details of the product like the price and description of the product, this feels interactive and gamy.
You should go for a single-column layout as you normally do in the case of websites. Layouts play an important role in the case of hover effects. Choice of incorrect layout can destroy all your email marketing efforts.
You can also use hover effects to tease products or features, by asking them to tap or hover to reveal the package or deals in an email, this will make your customers anticipate, curious and engaged.
3-Social Media Plug
You can encourage your followers to share your emails through the social media buttons you include in the email, this will make it easy for them to share and increase your brand awareness and also increase the opportunities of getting more subscribers.
Through the buttons embedded in your email, they get to click on them to share with family and friends, being able to do it directly from their emails will be more efficient than just urging them through plain text.
4- Videos
Adding videos to your emails is also a great way to engage your readers, people love videos, in fact, it's arguably the favorite form of consuming content.
So, when there's a video in your emails, viewers are going to be encouraged to play and watch the videos.
An initial email with a video receives an increased click-through rate by 96%.
Ensure the videos are straight to the point and not a 30-minute long-form video.
Remember attention is expensive, so try to afford it, keep it short, relevant, sweet and enjoyable, or else your videos will not get any attention. Stats show that videos up to 2 minutes long get the most engagement.
Adding videos to your email content can boost click rates up to 300%. 
These videos can be informative, instructional or a summary of what was conveyed in the email, as viewers retain 95% of a message when they watch it in a video, compared to 10% when reading it in text.
If video marketing is not yet on your radar then definitely consider it, video marketing is getting bigger as time progresses, and a huge trend for marketers, 87% of online marketers use video content.
5- Survey Forms and Questionnaires
This is an amazing way to gain insights into what your subscribers expect, want and love from you. 
Their thoughts and feedback will make you create a personalized experience for them and make your customers happy that their opinions matter. 
You can create a series of questions, a voting poll and embed it in the email instead of requesting an additional click.
Surveys and ratings areis one great way to show your customers that you care about them, their opinions, suggestions, and preferences.
Here's an example from Code Camp:
Giving your subscribers the ability to take these surveys in their emails without taking any further trips to a different website or page, will give them ease and motivation to actually carry out the surveys.
The surveys can be single or multiple questions related surveys.
Don't forget to always optimize for mobile.
This interactive element is really fun for subscribers but not fun to create as this requires complex coding and design.
Although, you can still find alternatives to complicated coding by getting creative.
For example, you can extend the usage of multiple hover effects, specifically image rollover effect, you can present different images and one of them will be the right image your subscriber should click on, three images can show red when hovered on as a sign of the wrong image and one can show another color like blue or green as the sign of the right image, doesn't it sound exciting?
And the email clients that support this are very limited but it's worth every effort.This concept involves enabling your subscribers to play games within the email.
Here's an example:
Image Carousel in Emails
You can display a couple of product images with their prices, descriptions, they can browse through to see their preferences. 
This gives you the opportunity to convert subscribers to customers at the spot, and give your customers an immersive experience right in their inboxes.
They also have the options to select what they want to view.
Here's an example:
Source: Towerdata
7-Hamburger Menus
Menu bars are one of the most clicked features on your websites and that's for a reason. 
People want to be able to easily navigate your website and go straight to what's most important to them. 
This is not just limited to your website, it is expanded to emails too. You can include what is popularly referred to as hamburger menus in your email design. 
This interactive element will lead your subscribers to click and navigate your email easily, it will enhance your subscriber's experience and grant them access to their needs.
This is an opportunity to include more content to your emails without crowding it and minimize the length of your emails in a smart way.
Here's an example:
8- Accordions
Accordions just like menus make your email design efficient, minimalistic and simplified.
Scrolling through an email for a long period is no fun and will make you easily exit, whereas the use of accordions will enable you to compartmentalize your email content into sections, so your subscribers can easily click and then they get a drop-down to view details of each section.
Here's an example:
If you want to send lengthy and verbose emails without putting your subscribers off, the accordion can help you shorten your content and grant easy navigation for viewers.
You can also measure the number of clicks on each tab and gain insight into the section that gets the most attention and viewings.
9- Add to Calendar Option
Are you promoting one of your company events? Or hosting a webinar? Or launching a new product? Or going live?
Then this is a perfect Interactive element to include in your emails, this feature will actually make your subscribers engaged and committed to being part of these occasions.
With the add to calendar option, subscribers are encouraged to take action rather than just reading a static email.
They will also get to be reminded and also look forward to these events.
This is more effective when they can do it directly from their emails in comparison to just being told in plain text. 
10- Live Shopping Carts
As you can see from the email ideas, interactive emails are about bringing what was exclusively done on websites to your subscriber's inboxes.
With live shopping carts in emails, you get to quicken the rate of your conversions instead of driving traffic then hoping to convert. 
This email function is great to cut to the chase and prompt buyers who abandoned their carts to make choices and changes to their shopping endeavors.
Sending emails to customers who abandoned their carts is definitely an action most businesses are taking, so level your marketing game by solving their indecisiveness in the emails.
Here's an example:
11- Interactive Quizzes
This is a fun way to engage with your subscribers and the opportunity to bring out the casual and fun side of your business. 
Also, they don't have to be promotional or converting, you can do it as one of those things that will retain and attract customers.
Quizzes can also serve as an insight into how much your customers know about your brand and products.
Polls, monthly quizzes, questions of the week or day are examples of interactive quizzes you can use to engage your subscribers.
You should also try attaching a promotional incentive for those who win, and if you are worried about the cost, your customers will invest more on you when they feel you are generous and caring.
12- Countdown Timers
When you are making an offer, or about to launch a product, or host an event, or you are selling products or services for a limited period which is one of the good marketing strategies because this creates an urgency, this is the interactive element for you.
Inserting a countdown timer in the email will make it feel real, close and easy to occupy a customer's mind. 
Although this doesn't require any swiping or clicking from subscribers it drives conversions.
They remind customers that they need to finalize their decision within a stipulated period or else they will miss out. 
This will also make them keep referring to your email to check how much time they have left, this is easier than having to log into your website, you don't have to drive your subscribers to a landing page before they feel the intensity and urgency of your proposed offer.
Here's an example:
13- Full-Screen Sliders
This interactive element unleashes the opportunity to be able to view products on different slides, and subscribers will have to click, swipe to see the next slide. 
This gives them a vivid description of your products/services and a variety of options to pick from, you also get to designate a different CTA to each slider.
This is a smart way to extend the number of CTAs you can include in an email.
Not just products but features, recommendations, best sellers, top picks, etc You just get to fully showcase a related variety of stuff.
Here's an example:
14- Rotating Banners
Rotating banners also helps you display multiple images of products through automated transitions, this process captures the attention of your subscribers and enables them to view different products without strain.
It also minimizes your email length and helps save valuable real estate on emails.
This makes your email design attractive and unconventional.  
15- Flip Effects
Flip effects can enable you to show information on two different sides with a flip.
You will use two images for this purpose, so it flips from the first to the second when tapped on, it also smartly packs valuable information without stuffing your email.
Not just images, you can insert content paragraphs in the flips too.
For example, the first flip can contain the image of your product, then the second will contain the price and description of the product.
Or the first flip can state a theory or fact the second flip can be a stat backing it up.
Here's a flip effect example:
Conclusion
Creating interactive emails is a way to set you apart from the pack and rid your brand of the norm of static emails.
There are vast benefits of including interactivity in your email marketing and also a few numbers of challenges that you can manage with extra efforts.
Experiment with different forms of interactive elements and see which works best for your brand and your subscribers engage better with.
Strive spiking curiosity, integrating personalization, optimizing for mobiles, and performing email tests in your interactive email marketing.
Try sending Interactive emails to new subscribers, this will set the tone of your brand and make an amazing first impression.
Always make room for fallback designs for devices and email clients that don't support interactivity.
Finally, don't crowd an email with several interactive elements, it will end up confusing your subscribers and displacing your content, instead, focus on just one interactive element or a combination of two.
With these ideas and insights into developing interactive emails, take action and get started to see great results.
About the Author
Joydeep Bhattacharya is a digital marketing evangelist and the author of

SEOsandwitch.com

. He has helped numerous brands improve their presence online. His articles have been published on sites like Search Engine Watch, SEMrush, Smartinsights, Hubspot and several others. You can connect with him on

LinkedIn

.