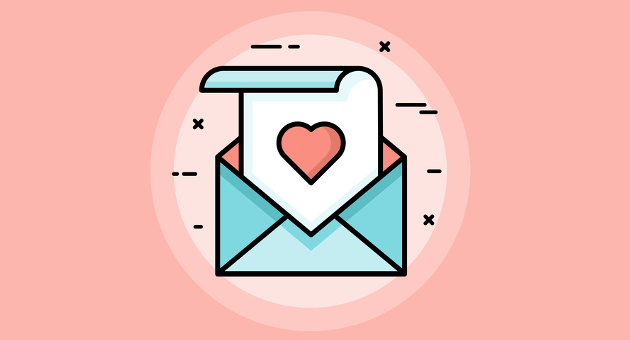 Tips for creating newsletters that will surprise your subscribers on Valentine's Day
Are you already planning your email marketing campaigns for Valentine's Day? This is not a date celebrated in all countries, but commercially, it is vital as it is the first sales date of the year.
In countries like Brazil, this date is celebrated on June 12.
However, in many others, such as the United States and England, it is celebrated on February 14.
Regardless of when your subscribers celebrate this date, they are waiting for your emails, as many people are looking for gift suggestions and your newsletter could give them relevant tips.
"Commemorative dates usually generate a wave of campaigns and appropriate sales strategies for the occasion."
Indeed, Valentine's day is one of those perfect moments of the year for your company to apply techniques of attraction in email marketing and, with that, gain the loyalty of your subscribers.
Do you want to know how? Well, in this article, I'll explain how to create more romantic campaigns for your brand on special dates, using email marketing. Specifically,  we'll see:
How to plan your newsletter to send it before Valentine's day  (as well as what you should do before, during, and after).
Romantic ideas for sending email marketing, using original designs, sweeping offers and thematic content that will awaken the passions of readers.
We have already talked a lot about other articles on how to create a newsletter correctly, but today we are going to talk about Valentine's Day, so that you can understand what strategies can be used for this email campaign.
How to plan your emails for Valentine's Day?
If you want to take advantage of this date to send email marketing for your subscribers, by creating a special campaign, the first thing you should do is plan very well.
It's not about sending a newsletter on Valentine's Day and hope somebody buys something, you'll need a good strategy to succeed.
Therefore, you should prepare the ground to know what your subscribers are looking for, mainly to see if they intend to buy a gift for someone special.
"If you send a campaign without proper pre-planning, it will be obvious that you don't know what you are doing. That gives a bad brand image to any business. On the other hand, a compelling campaign can generate a lot of sales, and your efforts will be worth it."
This is a fundamental first step, as your subscribers may not be accustomed to this type of festivities and the creation of an exclusive campaign for Valentine's Day might not be so advantageous.
It would be best to send this newsletter between seven and ten days before the date. With this strategy, you can test the acceptance and interest showed by your subscribers in relation to the promotions or thematic content you want to send, as well as build expectations for the other contents you plan to create.
I'm sure that only in this way will it be possible to create engagement with your subscribers, increasing their interest, so that when the time comes, they will be much more receptive to your sales campaign.
2º Email Marketing Campaign for Valentine's Day
Once your subscribers receive all the information about what you can offer them, you can send a campaign, even if you have nothing special to sell. If you don't  know what to send, a commemorative newsletter, with a special message, will suffice, after all, no one will get angry at receiving a lovely message.
In addition to congratulating them, you can take advantage of this newsletter to:
Send a reminder message (about what you are offering and for how long).
Offer a discount or exclusive content (for a limited time).
Invite your subscribers to participate in any other contest (leads generation)
3º  Send email marketing after Valentine's Day
This latest campaign, being the last newsletter, is no less critical. On the contrary, it is vital for all kinds of special email marketing actions.
However, many brands and companies ignore this step, wasting the opportunity to learn revealing data, such as for example:
If the users like the product or service: With that information, you would know what your users think about your promotions, discounts and your marketing action in general. For example, in your campaigns after Valentine's Day, you could send them a questionnaire to measure their satisfaction or to encourage them to share their opinions on social networks.
Your level of commitment: users like to receive special treatment, so a campaign sent only to ask if they are happy with your company, with a promotion or product would help to see that you want to know their feelings, that they are essential for your brand, not just as a customer, showing that you respect their opinion. Otherwise, you will not be able to create a stable relationship with your customers and subscribers.
Other conclusive statistics: with the data you receive from that third campaign, you can do an in-depth analysis of how the email marketing campaign worked as a whole. This will help you to learn and continue to improve for future campaigns.
In the message you send before Valentine's Day, you could:
Send the last reminder (last hours to take advantage of what You are offering).
Talk about upcoming events, promotions or content.
Promote a related product or service.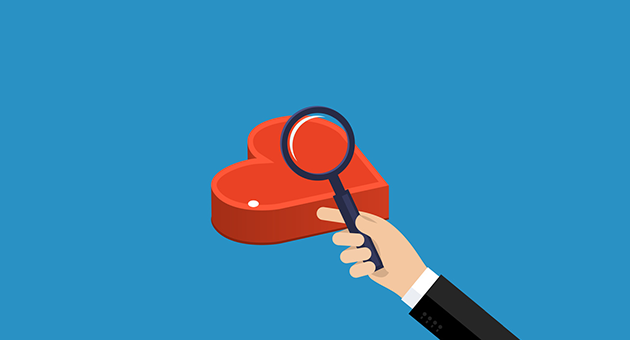 Romantic Ideas That Will Delight Your Subscribers
Indeed after knowing these 3 simple steps, planning your campaign for Valentine's Day will be much easier. Now is the time to materialize Theory into a plan of action.
But before you start planning your newsletter, I recommend that you stop and use your creativity to search for and write down innovative ideas, to give a different touch to your Valentine's Day newsletter.
Personally, dates like Christmas or Valentine inspire me, since in our society certain stereotypes impact us continuously. Next, I'll talk a little about some of my favorite ideas for your email marketing campaigns.
· Romantic design
We all know which are the most common visual elements used on Valentine's Day, right? That's right, hearts!
Romantic love has been represented visually for decades with red or pink hearts. Be careful because although on Valentine's Day most campaigns are targeted to couples, in some regions, family love or friendship could also be celebrated.
That's why, if you want to create something more original than most brands, I recommend that if you use the typical heart as the central aspect of your newsletter, try combining it with other elements like flowers or some animal that transmits tenderness.
There is no other alternative. If you want to create a the romantic mood with your newsletters, you should try to look for different ways to capture those feelings.
A good example is this design created by Llao Llao, which includes hearts in the background due to the overlapping petals of some flowers. It's subtle, encourages you to think about Valentine's Day, but it's not a cliché.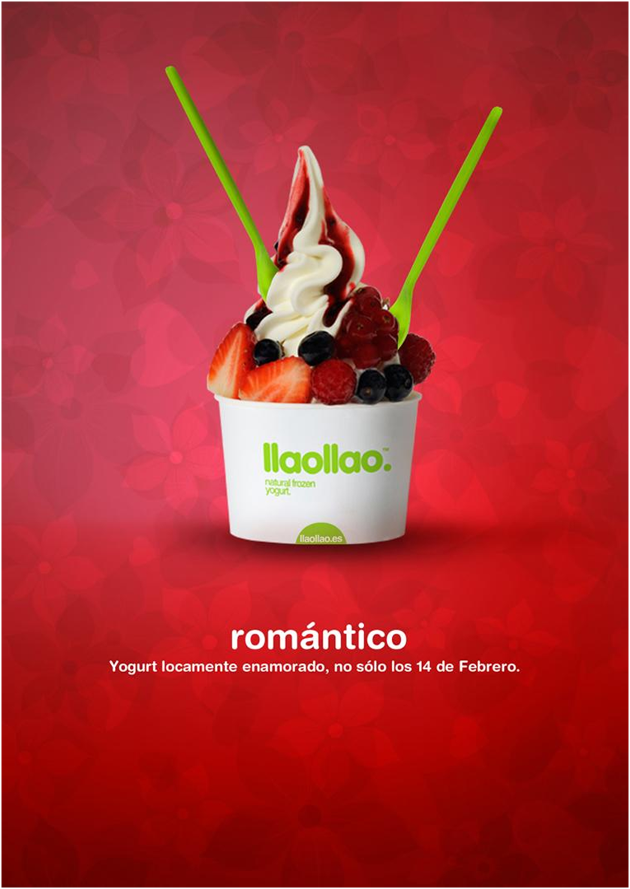 · Offerings and promotions that fly
You should not create this type of email marketing campaign just to connect with your users on a specified date. They will expect you to offer them something of real value.
Think that if you don't do that, your competitors will send them a newsletter with a good deal and the users will probably buy their products.
The purpose of this marketing action is to take advantage of (on some dates) the large number of consumers looking for gifts to buy, generating desire and urgency;  if you just try to sell the same products that they can get on any other day of the year, you will not be able to get their attention.
This urgency should be reflected in your email, as MediaMarkt does: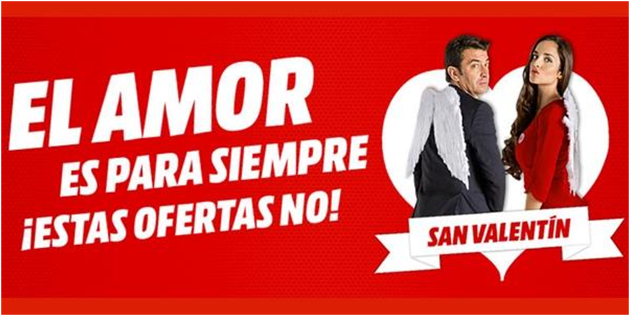 · Thematic content
If you work on a content marketing strategy, you must keep working with it during these promotional dates. Obviously, you can create content related to Valentine's Day, but you should not forget the brand's standards and brand identity.
There are some general ideas that you can also apply to your campaigns during those dates, such as:
Content Formats for Valentine's Day (gifts, special places, etc.)
Tutorials to customize a product.
Contents related to the history and tradition of Valentine's Day.
Relevant current news.
Image galleries directly associated with this date.
Using one content type or another depends on several factors, such as the type of product or service you sell, your digital marketing strategy as well as the kind of content your subscribers prefer to receive.
· Using the correct words for your emails
Apparently, there is also a vocabulary related to this date. Words that we all use, and which you can see throughout this article. Verbs such as love, enchantment, passion, or desire could be used. They are words related to romantic love, but they can be used for other purposes.
For example, we all understand that "do you want your customers to fall in love with your campaign?" is a phrase we are using to catch the attention of users by talking about how to surprise them and create a good email marketing strategy for this date.
You can use nouns, adverbs, and adjectives of all kinds, with the same goal; love, romance, romantic, spouses, couples, relationship, etc. Words that will help you reinforce the message on this special date.
· Colors and images to enchant
The color par excellence for Valentine's Day is red, (it activates the pituitary gland and therefore it awakens emotions like passion and love), but it is not the only one.
You can also use pink, purple, garnet and different combinations.
Apparently, you should never send email marketing with a predominantly red design, if your corporate color is, for example, orange or blue. You should not make that mistake, as people would not recognize your brand.
Think of other options that you could use to keep your corporate image. For example, you can use red in a smaller proportion (in small elements and thumbnails) or choose other aspects like:
Puzzles: they can represent the union between two people.
Couples: for obvious reasons.
Candies: they are one of the principal gifts on this date.
Flowers: Closely related to Valentine's Day, like hearts.
Landscapes: representing the future of a relationship.
Other romantic elements: candles, movies, dinners, etc.
· Calls to action that stir up passions
Not an exclusive element of a campaign for Valentine's Day. In fact, you should always include a call to action on your email marketing campaigns so you can guide readers through the steps you want them to take.
You should include them also in this campaign to increase your sales.
If you use the vocabulary and visual elements we discussed, it will be possible to strengthen the spirit of this date and attract the users originally and differently.
Conclusion
Valentine's Day is a date with high commercial potential for many sectors. In fact, if you work with fashion or jewelry, I'm sure you know how that date affects your sales.
However, these are not the only sectors that can take advantage of a campaign for Valentine's Day. If you offer services, it is also very likely that you will be able to increase your sales with a good digital marketing strategy. If you are creating content marketing, your visits can increase with a good plan of action.
This date is a time when users are more receptive to marketing actions, that's why I recommend you take advantage of some of the ideas I shared with you when planning your email campaign for Valentine's Day.
Do you often create specific email marketing campaigns for dates like Valentine's Day? What results do you get from sending these emails?