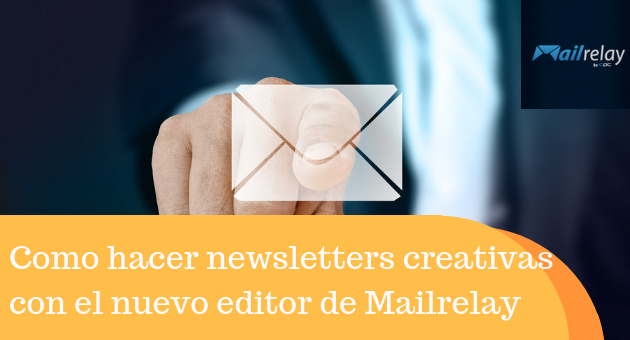 How to create an eye-catching newsletter with the new Mailrelay editor
Have you ever tried to create a newsletter? If it is the first time you are visiting our blog, we would like to show you our new HTML editor. If you are already working with our email marketing software, this article is also for you, as we will show you the features, we are adding to a new drag & drop editor.
To show you all the advantages of our email marketing software, we invited a guest to share his personal experiences with our editor, so that you can see for yourself all the features of our system.
Although the old editor already had a powerful system for creating a newsletter, Mailrelay wanted to follow its main competitors and offer a more up-to-date, intuitive and advanced software.
And when I was informed of the existence of the new drag & drop editor, the first thing that occurred to me was to create a test account to check the features of this new email marketing software.
Therefore, you should read this article to find out how this newsletter editor will change your life (even if you don't know anything about HTML). If you are using the old version of our email marketing service, don't worry, we will prepare migration options for all users.
To help you create a newsletter, I'd like to go over all the steps you should follow to get started with this email marketing software. Today we will see:
 How to log in to Mailrelay to access the newsletter's editor.
 The first settings (you can find more information here)
 How to select a design to create a compelling newsletter.
Important:
If you have any questions regarding the version of your account, please contact our support team.
► First settings
After accessing the email marketing software, you can start exploring the menus to familiarize yourself with the layout of the platform.
Before reviewing the templates and creating a newsletter, you should import your list of emails to organize your database.
Remember that …
To create your
subscriber lists
, you will have to click on "Subscribers" -> "Subscribers".
Here, you will find the following form that you will have to fill in before going to the next option; "Templates."
► Design Selection
At this point, you can already access the options for creating a newsletter. Here you will have two options:
Paste the template HTML code.
Select one of the templates available in the email marketing software.
In this article, we will see the second option, as we will create a newsletter using the new drag & drop editor, since you will not have to edit any HTML code, (if you need to edit HTML, you will have to select the first option and create a newsletter using the classic editor.)
For me, the interesting thing is that the templates are 100% editable, and I found several options such as:
Here you don't have to spend much time choosing one of them, because later you will be able to edit everything you want with the new editor.
You'll also find thematic or festive templates that are very useful. if, for example, you would like to send a newsletter to promote an event or for a special date, such as Christmas, you could work with this template.
Before selecting the template you will use, you should think of some aspects such as:
The message you want to transmit.
The content hierarchy.
If you intend to offer extra content.
The images or videos you will include.
The corporate line of your brand image.
Where you will add the call-to-action buttons.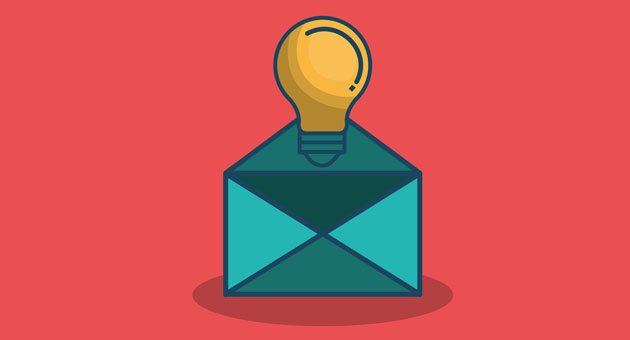 If you want to discover the options of this new editor, keep reading until the end and take note of some of my recommendations to make the most of the templates available in this email marketing software.
After choosing a template, as you will see in the following image, you'll find the drag & drop editor on the left with several blocks with options to edit, move, duplicate, or delete content.
* Also, in the image block, you can replace the default image with the picture you want to use.
In the right part, you will see several elements that you can drag to the left to create a newsletter. You can do things like:
Add a new text box.
 Upload an original image (with the caption, in group &).
 Include buttons to share on social media.
 Insert a divider (to separate two texts).
 Embed videos.
As you can see, the options are very varied, but we can make mistakes without realizing it when editing a newsletter.
That is why we may not be able to impact our subscribers because when we don't indicate clearly what we want them to do, or when the call to action was not created correctly, users could end up ignoring our email.
So now it's time to see some tricks to create a newsletter and foster engagement with your mailing list.
Remember that content is just as relevant as design, so after choosing the best template for your campaign, you should consider the following factors:
► Customize your message
It's no use creating professional texts or choosing an attractive design if you don't direct your message to the right audience. You will need to send a newsletter only for those subscribers that you are sure to be interested in receiving it.
So before sending a newsletter, you should target your email list correctly. Later, you can create A/B tests with a small part of your list to see if your subscribers considered this as relevant information or if you need to make some changes to your digital marketing strategy.
► Properly structure your email marketing campaigns.
Remember that most readers will open your message from a mobile device. So the important thing here is to choose a simple design that will be compatible with smaller screens.
My recommendation is to use a template with just one column, as it will be displayed correctly on mobile devices.
Anyway, I always run an A/B test to find the best images, texts, and subject lines for my next campaign. I can also use this option to test the effectiveness of my call-to-action (about copywriting, typography, and color).
Without a doubt, A/B testing is the best way to understand your subscribers.
On the other hand, when we talk about content structure, you should take special care of these aspects:
Top or Header: This is the first thing users will see, which means that your logo should be easily identifiable. Also, you should include a header to create engagement, to convince your subscribers to continue reading your message.
Body: After the title, you should include some lines to summarize the most essential points of your message. You should focus your campaign on your goal and, therefore, in your call to action. Also, to motivate readers to continue reading, you can include images.
Footer: Here, you should include your contact information (your email, phone number, links for your social profiles). You should also include an unsubscribe link. This way, you will be creating a clean database and, above all, with subscribers who are interested in receiving your newsletters.
Links: I don't recommend including more than 2 links per email, because in the end, you should direct all your efforts to try to convince your subscribers to act on what you want them to do. For example, you could create more expectation with an inconclusive phrase to invite readers to visit your website where they can find more information.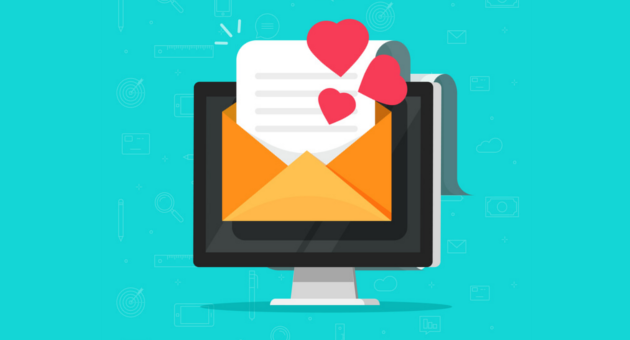 I'd like to give you some tips for creating captivating subject lines and convince your subscribers to open your email:
Use numbers, ask questions, talk directly to readers, include discounts, or add a sense of urgency. Example: "20% off on your next purchase. "
Use emoticons such as⏳ "sign up for the Facebook Ads course with 30% off, only for today."
Use ellipses strategically to leave the user with a sense of uncertainty. Example: The best email marketing software is…
Use action verbs and strong words like "free." Which work very well. Example: "Download this template for creating your editorial calendar for free."
Customize your message and call your subscribers by their name with the tag "name." Example: John, could you give us 1 min to help us improve our product?
► Write a captivating title.
Although we have already talked about this before, this is one of the main aspects that you should consider before sending a newsletter as it will be directly related to your open rates.
To create captivating titles, check out these tips:
For commercial newsletters: Create urgency, for example: "You only have one day to take advantage of this discount."
For informative newsletters:
Include success stories or use words like "tutorial," "guide", "course", for example: "Mega WordPress tutorial on optimizing your blog."
► Don't use too many images and interactive elements.
I advise you not to use many images within the same email, because they often cause display problems and even spam. Although including a photo at the top of the message may be visually attractive, my advice here is that you use this feature to add a banner in your call to action.
As I explained in the previous paragraph, the most significant disadvantage of abusing of images in email marketing is that your message could be considered as spam. The key is to use illustrative images and focus on the texts of your message. Simple things sometimes impact more (and when you add many images, you could end up distracting your readers. Don't forget your primary objective; to guide them towards the call to action.)
► Visual harmony
You should work with a style that is consistent with your corporate identity. Therefore, don't forget the typography, the colors, the images and before sending a newsletter, you should ask yourself: Is this newsletter visually consistent?
If you are not sure, you should continue to search and test until you can harmonize all these elements.
Segmenting your mailing list is just as important as the content you will send. However, you should also not forget to create an editorial calendar to know when and which email marketing campaigns you should send next.
If you usually prefer to send a newsletter every two weeks, keep doing so. But don't break this routine because your readers will notice and they probably won't like that. In fact, when you just send an occasional newsletter, you probably will not be able to get the results you expect (although this is not always the case).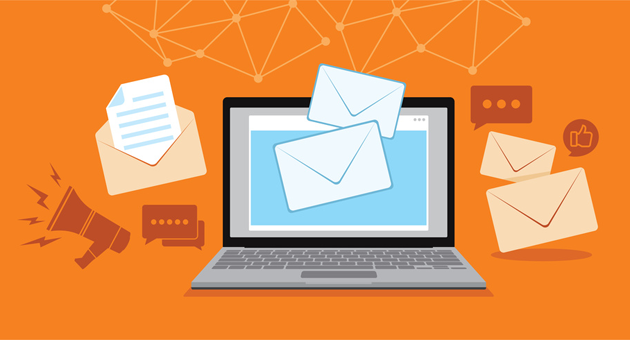 After reviewing the most important elements of a newsletter and the key aspects you should consider before sending a newsletter, I'll show you an example of a newsletter created with the new Mailrelay editor.
Before you begin, you will need to define the content and message you will send, and after that, you can select the appropriate template according to your needs.
So if you want to send a newsletter to sell products, you should choose a template with commercial design, as you will need to include pictures, links, and descriptions. On the other hand, if you want to create an informative newsletter, you will need to choose a template with columns and images to add text and articles from your blog.
After selecting the template, you will use to create a newsletter, you will see the following option:
In the upper left corner, you will have the option to upload images to the email; here you can drag an image to upload it or select files from your computer.
I did this test to show an example. I uploaded my logo and started to work with the newsletter's editor on the right:
As you can see, it is an editor similar to other tools you can use daily, such as WordPress or Word. You can edit the texts in blocks and set up your campaign layout in a few minutes, working with a friendly and free interface.
To start writing the header, click on "Content" and begin typing the text in the edit box. Like any other editor, you have many options; you can add H1, H2, standard text, bold, underline, include links or change font.
If you click on the "design" option, you can change the alignment or size.
With the "Configuration" option checked, you can choose the number of columns you will need and the design you will be using. For example, I wanted to work with two columns of different sizes:
After adding text to the columns, I added an image in the template, to facilitate reading and create a more beautiful newsletter.
One thing I really like is that when you upload the image, the new editor allows you to modify it and change its size.
Also, you can add the ALT tag to include a description that will be displayed when the email client can't display images by default. You can also choose to show the link, a much-used option in many email campaigns.
After that, I edited another text block in my template. When we click on it, we will see a blue floating menu with the options to edit the block:
Move
Edit
Duplicate
Delete
That is, you can edit the text, duplicate it to add another paragraph, format it or delete it if you don't want to use it.
See this screenshot to understand these features:
The next block that I consider very important is the call to action:
First, I selected the "Content" option and created this phrase to impact the readers. "I want to test it now."
I selected "Design" to create the layout.
As you will see in the image below, you can choose the desired color and edit the layout of your email with all these tools: Alignment, width, border, border-radius, and padding.
I advise you to test until you find the best button for your campaign because, as you already know, the call to action is a key element in any newsletter!
Finally, in the footer, you should include information related to your data protection policy as well as buttons with links to your social profiles to invite your subscribers to interact with you in the future.
To edit the social media buttons, first, click "Content" to add the corresponding links, then "Design" to format the icons.
The new Mailrelay editor includes a wide variety of basic and thematic templates that will allow you to create eye-catching newsletters. This editor will make your life easier because it offers advanced options using a drag & drop interface.
I hope you will follow some of the recommendations in this post before sending a newsletter, even if you are still working with the old version of our email marketing software.
To create an effective newsletter, you will need to consider many more factors such as segmentation, persuasive writing, and frequency of campaigns.