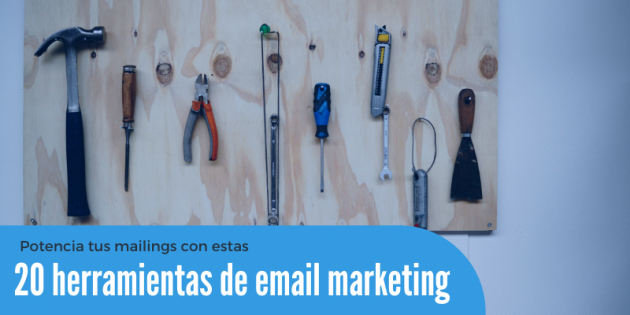 20 email marketing tools to boost your email marketing campaigns
Sending beautiful emails – but lovely ones – is an art that gets better with practice. But email marketing tools also have a lot to do with it.
From getting more subscribers to creating attractive or personalized images to improving the subject of your mailings… the different email marketing tools on the market help you to do all that and more.
Basically, we can summarize the cycle for optimizing your mass mailing campaigns, strengthening your brand, and getting more sales in the following points :
Increase your database
Send most relevant emails.
Improve your results
learn
Repeat
The key is to be more and more efficient in this process, and that's something you will have to do on your own.
But this collection of tools will make your life a little easier and help you take your newsletters to the next level.
In summary, in this article, we present 20 email marketing tools ..
Email marketing tools to attract subscribers
1. Pagemodo
Pagemodo is a tool that lets you get your audience's attention and connect with them in one of the most popular places on the planet: Facebook.
Through promotions, coupons, contests, sweepstakes, contact forms, and a kind of personalized landing pages they call 'tabs,' you can turn your Facebook page into a subscriber generating machine.
And you can do it all with super easy-to-use pre-built templates. Although if you know how to edit HTML code or have someone to help you with web design, you can also customize your designs.
How much does it cost? Starting at $6.25 per month for an annual subscription and  starting at $9 for a monthly plan.
2. GoViral
What happens after a user subscribes to your mailing list? Hopefully, this will be the beginning of a beautiful friendship: you send them a welcome email, tell them what to expect, and gradually, you could send more messages. But there aren't many more options.
However, with GoViral, it is possible to take advantage of this moment to generate even more visibility and gain new subscribers.
The mechanism is very simple: you create a GoViral page where you offer a gift (such as a guide, an e-book, etc.) to your new contacts in exchange for them to share a predetermined message that you wrote on social media.
How much does it cost? This is the best part: GoViral is a tool that will help you increase your audience for free.
3. EngageBay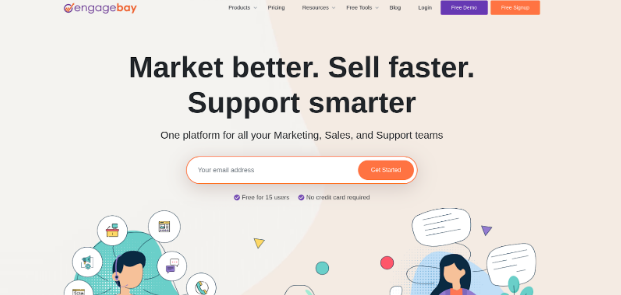 EngageBay is a powerful all-in-one marketing platform that includes email marketing, CRM, marketing automation, and sales automation features. It is a great choice for businesses looking to attract and engage subscribers through effective email marketing campaigns.
One of EngageBay's standout features is its drag-and-drop email editor, which allows you to create beautiful, professional-looking emails without any coding knowledge.
With EngageBay, you can also segment your email list based on various criteria, such as location, interests, and past interactions, to send targeted and personalized emails to your subscribers.
EngageBay also offers a range of automation features that can help streamline your email marketing efforts. For example, you can set up automated drip campaigns to nurture your leads and guide them toward a sale, as well as trigger-based automations to send targeted emails based on specific actions or behaviors.
EngageBay also provides detailed analytics and reporting, giving you insight into how your emails are performing and where you can improve.
How much does it cost? EngageBay offers a free-forever plan with a powerful set of lead generation tools. And with its affordable pricing plans, starting at just $12.74 per month, EngageBay is an accessible option for businesses of all sizes looking to grow their subscriber base through effective email marketing.
4. OptinMoster
OptinMonster is a classic email marketing tool to get more subscribers.
And the list of features it offers to get subscribers is so vast that it's hard that there isn't one that suits you.
On the one hand, they offer typical exit popups, floating bars, pinned top menus (pinned headers), or subscription forms that appear as the user rolls the mouse.
But on the other hand, they also offer more advanced options that are harder to find in other tools, like the welcome screens (Welcome Mats) or multithreading  popups, perfect for improving your retention rates.
Imagine that you have a website with two very different types of users: some of them know what they are looking for and just want a little guide or expert advice, while other visitors are looking for basic information, so they need to understand how each part of the process works.
You would like to convince all visitors to subscribe to your newsletter, but do you really think you should send the same content and the same type of email to both profiles?
Certainly not, because it's very difficult to create relevant emails that are as interesting to an expert as a novice.
You can solve this problem quickly with the OptinMonster list targeting popup, as it allows you to give your users the option of their choice.
Following the example, in this case, you can offer two options in your popup: receive help emails with explanations from scratch (for beginners) or receive only specialized content (for advanced users).
How much does it cost? From $9 per month billed annually, equating to $108 per year.
4. SumoMe
SumoMe is another classic plugin, with features very similar to OptinMonster, although a little is more limited.
However, this tool has a positive side in comparison: As it is a plugin for WordPress and Shopify, it is easier to work with SumoMe. Optinmonster also has a plugin for popups, but it requires users to work with JavaScript code, which could be a problem for some users.
How much does it cost? A free version is available, not a trial version, with no expiration date! Another positive point for SumoMe.
5. LeadPages
LeadPages could be considered another email marketing software for creating subscription popups on your website. But it's much more than that.
One of its strengths is the collection of conversion-optimized landing pages, with a good range of templates designed specifically to increase subscriptions to your mailing lists.
With LeadPages, you can create powerful pages to invite your visitors to become subscribers, either by offering them welcome gifts or irresistibly presenting them with the benefits of joining your community.
And while there are other tools dedicated exclusively to landing page design, LeadPages is an especially competitive option if you're looking for a complete toolkit for improve your email marketing and get more leads.
Also, according to LeadPages, their landing pages load on average 2.4 times faster, which always favors conversion.
How much does it cost? Starting at $25 per month for the annual version and $37 for the monthly version.
Email marketing tools for testing your campaigns
6. Litmus
Do you send your mailings with Mailchimp, Sendinblue, Mailrelay…? It doesn't matter; Litmus is a tool that complements the functionality of your email marketing software, helping you analyze, test and optimize the results of your campaigns.
Its testing function is one of the most interesting and allows you to check the appearance of your newsletters across different email clients, devices, and applications.
And you don't even need to integrate your email marketing service to use it: just include the Litmus test email is in the list of emails that will receive your tests or send the message manually to the address indicated by the software.
Once the system receives the newsletter, it will be displayed on different devices for you to check.
You can also increase the features of your software with its advanced statistics feature. Again, the process is designed so that you can use it independently of the email marketing platform you are using.
You just need to paste a little Litmus-generated code into the HTML of your emails. And once the message is sent, you will see advanced campaign stats on the Litmus page, such as reading time or devices used.
How much does it cost? Litmus offers a free trial account for 7 days. After that, the paid plans start at $99 per month.
7. Email on Acid
Email on Acid is a tool similar to Litmus but a little cheaper and very focused on improving the delivery rate of your emails.
From validating UTMs or previewing images and GIFs to blocklisting checks and antispam testing, Email on Acid helps you be more efficient in the review process, ensuring your emails will display correctly on different devices.
How much does it cost? Like Litmus, Email on Acid offers a 7-day free trial, but its plans start at a slightly lower price: starting at $73 a month, billed annually ($876).
8. Send Check It
Did you know that the word "free" in the subject of an email can cause your email to end up in the spam folder? Or how many characters should you use on your subject lines so that users can read it on a mobile device?
Writing impactful email subject lines that won't be ignored is an art, and you need to learn to improve this aspect of your strategy. But there are tools, like Send Check It, that help improve the delivery rate and open rates of your emails.
Just enter the subject line you will use on your next campaign, and the system will return a score, along with a series of warnings and recommendations.
Like other similar email marketing tools, Send Check is intended for emails written in English, but even if you send a newsletter in another language, you can think of it as a quick checklist that will remind you of important things you may have missed.
How much does it cost? Nothing, Send Check It is a free email marketing software.
9. ZeroBounce
Zerobounce is a tool that allows you to validate your mailing lists by connecting its API to your website or other systems.
It may not seem like it, but the moment a user subscribes to your newsletter is crucial to your email marketing and acquisition strategy.
The problem is that some users may register using emails that you don't want to include on your database( they could do it deliberately or by mistake), or they may provide you with personal emails when you only collect business emails.
Zerobounce will provide relevant information about the email addresses used by your visitors. With so many rules and problems generated by spam filters, improving the subscription process is vital for creating a double opt-in mailing list.
For example, when you detect typographical errors, you could return a message on your website that says to the user that there is a typo in the email address. Or, when an invalid or temporary email is entered, the system could show a notice with the type of email accepted for completing the subscription.
How much does it cost? Zero Bounce has a free version and a paid plan. Their paid recurring plans start at $15 per month.
Image design tools for email marketing
10. Unsplash
If you use Unsplash, you will find over a million and a half royalty-free photos, offered by photographers around the world and ready to use.
Unsplash images are generally very original and natural. These are not those typical stock photos, which in the end not only do not help to sell more but can even harm your brand.
Plus, you can download them without any problems for commercial use (even without citing the author, although it's recommended), making it a perfect tool with striking images that complement your email marketing campaigns.
How much does it cost? Absolutely nothing, all photos on Unsplash are copyright-free.
11. Placeit
Do you need images of people using your product? Placeit is a tool with which you can insert your logo, product, or website into thousands of images from mobile devices, computers, t-shirts, books, etc.
For example, suppose you want to create an image that shows a screenshot of your website on an iPad.
Do you want it to be a horizontal or vertical photo? As a transparent JPG or PNG format?
What people look like? And how many persons? What gender, ethnicity, or age?
You can create everything you need with one click using Placeit.
How much does it cost? $89.69 if you pay per year and $14.95 per month with a monthly subscription.
12. Canva
Canva is a versatile design tool that allows you to edit all kinds of visual marketing materials without resorting to a designer.
But one of its strengths as a support tool for email marketing campaigns is its newsletter header images.
You have over 500 email header templates to work with, adapting them to your photos, colors, and text. Or, if you prefer, you can choose a blank canvas with the default proportions and start working from  scratch.
You can also create images for your email promotions or use them in conjunction with other email marketing tools like the ones we've seen for creating popups and landing pages.
How much does it cost? The free version has limitations, but it's an excellent option to start. Many icons are only available in the professional version, but you can download your own Flaticon icons and upload them to the dashboard.
The cheapest paid plan costs $9.95 per user per   month.
13. Flaticon
With over three million icons in SVG, PSD, PNG, and EPS formats, we can say that Flaticon is like the Google of icons.
If you need to use icons directly in your mass mailing campaigns or as part of other images that you will include in your email campaigns, this is the safest and easiest bet.
In addition to having an almost infinite variety of icons, it also lets you modify the colors, save them in collections to download them all at once or choose the preferred size and format for downloading.
How much does it cost? Flaticon is the largest database of free icons, but if you want to download its premium icons, you can do so for € 9.99 per month or € 7.50 per month billed annually.
14. TinyPNG
Do you use images in your newsletters? Perfect, but you should check the size of each file before uploading it because that could affect your strategy.
TinyPNG is a straightforward tool but very useful for your email marketing actions, as, with it, you can reduce the size of your images by up to 70% without anyone noticing the difference.
How much does it cost? TinyPNG is a free tool, but if you need to upload more than 20 images at once or downsize images that weigh more than 5 megabytes, you can subscribe to the pro plan for $25 per year.
Email marketing tools for Gmail
15. Mailtracker
Email marketing services like Mailrelay or Mailchimp always include statistics and data about each campaign, such as open and click rates, as well as advanced reports. But sometimes, you want to write to your potential customers or partners directly from Gmail.
But if you choose to do that, the following example could happen to you: you send a well-crafted and attractive email, you wait impatiently for the answer, the days go by, and you wonder what happened… nobody answered.
Should you follow up? Or maybe wait a little longer? Mailtracker is a tool that helps you make that decision, as it offers options for tracking the emails, you send from your Gmail account.
Just install the extension, and as soon as you send an email, Mailtracker will inform who, when and how many times your email was opened. Sometimes it also includes additional information, such as the device type (computer or mobile) and location.
How much does it cost? Mailtracker is another totally free email marketing software:)
16. Bananatag
Bananatag is another email marketing tool used to track emails sent from Outlook or Gmail, like Mailtracker, but more focused on tracking attachments.
It offers information about subscribers who opened your attachments, such as documents, presentations, or images, but it also provides information about their behavior: how much time they have spent viewing the attachment, which pages were viewed, which were ignored, etc.
How much does it cost? With Bananatag, you can monitor five emails a day for free. The paid plans start at $12.50 per month, or $10 per month if you choose the annual subscription.
17. BombBomb
If your emails aren't getting the attention they deserve, BombBomb proposes this solution: use videos to make them more human and personal, like a face-to-face meeting.
The process couldn't be more straightforward: you can use the app or the Chrome extension to record a video, and once it is done, add it directly to your email.
This email marketing tool is not designed for mass mailing, but it is handy if you are in the B2B sector and send cold emails and custom email series from Gmail, Outlook, or CRMs such as Salesforce or Zendesk.
How much does it cost? BombBomb offers a 14-day free trial. From then on, the paid plans start at $29.99 per month.
Other email marketing tools
18. MotionMail
The sense of urgency is a valuable asset that you can apply to virtually any marketing action.
Urgency = set a deadline for your audience to act.
Well, one of the best ways to apply urgency to your email marketing is to include a countdown – a lifetime countdown – in your mass mailing campaigns, especially if you are trying to sell.
MotionMail is an email marketing tool that lets you do just that; you only have to add a piece of code to the HTML of your emails.
You can customize the panel that will display the countdown with your company colors and create a custom campaign based on the different languages or time zones of your audience. In addition, the tool  includes statistics
So you will know how many times your users have seen the dreaded countdown.
How much does it cost? Their free version is a good option for testing the tool, but it has some limitations. You can subscribe to a paid plan, starting from $10 per month if you pay monthly, or starting at $8 per month if you choose to pay per year.
19. NiftyImages
Different email marketing statistics indicate that personalized emails are more likely to be opened and up to 6 times more likely to generate transactions.
And while there aren't many email marketing tools that focus on the personalization challenge, Nifty image is a tool designed to personalize the images in your campaigns.
Using the tags from the email marketing software you work with, you will be able to create custom images and make ensure that each recipient will receive the most suitable images, which will be vital for catching their attention.
It has over 100 templates to get you started quickly, but it also lets you upload your own images and adapt them to your brand's corporate colors.
How much does it cost? NiftyImages paid plans start at $20 per month if you choose the monthly plan and $16 per month for an annual subscription.
20. Stripo.email
All email marketing platforms include a selection of design templates for your emails.
But at any given time, you may need a wider variety of templates. Or you may have a specific need for which you cannot find a suitable template in your software.
If you use Stripo.email, you won't have to hire a designer for creating templates, as it allows you to create custom responsive email templates without programming knowledge.
This tool can be combined with any other email marketing software, either through one of its many integrations or with a a feature that will allow you to download the template code and send it to the newsletter editor you are using.
How much does it cost? Stripo.email has a free version that you can start playing with to see if the tool convinces you. Their paid plans start at $12.50 per month.
▶︎ What do you think of these 20 email marketing tools? Do you recommend any other specific software? Leave your suggestion in the comments!
Translated by Micheli.